Digital transformation in the transportation industry has advanced rapidly through innovations such as 5G, Artificial Intelligence (AI), Internet of Things (IoT), and big data. The widespread use of such technology in the aviation business was the main focus during a recent virtual event hosted by FTE and Huawei on "How next-generation technology can restart & reimagine global airports". Here, we share some of the key takeaways from the webinar, while the full recording is now available to watch here.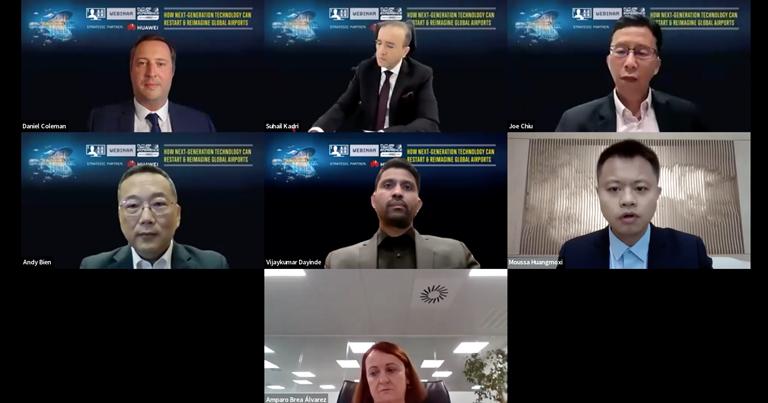 The webinar kicked off with an opening speech by Moussa Huang, Director of the Global Aviation Business, Huawei Enterprise BG, who outlined how Huawei has supported the industry during the COVID-19 pandemic through the use of innovative digital technologies. For instance, during the crisis the technology corporation helped Shenzhen Airport consolidate multiple data sources into a unified data lake and build algorithm and data models to quickly deliver scenario-based solutions. Impressively, Huang highlighted that it took just three weeks to build the model and application to manage the airport's pandemic prevention measures. "We must seize opportunities to rebuild smart airport systems and prepare for the global recovery. Huawei believes combining advanced ICTs and industry know-how will be critical in ensuring success," he said.
Watch the full webinar recording on-demand here >>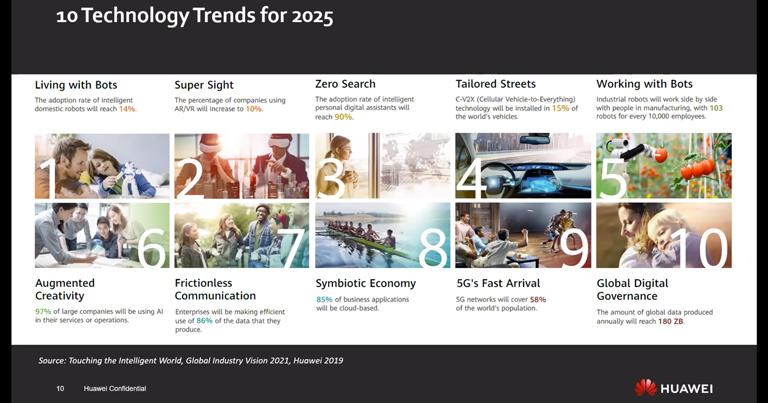 Building on this, Huawei's Chief Digital Officer, Global Aviation, Andy Bien then presented on how airports can use technology to survive and remain resilient in the wake of disruptions. "Having a strong and reliable open cloud stack is very important," he highlighted by referring to a recent example from Shenzhen Airport. The airport was able to build its intelligent stand allocation solutions application using existing assets in just three weeks, thanks to Huawei's cloud stack. The solution helped shorten the allocation time from four hours to one minute.
Bien also focused on how artificial intelligence (AI) can lessen the burden on human resource and increase passenger satisfaction when used for customer service. On the operational side, AI can be utilised for AI airbridge allocation, which Huawei has already implemented at Shenzhen Airport, as well as for AI turnaround times. Another AI application he highlighted is in the division of Autonomous Airside Operation. Huawei is also a pioneer in 5G technology and Bien shared that at Hong Kong International Airport, the company provided the first 5G private network for airports to enable the vision of an autonomous airport city.
Bien also provided Huawei's forward-looking vision on the technology trends that will define the future by 2025, including bots, AR/VR, intelligent personal digital assistants, Cellular Vehicle-to-Everything (C-V2X) and more.
Watch the full webinar recording on-demand here >>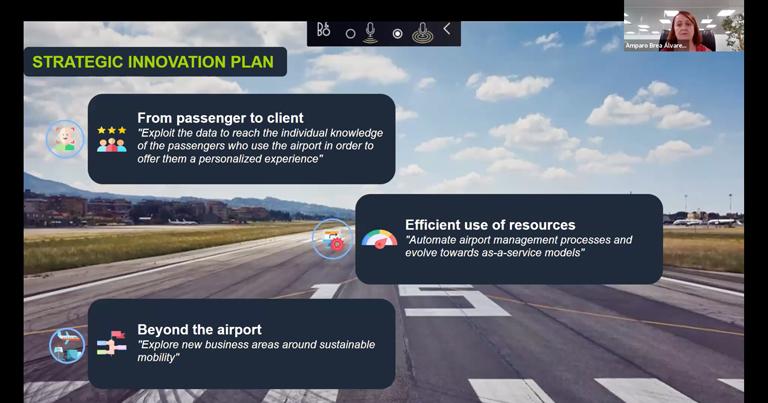 The second presentation was delivered by Amparo Brea Álvarez, Director of Innovation, Sustainability and Client Experience, Aena, who outlined the airport group's new strategic plan launched last year, which is made up of three fundamental pillars:
From passenger to client – "Exploiting the data to reach the individual knowledge of the passengers who use the airport in order to offer them a personalised experience"
Efficient use of resources – "Automate airport management processes and evolve towards as-a-service models"
Beyond the airport – "Explore new business areas around sustainable mobility"
"Our vision is to be leaders in the use of digital tools with the objective of optimising the passenger experience, increasing operational efficiency and developing new businesses around sustainability," she said.
During her presentation, Álvarez also shared some examples of how the airport has been applying technology, including testing video analytics, biometrics, drones and AI virtual assistants.
Watch the full webinar recording on-demand here >>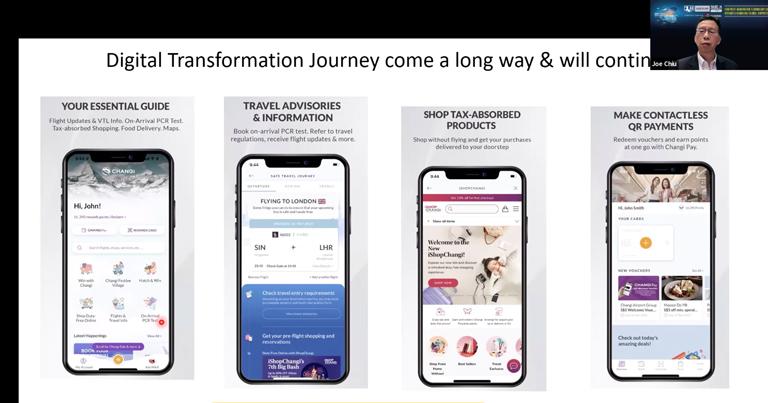 Joe Chui, VP, Digital & Data Management Systems, Changi Airport Group, then took attendees through the airport's digital and cultural transformation journey, which dates back to 2011 when the airport's first mobile app was developed. Fast forward to today, and Changi's app has transformed into a digital assistant, providing travellers with information on flight updates, on-arrival PCR tests, food delivery, maps, integrated payment systems and much more. Chui said that during the app development process, his team followed the famous Amazon method of "building with the customer in mind and working backwards".
Chui further stressed the need to learn from innovative companies outside of the airport industry from the likes of Amazon, Spotify, Disney, Microsoft and Apple. "It is very important for us to move beyond the paradigm and bring in new ideas. Innovation does not need to confine to what we're used to do, and you don't need to always stick to one way to solve a problem," he said. This way of thinking has led the Changi team to shift its focus on four core principles – customer over products; experiments over certainty; agility over perfection; community over silos.
Watch the full webinar recording on-demand here >>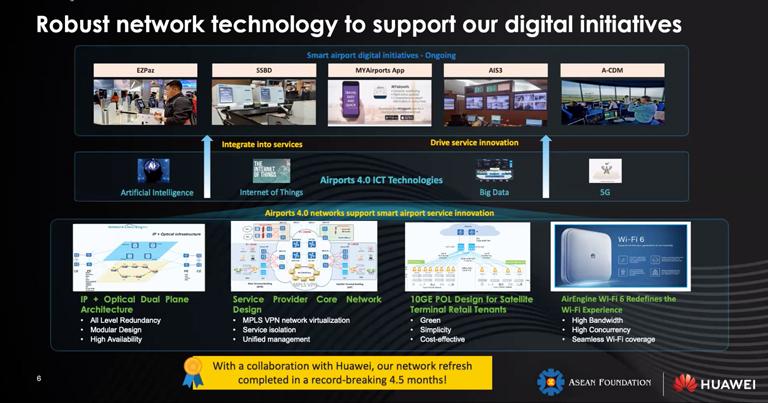 Vijaykumar Dayinde, Covering Chief Information Officer, Malaysia Airports, shared Malaysia Airports' digital innovation framework, called Airports 4.0, which focuses on four key digital transformation themes – terminal operations, passenger experience, staff mobility, safety & security.
Malaysia Airports has already launched a number of integrated initiatives such as mobile app, surveillance for crowd management and retail analytics, single token for contactless and seamless passenger experience, connectivity and Airport Collaborative Decision Making (ACDM) to drive its vision of "connected and digital airport".
"For all these digital initiatives we wanted to kickstart, we needed a robust network technology foundation," he explained. "So, in 2020 we launched our Network Refresh Project in a record-breaking time of 4.5 months in collaboration with Huawei, something that usually takes 12-18 months to complete." The network refresh project enables KLIA and KLIA2 now compatible with state-of-the-art technologies such as 5G, Wi-Fi 6, Internet of Things (IoT) and AI. The new network will also have at least 10 times more capacity than previous network, port speed ranging from 10Gbps to 100Gbps at the core, with scalability capability up to 400Gbps. Digital-led technology such as an ACDM system will also help the airport collaborate more effectively with its airline partners through the sharing of real time information.
Watch the full webinar recording on-demand here >>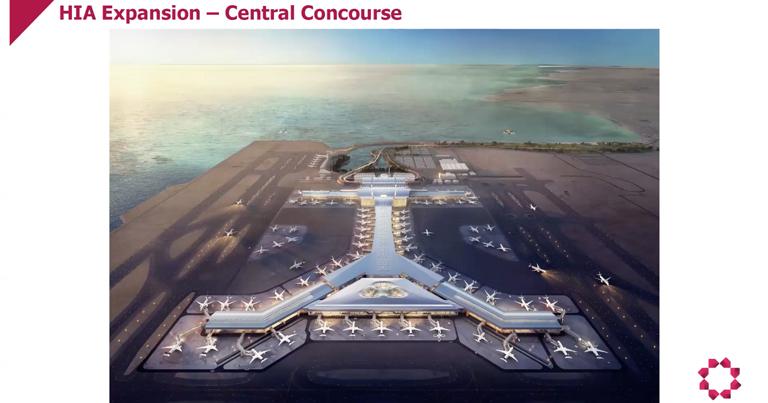 The last presentation was delivered by Suhail Kadri, Senior Vice President Technology & Innovation, Hamad International Airport, who share how the airport is gearing up for the upcoming FIFA World Cup 2022, taking place in Qatar this November, by investing heavily in infrastructure, security, safety and operational systems at the airport.
"Even before we get into technology, the most important thing is the facilities. We need to have adequate physical capacity to be able to handle arrivals and departures during peak times," Kadri said. Indeed, HIA is currently undergoing major expansion projects, consisting of Phase A and B. Phase A of the current expansion will comprise of a central concourse linking concourses D and E, which will increase the airport's capacity to more than 53 million passengers annually by September 2022. Phase B, which will be completed after 2022, will extend concourses D and E to further enhance the airport's capacity to more than 60 million passengers annually. The expansion plan also includes 11,720 sqm of landscaped retail and F&B space, which will enhance the multi-dimensional offerings of the five-star airport by integrating world-class art collection and refreshing environment of greenery with contemporary retail and dining concepts among other leisure attractions and facilities under one expansive terminal.
Kadri's main focus has been on implementing enabling technology in the new physical space, such as smart security screening lanes, wireless connectivity, cyber security, biometrics, computer vision, machine learning and artificial intelligence.
Beyond the World Cup, Kadri shared that the key focus will be on data-driven digital transformation to drive operational excellence, customer experience and revenue, and sustainability. The airport is also creating a 'Digital Twin' designed to provide visual 3D situational awareness in real-time on what is working well and what needs attention to maintain operational excellence of HIA's world-class passenger experience.
The webinar also provided an opportunity for the panellists to address questions from the audience around prioritising which technologies to invest in, leveraging data and digital platforms to create new business models, and moving towards better technological interoperability. The overarching conclusion during the discussion was the need to collaborate to deliver a seamless and unified end-to-end passenger experience and create greater efficiencies through digital means.
Watch the full webinar recording on-demand here >>