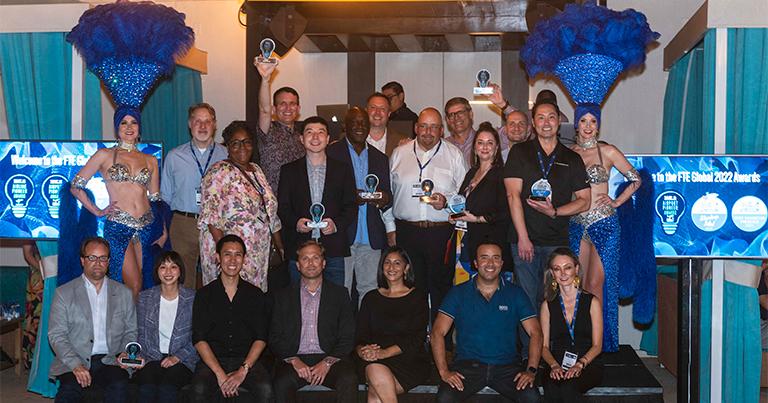 The world's most pioneering airports and airlines were recognised for their outstanding efforts to transform the passenger experience and define the future of the air transport industry at the Future Travel Experience Global 2022 Awards ceremony, which took place on 8 September in Las Vegas. One startup company and one vendor were also recognised during the event.
The Awards ceremony took place during the FTE Global 2022 Networking Reception – sponsored by the FTE Digital, Innovation & Startup Hub and hosted by Harry Reid International Airport – at the Liquid Pool Lounge, ARIA Resort & Casino. More than 1,000 senior industry figures representing airlines, airports, government agencies, industry vendors, technology giants and startups gathered at FTE Global between 6-9 September to learn, collaborate and be inspired on their next moves to transforming the industry's approach to the passenger experience, business performance and sustainability strategies.
During the ceremony, Daniel Coleman, founder & CEO, FTE, and Justin Erbacci, CEO, Los Angeles World Airports (LAWA), took the opportunity to announce that LAWA will host FTE Global 2023, which will take place on 19-21 September 2023, at the Long Beach Convention Center in California. (Find out more here)
Mark your diary for FTE Global 2023, hosted by LAWA – 19-21 September 2023, Long Beach Convention Center, California >>
FTE AIRPORT PIONEER AWARDS
Miami International Airport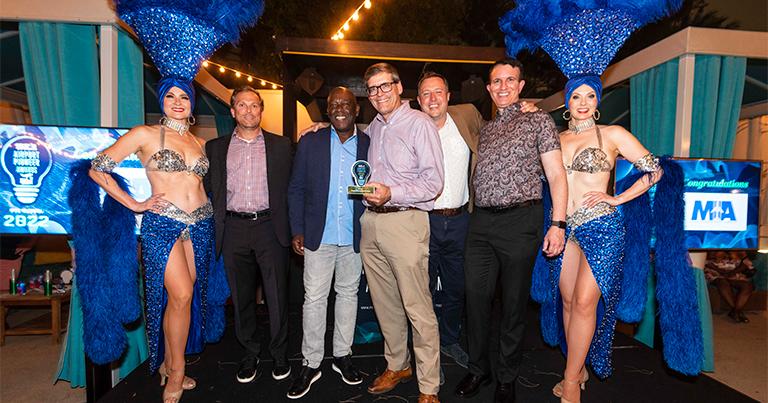 Miami International Airport (MIA) was recognised in the FTE Airport Pioneer Awards category for its efforts to implement biometric boarding at more than 130 gates throughout the airport. Installation is expected to be fully completed in 2023. When finished, the project will be the largest implementation of biometric technology at any U.S. airport. Using SITA's Smart Path solution, which leverages NEC's biometric identity platform, passengers can simply step up to a camera at the boarding gate and their picture is used to confirm their identities and their authorisation to travel within seconds. MIA is now the busiest U.S. airport for international travel and biometric boarding is one of the major steps the airport is taking to pave the way for additional growth in the years to come.
Edmonton International Airport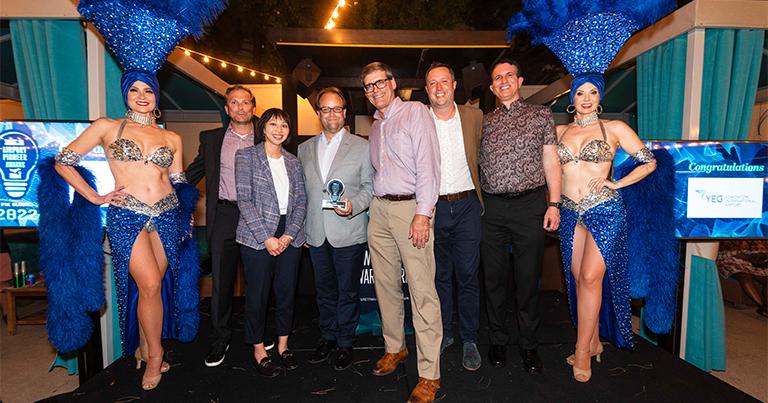 Edmonton International Airport (EIA) was awarded for its recent partnership with ZeroAvia to develop the hydrogen infrastructure required for delivering zero-emission flights and decarbonising ground operations. The partnership targets exploring the use of hydrogen for decarbonisation of aircraft operations, and also the wider airport ecosystem. The collaboration will see EIA and ZeroAvia first conduct a pilot programme which will fuel a demonstrator aircraft and other operations with the deployed hydrogen ecosystem. The partnership expands on an already impressive set of sustainability initiatives at EIA, including the construction of the world's largest solar farm at an airport, set to begin in late 2022.
iGA Istanbul Airport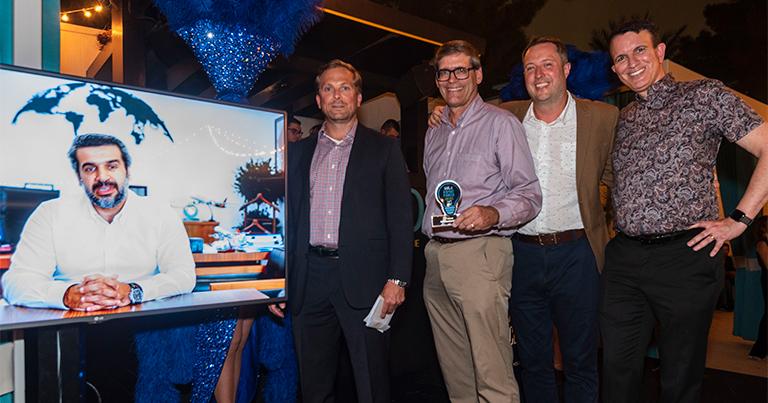 iGA Istanbul Airport secured an FTE Airport Pioneer Award for its artificial intelligence and metaverse exploration efforts. Aiming to transform the time spent at Istanbul Airport, iGA introduced a new service featuring Augmented Reality (AR) technology, providing passengers with information about the airport's retail outlets by accompanying them around the International Terminal shopping area. The AR technology allows users to see objects virtually and in 3D providing an interactive real-world environment. The airport has created a virtual character, called CİGA, which accompanies the passengers on their route, providing information about the stores and offers passengers special deals and discount codes at member stores. The airport is also tapping into the metaverse by creating a metaverse environment, which is a replica of its "Youth Lounge".
Mark your diary for FTE Global 2023, hosted by LAWA – 19-21 September 2023, Long Beach Convention Center, California >>
FTE AIRLINE PIONEER AWARDS
Delta Air Lines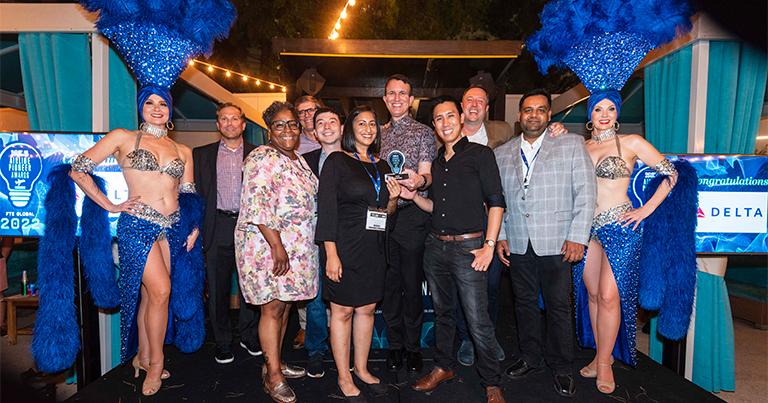 Delta Air Lines grabbed an FTE Airline Pioneer Awards trophy for its pioneering PARALLEL REALITY experience, which recently launched for departing and connecting Delta customers at Detroit Metropolitan Airport. The PARALLEL REALITY display allows up to 100 customers to each see their personalised flight information on a single digital screen – at the same time. Each customer who opts in can see only their flight information. This cutting-edge technology helps create a more streamlined and personalised airport experience for customers, allowing them to navigate the airport with ease and eliminating the need to search for their specific flight among rows on a departure board.
Qatar Airways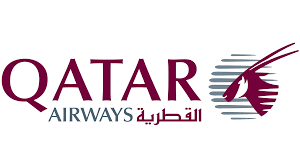 Qatar Airways' QVerse, a novel virtual reality (VR) experience for visitors to the airline's website, is a worthy winner in the FTE Airline Pioneer Awards category. The experience allows users to virtually tour and navigate the Premium check-in area at Hamad International Airport (HIA), the cabin interior of the airline's aircraft, including the award-winning Business Class, Qsuite, and the Economy Class cabin, by using their own personal electronic devices. The carrier also became the first global airline to introduce a MetaHuman cabin crew offering a digital interactive customer experience. The experience was developed using Epic Games' Unreal Engine, the world's most advanced real-time 3D creation tool, and MetaHuman Creator, a cloud-based app for creating high-fidelity digital humans. The 3D human model named 'Sama' offers an interactive customer experience through engagement with the user, taking them on a virtual journey of discovery, while presenting the unique features in both the Business and Economy Class cabins.
Air Europa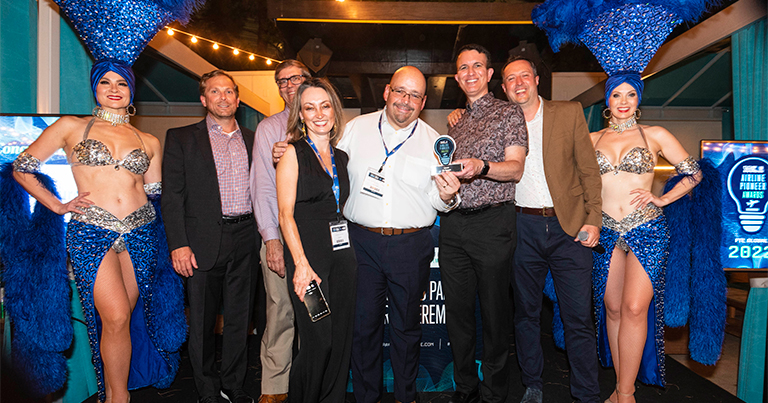 Air Europa was recognised for becoming the first airline to adopt blockchain technology for inventory management and distribution. The airline launched a partnership with blockchain distribution company TravelX to release the world's first NFT flight ticket series, called NFTickets. With purchase, owners will receive access to a special Air Europa flight to Miami Beach on 29 November 2022, as well as perks and events ahead of the premier art show of the Americas taking place in Miami Beach this December. The first Air Europa NFTicket collectible artwork sold for over $1 million.
Mark your diary for FTE Global 2023, hosted by LAWA – 19-21 September 2023, Long Beach Convention Center, California >>
FTE STARTUP IDOL 2022 AWARD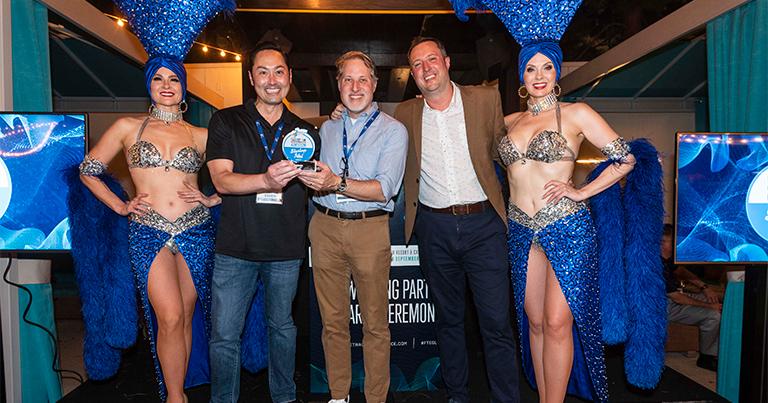 ThorDrive was named the winner of the inaugural FTE Startup Idol Award, delivered with the official support of JetBlue Technology Ventures. ThorDrive is a full-stack developer of autonomous driving technologies focused on transforming ground handling operations in the aviation market. Its autonomous tractor was developed over three years in a live airport and enables the fully autonomous transfer of cargo and baggage to and from aircraft. Following a global submission process, 12 early-stage, high-potential startups were invited to pitch to an audience of industry decision-makers during the show, focusing on three of the most pertinent topics right now: Sustainability, Automation & Workforce, and Digital Identity & Security. The judging panel, including industry experts from Harry Reid International Airport, JetBlue Technology Ventures and Plan3, selected one startup from each category to advance to the final, with ThorDrive then chosen as the overall winner by an audience vote.
BEST EXHIBITOR PRESENCE AWARD 2022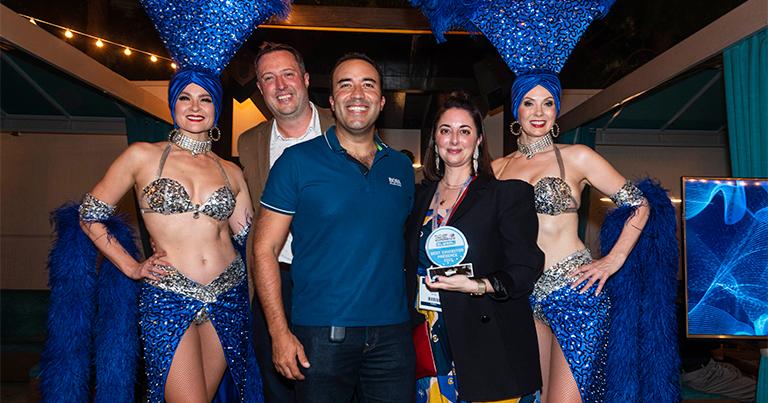 IDEMIA won the Best Exhibitor Presence Award, in recognition of the company's impressive showcase and activities at FTE Global. During the show in Las Vegas, FTE Global attendees have had the opportunity to experience IDEMIA's innovative solutions at the company's booth, designed to replicate a seamless end-to-end airport experience of the future. All FTE Global 2022 exhibitors had an opportunity to enter the Best Exhibitor Presence competition and the winner was selected by FTE Advisory Board members from a shortlist that consisted of Vision-Box, NEC, Pangiam, Idemia and Amazon One.
Mark your diary for FTE Global 2023, hosted by LAWA – 19-21 September 2023, Long Beach Convention Center, California >>