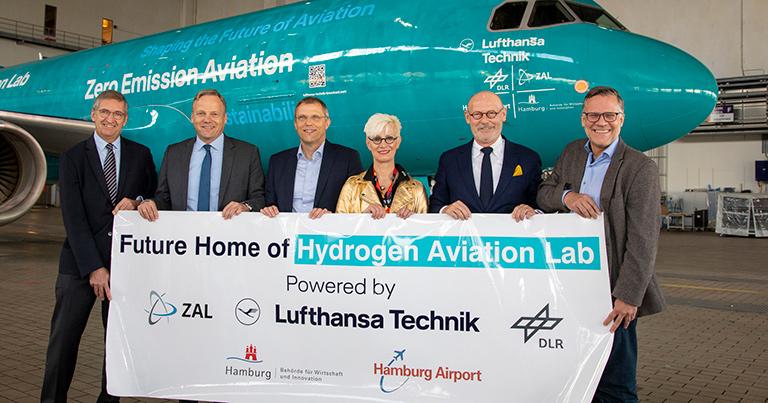 A decommissioned Airbus A320 is being given a new lease of life at Hamburg Airport in the service of science. The Hydrogen Aviation Lab is a new field laboratory for testing maintenance and ground processes for future hydrogen-powered aircraft.
The project is a joint initiative between Lufthansa Technik, the German Aerospace Center (DLR), the ZAL Center for Applied Aeronautical Research and Hamburg Airport, and is funded by Hamburg's Ministry of Economic Affairs and Innovation as well as the city's investment and development bank (IFB Hamburg).
Over the next few months, the Hydrogen Aviation Lab will be fitted with a full suite of test systems, as well as an internal tank for liquid hydrogen and an onboard fuel cell, paired with supporting ground-based hydrogen infrastructure.
"With the Hydrogen Aviation Lab, Hamburg has embarked on a great project," said Hamburg's Senator for Economic Affairs Michael Westhagemann. "It will make a valuable contribution to enabling the use of hydrogen as a fuel for aviation. The focus on maintenance and refuelling procedures should provide us with insights that will be important for developing hydrogen infrastructure. This real-world lab lets us add a crucial building block to Hamburg's strategy to make aviation more sustainable. We are following two strategic goals: the development of a hydrogen economy in Hamburg and the decarbonisation of the mobility industries. We are very pleased to be able to make this world-first project possible through the Special Aviation Fund."
With the Hydrogen Aviation Lab, the project partners want to prepare for handling and maintenance of hydrogen-powered aircraft, whose entry into service is forecast for the middle of the next decade.
"Climate-friendly flying with hydrogen technology is an important building block for the future of aviation," said Michael Eggenschwiler, CEO, Hamburg Airport. "Through research projects such as this hydrogen laboratory, we ensure that all aviation partners contribute their experience to the development processes. After all, close coordination is the only way to ensure that, in addition to the requirements for aircraft construction and maintenance, the ground infrastructure is also optimally suited. The requirements for the ground handling processes of future LH2-operated aircraft must be defined today. As an airport, we are pleased to be able to contribute our know-how to this important project: from questions of storage and distribution to the refuelling process on the apron."