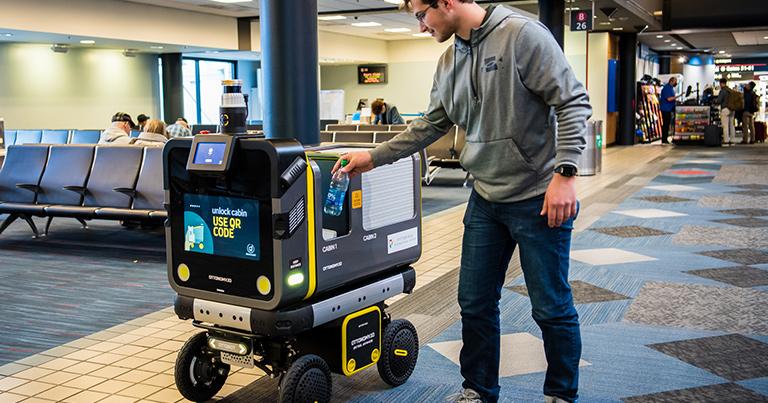 Pittsburgh International Airport is partnering with tech startup Ottonomy.IO to trial a fully autonomous delivery robot – Ottobot – for contactless delivery of beverages to passengers.
The partnership is being undertaken through the airport's xBridge Innovation Center, its tech proving ground for technologies and startups. Drawing from the region's strong innovation economy, the airport is a proof-of-concept site for technologies in a real-world operating environment, as well as a pilot site for companies' first deployments.
"We are committed to providing the best customer experiences by discovering and implementing innovative solutions that utilise cutting-edge technology," says Cole Wolfson, xBridge Director. "Pittsburgh International Airport's xBridge has built a culture of innovation and we are excited to partner with Ottonomy to advance this technology in an airport environment."
Volunteer customers are able to order and receive beverages at designated drop-off points in Pittsburgh International Airport's Airside Terminal. Ottobot is currently deployed at multiple airports in the US and Europe.
Ottobots can navigate autonomously through crowds and unpredictable environments using Ottonomy's proprietary Contextual Mobility Navigation platform. The system is highly scalable and utilises a comprehensive suite of tools to manage a fleet of robots across multiple locations.
"Airports are dynamic and crowded environments, and are a perfect testbed for real-world deployments of Ottobots," says Ritukar Vijay, Co-Founder and CEO, Ottonomy Inc. "Ottobot provides the only fully autonomous delivery experience for indoor and outdoor environments. We are seeing tremendous interest in our technology from leading airports and organisations across the globe."