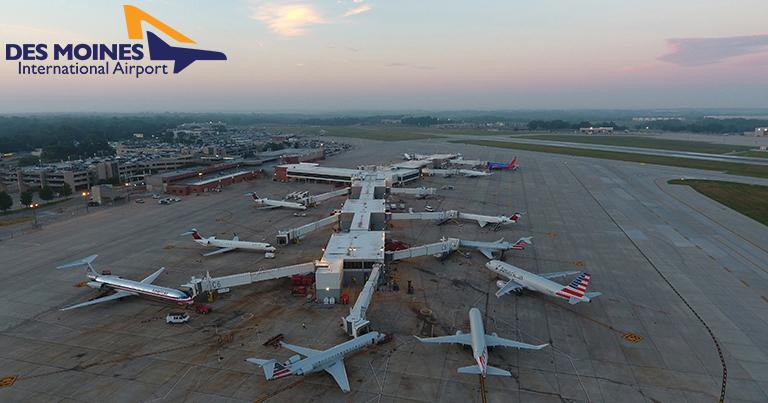 Des Moines International Airport is deploying AeroCloud Systems' Intelligent Airport Management System (iAMS) and its Gate Management System (GMS). AeroCloud's cloud-native airport operations platform will support the allocation of aircraft to gates and stands, maximising their capacity.
"Des Moines International Airport looks forward to fully integrating the AeroCloud system into operational decision-making," said Clint Torp, Director of Operations, Des Moines International Airport. "We expect this new integration to enhance operational efficiencies and reduce the challenges of managing complex gate operations."
iAMS provides accurate and up-to-date flight information by harnessing multiple data sources. This information is further augmented by Artificial Intelligence and Machine Learning. Des Moines International Airport will use the data to plan and manage its gates, hard stands, or apron operation. In addition, the airport will be empowered by the ability to manage irregular operations scenarios supported by real-time data and collaboration with stakeholders regardless of their location.
AeroCloud's AI-driven GMS supports management of the airport's commercial aprons, enhancing its operational efficiency. The system provides high-quality, accurate real-time data, which supports efficient management of the flow of arriving and departing flights.
Passenger demand at Des Moines International Airport has steadily increased to the point where aircraft gates are at capacity and wait times are increasing. In 2021, over 2.1 million passengers used the airport. It plans to build a new terminal with additional gates, expanded security, and updated technology to meet this demand. Work is scheduled to start in 2024.
"Des Moines International Airport (DSM) were exacting in their search for a GMS system provider, and we are delighted that the team have chosen to work with AeroCloud," said George Richardson, CEO and Co-Founder, AeroCloud. "We know just how pressured the day-to-day operations of an airport can be. Our flexible and scalable software will ably support DSM's requirements and grow with them as the airport expands."