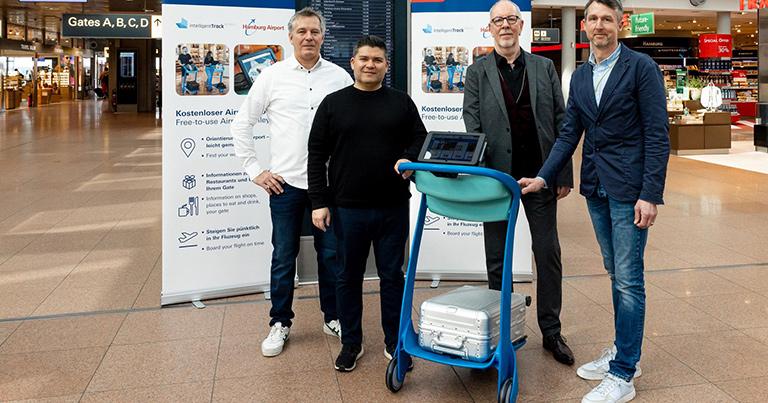 Hamburg Airport is testing smart cabin baggage trolleys from Intelligent Track Systems (ITS), which feature an interactive display that allows passengers to find details of their flight or to browse the offers in airport shops. The display will also guide the traveller to their chosen destination.
30 of the 'intelligent' cabin baggage trolleys are in operation, free of charge, until mid-May.
"It is our aspiration at Hamburg Airport to continually enhance our airport operations with technological innovations," said Lutz Deubel, Head of Center Management, Hamburg Airport. "We are therefore doubly thrilled to be able to give our passengers today an insight into the digital future of travel with the 'intelligent' cabin baggage trolleys from ITS. The combination of cabin baggage trolley and infoscreen is an optimal approach to satisfying the special service expectations of people travelling by air. Thanks to the interactive site map, passengers always know where they are and can explore the airport at their leisure without losing track of their flight."
There is no need to log in to use the touchscreens on the new trolleys. On the interactive site map, travellers can choose between shops, restaurants, gates and lavatories and be guided straight there. Clicking on a shop or restaurant allows you to browse what is on offer. Passengers can also scan the QR code on their boarding pass to view their flight details. If the flight is moved to another gate or flight details change, a pop-up message will appear on the screen.
"Hamburg Airport will be the first in Germany to introduce the free-to-use intelligent trolley designed to assist airside passengers with wayfinding and shopping," said Morten Pankoke, CEO, ITS. "The trolley's heatmapping, survey and call-to-action capabilities have proven a success, helping elevate the airport experience. We at ITS are grateful for the opportunity to collaborate with Hamburg Airport and look forward to delivering extraordinary service experiences."