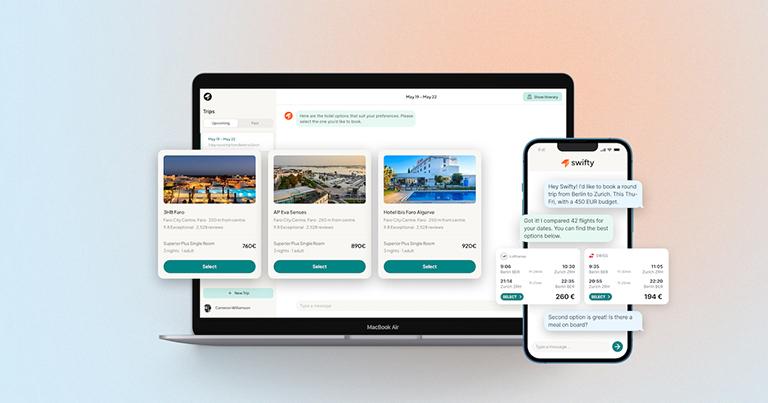 Lufthansa Innovation Hub newly-launched venture Swifty is an AI assistant that aims to transform the business travel booking process into a fast and efficient experience. It autonomously manages essential steps, encompassing planning, booking, payment, and invoicing, all within the chat interface.
Swifty allows its customers to book their business trips in five minutes using a native chat interface. The launch marks the first step towards building a comprehensive AI business travel assistant capable of catering to any queries that arise during business trips.
"The rapid emergence of AI presents a tremendous opportunity for the travel industry," said Christine Wang, Managing Director, Lufthansa Innovation Hub. "Despite the existence of various AI-powered solutions aimed at revolutionising travel planning, the booking experience has remained relatively untouched. This untapped potential is particularly significant within the expansive business travel segment. With the launch of Swifty, Lufthansa Innovation Hub has achieved a remarkable breakthrough in travel innovation: the world's first AI assistant capable of seamlessly managing travel planning, booking, and payment processes. This remarkable milestone firmly establishes Lufthansa Innovation Hub as a true pioneer in shaping the future of travel."
Users can start a new chat, share their flight and hotel preferences and select the most suitable options from a shortlist. After that, the AI assistant books the selected option for the user and shares the trip itinerary with travel documents and receipts in one place.
For its launch, Swifty has announced Expedia Group as its exclusive lodging partner for its hotel supply, offering Swifty customers access to hundreds of thousands of properties around the world. Connection to another travel partner allows Swifty to access flight options from 90% of US and European airlines.
Swifty's AI agent is based on OpenAI's GPT-4 language model and trained to clearly interpret travel-related context and booking intent of the user. Swifty engineers transformed the AI language model into a set of travel booking and support agents, working together. These agents can chat with users, and even reliably carry out concrete actions, such as booking hotels and flights. AI is enabled to take actions by capturing and interpreting the user's intent to act, validating its correctness and triggering code that is connected to the travel booking systems.
Over time, Swifty will expand its features to include services such as train bookings, local transportation, such as taxi or shared mobility options, CO2 compensation and more.
"We have tailored the generative AI technology to address the unmet needs of millions of business travellers," said Stanislav Bondarenko, Founder of Swifty. "Swifty is democratizing the personal assistance experience by making it available for every business traveller, as opposed to only corporate top managers."
Hear more from Lufthansa Innovation Hub at FTE Global, Los Angeles, 19-21 September 2023. Tino Klaehne, Director Strategic Innovation & Intelligence, Lufthansa Innovation Hub, is speaking in the Future Mobility & Customer Journey conference track on "What is the Lufthansa Innovation Hub view on the new technologies & approaches that will transform aviation, and what were some of the key highlights from the FlyingLab pre-conference on LH452 between MUC and LAX on September 17th exploring exceptional experiences for the needs of the passengers of tomorrow?"