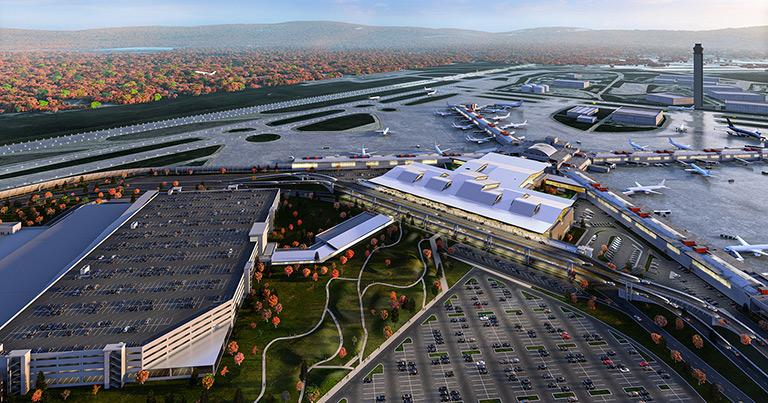 Construction on the Terminal Modernization Program (TMP) at Pittsburgh International Airport (PIT) has passed the halfway point and remains on track for completion in 2025.
In recent weeks, workers on the TMP poured concrete for the roadway bridge that will carry traffic to and from the new landside terminal, completed the high roof steel, and began installation of the bridge that will connect the new terminal to the existing airside terminal.
"We are building the airport that Pittsburgh deserves and which will serve our families, friends and neighbours for generations to come," said Christina Cassotis, CEO of the Allegheny County Airport Authority (ACAA), which operates PIT.
Airlines at PIT have unanimously approved a revised $1.57 billion budget for the TMP, which is funded mostly through long-term bonds that the ACAA will pay back from its operating revenue, most of which is paid by the airlines through rates and charges.
"Thanks to the partnership we have built with the airlines, air service at PIT has continued to grow, which is a big boost to the Pittsburgh region," said Cassotis. "We are grateful for the airlines' unwavering faith in our vision for the new Pittsburgh International Airport."
The TMP includes a new landside terminal, parking garage, and roadway system. Benefits of the project will include:
Shorter passenger walk and wait times
Reduced baggage delivery times
6,000 additional public parking spaces
More efficient international arrivals process
Significant reduction in operations and maintenance costs
PIT is predominantly now an origin-and-destination airport with most passengers beginning and ending their trip in Pittsburgh. "The new terminal will be suited to their needs," said Paul Hoback, ACAA Executive Vice President and Chief Development Officer. "We are building this new terminal for Pittsburgh and by Pittsburgh to connect to the world."
Hear more from Pittsburgh International Airport (PIT) at FTE Global, taking place in Los Angeles, 19-21 September 2023. Christina Cassotis, CEO, PIT, will deliver a special keynote entitled "How will the new terminal at Pittsburgh International Airport opening in 2025 reimagine the traditional customer journey through an airport, and how can this industry better work together to serve passengers?" Meanwhile, Cole Wolfson, Director, xBridge, PIT, is speaking in the FTE Robotics & Autonomous Vehicles Symposium.
Register for FTE Global 2023 >>
See the FTE Global 2023 schedule at a glance >>