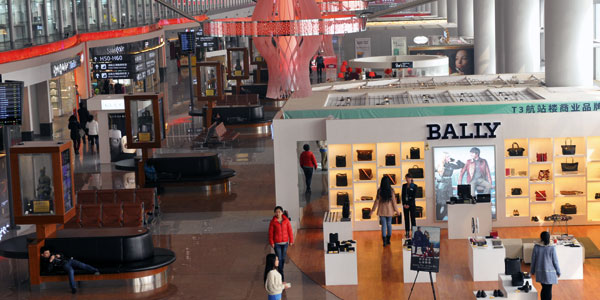 When Xi'an Xianyang International Airport opened its new Terminal 3 in March last year, amid rapid growth in passenger numbers, it initiated an airport-wide dedication to creating a unique commercial experience for the traveller.
The airport's setting in one of the world's most stimulating historical locations, meant that creating a distinct feeling of 'sense of place' was key to enhancing the passenger experience in the gateway to the world forged by the Qin Dynasty more than two thousand years ago.
"Xi'an is the birth place of China, and as a place it is so rich in culture," said Wolfgang Weil, Chief Operations Officer. "It is all about the materials and the elements and the colours, and we wanted to give the feeling of a local airport. Airports are usually all glass and steel and concrete, but we asked, 'How can we make the airport here feel like Xi'an?' It was just a given that we had to do that."
Conceived in collaboration with UK design and architecture firm The Design Solution, following analysis of customer behaviour, 'sense of place' innovations are part of the airport's strategy to promote the region, generate a memorable visit for the customer and increase passenger spend.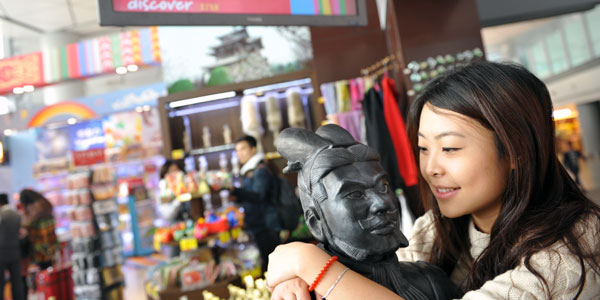 "We spent quite a significant amount of money developing a sense of place that would generate a real shopping experience," commented Weil. "There are limitations, of course, in terminals, but working together with The Design Solution and a special light consultant, we specially created chandeliers made from LED lights, 3m high with a 3m halo around them to look like Chinese lanterns."
Eight – a lucky number in China – of the lanterns are suspended between the terminal's shopping and seating areas, while 1.4m tall glass cases in the airport lounge house a collection artefacts that embody the essence of Xi'an, including a replica Terracotta Warrior donated by the regional tourism board of Xi'an.
LED-lit carvings in scarlet and gold border a wealth of high-end international brand stores and concessionaires carrying native souvenirs, while the terminal's red steel and glass elevator structure contributes to the glow of the entire commercial area in the indigenous colours of China.
Xi'an Xianyang's commercial developments are ongoing, and the airport is currently in the process of planning renovations of the retailing areas of its Terminal 2; a framework for restructuring of the terminal and upgrades to its shopping facilities and brands should be complete by the end of 2013. In addition, in the passenger seating areas of Terminal 3, revolving LCD screens will soon display dynamic adverts, which update according to the expanding retail offer and current promotions.

To learn how the leading Chinese airports and airlines are working to improve their passenger experience, while facilitating rapid growth, be sure to attend FTE Asia 2013, taking place in Hong Kong on May 7-9. The full conference agenda will be announced shortly.