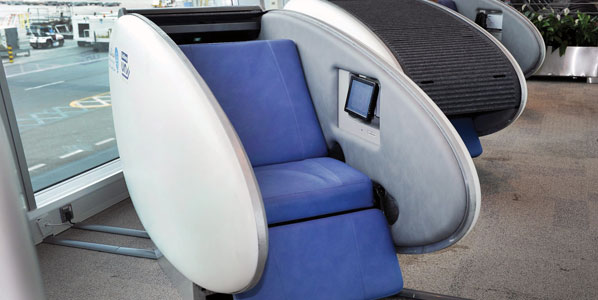 Abu Dhabi Airports Company has introduced 10 'GoSleep' sleeping pods at Abu Dhabi International Airport, with a further 35 on order for installation later this year. The current 10 are located in Terminal 3 and the Al Dhabi Lounge.
'GoSleep' is a state-of-the-art chair that converts into a private flat bed.
The sleeping pods feature a partial or fully enclosed sliding shade designed to isolate the traveller from noise, light and crowds. Following this initial launch phase, the chairs will be upgraded to include internet access and secure storage for luggage and other valuables. Travellers will also be able to charge their laptops, mobile phones, and other electronic devices. The chairs cost AED45 per hour to use, payable by credit card.
Mohammed Al Bulooki, Chief Commercial Officer, ADAC, said: "Abu Dhabi Airports Company continually strives to enhance the experience of passengers travelling to, from or via Abu Dhabi International Airport. The introduction of 'GoSleep' sleeping pods is another step towards exceeding customers' expectations and delivering world-class levels of service. Abu Dhabi Airports Company is proud that it is the first airport in the world to have secured an agreement to install the very latest passenger experience that embraces the latest technology. The instalment of these innovative new convertible chairs highlights ADAC's commitment to using the latest technologies to improve airport facilities, ensuring that passengers have the best experience whilst visiting Abu Dhabi International Airport."