FTE attended the Crystal Cabin Awards presentation – a renowned annual celebration of extraordinary concepts and products designed for the aircraft cabin. It was the eighth time the awards (an initiative of Hamburg Aviation) were presented at AIX.  Initially, 54 submissions from 12 nations made it onto the shortlist, but the 21 finalists appeared earlier this week in person in front of 24 international expert members of the judging panel for final questions, before the outright winners were selected shortly after.
Here at FTE we are only focused on innovations that truly benefit the passenger directly, so while there were some winners that displayed great feats of engineering that created more space and reduced weight for airlines, we outline details only of the winners whose solution we believe primarily benefit the passenger.
All winners are pictured here with Vern Alg, Consultant, (far left); and Katie Murphy, Exhibition Director (far right), Aircraft Interiors Expo.
Convertible long-haul seating concept from Hong Kong takes 'Premium Class and VIP' prize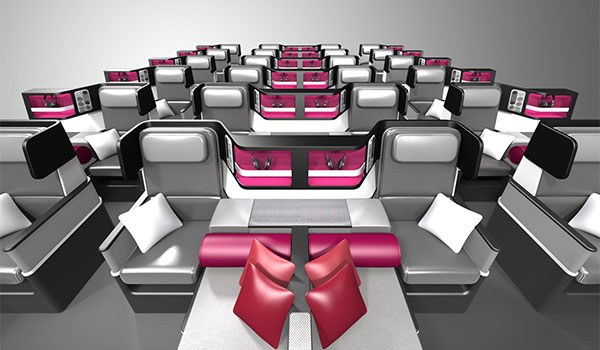 The Premium Class & VIP category was won by Paperclip Design from Hong Kong. The company's victorious Convertible Long Haul Seat Concept is an innovative solution – a seating area that can be converted in next to no time, allowing airlines to adapt the allocation of business and economy seats on a long-haul flight based on load factors. A welcome passenger experience benefit in the sense that there is nothing worse than boarding a plane and walking past a relatively empty business class section on the way to economy, which doesn't have a spare seat!
"Sense of Transitions" from TU Delft shows the next generation could bring much-needed new visions to transform the onboard passenger experience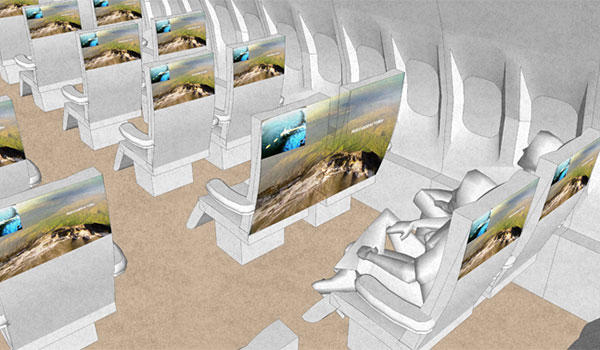 There was a dedicated "University" category, which gives a great platform to the next generation of designers, and the winner was Holland's TU Delft, which won for the "Sense of Transitions" IFE/geotainment concept in which videos can be projected onto the backrest of the seat in front, showing information about the culture, history and natural environment of the land area currently below the aircraft. Informative, interactive pop-up menus and audiovisual infographics on a flexible OLED touch-screen display can also be integrated to add depth to the experience. Although we like the concept, we are not convinced we will see it on an aircraft anytime soon as it will no doubt be too costly to implement for the airline sector's liking, but we welcome this category to provide a platform for the next generation of industry thought leaders who will shape tomorrow's passenger experience.
Inventive economy seat design wins 'Passenger Comfort' award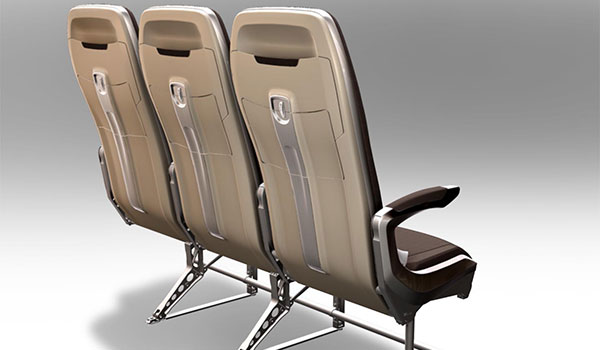 The trophy for the Passenger Comfort Hardware category went to ZIM Flugsitz for the short- and medium-haul EC-00 seat with a new, patented backrest concept. It includes a new folding table structure, a new backrest and an innovative connection between the backrest surface and the upholstery to make cleaning easier.
A (Lufthansa) "technik" worth commemorating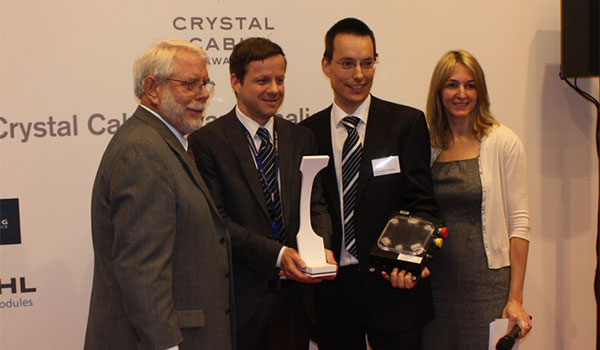 Lufthansa Technik won the Passenger Comfort Systems award for its acWAP high-speed WLAN router that even supports such data-intensive applications as video streaming and online games throughout the cabin. The new system enters into operation this summer onboard 20 Lufthansa A321 aircraft.
German manufacturer takes its best "Schott" and wins 'Materials and Component' category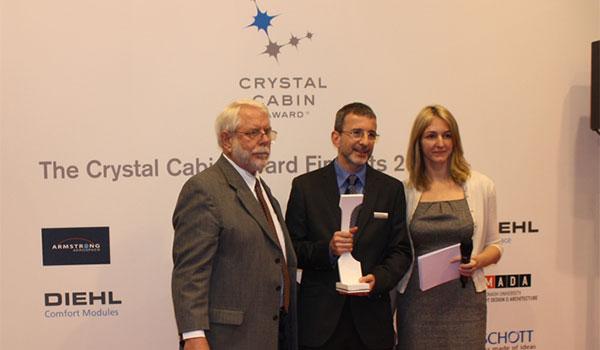 In the Material & Components category, German glass manufacturer Schott was the winner with an innovative lightweight glass structure for cabin windows made out of glass composites with a foil coating. The new structure is more robust and easier to clean than conventional plastic, but the element we really like is that it allows for significantly larger window panes – something we loved when reviewing the Dreamliner last year. All airlines should strive for this as what can be better for the passenger experience than a grand view of the world below? Especially for us Brits who relish those rare moments when we actually get to see the sun!
The FTE view
Some of the winners were truly impressive – others less so in a "best of the best" context – and in some cases FTE thought those that were runners up deserved to win (like Zodiac's Halo First class concept), but this is no doubt because we are focused solely on passenger experience.
However we feel any awards are somewhat compromised when you only judge entries, as it prevents some of the best ideas out there from being considered.
When organising our annual FTE Global Awards, we scout the sector for the best ideas across our nine categories and then ask a panel of independent experts to judge all of the solutions, and we believe this enables us to truly recognise the "best of the best" in terms of passenger experience.
In 2013, the winners were Iberia, British Airways, Dubai Airports, Narita International Airport, Los Angeles World Airports, Emirates, Chicago O'Hare International Airport, Seattle-Tacoma International Airport and Japan Airlines.
To find out who this year's winners are, join us at FTE Global this September 24-26 in Las Vegas, where the FTE Awards ceremony will take place as part of the show's prestigious Gala Evening.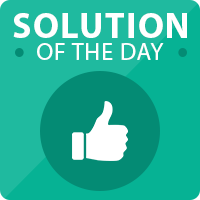 Solution of the Day
The Vuzix smart glasses concept developed by Allegiant Systems is the winner of our final 'Solution of the Day' award. Allegiant Systems CEO Brian Mooney outlined the full scope of potential for such a concept to be used across the travel process, offering personalisation from the moment a passenger arrives at the airport through all the key points of the value chain, to help create a far more seamless experience for passengers. Following separate wearable technology implementations by Virgin Atlantic and Vueling in recent months, it looks as though this exciting new technology will be a major tool for airlines to enhance their passenger experiences going forward.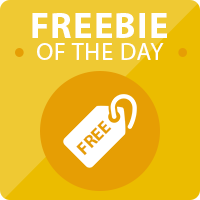 Freebie of the Day
Honeywell Aerospace takes the prize today for its competition to win a pair of Google Glass. To win, visitors must complete a four-piece puzzle by collecting each piece at the stands of Honeywell's connectivity partners – Inmarsat, Qest and Thales – before exchanging the fourth piece for their business card in order to be entered to win. The subject of Google Glass is close to our heart following Virgin Atlantic's exclusive presentation last month at FTE Europe on leveraging wearable technology at Heathrow Airport.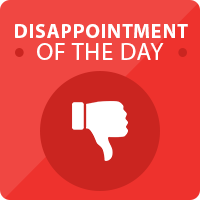 Disappointment of the Day
Thankfully we have not had too many problems ourselves but many of the big exhibition booths here have entrances guarded like Fort Knox and we've noticed that even those with appointments sometimes struggle to get in! In an industry that could really benefit from more inventive collaboration, and idea sharing between established stakeholders and innovative newcomers, it seems a shame to have such 'closed door' policies. There are perhaps concerns over not revealing new concepts to competitors, but these elements could easily be kept out of sight and it would really benefit visitors here looking for inspiration, and provide a more welcoming and open environment.