FTE's Founder Daniel Coleman was onboard the first UK flight of Thomson Airways' (part of TUI Travel) Dreamliner. He reviews the way in which Thomson delivered its own specific Dreamliner experience (not reflecting on the ways in which other airlines have utilised the craft).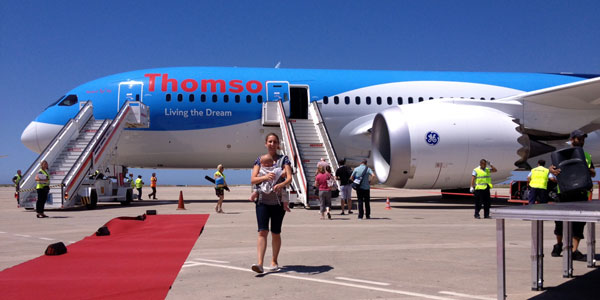 The new Boeing 787 Dreamliner is undoubtedly an industry-leading craft; it is lighter and markedly faster than most commercial super-jets, and has wider aisles and higher ceilings – an elevated 7ft 5in. The innovative craft is also the first to be designed with technology dedicated to combating jetlag. The cabin pressure onboard is reduced to the equivalent of flying at 6,000ft, rather than the 8,000ft equivalent on older aircraft, enabling your body to absorb more oxygen and arrive at your destination feeling fresher as a result.
Thomson Airways' Dreamliner took off on its inaugural flight for UK passengers earlier this month ahead of its first long-haul flights on 8 July, and FTE was onboard. Thomson branded the passenger experience on its state-of-the-art new craft as 'a new era for aviation' – as a revolutionary journey that would redefine what it meant to fly – and though the plane's innovative design and features may make long-haul travelling feel a little less demanding, it's arguable that the experience didn't deliver the futuristic revival of the golden age of aviation that Thomson suggested it would.
From airside the craft certainly made an impact – its unique nose and the engine's striking design were a good example of what true invention can achieve, and while the spacious cabin layout felt airy, the experience within it wasn't necessarily revolutionary. This is not to undervalue, though, the intelligent components and unprecedented concepts with which passengers were presented – exciting details that demonstrated Thomson's awareness of its customer's needs.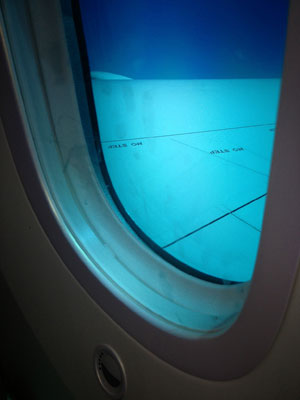 Comfortable blue leather seats were lit by colour-changing mood lighting, and featured a small amount of sought-after extra legroom. The cutting-edge 9-inch seat-back inflight entertainment systems were equipped with charging capabilities and a plug and play feature for your own devices. Most exciting of all were the windows, +30% larger than on a traditional craft, they let in plenty of light and required no shutter to shade the view, instead the gel-filled glass darkens at the touch of a button in your seat – simulating sunset and sunrise to help you adjust to changing time zones.
Aesthetically though the cabin design was virtually indistinguishable from any other craft. Had passengers not been told they were about to embark on their journey on a revolutionary new craft, it is doubtful that they would have noticed. The journey itself, however, was smooth and quiet – and incredibly fast too. The Dreamliner can reach speeds of up to mach .85, and in terms of the passenger experience quicker is always better – especially if you have, as I did, children under two in tow; we cruised at 43,000 feet. Undeniably the plane's crowning aspect was its leading-edge engineering. Boeing's model is composed of materials just like those used in the development of a Formula 1 car, and will greatly lower the time taken to reach its long-haul destinations, (starting in July, Thomson Airways will offer Dreamliner flights from London Gatwick, Glasgow, Manchester and East Midlands airports to Sanford, Florida and Cancun, Mexico).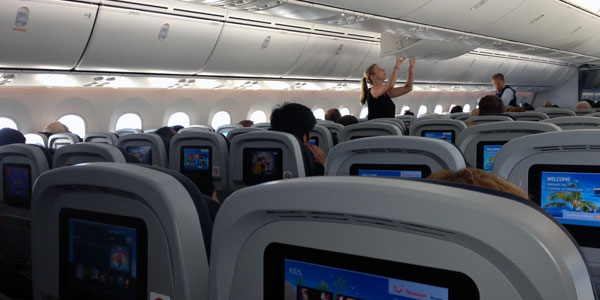 The Boeing 787 Dreamliner is indisputably a truly fine piece of engineering, but it seems that the passenger has not been at the very heart of its design. Instead, I would argue that business thinking was at the centre of its development – however, flying is about transporting passengers from destination to destination, and wouldn't it make sense therefore to have passenger satisfaction a little further up the priority list of the airlines, aircraft manufacturers and industry providers who are driving these developments and the delivery of these new aircraft?
Overall, I'd certainly say that Thomson's Dreamliner is a promising evolution, but perhaps a missed opportunity to redefine the passenger experience onboard, and not 'a new era in aviation' as Thomson proclaims. Instead the experience felt more like a stepping stone – an innovative halfway point on the way to an onboard passenger experience revolution. As a passenger I was left asking some questions. In my opinion the Concorde was the last great aircraft, a passenger experience that was truly exciting, why can't we surpass innovations that are 40 years old? What does the passenger expect of a truly revolutionary experience? And, most compellingly, what is coming next?
Were you onboard Thomson Airways' first Dreamliner passenger flight? Or have you been part of other airline's Dreamliner experiences? We'd love to find out how other airlines are utilising the aircraft in different ways, so let us know your thoughts!