Future Travel Experience Global 2014 features our biggest ever exhibition, showcasing the very latest systems, technologies and services that have been developed to help improve the passenger experience. In the first instalment of our exhibition preview, we highlight what delegates can expect to see from Access IS, Atkins, Bluvision, Boon Edam, Custom, Damarel Systems, Desko, DSG Systems and E-Seek
» View the full FTE Global 2014 Exhibition floor plan
Access IS (Booth 31)

At FTE Global 2014, Access IS will be highlighting three new products. The first is the OCR316e USB OCR MSR Reader, a compact and robust device that quickly and reliably reads passports, ID cards, FQTV and credit cards. The optimised track length, single slot and improved swipe speed ensures that documents are read consistently and accurately. The OCR316e can be attached to a wide range of tablets, keyboards and monitors, or act as a standalone device when counter space is at a premium.
Also on show will be the BGR135 NFC Boarding Gate Reader. This is a fast, intelligent, face-up, desktop boarding gate reader with NFC capability. As well as instantly processing contactless media, it is capable of reading barcodes from paper-based tickets to those displayed on mobile phones and tablets.
The third of the new products on display will be the LSR110 Desktop Barcode Reader. This rugged and face-down reading device has a very small footprint and is designed to swiftly read 2D barcodes – including QR codes from mobile phones, tablets and printed documents – as well as all popular linear and PDF417 symbologies.
For more information, visit: www.access-is.com
Atkins – FTE 'On the Ground' Bronze Sponsor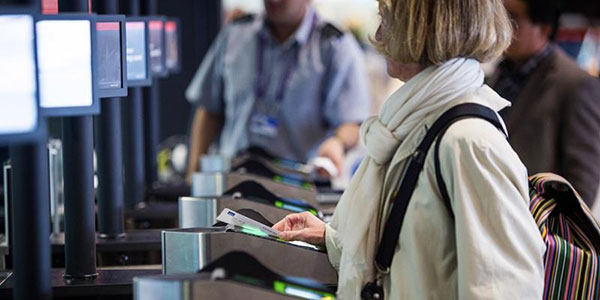 Atkins provides Identity Management solutions which enable higher levels of security and allow for the introduction of self-service channels within airports. Its award-winning work includes the delivery of improved passenger tracking at Heathrow, promoted as the Positive Boarding solution.
At FTE Global 2014, Atkins will be supporting many of the other exhibitors who will be showcasing facial recognition solutions integrated with kiosks and gates. Atkins' solutions enable integration on common use and dedicated platforms, permitting the addition of complex identity management processes without the need to change Departure Control Systems.
Atkins is a sponsor of the 'On The Ground' conference at FTE Global 2014, and the team will be happy to talk to delegates about how their solutions can help to enhance airport processes.
For more information, visit: www.atkinsglobal.com
Bluvision, Inc. (Booth 11)

Bluvision, Inc. (formerly known as StickNFind) will be showcasing its portfolio of innovative solutions at FTE Global 2014 in Las Vegas. The company delivers leading aviation industry Bluetooth beacon solutions that leverage industry standards and cutting-edge, cloud-based iBeacon protocols for airport and airline micro-location service deployments, electronic ePaper and electronic eBag tag baggage solutions with embedded Bluetooth 4.0, and other mobile proximity solutions.
Bluvision manufactures and supplies airports worldwide with its BEEKS™ family of beacons, powered by the BluZone™ cloud management ecosystem, as a single point of development across the aviation industry for powering both Android and Apple iBeacon apps.
For more information, visit: www.bluvision.com
Boon Edam (Booth 59)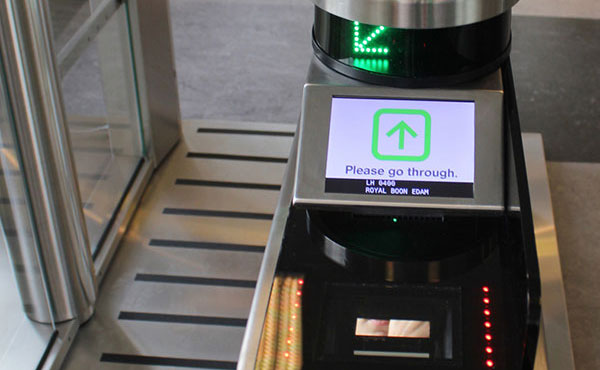 Boon Edam will be exhibiting its Airport Swinglane self-service security lane, which combines proven technology with an adaptable add-on. Depending on the type of reader integrated within the lane it can be used in a variety of applications including secure pre-check or a safe boarding process. As the Airport Swinglane can be integrated with a variety of reader types, including, but not limited to NFC, biometrics and 2D barcode readers, a suitable solution for the processes in your airport is always available.
Optimising the passenger experience is key to the operation of any airport. As passengers appreciate being able to take control over their own processes, self-service can be a big support in your efforts in this direction. However, every airport is unique and the processes are always slightly different. It is therefore important to ensure the self-service solutions you introduce, meet the specific requirements of your airport.
Boon Edam has a long heritage in working together with airports to optimise processes. Together with you, the company determines the requirements and helps you meet them with full service secured entry solutions that can be customised to blend in perfectly with your airport environment.
For more information, visit: www.boonedam.com/airports
CUSTOM (Booth 63)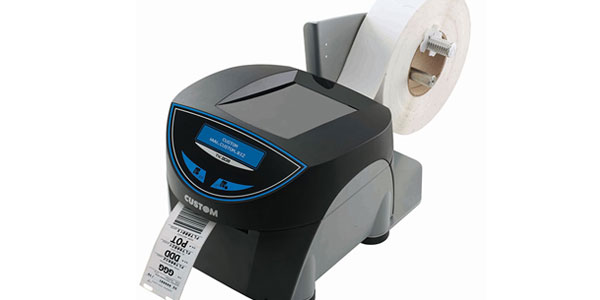 CUSTOM offers a wide range of ticketing printers for the air transport industry, including printers for boarding passes, bag tags, RFID printers/encoders, self-service and info kiosks.
At FTE Global 2014, the company will be exhibiting its latest developments, including the Triple Feeder, which is used in desktop and self-service CUSTOM printers. As the industry moves towards a new generation of slim kiosks, there is no space for three printers for printing boarding passes, bag tags and standard receipts. The Triple Feeder allows customers to manage three different types of tickets.
CUSTOM will also be highlighting the KPM180H, the smallest ATB and BT combined printer with excellent reliability specially designed for small check-in desks where the space is a major issue, or for very compact CUSS kiosks.
In addition to supplying the printer technology, CUSTOM's dedicated partners assist in software integration, guaranteeing compatibility with all software platforms in use in the ticketing sector. With 20 years experience in a variety of tough environments in the airport industry, the company can supply innovative process in scanning pre-printed barcodes on boarding pass, heavy-duty printer for bag tag and boarding pass, and a very fast printing process.
For more information, visit: www.custom.biz
Damarel Systems (Booth 43)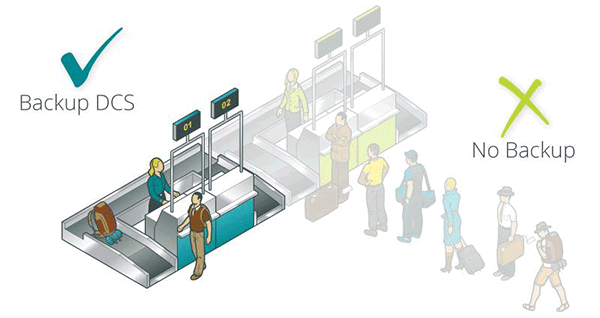 At FTE Global 2014, Damarel Systems will be highlighting the latest in passenger and ground handling software, including B-DCS, its back-up DCS solution. With increased dependence on fewer Departure Control Systems, disaster recovery is a very hot topic right now for airports and airlines, as well as the ground handlers who support them.
Damarel can help you enjoy peace of mind knowing you have a reliable business continuity solution that will keep your operation moving with no fuss and minimal training for your staff. Better still, you can avoid the visible and hidden costs of a primary DCS failure. Penalties, delays, lost revenue and bad press soon add up, so make sure you keep running smoothly.
That's not all; Damarel can also advise you on a host of other issues and systems. Vanguard (security system) is incredible value for smaller airports and Embark (e-gate compatible boarding with mobile version) now supports self-service operations. Its ever-popular low-cost L-DCS will also be on show. New integration modules to the Timatic AutoCheck service from IATA and the Navitaire New Skies reservation system give users of L-DCS more convenience and efficiency than ever before.
With worldwide installations, Damarel continues to deliver leading, cost-effective solutions – improving passenger throughput, increasing efficiency and reducing costs.
For more information, visit: www.damarel.com
DESKO (Booth 60)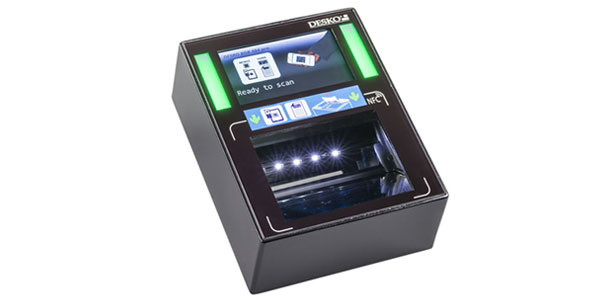 DESKO will be exhibiting its latest innovations at FTE Global 2014 in Las Vegas, including the DESKO BGR 504 pro. With the enlargement of its barcode scanning area, its high speed barcode engine and its new multicolored LEDs, the DESKO BGR 504 pro, the latest generation of DESKO boarding gate readers, is a leading solution for fast and effective boarding. Thanks to its flatbed design, the BGR 504 pro is perfect for any counter integration or desktop usage, and an ideal device for smartphones and tablets.
Also on show will be the DESKO PENTA Scanner, which can read any ID documents, barcodes, magnetic stripe or smart cards, and is NFC ready. The flatbed and user-friendly design make DESKO PENTA Scanner perfect for desktop usage or kiosk integration. The available Wi-Fi Module and battery pack give you the opportunity for a complete infrastructure independent operation at any time and location.
With its wide product range – inclusive OEM range – DESKO offers an ideal solution for every passenger touch point, guaranteeing a smooth and trouble-free process from check-in to boarding.
For more information, visit: www.desko.de
DSG Systems (Booth 33)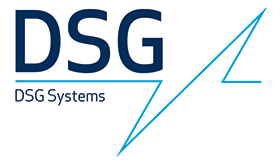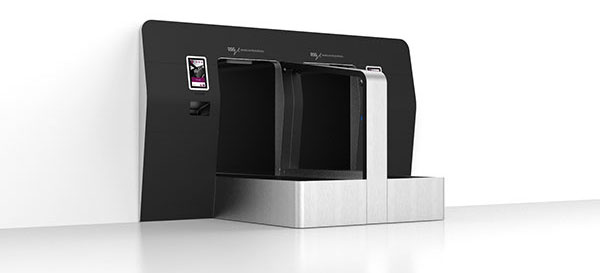 DSG Systems will be exhibiting its new self-service bag drop solution at FTE Global 2014. The bag drop uses DSG's proven system and integrates all required hardware and technology, while combining a modern and elegant design with an ergonomic and user-friendly interface. The first RFID version has already been manufactured and is being prepared for installation at Aalborg Airport in Demark.
The following hardware is available with the self-service bag drop: touch-screen with a modern interface for passenger use, RFID antenna, boarding pass scanner, NFC, payment terminal, receipt printer, bag tag printer and passport scanner.
The DSG Systems self-service bag drop solution is highly customisable. To achieve the high level of customisation, all SBD clients fetch configuration parameters from the Dashboard solution. These are airport, airline and client specific. Powerful features also enable system administrators to add new or edit existing languages, change weight restrictions and set how the SBD clients should handle heavy bags.
Visitors to the stand will also be able to find out more about the SBD.Monitor and app. The SBD.Monitor is an information and alarm handling system, which is displayed on a tablet or smartphone. These handheld devices show real-time monitoring and notifications, displaying alarms, notifications etc instantly.
For more information, visit: http://dsg-systems.no/
E-Seek (Booth 26)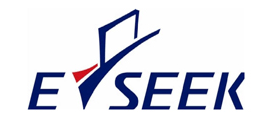 At FTE Global 2014, visitors will be able to find out more about the E-Seek Model 500, which is an integral component of the E-CAT System by MorphoTrust. The TSA selected the E-CAT for installation in all domestic US airports to expedite passenger screening.
The Model 500 detects fake ID cards or Drivers' Licenses by utilising dual sided high resolution ID imaging designed for counter top ID verification applications. In addition, high-resolution imaging reads the barcode data on Drivers' Licenses, as well as the magnetic stripe information.
Meanwhile, the E-Seek Model 280 allows for the reading and capture of electronic data while concurrently providing the ability to scan and capture a complete image of both sides of an ID card or license. The Model 280 reads all data from both the 2 dimensional barcode (PDF 417) and the magnetic stripe utilised on ID cards and Drivers' Licenses. In addition, the ID card or license can be positioned on the scratchproof glass lens of the Model 280, and with the simple press of a button a full high-resolution image (JPEG) of the ID is captured and attached to the data stream.
E-Seek Incorporated is a developer and marketer of unique 2D barcode readers specifically for government issued Drivers Licenses and ID cards.
For more information visit: www.e-seek.com