More than 300 senior travel industry stakeholders from 30 countries representing airports, airlines, vendors, architects, OEMs and cabin designers gathered in London this week at Future Travel Experience Europe 2015. In excess of 40 speakers addressed delegates in the 'On the Ground' and 'Up in the Air' conference streams to reveal their passenger experience plans and visions, debate how to enhance the end-to-end passenger experience and explore the theme of 'Differentiation through passenger empowerment and personalisation'.
In addition to the two conferences, the event included an exhibition of the latest solutions designed to help enhance passenger and baggage processing and the in-flight experience, an IATA Workshop, London airport tours, a visit to the Emirates Aviation Experience and a 'Best of British' Gala Party at Altitude 360.
Virgin Atlantic: How we're delivering true innovation for our customers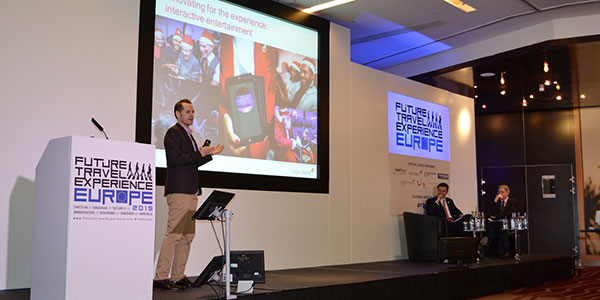 The conference got underway with two inspirational keynote addresses, one of which was delivered by Reuben Arnold, Brand & Customer Engagement Director at Virgin Atlantic Airways. "True innovation comes when you really start to understand what your customers' needs are," he stated. Highlighting the carrier's reputation for innovating, he said trying something different to improve the passenger experience remains a key part of the strategy. "Not every idea is going to fly, but it's better to try," he said.
Hosting the first ever live streamed gig onboard an aircraft with British band Rudimental, investing in wearable technology, trialling interactive, immersive in-flight entertainment and taking risks with its Clubhouse product for premium passengers were all highlighted as examples of this innovative mindset. Looking ahead, Arnold identified wearable tech, digital baggage tags and flight information display screens with embedded facial recognition technology as areas of interest, but warned "the industry needs to work together to create a seamless experience for travellers".
Heathrow CEO: We're focused on becoming one of the best airports in the world
Heathrow Airport CEO John Holland-Kaye also delivered an Opening Keynote, telling delegates: "My sights are set on becoming one of the best airports in the world as measured by our passengers". He spoke of the airport's journey to "introduce a real service culture", outlining how the development and successful opening of Terminal 2, improvement to transfer facilities, and investment in improving processing at the key passenger touch points is helping to deliver on the promise of "making every journey better".
FTE Europe 2015 Welcome Reception
At the end of the first conference day, delegates were invited to the FTE Europe 2015 Welcome Reception, where they had a chance to network with their industry colleagues and take a first look at the multiple solutions on show from a number of the leading vendors in the passenger experience space.
Exhibition: Self-service, display solutions, LED cabin lighting, beacons, baggage delivery and more
A wide array of innovations was on show in the exhibition during the three-day event. Ranging from LED cabin lighting and self-boarding gates, to automated document readers and next-generation display solutions, delegates had a chance to view the very latest products and services that have been developed to help improve the passenger experience on the ground and up in the air.
'On the Ground' keynotes – London Stansted, Air France-KLM and London City Airport share passenger experience visions
On Day 2 of the event, the 'On the Ground' and 'Up in the Air' conferences ran in parallel. Andrew Harrison, Managing Director of London Stansted Airport and Manuel van Lijf, Manager Strategic Marketing, Air France-KLM, delivered the opening keynotes in the 'On the Ground' stream, with the latter providing a unique insight into the carrier's latest passenger-focused projects. Having highlighted the lessons learned to date during the development of an electronic bag tag, he provided an overview of a biometric-based single passenger token project, which is due to go live at Aruba Airport later this year. London City Airport's Chief Commercial Officer, Matthew Hall, also revealed how the airport will optimise passenger processing through the use of new technology without expanding facilities.
'Up in the Air' keynotes – Airbus' cabin of the future and SAS' brand new business class product
Meanwhile, in the 'Up in the Air' stream, Airbus' Ingo Wuggetzer, Vice President Cabin Marketing, and Johan Mägi, SAS' Head of Onboard Product and Services, took to the stage to open the onboard-focused conference. Wuggetzer provided a detailed insight into how the aircraft manufacturer is taking into account the latest consumer lifestyle trends and airlines' desire to differentiate their onboard offer, and shared Airbus futuristic vision for the aircraft cabin of 2050, many facets of which, he suggested, could be delivered far sooner.
In the same session, Mägi revealed SAS' all-new business class product, which will be retrofitted on the carrier's A330s and A340s, and will also feature on the new A330-300s and A350-900s, which will be delivered in the coming months and years.
IATA passenger experience workshop
FTE Europe delegates had access to an IATA Workshop, led by Paul Behan, Director, Passenger, and Nuria Fermoso, Manager, Passenger Experience Europe. The highly interactive workshop covered IATA's areas of focus both on the ground and in-flight, from the latest Fast Travel and Smart Security developments, to the future of onboard connectivity.
Among the discussion points was automatic check-in, with Behan suggesting that check-in as we know it could disappear altogether in the not-too-distant future. "Why do we need check-in at all?" he asked. He said surveys have shown that 38% of passengers would already prefer auto check to self-service or traditional check-in. "On short-haul flights it will become the norm," he suggested. Electronic or permanent bag tags were also discussed. "If you travel five, 10 or 20 times a year, they make a lot of sense," Behan said. "The key thing is that they can be used by every airline at every airport, not just your home airline at your home airport." As for Wi-Fi, he said it has become the "fourth utility" and everyone now expects constant connectivity, even when flying, suggesting airlines that don't offer it risk being left behind by tomorrow's traveller.
Understanding what passengers want
Simon Calder, Senior Travel Editor at The Independent, led the "Understanding what passengers want forum", which included presentations from Norwegian Air Shuttle, Swedavia, Munich Airport and Lufthansa. Summing up the evolution of air travel over the last 50 years, Calder said: "I'm paying less, I'm being safer, but I'm having a more miserable time", challenging the panellists to prove that the passenger experience is among their priorities.
Bjorn Erik Barman-Jenssen, SVP Ground Operations, In-flight Services & Cargo, Norwegian Air Shuttle, pointed to the carrier's free onboard Wi-Fi as evidence of its strong passenger focus. "If it's so easy to connect to Wi-Fi up in the air, why is it so difficult to connect at the airport? Some airports still don't get it," he stated. Norwegian's new 787 Dreamliners, free Wi-Fi and next generation IFE support his view, he said, that "in a few years there will not be that big a difference between a legacy and a low-cost carrier".
Gala Party at Altitude 360 – sponsored by BT
Day 2 of FTE Europe 2015 culminated in a fantastic evening of networking at the breathtaking Altitude 360, which offers jetliner views across the London's skyline. Delegates were treated to drinks and canapés at the Gala Party, which was sponsored by BT.
Ryanair and Thomson Airways reveal customer-focused plans
After no fewer than eight keynotes across the two conferences on Day 2, the third day of FTE Europe 2015 opened with presentations from Ryanair and Thomson Airways as the two conference streams came together for a joint conference day. John Murphy, Managing Director of Thomson Airways spoke of the carrier's vision to enhance the end-to-end experience to become "the world's best holiday airline" and explained that the carrier faces some "big decisions" in the coming weeks relating to investment in onboard connectivity. Murphy also presented visions of what the onboard family booths – two rows of seats facing one another with a table in the middle – could look like if implemented by the carrier.
Ryanair's Chief Technology Officer and Head of Ryanair Labs, John Hurley, then addressed delegates immediately after, revealing how the low-cost carrier's more customer-friendly approach is being reflected in its investment in new technology, with IFE, onboard Wi-Fi and wearable technology now being given serious consideration.
Onboard trends and strategies from Air Canada, Alitalia, Panasonic, Factorydesign, Thales and Lufthansa
The Runway Girl Network/FTE Cabin Connectivity Forum provided a rare opportunity for the leading suppliers in the in-flight connectivity space to share the stage and debate the future of the market. Senior figures from Airbus, Panasonic Avionics, Thales/Live TV, Inmarsat, TUI and AirFi participated in the session, which was chaired by Maryann Simson, Contributing Editor, Runway Girl Network.
Among the many other big-name speakers in the 'Up in the Air' conference was Aubrey Tiedt, Chief Customer Officer, Alitalia; Anup Anand, Senior Director Inflight Service Bases, Air Canada; Kerstin Meraner, Senior Passenger Experience Designer, Lufthansa; Mike Crump, Product & Innovation Director, Honour Branding; and Peter Tennent, Managing Director, Factorydesign, who delivered a keynote address on the next wave of premium innovation.
The Airport Futures Symposium
The 'On the Ground' conference played host to the Airport Futures Symposium, which explored how design and technology will influence the look and feel of future airport facilities. Antoinette Nassopoulos-Erickson, Partner at Foster + Partners, provided the designer's perspective, while BT's Head of Design, Multinationals & CPG, Tim Boden, offered the technology provider's viewpoint.
Also participating in the panel discussion was Richard Meredith, Chief Development Officer of Istanbul New Airport, who touched upon the passenger experience opportunities presented by the forthcoming construction of a new mega hub airport in Istanbul. Brussels Airlines' Steve Tarbuck also offered his expertise, describing how the new 'The Loft' lounge helps create a sense of place while satisfying travellers' demands for a "digital experience".
The future of mobile and wearable technology in travel
The final conference session provided a look into the future of the mobile and wearable technology markets, with Virgin Atlantic, United Airlines, Heathrow Airport, Sony and global futurist Rohit Talwar offering their views on where technology is heading, what impact it will have on airlines, airports and their customers, and what they need to do now to ensure they are well positioned to take full advantage in the future.
Rather than trying to dictate how travellers will use new technology, Troed Sångberg, Senior Developer Advocate, Sony Mobile Communications said airlines must "expect the consumer to bring all of these devices with them and then help them to make use of the technology to make their experience easier".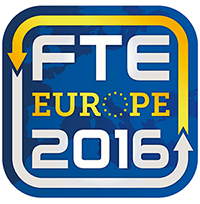 We are delighted to announce that FTE Europe 2016 will take place in Amsterdam in Spring 2016. The event will again include 'On the Ground' and 'Up in the Air' conference streams, an extensive exhibition and an exciting social and networking programme.
The venue and dates for FTE Europe 2016 will be announced very soon.