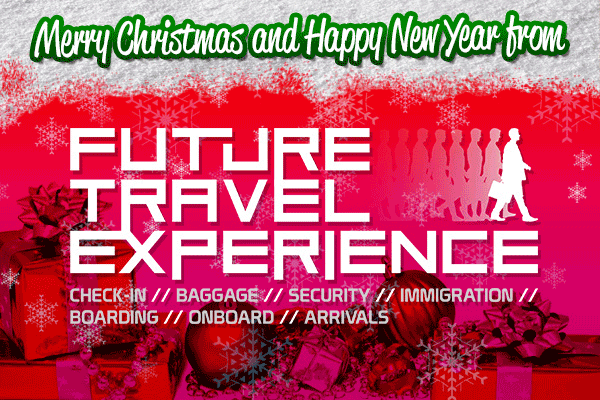 A big "thank you" to all of our readers and to everyone who attended an FTE event in 2015!
2015 has proved to be a landmark year for Future Travel Experience, with our three events – FTE Europe, FTE Global and FTE Asia EXPO – bringing together more than 2,000 senior travel industry figures in total, with each playing a crucial role in defining the future direction of the end-to-end passenger experience. If you missed out on this year's shows, or if you would like to relive any of the three events, follow the below links to view the picture reports.


» View all of our event photos in our Flickr galleries
2016 set to be FTE's most exciting year yet – unrivalled passenger experience inspiration guaranteed!

Here at FTE, we have exciting plans in the pipeline for 2016. In addition to the future-focused 'On the Ground' and 'Up in the Air' conference streams, inspirational exhibitions and memorable social and networking agendas at all three events, we have a number of new innovations lined up. FTE Europe 2016 (Amsterdam, 25-26 April) will host the first FTE Bag Drop Symposium and will take place around the famous King's Day celebrations to provide an unforgettable networking environment for delegates. FTE Global (7-9 September, Las Vegas) will then play host to the all-new FTE Terminal Design and Delivery Summit, which will play a vital role in defining the airport terminal of tomorrow, while FTE Asia EXPO (25-26 October) will be at the centre of a passenger experience super-show in Singapore, co-located with APEX EXPO and Aircraft Interiors Expo Asia. Following the success of this year's FTE Onboard 2025 Think Tank, we will also be launching a new Think Tank project, providing even more unparalleled #PaxEx leadership for the industry. More information will be revealed in early 2016.
A gift from FTE – download the Onboard 2025 Think Tank presentation – co-created by Airbus, Panasonic, Norwegian, Avianca and Honour executives
As this is the season of goodwill, we have released to the industry the results of a meticulous effort to chart the future trajectory of the in-flight passenger experience on narrow-body aircraft. The first of its kind Onboard 2025 Think Tank has brought together senior figures from Airbus, Norwegian Air Shuttle, Panasonic Avionics, Avianca and Honour Branding to collaboratively define the narrow-body experience of 2025, and to identify the key challenges and opportunities facing the various industry stakeholders charged with defining tomorrow's passenger experience. You can now access the full 50-page Think Tank presentation for free, and use it to drive improvements across your own business as you plan your future cabin strategies.