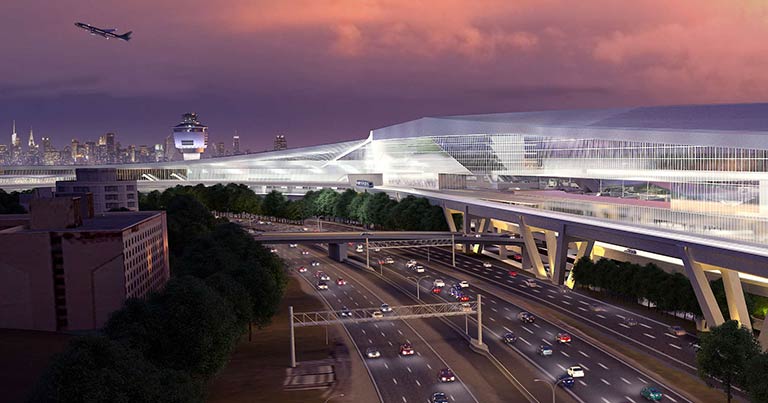 Starting on 9 December, six airlines will relocate their operations at LaGuardia Airport to help minimise disruption during the redevelopment of the airport.
American Airlines, Delta Air Lines, JetBlue, Alaska Airlines, Frontier and Spirit will relocate. JetBlue and Alaska will consolidate their operations in Terminal A (Marine Air Terminal), American in Terminal B, Delta in Terminals C and D, and Frontier and Spirit in Terminal D.
Under an agreement reached between the Port Authority and the airlines, the following changes will take effect on 9 December:
American will consolidate its operations (including American Airlines Shuttle) at Terminal B, ceasing its flights at Terminal C.
Delta will co-locate its LaGuardia operations in Terminals C and D by relocating its Delta Shuttle to Chicago and Washington, D.C. from Terminal A (Marine Air Terminal) to Terminal C.
JetBlue and Alaska will move their operations to Terminal A (Marine Air Terminal) from Terminal B.
Frontier and Spirit will move from Terminal B and begin operations at Terminal D (departing passengers, however, must check in at Terminal C).
"We want to provide LaGuardia's passengers and employees with ample time to become aware and prepare for these significant changes to existing flight operations," explained Lysa Scully, the Port Authority's General Manager at LaGuardia Airport.
"We are working with our airline partners to make the terminal consolidation changes as convenient as possible for our passengers as they navigate the airport during this exciting – but extremely busy – time in LaGuardia's storied history."
The ongoing $8 billion transformation of LaGuardia Airport will create a modern new airport with a state-of-the-art unified facility.
The Port Authority and LaGuardia Gateway Partners are advancing a $4 billion public-private partnership to replace the existing Terminal B. In addition, Delta has committed $3.4 billion to build a new 21st century passenger terminal to replace the existing Terminals C and D, with a $600 million investment from the Port Authority to help cover costs of the project and related supporting infrastructure.