Future Travel Experience Asia EXPO 2017 took place at the Marina Bay Sands in Singapore on 7-8 November 2017, and the record number of attendees included representatives from 41 airlines and 33 airport operators from across Asia and beyond. Those in attendance had access to a major expo of products, services and concepts designed to improve in-flight and on-ground experiences, a high-level Premium Conference, the 3rd FTE Asia Awards ceremony, and a networking reception on the terrace of the iconic Marina Bay Sands. Here we round up a selection of the highlights.
The EXPO starts with a bang – Asia's biggest free to attend end-to-end passenger experience and business performance expo gets under way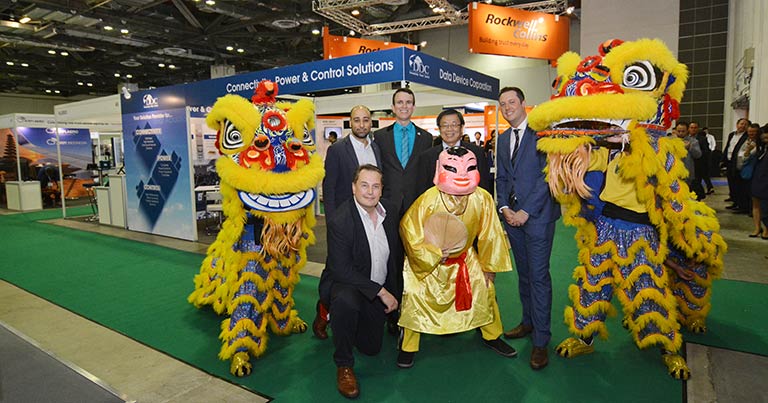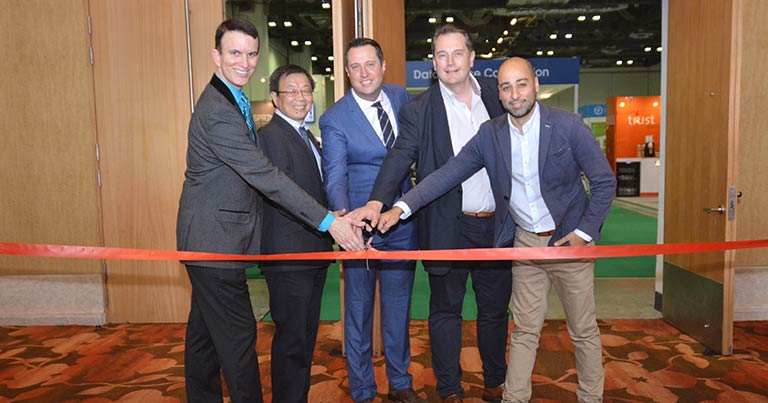 FTE Asia EXPO 2017 got under way with a traditional lion dance and drumming performance after a ribbon cutting ceremony involving a number of our highly valued event partners. Steve Lee, CIO & Group SVP (Technology), Changi Airport Group (Headline Partner); Joe Leader, CEO, Airline Passenger Experience Association (Headline Partner); Andrew Cowen, CEO, U-FLY Alliance (Supporting Partner), and Van Espahbodi, Co-Founder & COO, Starburst Accelerator (Supporting Partner), joined Daniel Coleman, Founder of FTE, for the opening ceremony.
New product inspiration for airlines and airports – biometrics, self-service, bag drop, e-tags, mixed reality and more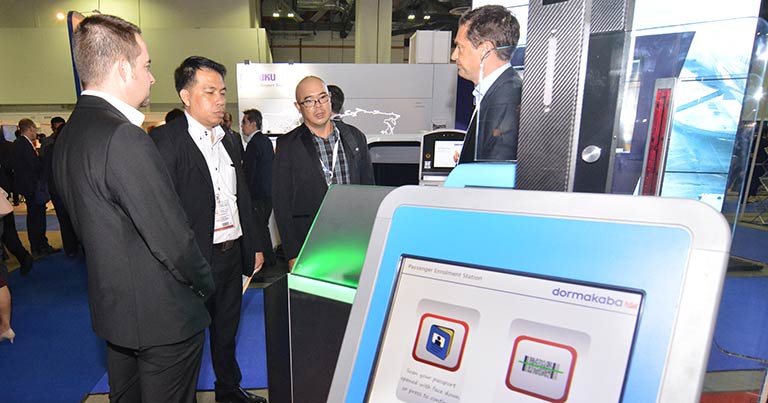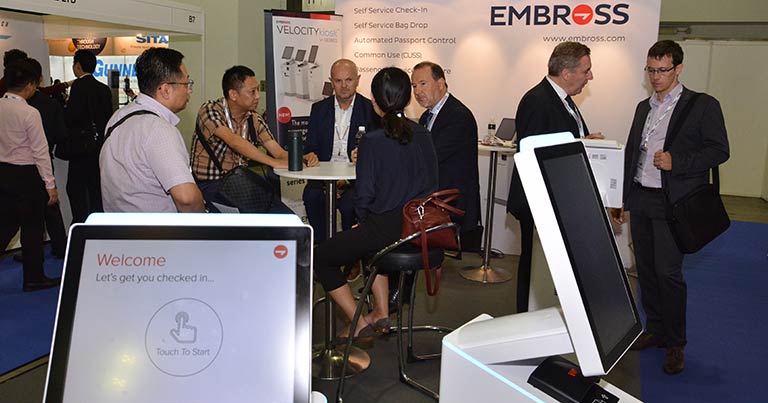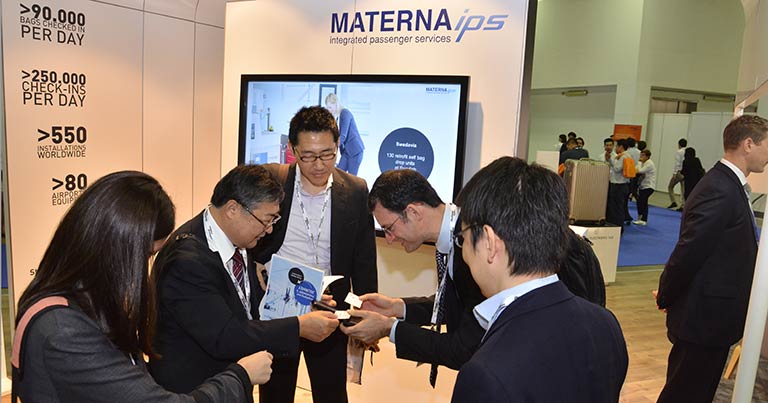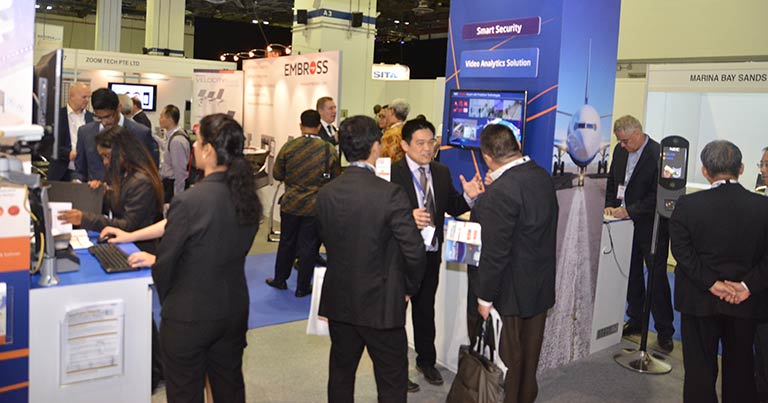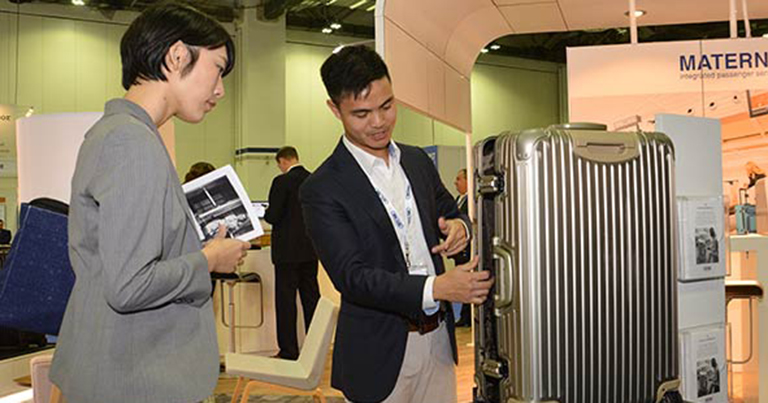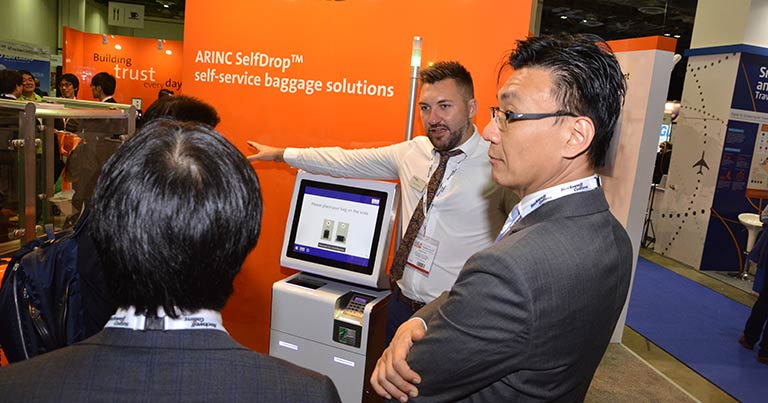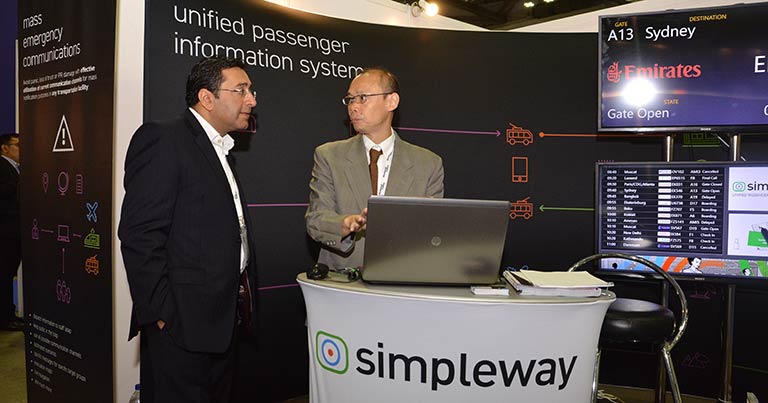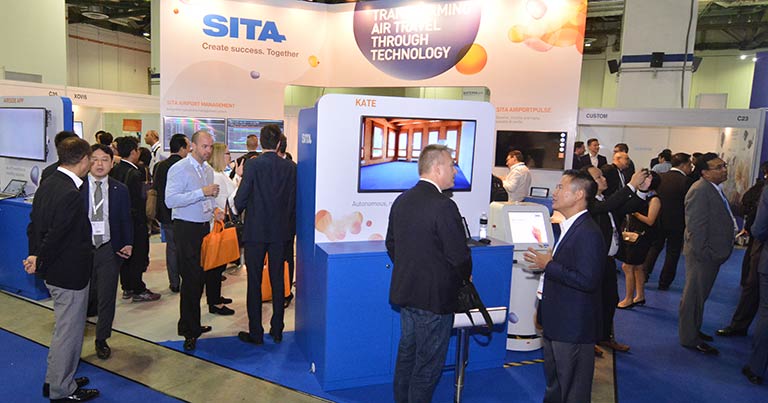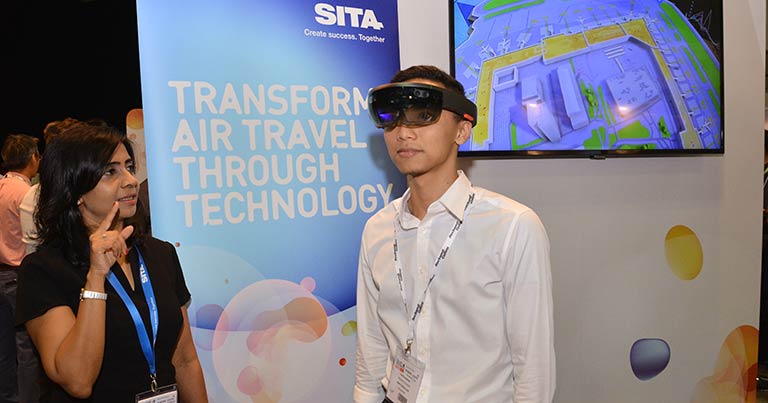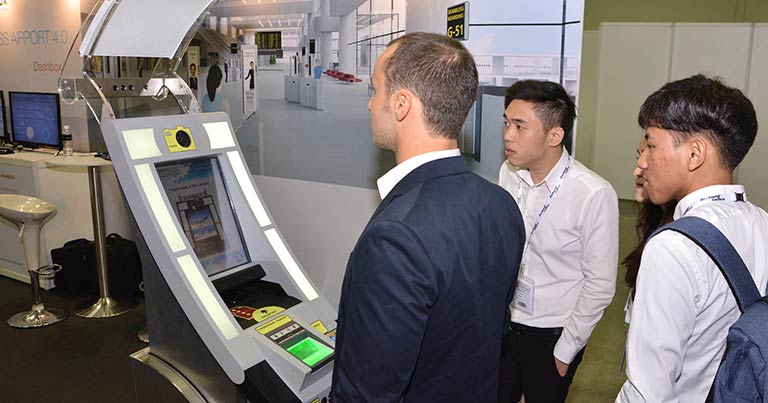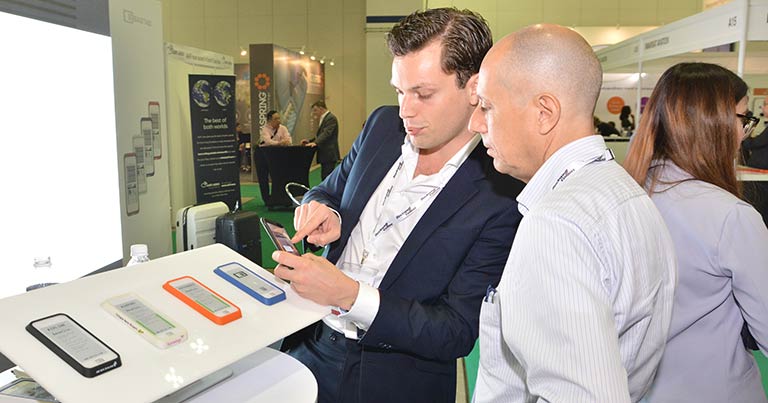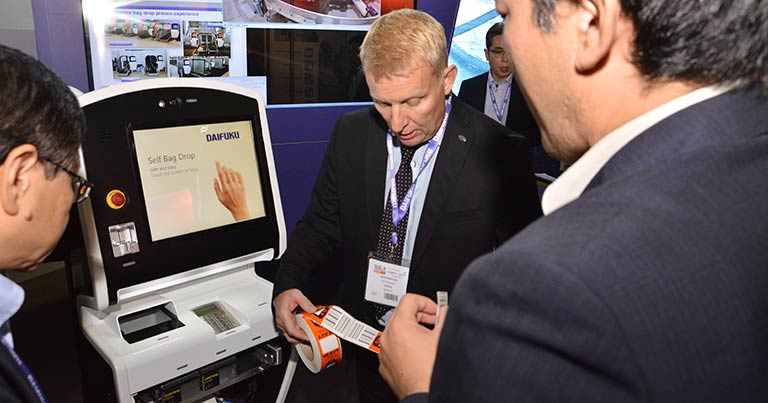 The exhibition hall featured a wide array of exhibitors, with the showcase divided into "Up in the Air" and "On the Ground" zones. Products on show ranged from self-service bag drop and biometric processing solutions, to seatback and wireless in-flight entertainment and on board connectivity products.
One of the exhibitors that showcased the most solutions on their booth was SITA, which exhibited the potential of robotics, mixed reality technology and biometrics. Attendees had an opportunity to interact with "KATE", an intelligent check-in kiosk that can autonomously move to congested areas of the airport. Visitors to the SITA booth could also demo the HoloLens mixed reality headset, which provides a new way to interact with an airport's operational data, as well as Smart Path, which uses secure biometric-enabled processing to simplify the passenger journey through the airport.
A number of other leading vendors, including the likes of Rockwell Collins (which started the show by announcing that Velana and Gan international airports in the Maldives are now using the ARINC vMUSE common use passenger processing system), Vision-Box (which presented its Seamless Airport 4.0 vision to the region for the first time), Materna, dormakaba, Embross, Gunnebo, NEC, Daifuku BCS and IER also exhibited self-service and biometric-enabled solutions for the airport environment. Simplifying the baggage process was another big theme in the "On the Ground" section of the exhibition. In fact, ICM Airport Technics was offering demos of the self-service bag drop system that went live in Changi Airport's new Terminal 4 on 31 October, while the likes of RIMOWA Electronic Tag and BAGTAG were showcasing their latest e-tag solutions.
In-flight innovation – next-gen IFE, broadband connectivity, aircraft seating and more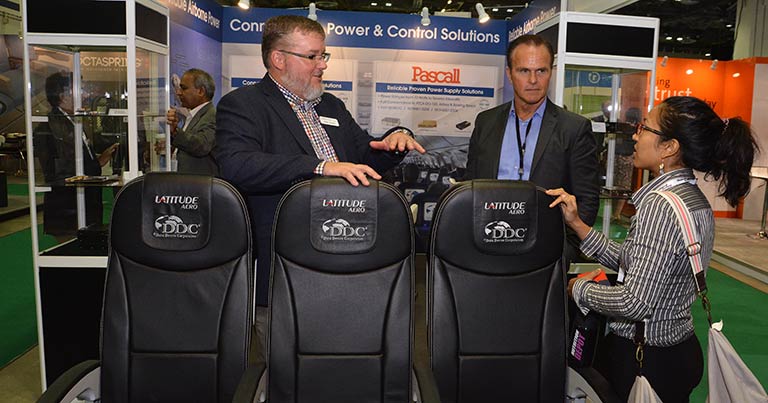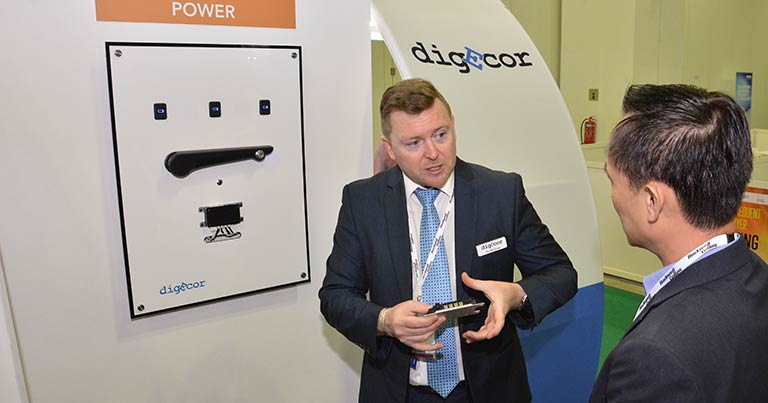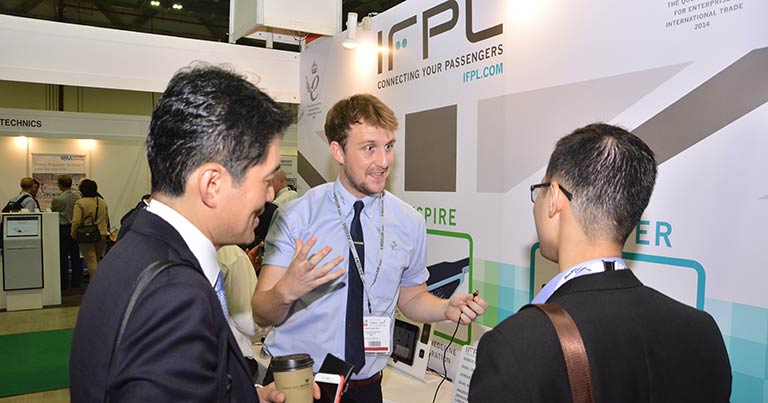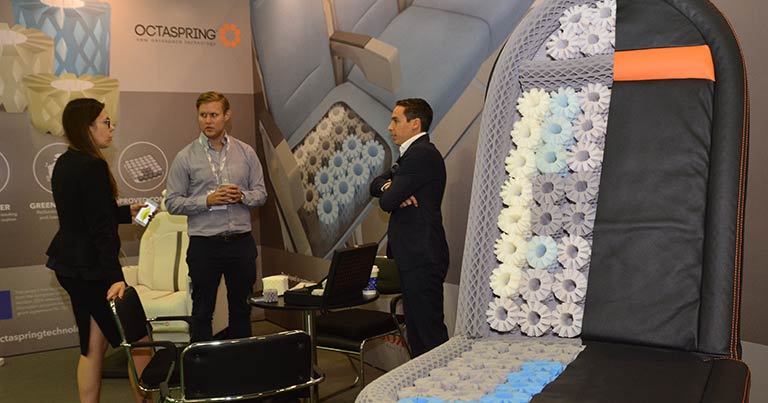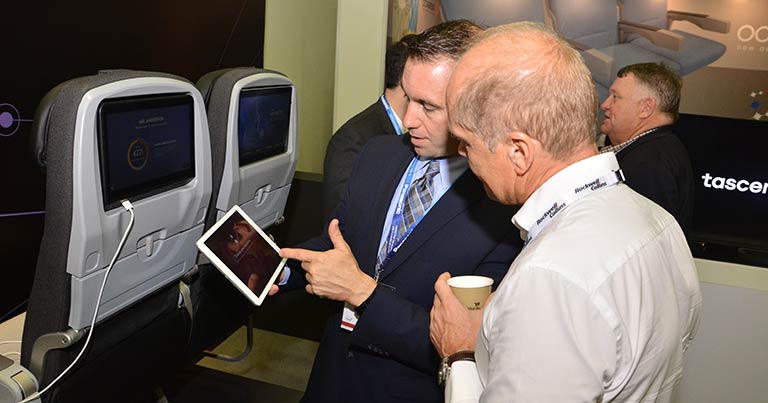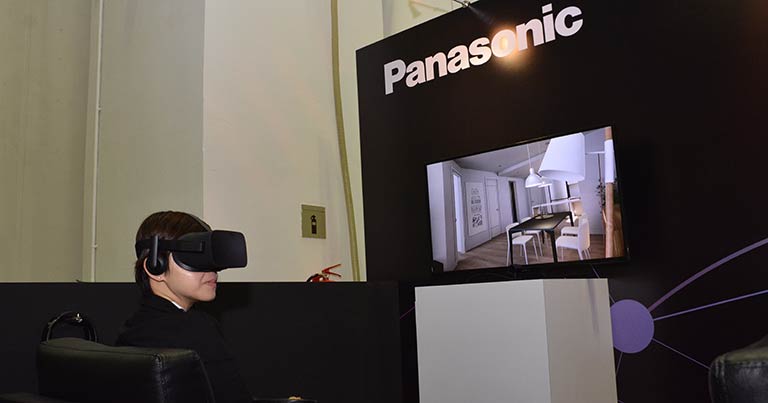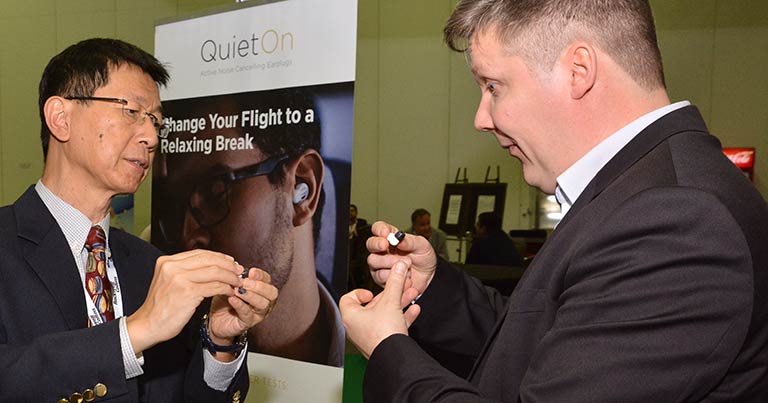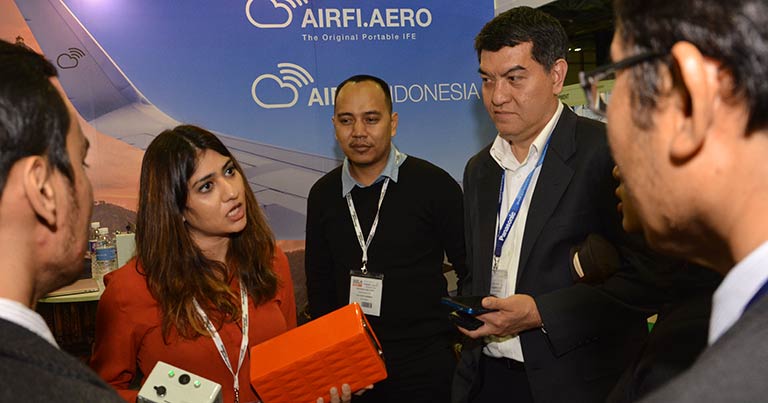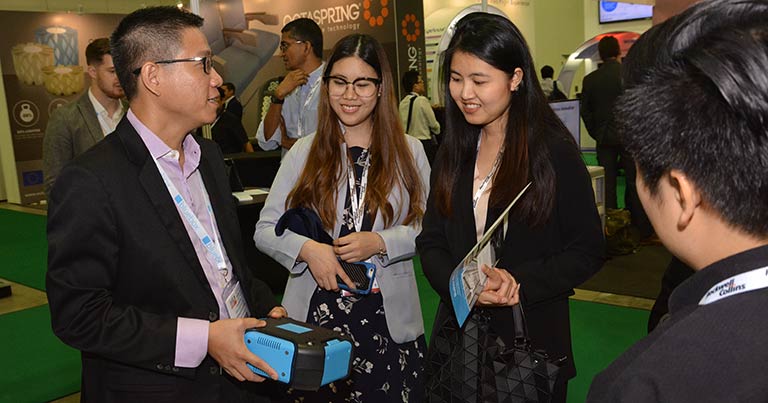 FTE Asia EXPO 2017 included a strong line-up of in-flight focused suppliers, including Panasonic Avionics, Inmarsat Aviation, digEcor, AirFi, Bluebox Aviation Systems, IFPL, Data Device Corporation and Retail inMotion. The Panasonic Avionics booth was a hive of activity throughout the two-day show, with attendees keen to learn more about the NEXT IFEC platform, "Internet of Me" experience, companion app, on board biometrics integration, seatback wireless charging and more.
Elsewhere in the expo, visitors also had the chance to learn about and demo the latest wireless IFE, connectivity, power, seating, lighting, contactless payment, and on board retail products and services. Some exhibitors also made significant announcements during the show. For example, AirFi launched AirFi Indonesia with strategic partner PT. Dua SuryaDinamika and announced that Samoa Airways has selected AirFi's wireless IFE solution for a Boeing 737-800 aircraft; digEcor announced that former Panasonic Avionics CEO Paul Margis has been appointed as Non-Executive Chairman of digEcor's Board of Directors; and Finnish start-up QuietOn used the expo as the regional launch pad for its new patented active noise cancelling ear plugs.
Starburst partnership provides start-ups with a unique and valuable platform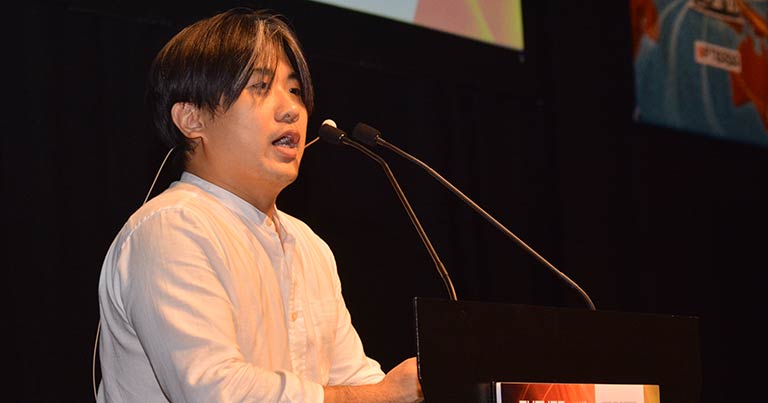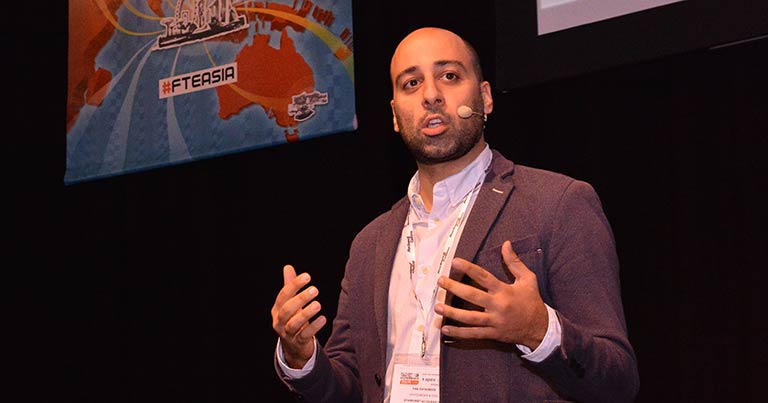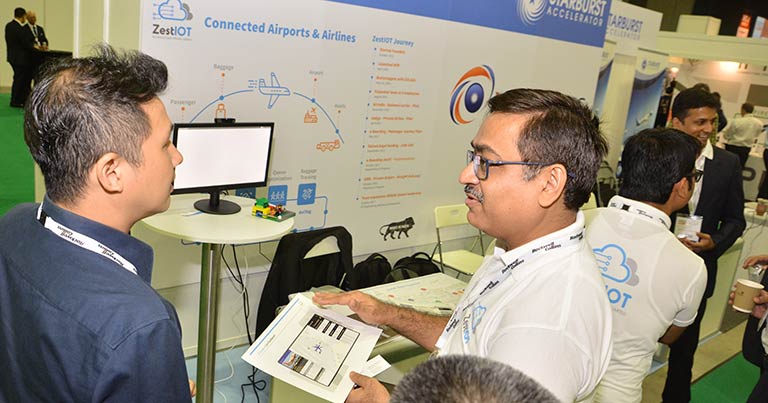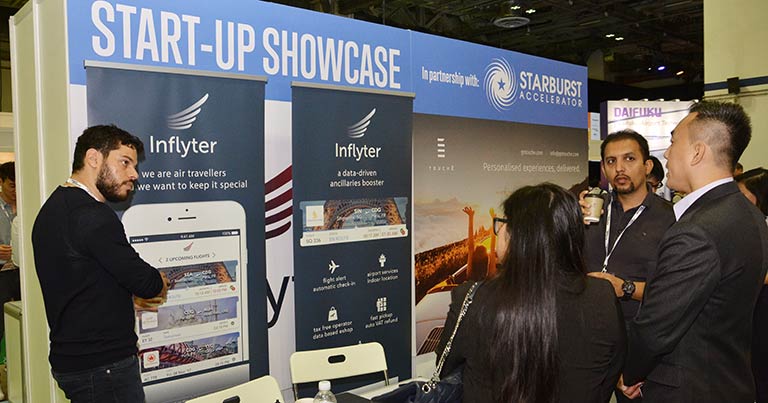 There was a strong start-up presence throughout the show, thanks in part to a partnership between Future Travel Experience and Starburst Accelerator. A total of 10 start-ups – Vanema Aerospace, AiChat, AirWhizz, CLOPTech, Cloudzen, Inflyter, TaKanto, Touché, Xjera Labs and ZestIOT – not only had the chance to participate in the exhibition but also to pitch their products to an audience including high-level airline and airport executives.
The solutions on show in the Start-up Showcase ranged from a new generation of aircraft seating and virtual reality content, to artificial intelligence chat bots and biometric-based data analytics. All attendees were invited to vote for their favourite start-up and the "Best New Start-up" will be revealed soon.
Free to attend Premium Conference – future-focused keynotes by Dubai Airports, Air NZ, Samsung Electronics and Marina Bay Sands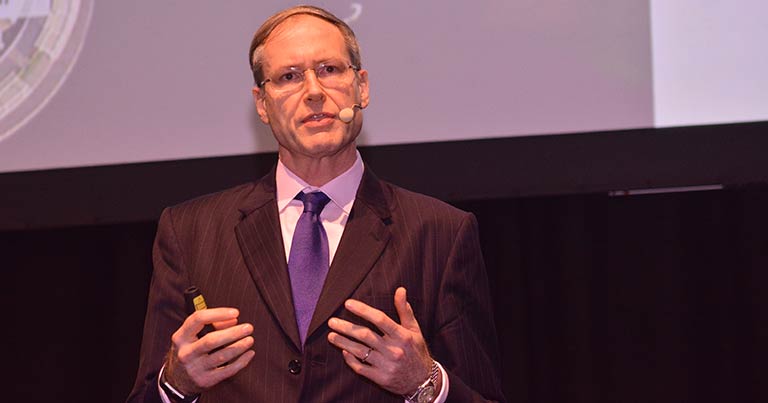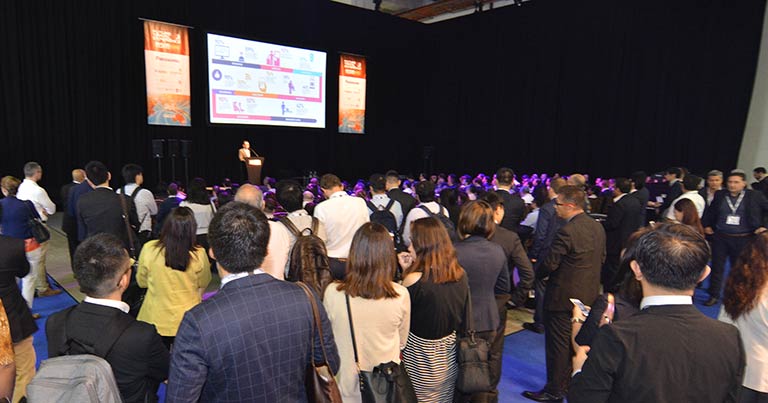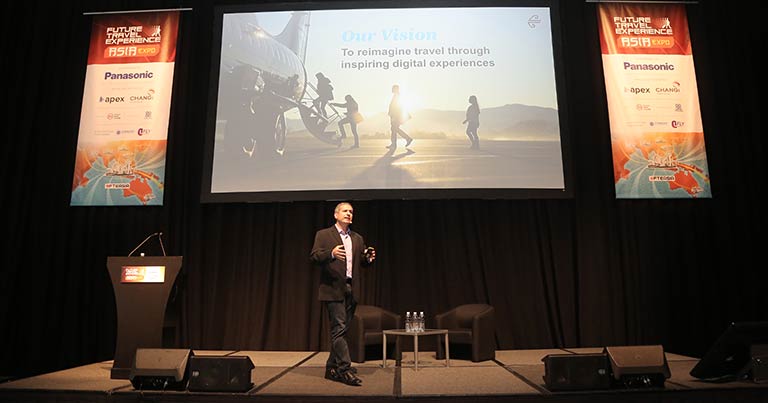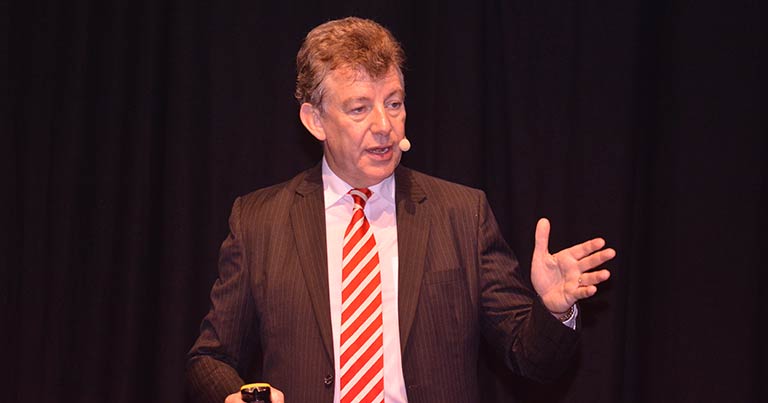 In addition to the exhibition, all attendees had complimentary access to the FTE Asia EXPO Premium Conference, where a high-level line-up of almost 50 speakers offered insight into their latest technology- and passenger-focused plans and visions. During the two days, the inspirational keynotes were delivered by Joe Chan, VP, Regional Enterprise & Channels, Samsung Electronics; Paul Griffiths, CEO, Dubai Airports; Avi Golan, Chief Digital Officer, Air New Zealand; and Ian Wilson, SVP Hotel Operations, Marina Bay Sands.
Chan highlighted a selection of the most pertinent technology, consumer and industry developments that air transport industry stakeholders should be preparing for, while Dubai Airports' Griffiths focused on the "customer-ised travel experience". Air New Zealand's Golan provided a fascinating look into how the carrier fosters a culture of innovation and outlined which technologies are currently top of the airline's watch list, while Wilson provided invaluable inspiration from outside of the air transport industry.
Premium Conference: Improving the end-to-end experience and boosting ancillary revenues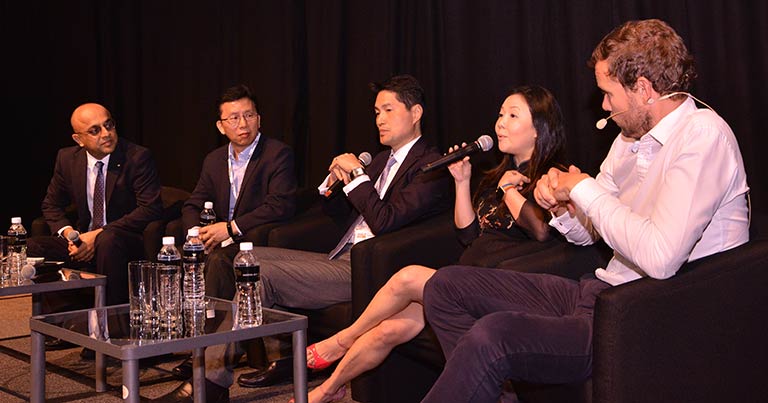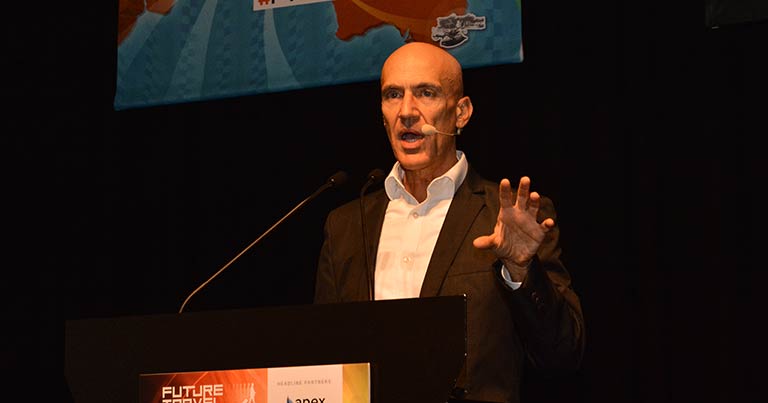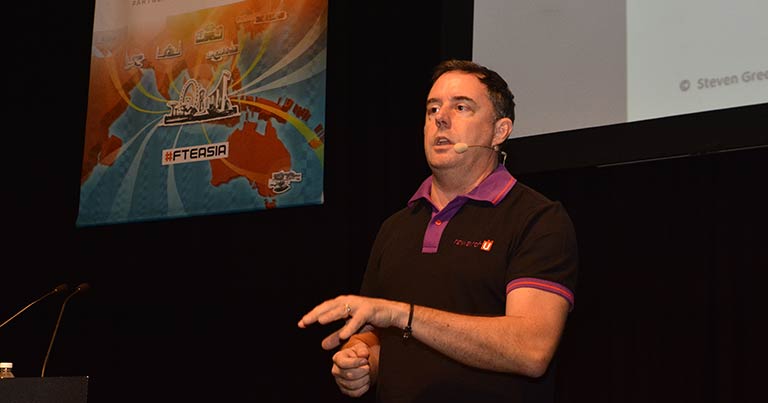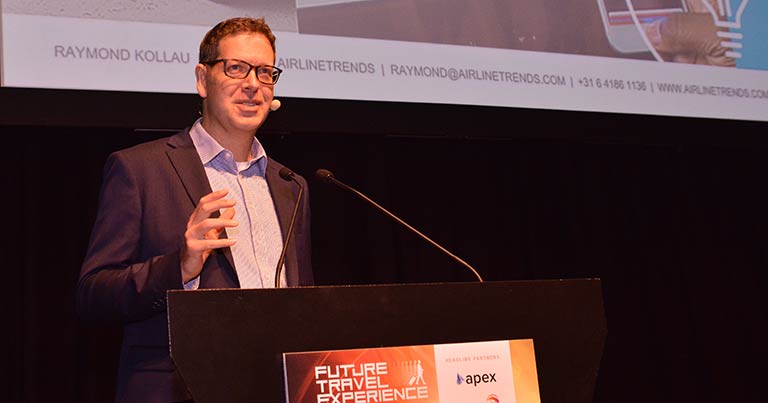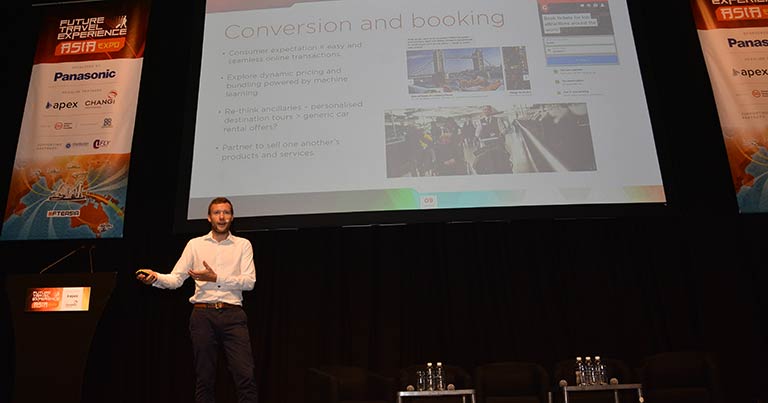 The Premium Conference covered the end-to-end air travel experience and featured big-name speakers from some of the region's most pioneering airlines and airports, as well as academics and technology giants. Max Coppin, Google's Partner Development Manager, presented the FTE Passenger Experience & Ancillary Think Tank vision and recommendations for the first time in Asia – the culmination of a collaborative project involving senior figures from Expedia, Brussels Airlines, Heathrow Airport and Datalex, as well as Google.
In addition, Raymond Kollau, Founder of AirlineTrends, provided ancillary revenue inspiration by revealing the 10 most progressive ancillary efforts from along the end-to-end customer journey. Steven Greenway, CEO of reward-U (the loyalty and lifestyle programme of HK Express), then offered his candid opinions on airlines' ancillary and loyalty efforts. He suggested that airlines should focus on getting the basics right by making effective use of data and becoming truly multi-channel retailers instead of getting blindsided by the "next big thing".
Continuing the focus on ancillary revenues, Dr Alexander Grous from London School of Economics and Political Science (LSE) presented the key findings of the "Sky High Economics" study (commissioned by Inmarsat Aviation), with a specific focus on how airlines in the Asia Pacific region can tap into the multi-billion dollar opportunities presented by in-flight connectivity.
Defining the in-flight experience of tomorrow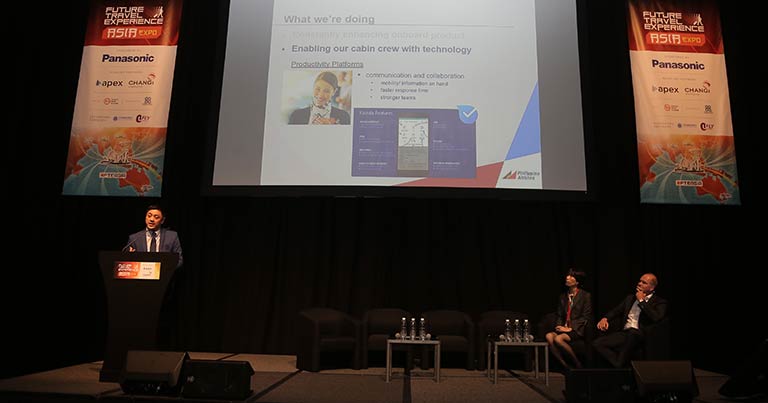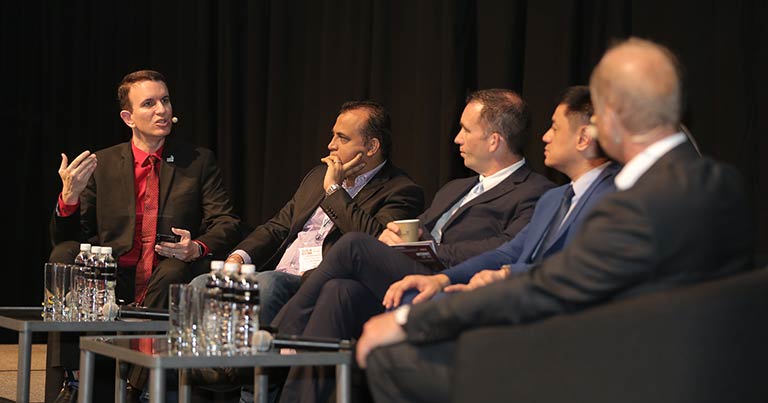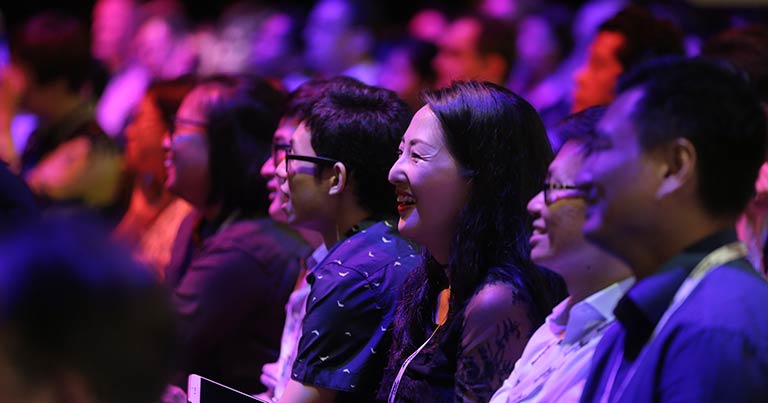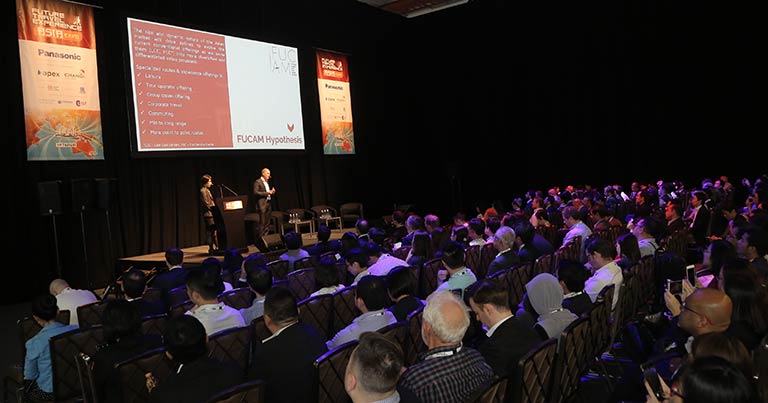 The Premium Conference was also littered with presentations by airlines and airports from across Asia and beyond, who shared their latest technology-focused plans that have the potential to revolutionise the passenger experience. On the in-flight side of things, Joe Leader, CEO of APEX, led a session focused on the aircraft cabin of the future in which senior figures from Airbus and Jamco shared the thinking behind the unique FUCAM (Future Cabin for the Asian Market) project. Attendees also got to hear from the likes of Jet Airways, Philippine Airlines and Panasonic Avionics, who offered their expert thoughts on in-flight innovation.
New technology and the airport of the future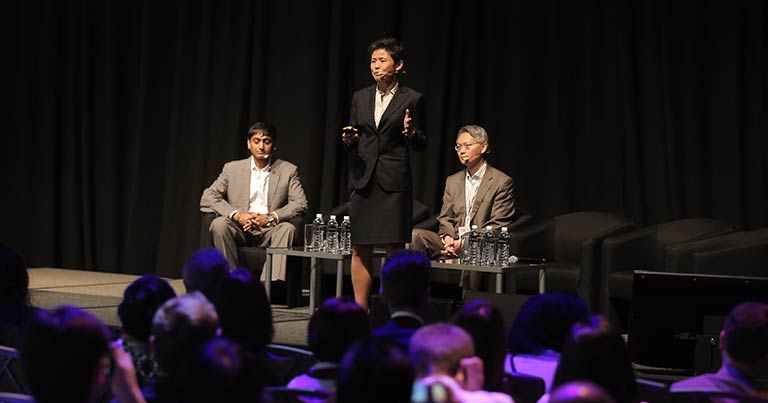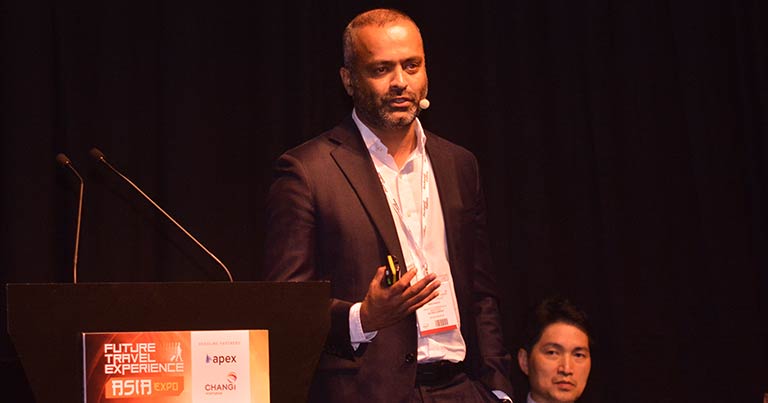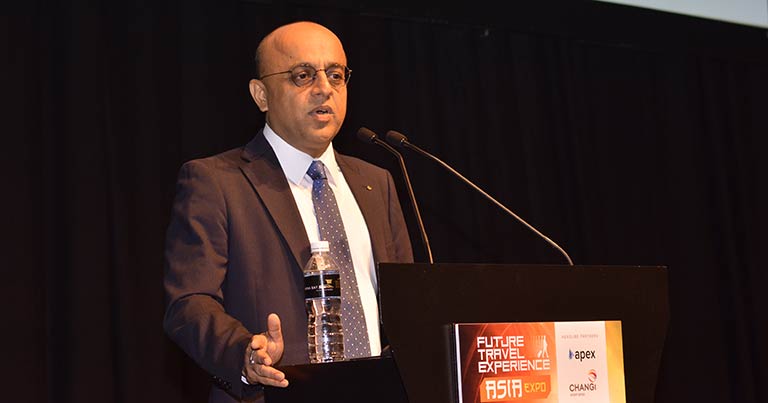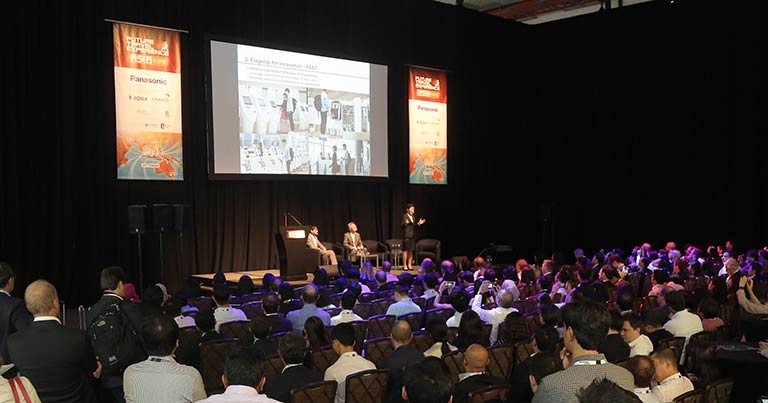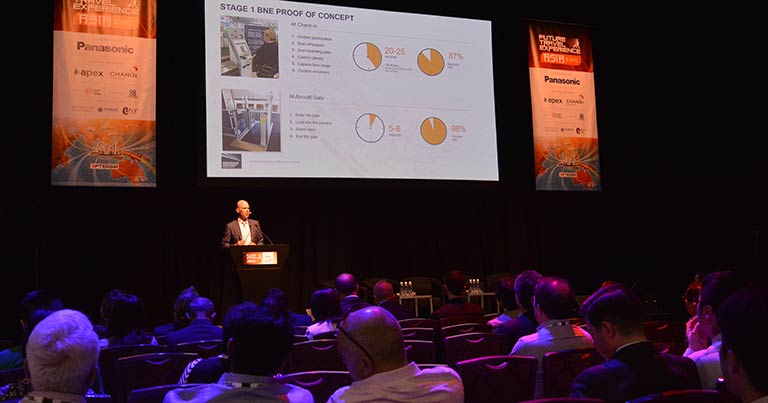 Meanwhile, the impact that technology will have on passenger and baggage processing in the airport environment was another popular topic. Moderated by SITA's President, Asia Pacific, Sumesh Patel, the "Future Airports" session featured an in-depth presentation by Changi Airport Group's Poh Li San, Vice President of the Terminal 4 Programme Management Office. Just a week after the opening of the new T4, which features advanced self-service and biometric processing, Poh Li San offered unparalleled insight into the thinking behind the new facility, the process of making it a reality, and the impact technology will have on the customer experience and operational efficiency.
In the same session, Chris Au Young, General Manager of Smart Airport, Airport Authority Hong Kong, revealed how "technovation" is reshaping the travel experience at HKIA. During the two days, speakers from the likes of Brisbane Airport, Peach, Skylight Aviation, Rockwell Collins, GMR Airports, Gatwick Airport and Japan Airlines discussed how they plan to utilise new and emerging technologies in the coming years.
As part of the Premium Conference, IATA hosted a "Future Trends" session, which featured three senior members of the team responsible for the Asia Pacific region. Younkyung Kim, Regional Manager, Airport, Passenger, Cargo & Security (APCS), presented on the recently-unveiled NEXTT initiative (you can read our full NEXTT interview here), Diana Poh, Regional Manager, APCS, spoke about Smart Security, and Jurgen Renner, Senior Manager, IATA Airport Consulting, revealed all about the Airport Level of Service concept.
14 airlines and airports victorious in 3rd FTE Asia Awards – sponsored by SITA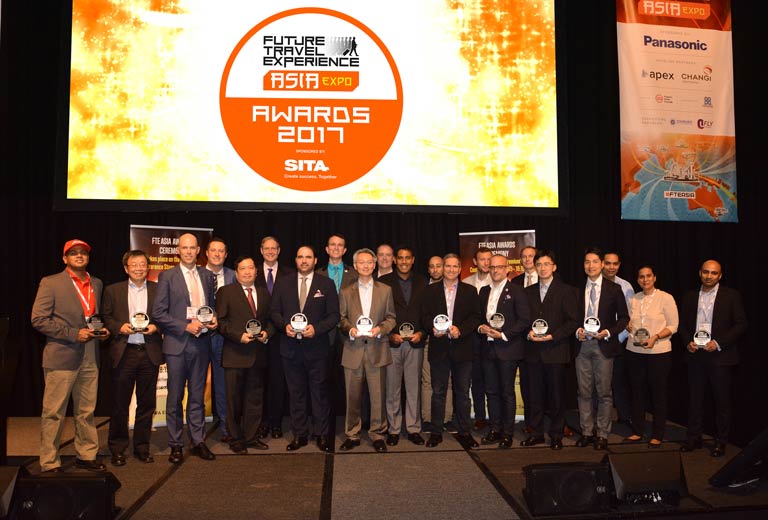 A total of 14 airlines and airports from across Asia and Oceania were recognised for their customer experience and innovation leadership in the 3rd Future Travel Experience Asia Awards ceremony, which was sponsored by SITA. At the free to attend ceremony, senior figures from Singapore Airlines, AirAsia, Changi Airport Group, Japan Airlines, Peach, Hong Kong International Airport, Qatar Airways, Hamad International Airport, SriLankan Airlines, IndiGo, Indira Gandhi International Airport, Air New Zealand and Brisbane Airport were in attendance to collect their awards in the presence of their industry peers. You can find the full list of FTE Asia Awards winners here.
FTE Asia EXPO Networking Reception – sponsored by RIMOWA Electronic Tag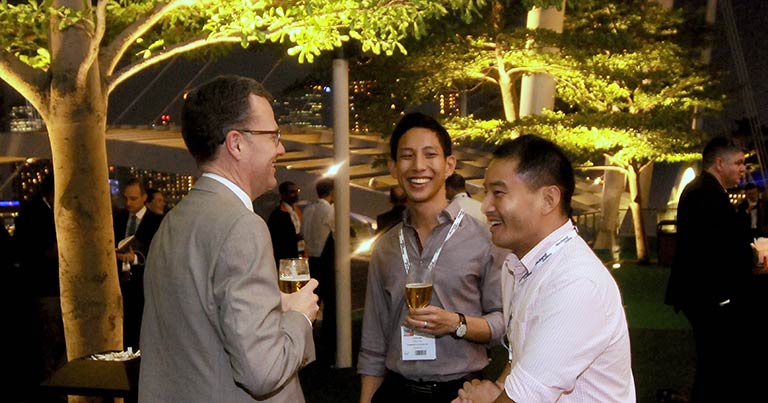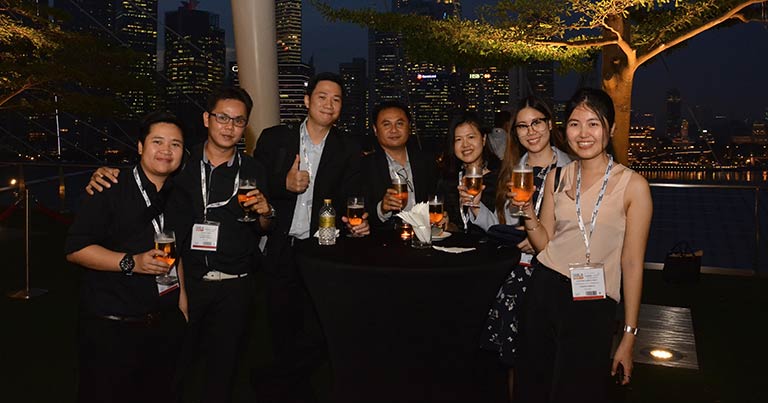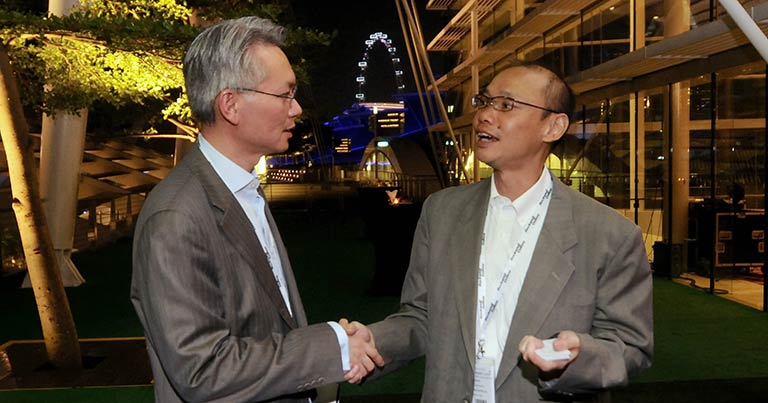 Following the FTE Asia Awards ceremony, the winners were joined by a number of airlines, airports, exhibitors and other First Class Pass holders at the FTE Asia EXPO Networking Reception and Awards After Party. Sponsored by RIMOWA Electronic Tag, the networking event took place on the terrace of the Marina Bay Sands and culminated with a viewing of the new "Spectra" light show. It provided a perfect opportunity to network outside of official proceedings in a relaxed environment with spectacular views.
Changi Airport T4 Tour – a reference site for self-service and biometric excellence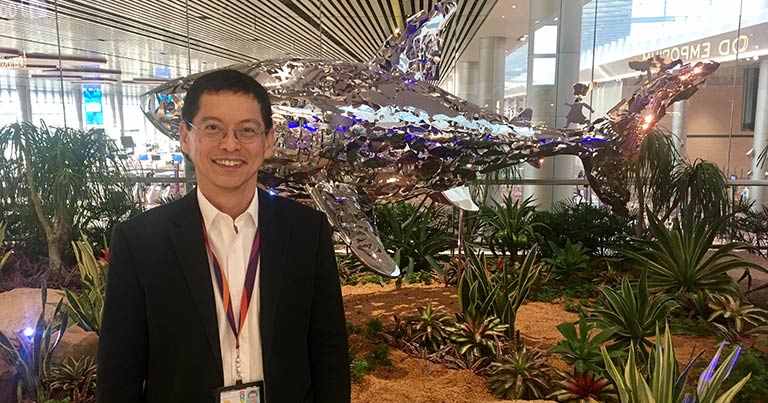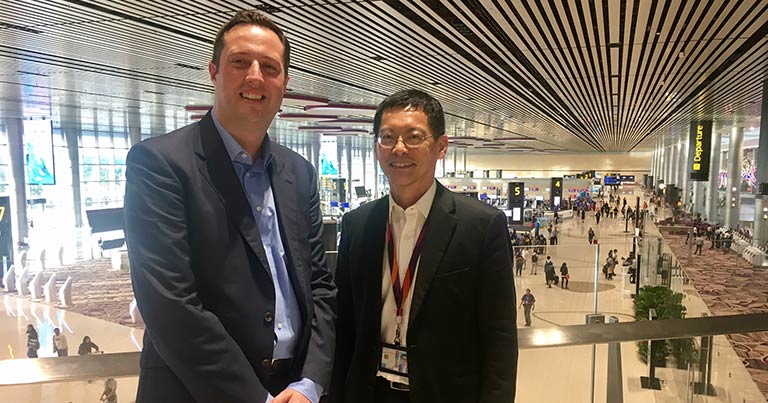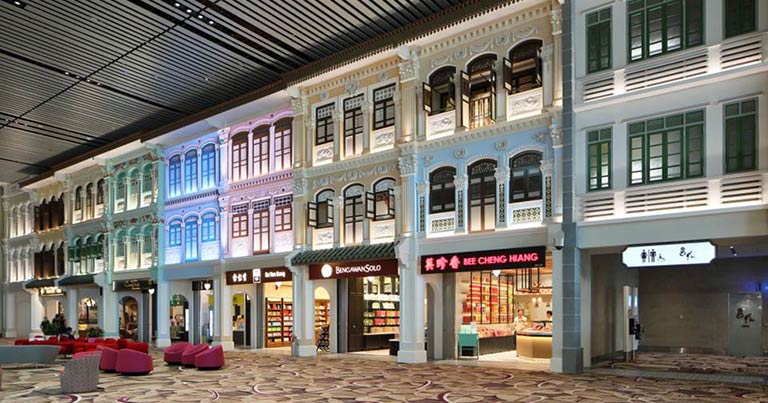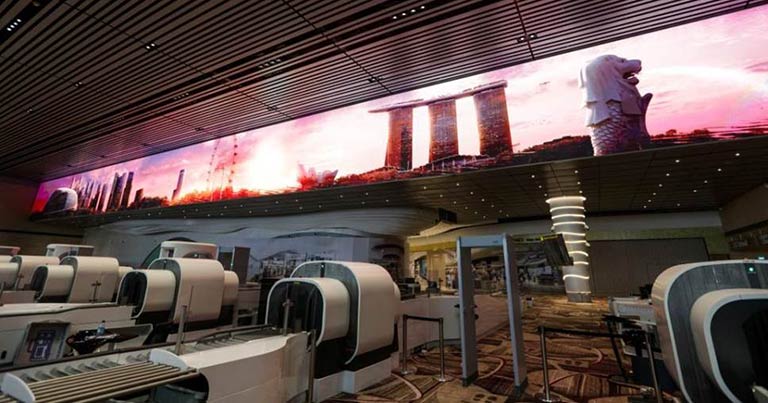 When FTE Asia EXPO 2017 came to a close, FTE's Founder, Daniel Coleman, joined Tan Lye Teck, Executive Vice President, Airport Management, Changi Airport Group, for a personal tour of the new Terminal 4, which opened just a week before the expo. Technology is very much at the heart of the new T4, which is the first terminal at Changi Airport to offer end-to-end Fast and Seamless Travel (FAST) for departing passengers. FTE's Coleman was left impressed not only by the self-service, biometric-enabled processing on show but also the way that technology, art, design, dynamic retail and the human touch have been seamlessly integrated into the terminal to create a real sense of place, and a truly unique passenger experience with surprises at every turn. It sets a new benchmark for airport facilities, especially when you consider it is home to both full service and low-cost carriers. You can read our full article on the self-service and biometric processing capabilities here, and look forward to guided tours of the facility at FTE Asia EXPO 2018.