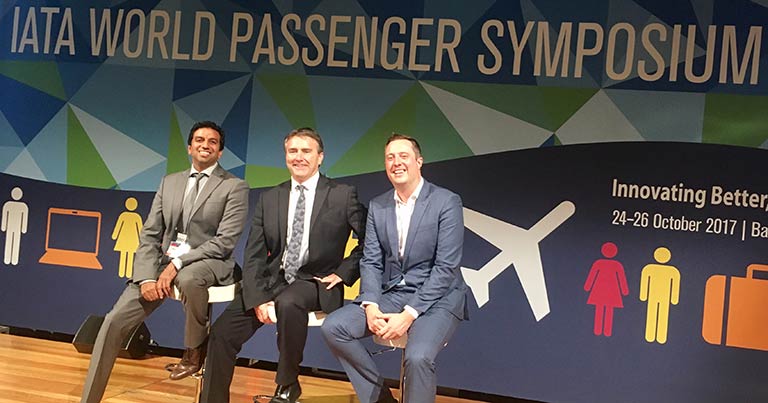 FTE was in attendance at the World Passenger Symposium in Barcelona this week, where IATA unveiled the New Experience in Travel and Technologies (NEXTT) initiative and shared the latest progress and fresh areas of focus for other projects such as Simplifying the Business (StB). In the past, IATA has been accused by some in the industry of being slow-moving when it comes to defining future industry direction. However, from what we saw in Barcelona this would now be an unfair accusation to level at an association that appears to be addressing this issue head-on and taking a passionate approach to helping airlines, airports and the wider industry prepare for, and even embrace, a new wave of technology-focused disruption.
We caught up with Nick Careen, IATA's Senior Vice President for Airport, Passenger, Cargo and Security, and Hemant Mistry, IATA's Director for Global Airport Infrastructure and Fuel, just before the launch of the NEXTT initiative.
Creating a common vision
NEXTT, which has been developed by IATA in collaboration with ACI, is all about creating a common vision to enhance the on-ground experience, guide industry investments and help governments improve the regulatory framework. With air travel demand projected to double by 2036, NEXTT is designed to identify the new concepts that can optimise the use of emerging technologies, processes and design developments.
Explaining the thinking behind the initiative, Mistry said, "We are not set up to handle the growth or evolving customer expectations with our current processes, installations and ways of doing business. NEXTT will address these challenges by asking some fundamental questions about what really needs to happen at the airport and what can be done off-site."
The initiatives brings together various on- and off-airport initiatives as part of a grander, joined-up project. Specifically, NEXTT will investigate how passengers, cargo, baggage and aircraft move through the complete travel journey with a focus on change in three areas:
Off-airport activities: NEXTT will explore the possibilities of transferring on-site processes off-site, such as security processing and baggage check and drop-off, to streamline the airport experience.
Advanced processing technology: NEXTT will investigate how advance processing technology, such as tracking and identification technology, automation and robotics can improve safety, security, the customer experience and operational efficiency.
Interactive decision-making: NEXTT will promote the better use of data, predictive modelling and artificial intelligence to facilitate real-time decision-making, a key element in improving the passenger experience and optimising operational efficiency.
IATA and ACI will work with their respective members, and other associations, service providers, engineering firms and manufacturers. Already, airports including Amsterdam Airport Schiphol, Bangalore International Airport, Dubai International, Heathrow Airport and Shenzhen Airport (Group) Co., Ltd. are actively involved in a number of projects exploring NEXTT concepts.
On-site and off-site activities
The NEXTT vision is certainly comprehensive. Looking at baggage alone, it touches upon forward-thinking ideas like creating a "Bag ID" token, which could replace the need for every bag tag to be printed at the airport. The potential of everything from baggage delivery services to the use of autonomous guided vehicles and robots to securely move bags from locations such as train stations and car parks to airport terminals and aircraft is also explored.
As for the passenger journey, areas of focus include allowing passengers to use their biometric and biographical data-based "digital identity" to complete their booking, deploying biometric-enabled "walking pace processing", and creating a more "seamless, secure and fully optimised" security screening process enabled by risk-based screening and improved checkpoint design. NEXTT also touches upon the in-flight experience, with features like real-time gate updates for transfer passengers and on-board e-declarations for border processing part of the wide-reaching vision.
The off-airport activities are also an important element of the NEXTT vision, with downtown entry gates among the eye-catching features. These entry gates would allow passenger, baggage and cargo processing to start in the city centre, miles away from the airport.
"Fundamentally, we think there's a limit to how big you can build an airport. So, we need to find different ways to generate enough effective capacity to meet future traffic demands. A more distributed airport infrastructure could offer the solution," Mistry stated.
"The airlines and the airports themselves see what's coming in terms of growth. NEXTT provides a solid platform for the industry to consider, and start to trial, how traditional processes can be revolutionised. Imagine a world where you would never have to wait at a baggage belt in an airport any more – NEXTT will help make this a reality," Careen added.
'We want this to be an industry effort'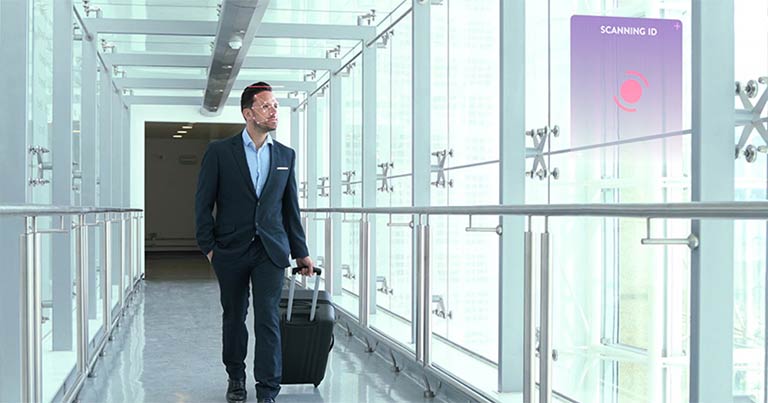 The NEXTT vision is impressively detailed, and Mistry explained that IATA and ACI are keen for industry players to provide their own honest feedback and play an active role in the project as it evolves.
"We've been working with ACI in terms of the scope of the project, and we spent a lot of time scoping out the actual context in terms of what we could achieve," he said. "But we will only be successful if we come together as an industry. The critical mass of IATA's airline members and ACI's airport member airports is a good starting point but we don't want to stop there. We want this to be an industry effort; we want the industry to own it. Our aim is to get a significant mass of the industry on board," Mistry concluded.
The collaborative approach, Careen stated, should add to the influence NEXTT can have, particularly on the regulatory side of things. He said regulations can sometimes "stifle innovation", but "when you speak on behalf of the industry others have no choice but to engage". He added: "When we approach the regulators hand-in-hand we'll have a better chance of succeeding."
Careen also suggested that Future Travel Experience has an important role to play by helping to bring together stakeholders from across the sector to facilitate important discussions about the future direction of the industry, as well as the broader opportunities and challenges.
While a handful of airports are already actively involved in the NEXTT initiative, Careen and Mistry expect this number to grow quickly. Throughout 2018 they will host regular forums and workshops, and invite detailed feedback from airports, airlines and their partners.
"We will try to get as wide an industry participation as possible to work together to see what can really be achieved. This is not only in the best interest of the project but the industry as a whole," Mistry said.
"As we go through that process, we might refine some of the ideas together. Essentially, what we're looking to do is define how the four main elements that move through the airport and the ground journey could change – the passenger, the bag, cargo and the aircraft turnaround."
IATA is clearly dedicated to ensuring that NEXTT is not simply an initiative that grabs some headlines before falling by the wayside. Careen told FTE: "We're going to make this happen or die trying."
Now that NEXTT is in the public domain, airlines, airports and every other organisation that plays an active role in the air travel process has an opportunity to contribute to shaping this vision of the industry's future. IATA and ACI have provided a platform for much-needed discussion and trials, but it is now up to the industry stakeholders who they serve to help ensure NEXTT achieves its full potential.