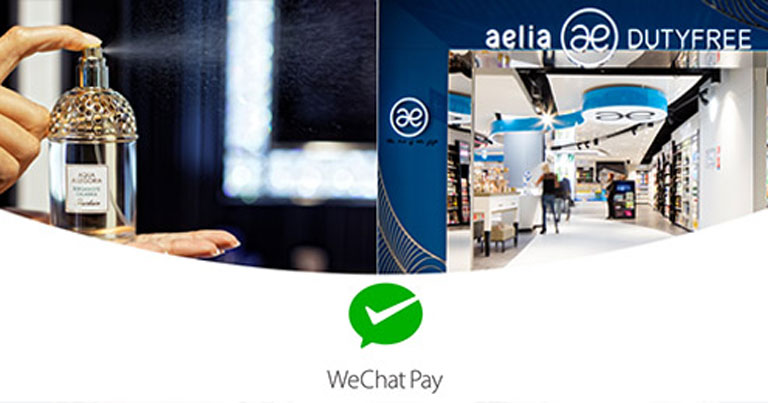 Lagardère Travel Retail France is deploying WeChat Pay in 14 duty free and fashion shops at Nice Côte d'Azur Airport. With more than 800 million users, WeChat Pay is very widely used in China, where more than 70% of transactions are conducted via mobile devices.
"This solution is a perfect fit with our promise to offer passengers entering our shops a creative, expert service which offers a simplified and pleasant shopping experience," says Anne-Gaël Normand, Director of Aeroboutique Shopping Operations at Lagardère Travel Retail France.
With this new initiative, Lagardère Travel Retail France shares Nice Côte d'Azur Airport's ambition to tailor the shopping experience for Chinese travellers by developing new, bespoke services.
Chinese passengers also have access to a dedicated website via the airport's free Wi-Fi, also available in Mandarin. The site gives them quick access to real-time flight information, transportation, information about VAT refunds and links to tourist sites.
Other services for Chinese customers have also been rolled out in the departure lounges, such as Chinese cuisine, a link to the China Daily website on shared tablets, and the Côte magazine in Chinese. Since 2018, airport signage has been translated into Mandarin and a dedicated welcome booth is available in each terminal with an interactive Mandarin-only display point.
Nice Côte d'Azur airport has also introduced an e-concierge service in Mandarin, which can be downloaded on a smartphone to answer the various questions Chinese visitors may have.
The adoption of WeChat Pay is part of Lagardère Travel Retail France's Asian client-base growth strategy, as more and more Chinese tourists are coming to France, with a forecast of 5 million visitors by 2020.
Dominique Thillaud, Chairman of the Aéroports de la Côte d'Azur Board, says: "To perfect our welcome of Chinese visitors arriving in Europe for the first time, we felt it was vitally important to improve our communication, and make their journey as fluid as possible. Lagardère Travel Retail France's adoption of WeChat Pay is an additional step that shows that Nice Côte d'Azur Airport is now fully ready to welcome Chinese passengers arriving directly from China."