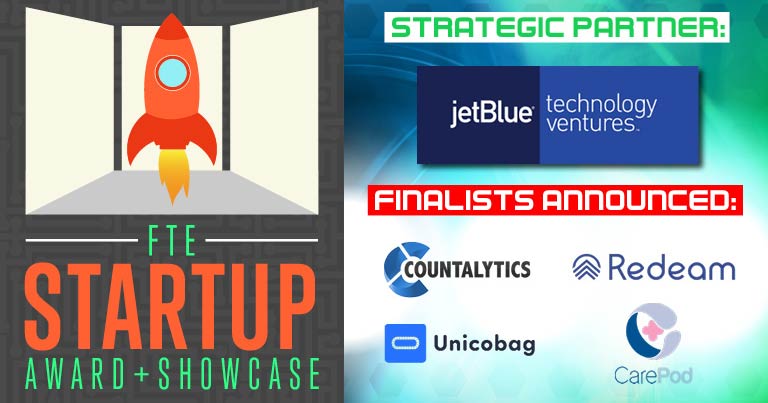 Future Travel Experience (FTE) and JetBlue Technology Ventures (JTV) have announced the four finalists in the FTE Global 2018 Startup Competition and Showcase. This global startup competition was launched to help discover early-stage startups developing innovative concepts or products that can help to improve customer experiences and business performance for air transport industry stakeholders.
The finalists will now participate in the JetBlue Technology Ventures Startup Showcase at Future Travel Experience Global 2018 in Las Vegas from 10-12 September 2018, where they will exhibit their products to an audience of 750+ senior attendees representing airlines, airports and various other air transport and travel industry stakeholders. They will also have the opportunity to pitch their solutions on stage during the conference. The winner will be chosen by audience vote and announced at the FTE Global Awards Ceremony.
FTE Global 2018 Startup Competition Finalists:
CarePod is a full-stack platform that helps airlines create additional ancillary revenue and distinct brand differentiation via an end-to-end pet travel solution. CarePod IoT devices such as Smart Tags and Smart Pods, as well the Pet Aviation Web Solution (PAWS), help airlines manage their pet business.
Countalytics was founded to help the airline industry save hundreds of millions of dollars on inefficient inventory procedures and labour costs. The startup has partnered with IBM Watson to offer advanced visual recognition software, machine learning and human intelligence for the most accurate inventory management platform to address the hundreds of millions in lost money and time that the airline industry faces annually.
Redeam is a travel technology startup solving a multi-billion dollar problem in travel – paper vouchers. The company has identified specific uses cases for airlines and airports, particularly when passengers are affected by flight disruption.
Unicoaero is a Silicon Valley-based technology company that has developed the Unicoaero Baggage Technology Platform. Unicoaero makes the baggage delivery process transparent and efficient for airlines, passengers, and delivery partners, while remaining compliant with IATA Resolution 753 and GDPR.
The winner of the Startup Competition will be announced at the FTE Global Awards Ceremony at the Gala Party, taking place at Hyde at the Bellagio Hotel & Casino on Tuesday 11 September.
Find out more about Future Travel Experience Global 2018
Register to attend