Future Travel Experience Global returned to Las Vegas for the 13th edition of the annual show, which attracted a record number of attendees and exhibitors. More than 750 senior figures from 36 countries, representing airlines, airports, technology companies, government agencies, startups and a variety of other influential air transport and travel industry stakeholders, gathered at the Mandalay Bay Resort on the famous Las Vegas Strip. The three-day event included inspirational keynotes, four conference tracks, the biggest FTE Global exhibition to date, a Gala Party overlooking the Fountains of Bellagio, the FTE Global Awards ceremony and guided industry tours. Here we round up a selection of the highlights.
Inspirational keynotes and disruptive innovation from outside of the industry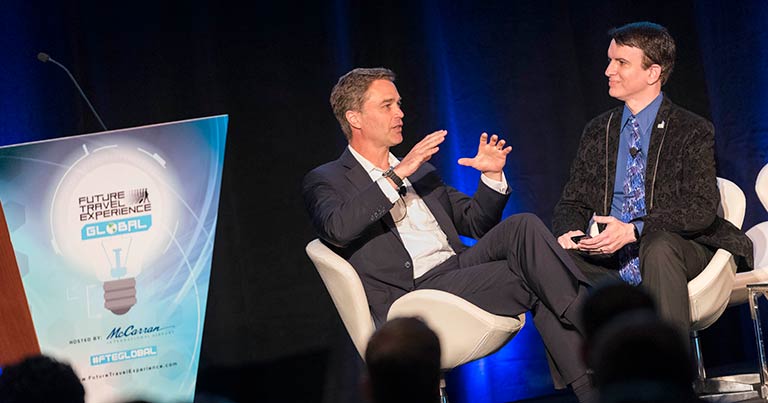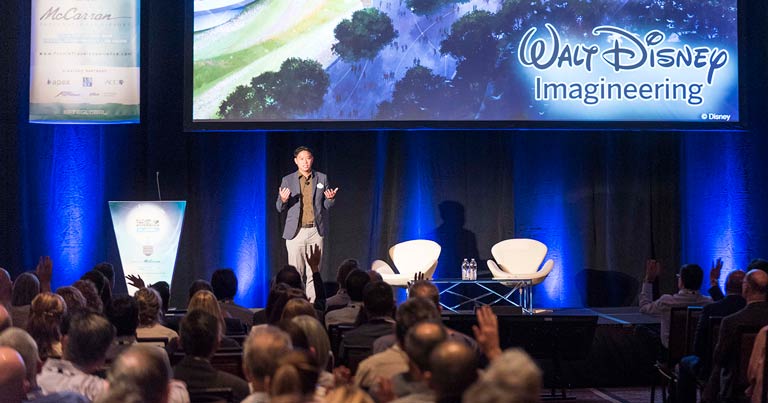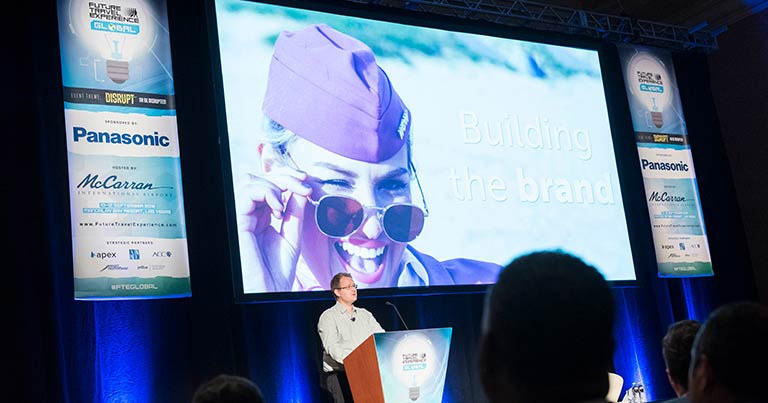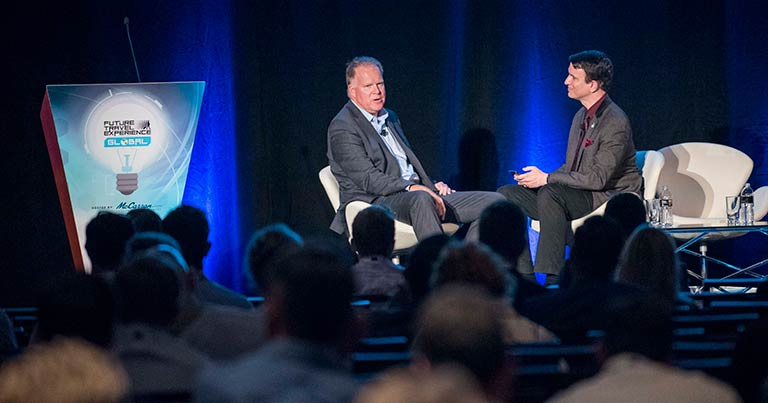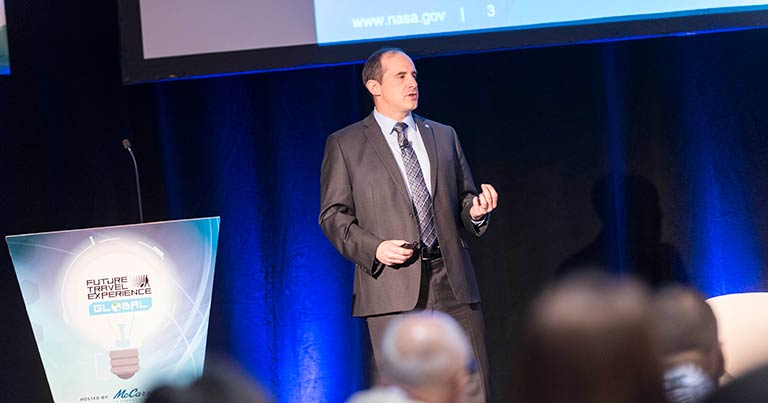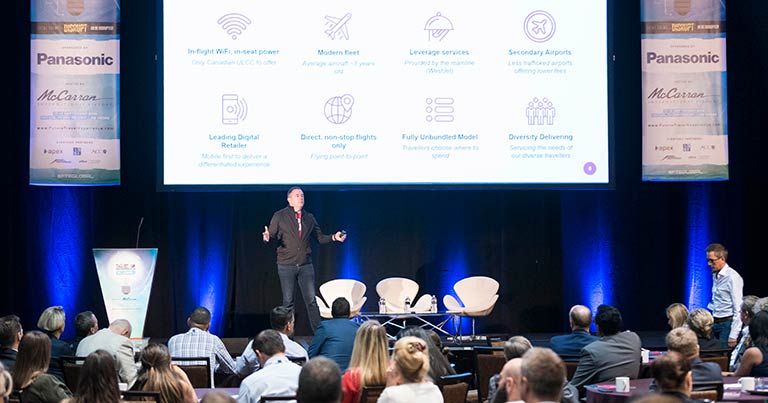 In keeping with the theme of the event – "Disrupt or be disrupted" – FTE Global 2018 included a raft of inspiring keynote speakers from both within and outside of the air transport sector. Walt Disney Imagineering's Brian Loo, speaking in the opening keynote session, offered a unique insight into how the company is leveraging cutting-edge design and technology to power the next wave of innovation, and outlined how airlines and airports can learn from its approach. During the course of the conference, attendees also experienced rousing presentations from the likes of Sveinn Akerlie, CIO and Head of WOW labs, WOW air, the pioneering Icelandic low-cost carrier that is playing a central role in revolutionising long-haul travel, as well as Steven Greenway, President of Swoop, and Dr Jay Dryer, Advanced Air Vehicles Program Director for NASA, who spoke about the potential offered by low-boom supersonic aircraft. "Technologies are changing the way we fly and how we use the sky," he told the audience.
The show also featured a new conference format, "Our Next Guest Needs No Introduction…" in which C-level airline executives took to the stage for an in-depth chat with Joe Leader, CEO of the Airline Passenger Experience Association (APEX) and the International Flight Services Association (IFSA). Among the big-name guests were Gil West, SEVP and Chief Operating Officer, Delta Air Lines, and Ted Christie, President, Spirit Airlines.
Future inspiration from Japan Airlines, Virgin Hyperloop One, Orion Span, LabCampus and BMW Group Designworks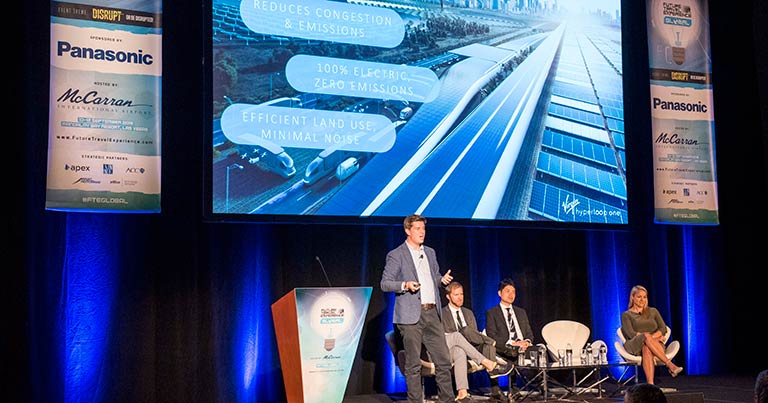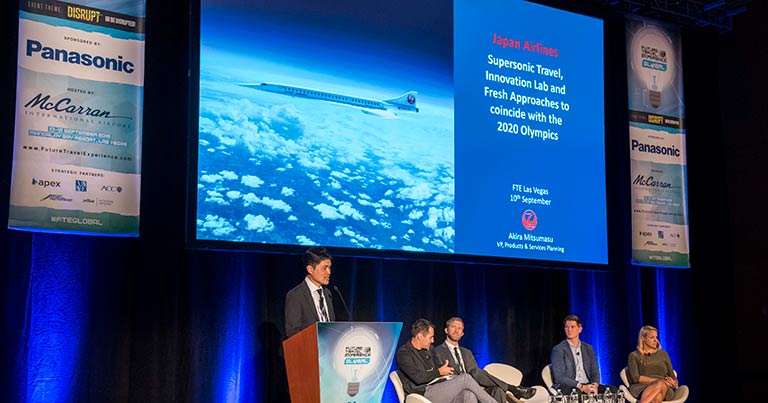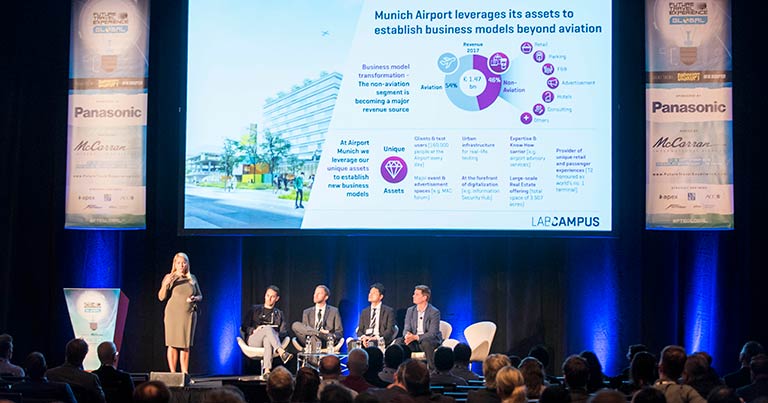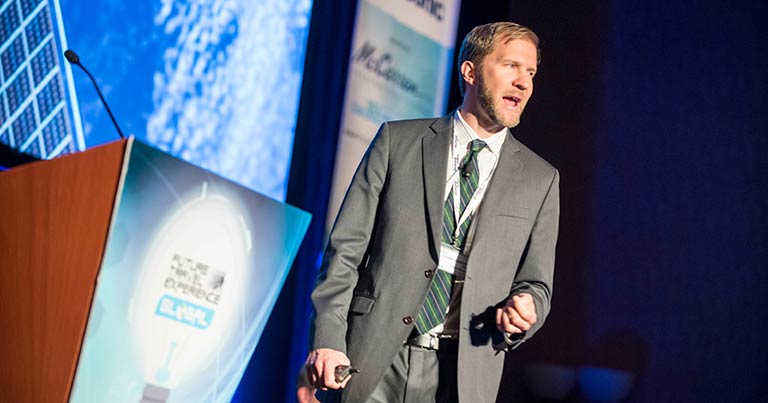 Continuing the theme of disruptive innovation, on day one of the conference Garen Moreno, BMW Group Designworks' Director of Strategic Partnering, led a session exploring the future of travel and guest experiences. With a panel consisting of Japan Airlines VP Products & Services Planning Akira Mitsumasu, Orion Span CEO Frank Bunger, Virgin Hyperloop One Head of Marketing & Communications Ryan Kelly, and LabCampus Vice President Innovation & Creation Sarah Wittlieb, this unique session explored in detail the future of the industry and the steps that stakeholders should be taking to prepare for change.
The conversation covered the return of supersonic commercial flights, luxury space hotels, the future role of hyperloop in the door-to-door air travel process, and the importance of co-creation and collaboration, all backed up by real-world case studies.
Record-breaking exhibition and exclusive announcements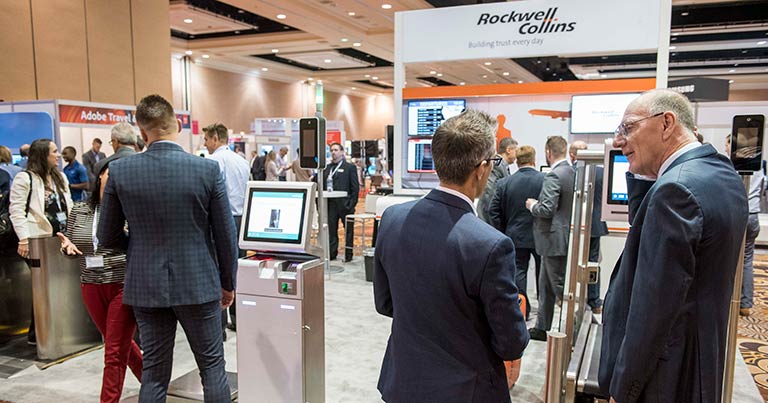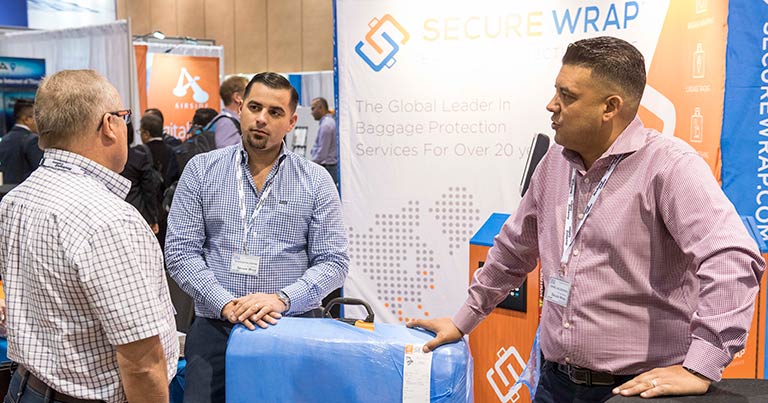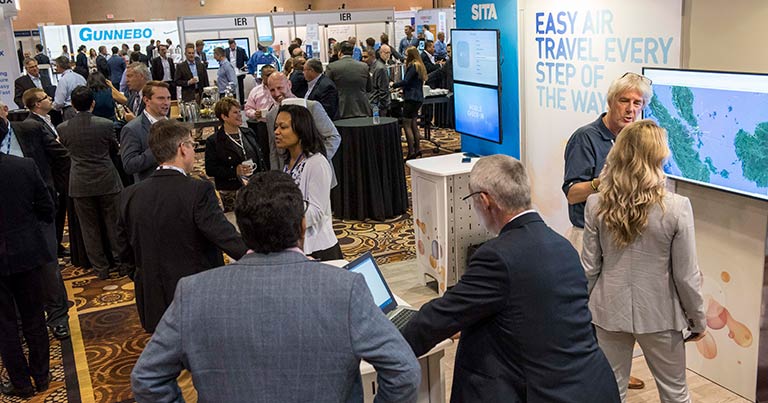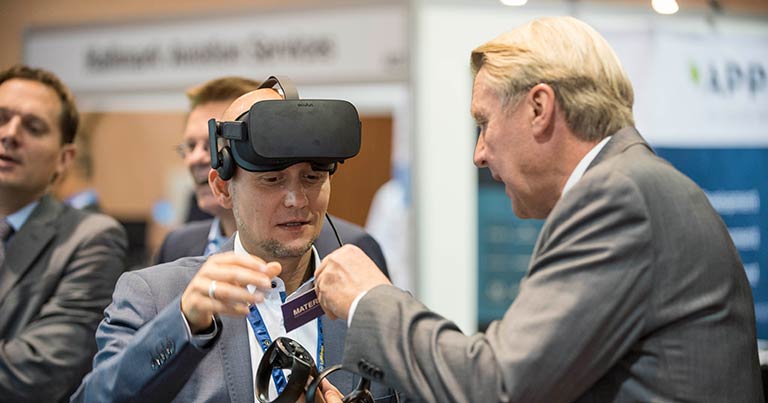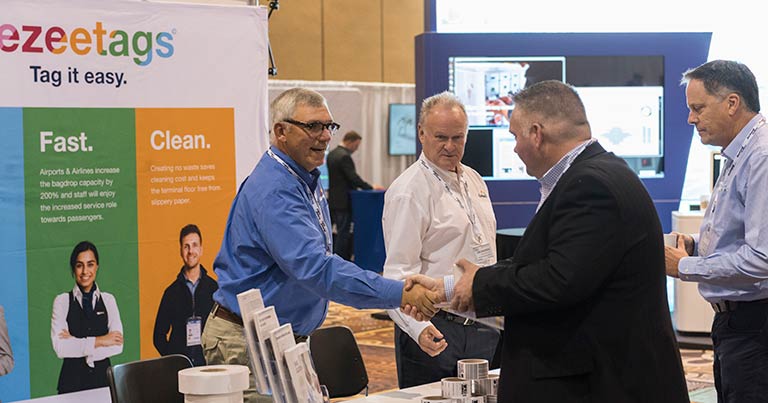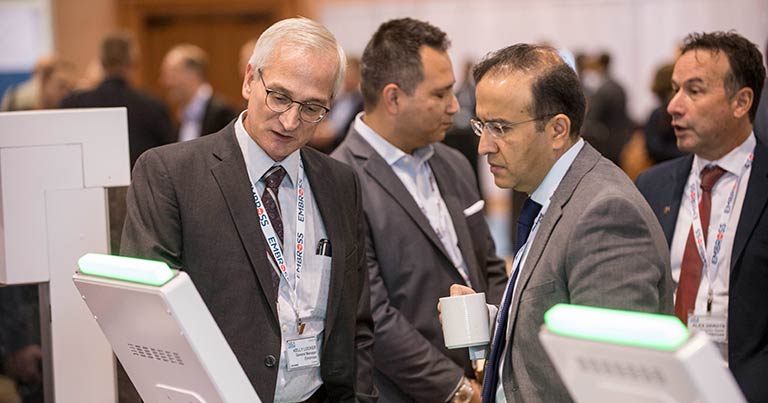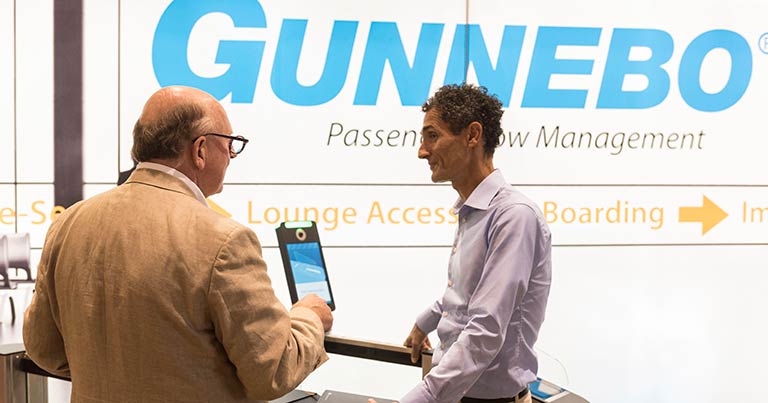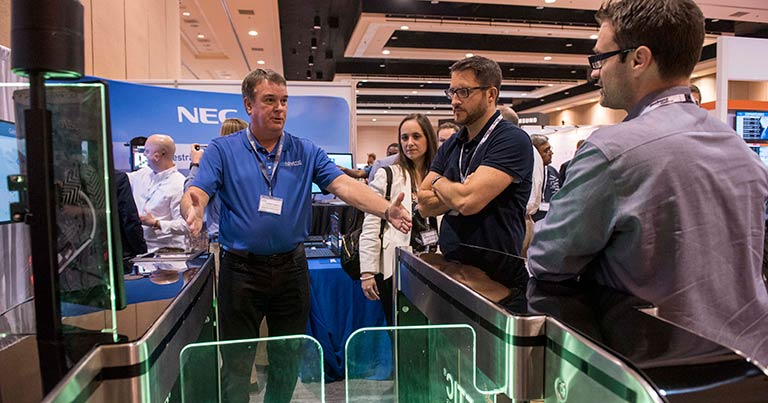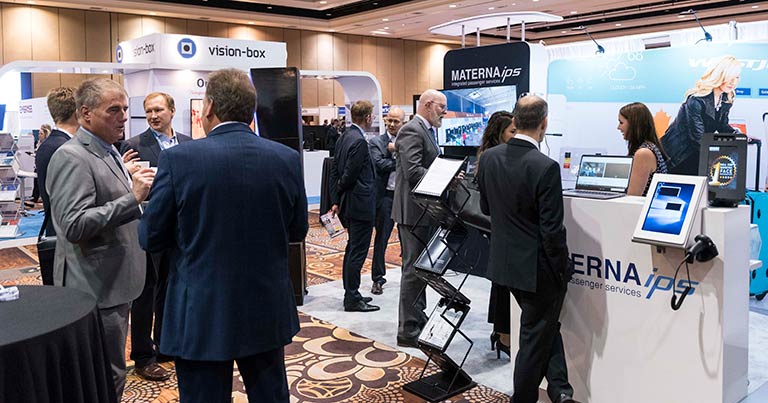 More than 70 forward-thinking vendors showcased their very latest products and services at FTE Global 2018, making it the largest exhibition in the event's history. Products on show ranged from biometric-enabled e-gates and bag drops and next-generation aircraft seating, to the latest digital transformation platforms. For the second year running, FTE offered an award for the 'Best Supplier Innovation' and attendees were invited to vote for their favourite solution. Molon Labe Seating, showcasing its staggered aircraft seating which offers a wider middle seat for economy class passengers, was voted as the winner.
A number of exhibitors used FTE Global 2018 as a platform to make major announcements. Among them was Molon Labe, which revealed that it has secured its first airline customer for its "S1" staggered seating. The company revealed that a Chinese airline has signed a deal for 20 ship sets of the S1 seat for its A320 aircraft. Meanwhile, exhibitor Idemia played a vital role in the development of the new "biometric boarding pass" which was unveiled at the show by Air France and Groupe ADP, while Grab, the airport e-commerce platform, revealed that Collinson Group has made a significant investment in the company.
One-to-One Meeting System and next-level networking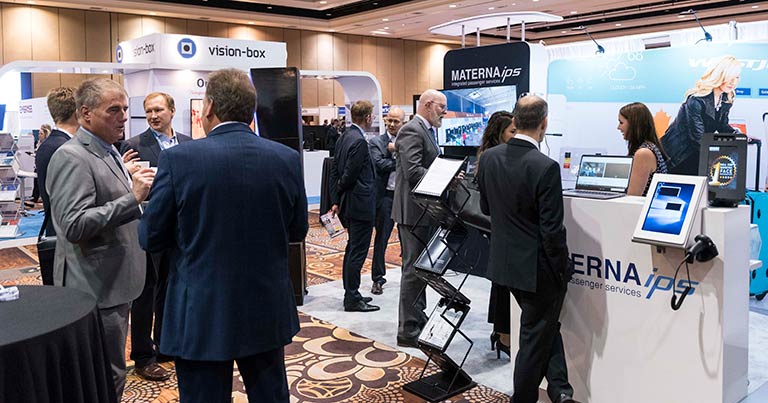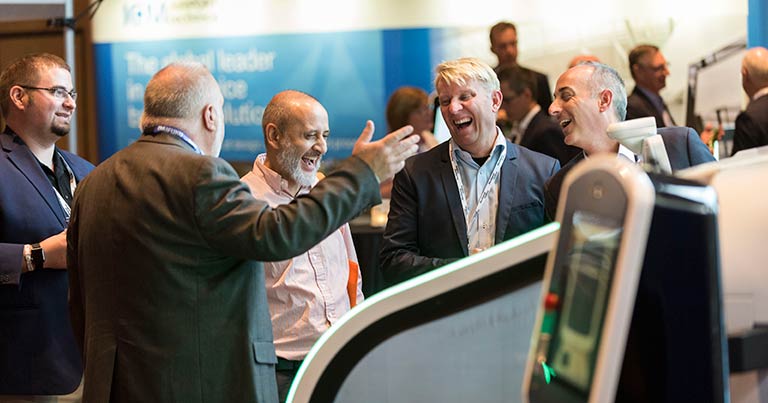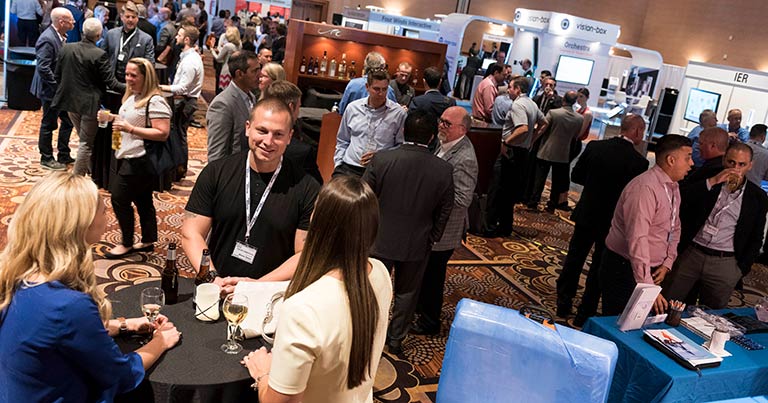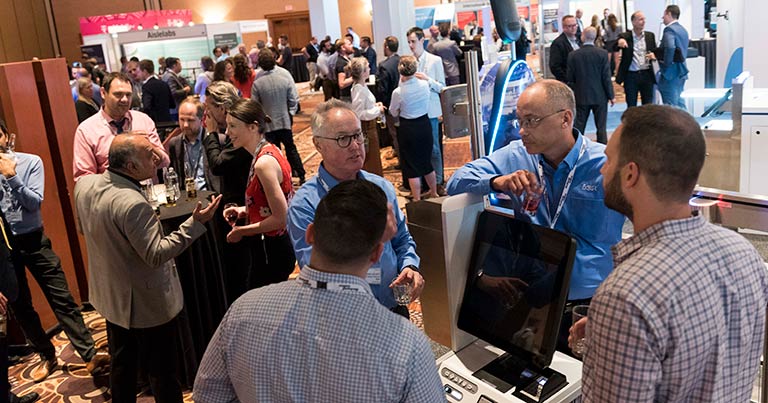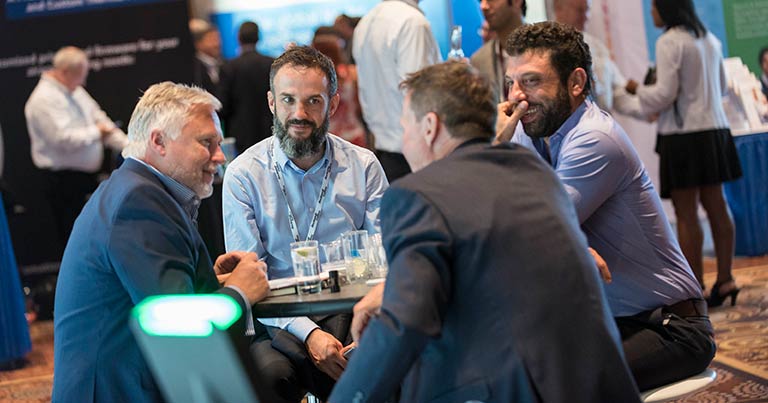 Following the success of the One-to-One Meeting System at FTE Europe & Ancillary in Dublin, the online meeting tool was extended to FTE Global for the first time. All attendees were able to use this tool to arrange meetings with one another before and during the show. Hundreds of meetings were arranged using the One-to-One Meeting System, taking networking between delegates and exhibitors to the next level.
'On the Ground' conference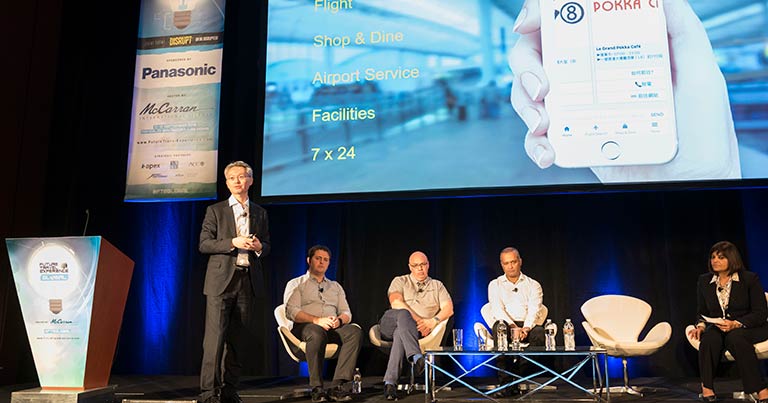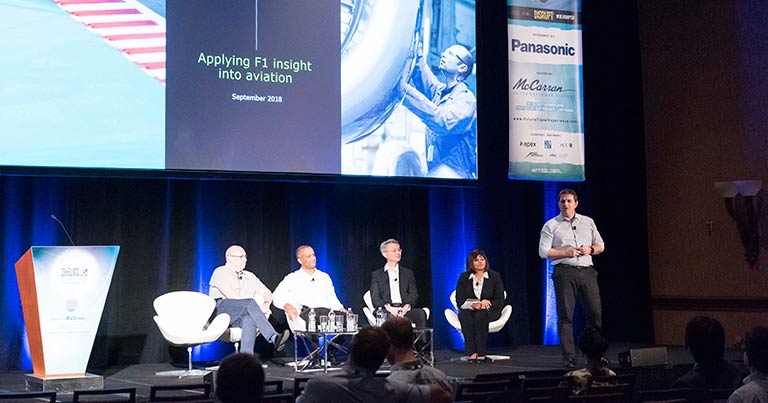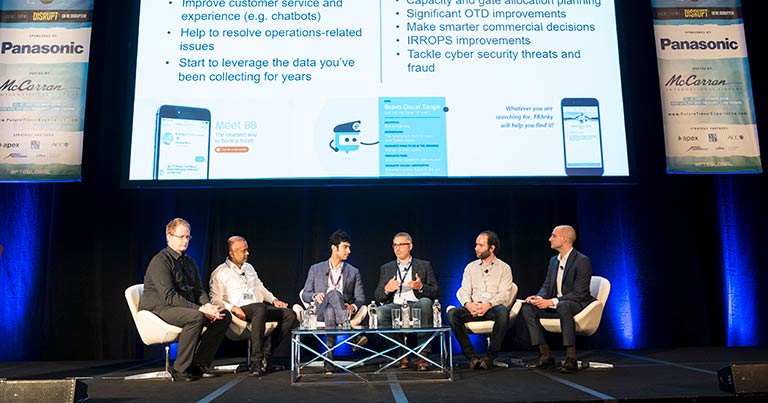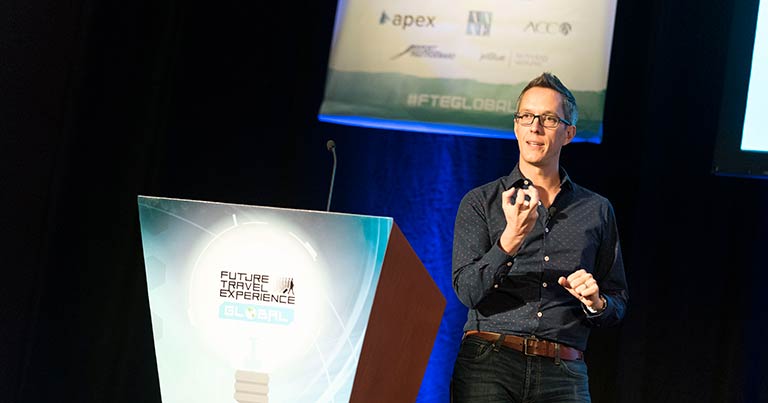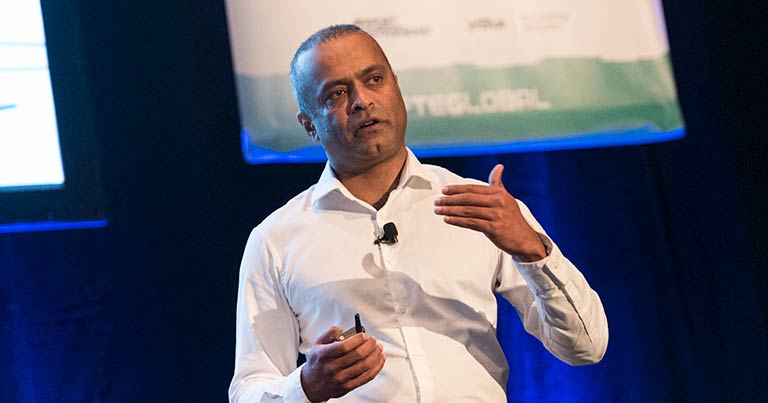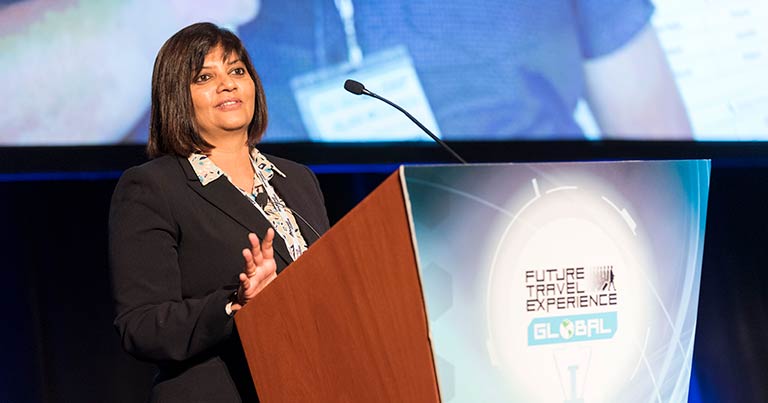 The 'On the Ground' conference, a staple of Future Travel Experience Global, enabled attendees to take a deep dive into the latest trends and technologies that are redefining airport experiences and operations. High level keynote addresses were delivered by Sean Donohue, CEO of Dallas-Fort Worth International Airport, and Raoul Cooper, Design Manager, British Airways, who set the scene for a fascinating conference track. Hamad International Airport, McLaren Applied Technologies, Deloitte, Gatwick Airport and Airport Authority Hong Kong took to the stage to share their expertise on the dynamic approaches to driving performance and efficiency across the airport.
This was followed by the second instalment of the FTE Tech Download Think Tank, a year-long project launched by FTE to help airlines, airports and their partners better understand the potential offered by a raft of new and emerging technologies. Senior figures from WOW air, Alaska Airlines, Gatwick Airport, Xebia Group and Volantio took part in the lively discussion.
The 'On the Ground' conference closed out with a session focused on biometrics, with a stellar line-up of speakers representing British Airways, Heathrow Airport, Miami International Airport, U.S. CBP, Los Angeles World Airports, Lufthansa Group, TSA, Air France, Rockwell Collins, Hong Kong International Airport and IATA.
'Digital & Innovation' conference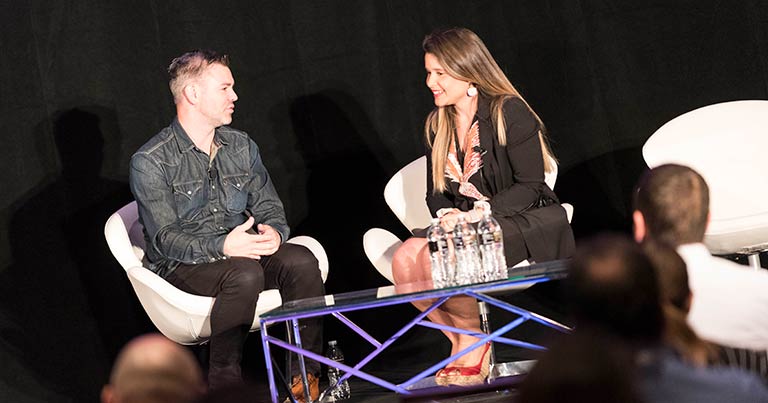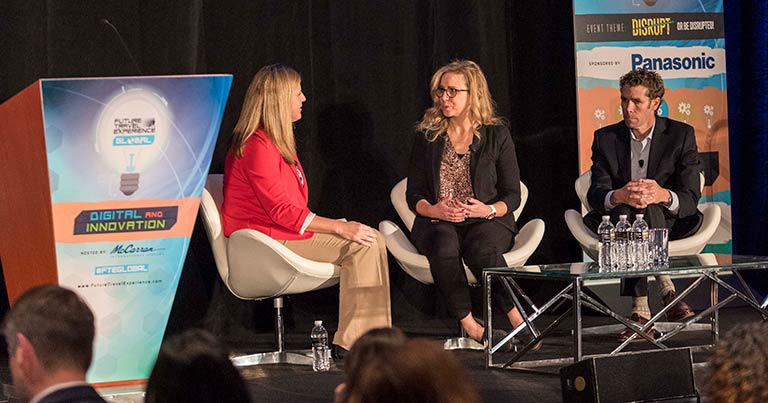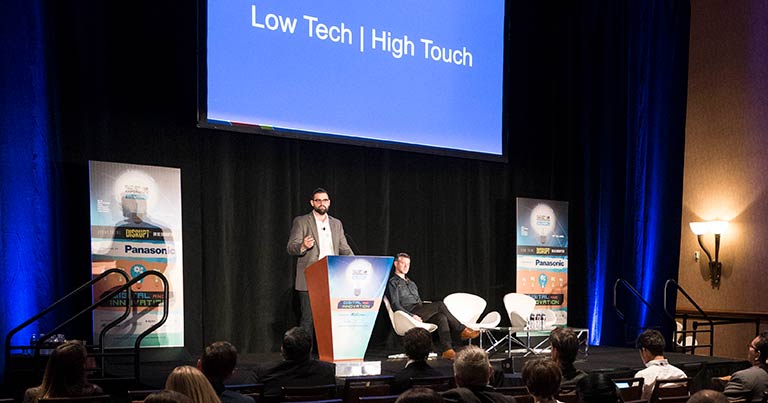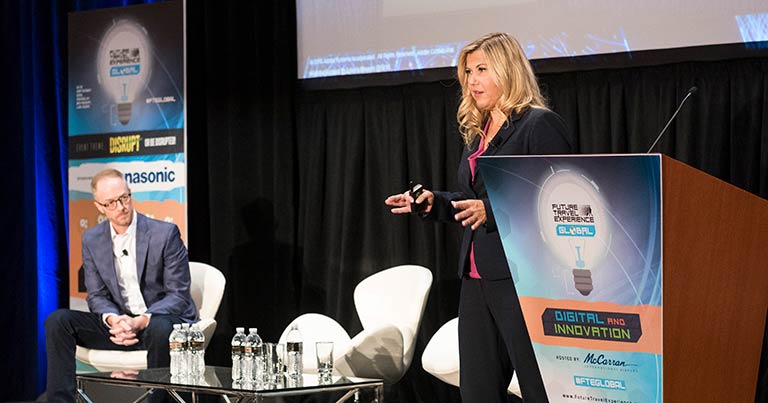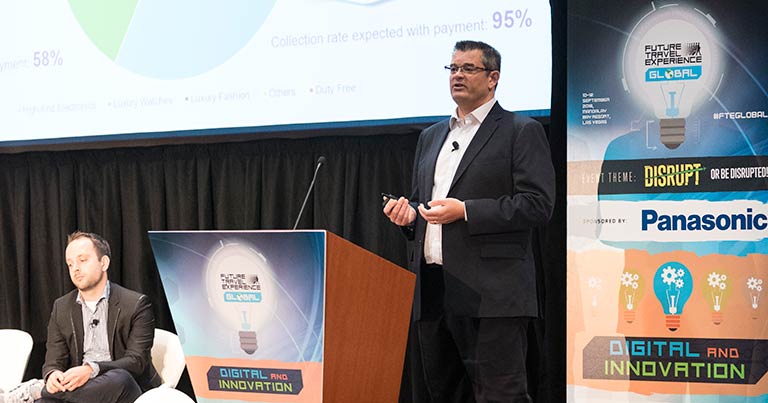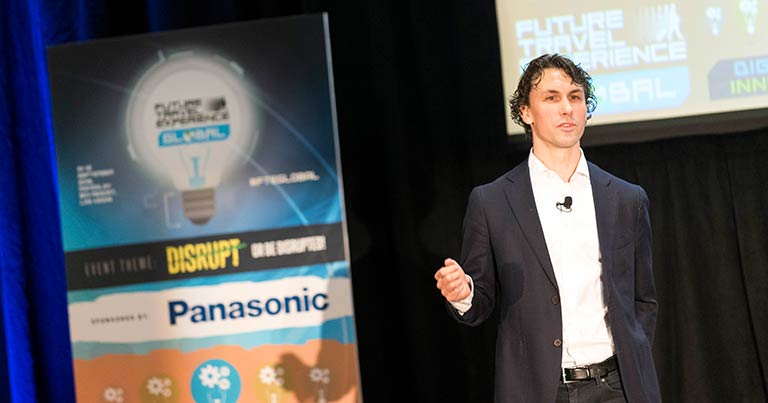 Meanwhile, the 'Digital & Innovation' conference track kicked off with joint keynote presentations by Heathrow Airport and AOE, and Adobe and Caesars Entertainment Corporation, which explored the use of digital to drive commercial, customer experience and personalisation advancements. Simon Dempsey, CEO of LikeWhere, then led a session exploring the secrets to doing digital and innovation well, with an impressive line-up of presenters from Lufthansa, Mindtree, LATAM, Southwest and KLM. During the session, Cata Matta, LATAM's Head of Digital Services, unveiled a new feature for the airline's app, which allows passengers to use their device's camera to check that their carry-on bag will be accepted on board.
Moderated by Lixar's Jonny Stevens, the final session of the day explored tangible learnings from putting new technologies into action. Rick Belliotti, Director of Innovation & Small Business Development at San Diego International Airport, offered insight into the lessons learned so far from the airport's very own fully functioning lab, while JetBlue Airways, JetBlue Technology Ventures and Gladly delivered a fascinating joint presentation, offering a unique look at how the airline identified and implemented the right startup partner to help reinvent customer service.
'Up in the Air' conference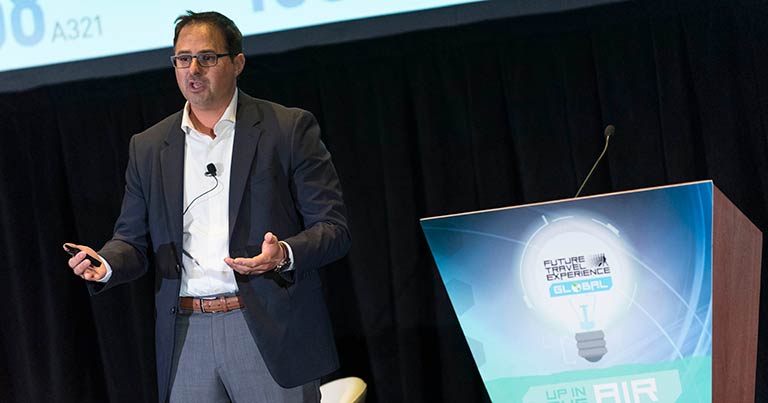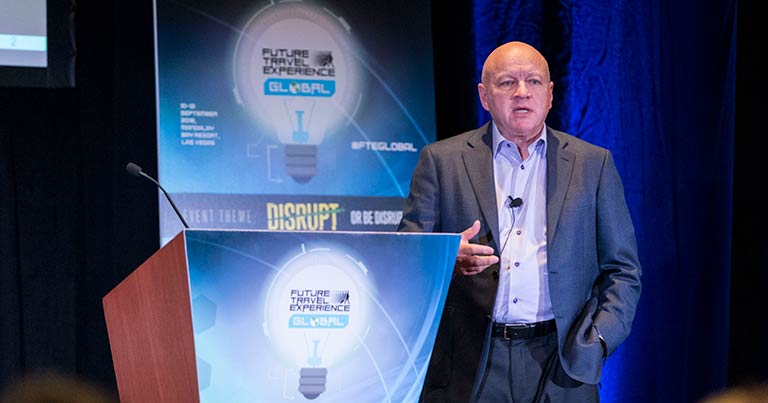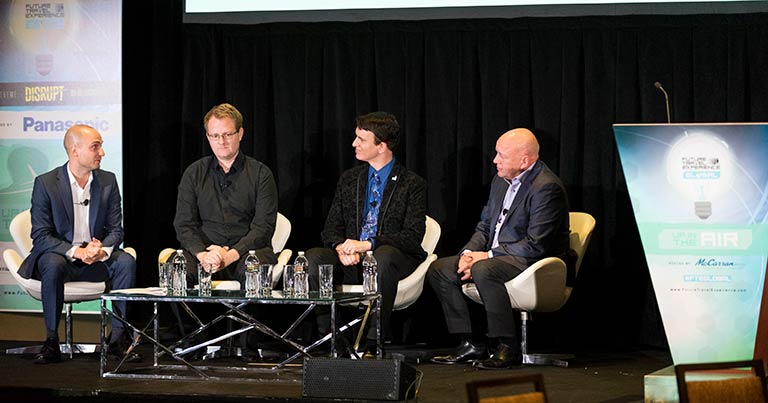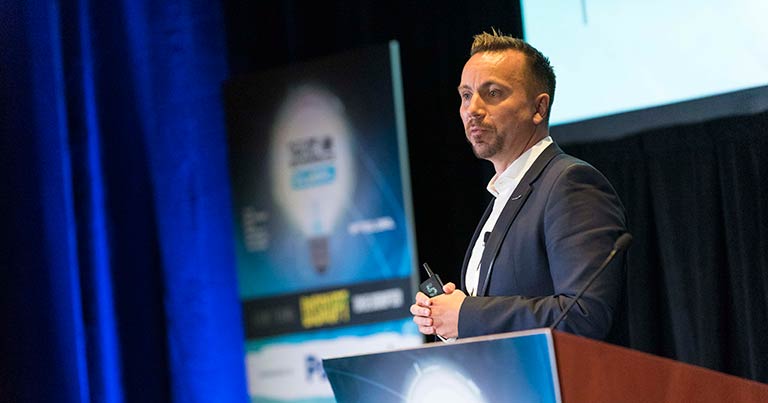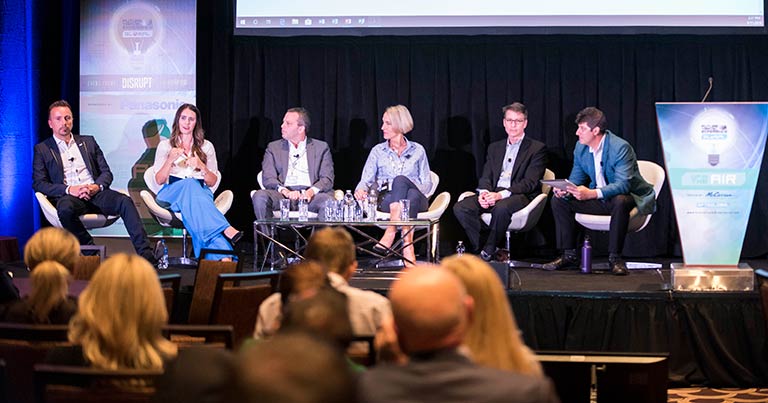 The future inflight experience was also a hot topic at FTE Global 2018, where a number of the sector's most forward-thinking airlines and vendors presented and participated in panel discussions in the 'Up in the Air' conference. Mike Stromer, Vice President – Technology Products, JetBlue, and Juha Jarvinen, Finnair's Chief Commercial Officer and APEX's Vice President, delivered the opening keynotes, offering a look at how the two carriers are using tech, innovation, digitalisation and customer service to deliver improvements at 35,000 feet.
Experts from Airbus, American Airlines, Zodiac Aerospace and Molon Labe joined moderator Garen Moreno of BMW Group Designworks for a lively discussion exploring how we can stop stifling innovation in the cabin, before the Global edition of the Connectivity & IFE Business Case Summit. Moderated by Seth Miller, Editor of PaxEx.aero, the session brought together speakers from SES Networks, Finnair, Spirit Airlines and Panasonic Avionics to explore the business and customer experience reasoning behind a variety of IFEC solutions. The 'Up in the Air' conference drew to a close with an inflight-focused instalment of FTE's Tech Download Think Tank with input from APEX CEO Joe Leader and WOW air's Sveinn Akerlie, as well as Panasonic Avionics' CTO, David Bartlett, who also delivered a thought-provoking presentation on how technology will disrupt the cabin experience of the future.
'Terminal Design & Delivery' conference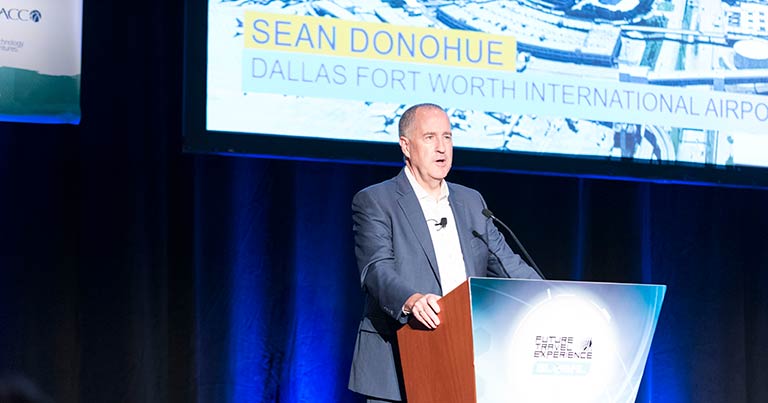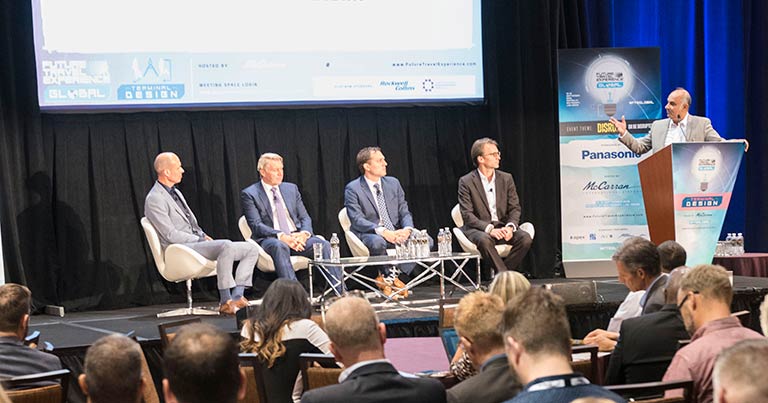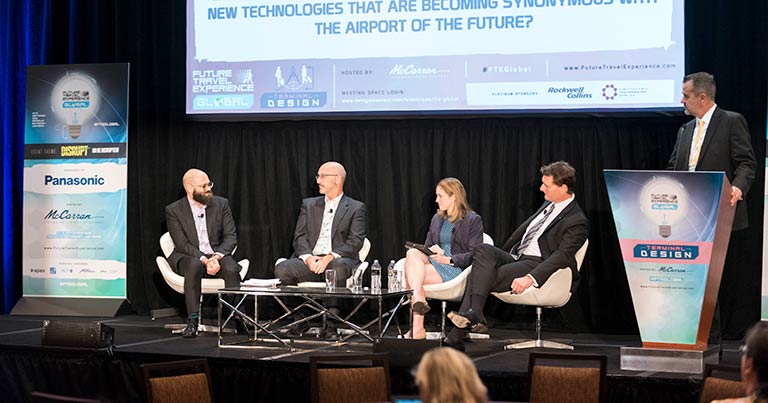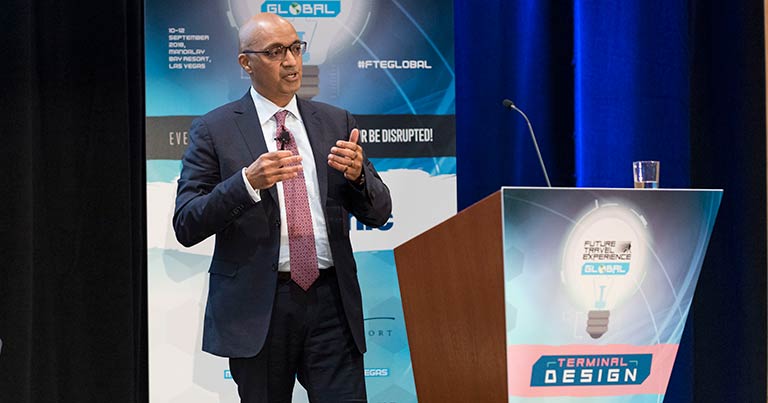 The fourth of the conference tracks, 'Terminal Design & Delivery', explored how technology and innovation are affecting the development of new, and refurbishment of existing airport terminals. Expertly moderated by Kiran Merchant, CEO of Merchant Aviation, a Groupe ADP company, the conference explored disruptive design approaches, how terminal design must evolve to cater for new forms of transport and emerging technologies, and how owners can secure a return on their investment while delivering a great passenger experience.
During the course of the track, attendees got to hear from the likes of Denver International Airport, Amsterdam Airport Schiphol, NACO, Gensler, Munich Airport International, TSA, Kempegowda International Airport Bengaluru, Jacobs, Materna, Oaktree, Groupe ADP, CAG Holdings and Morgan Stanley.
Conference provocateurs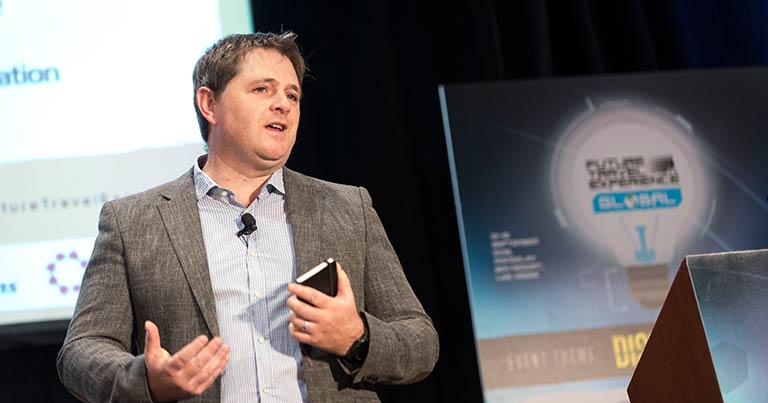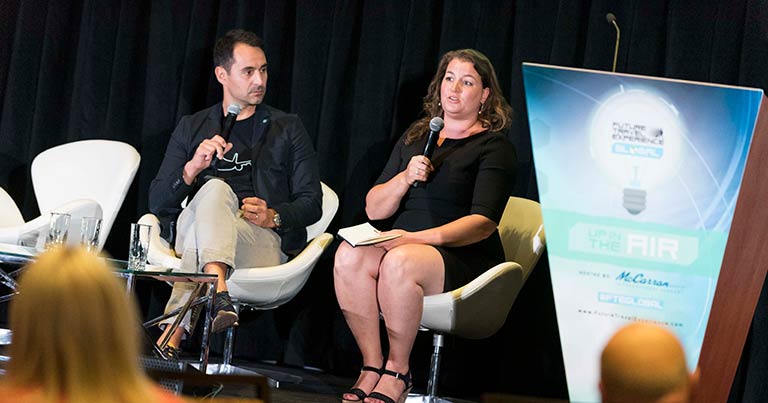 New for 2018, each the conference streams had dedicated "provocateurs" who were on-hand throughout to inspire outside-of-the-box thinking and challenge the status quo. A big "thank you" to MGM Resorts International's Joyen Vakil, Port of Seattle's Dave Wilson, Airbus' Stefan List, Merchant Aviation's Kiran Merchant, The Hague University of Applied Sciences' Christine De Lille, BMW Group Designworks' Garen Moreno, McLaren Applied Technologies' Jim Newton, and KLM's Sander Stomph for the important role they played as conference provocateurs.
U.S. CBP and TSA lead industry briefings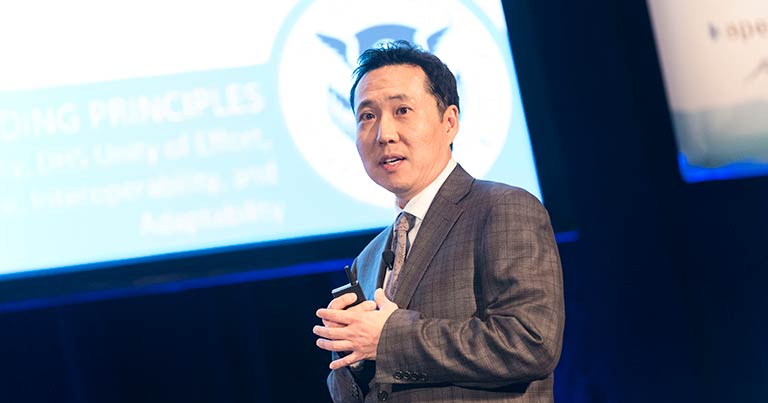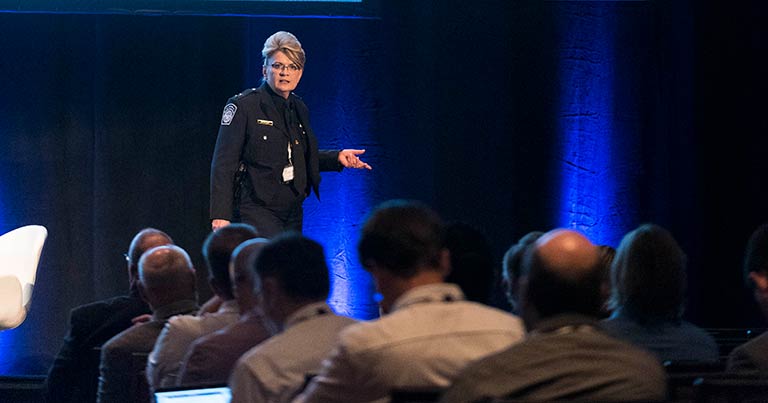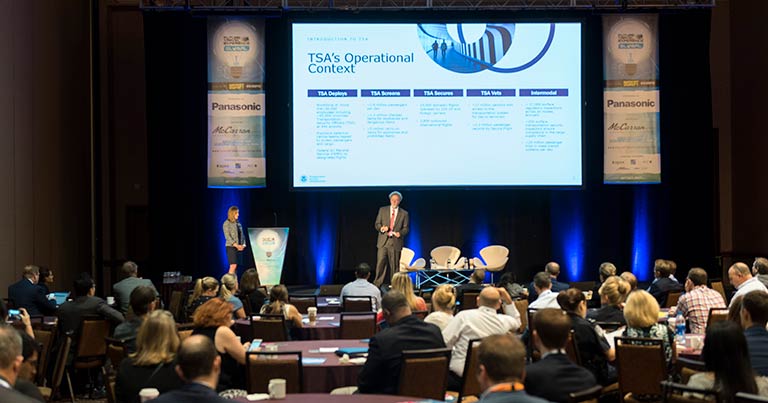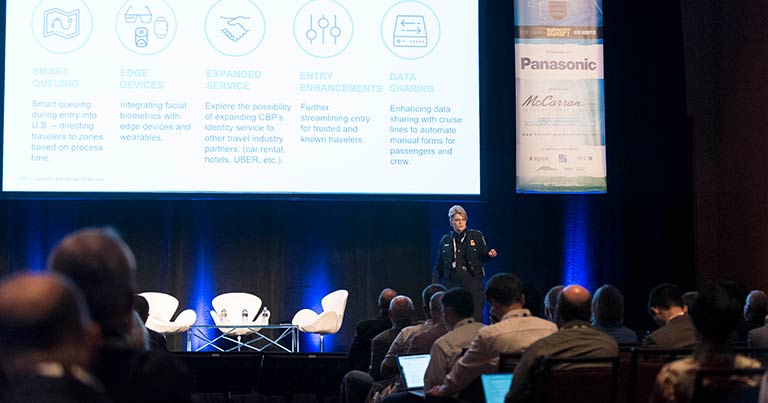 To ensure that all of the most important stakeholders were represented at FTE Global 2018, Future Travel Experience partnered with U.S. Customs & Border Protection (CBP) and the Transportation Security Administration (TSA) to provide a platform for them to engage with airlines, airports and their partners. U.S. CBP invited attendees to observe the new simplified arrival process using facial recognition technology at McCarran International Airport and also led a dedicated briefing on day two of the conference. TSA also led a briefing during the show and hosted an open pitch session on its booth in the exhibition hall, which allowed attendees to pitch their solutions to help enhance aviation security to TSA's Innovation Task Force.
Co-Creation Forum facilitates industry collaboration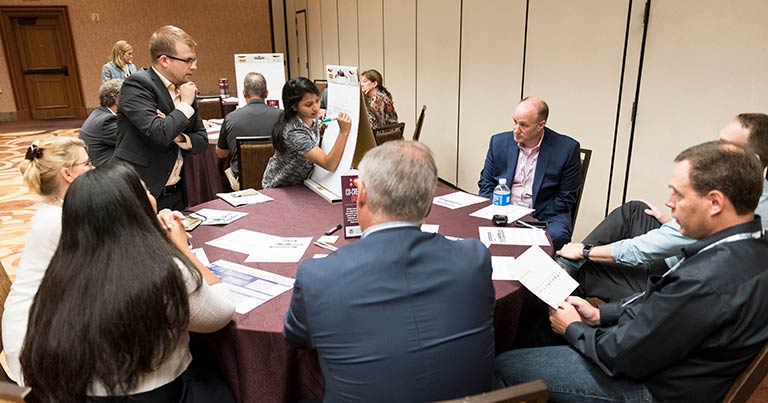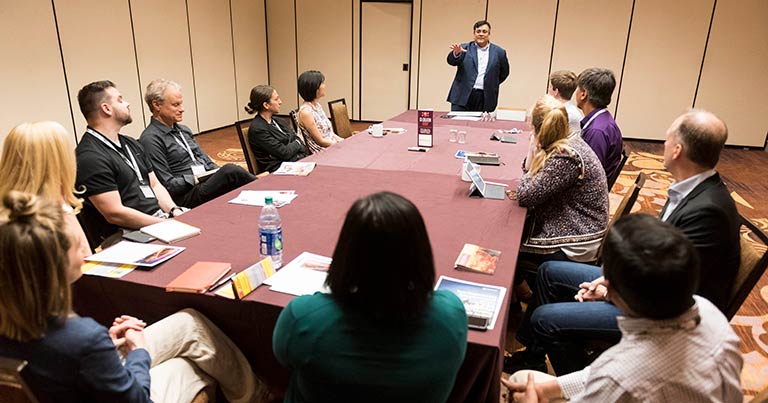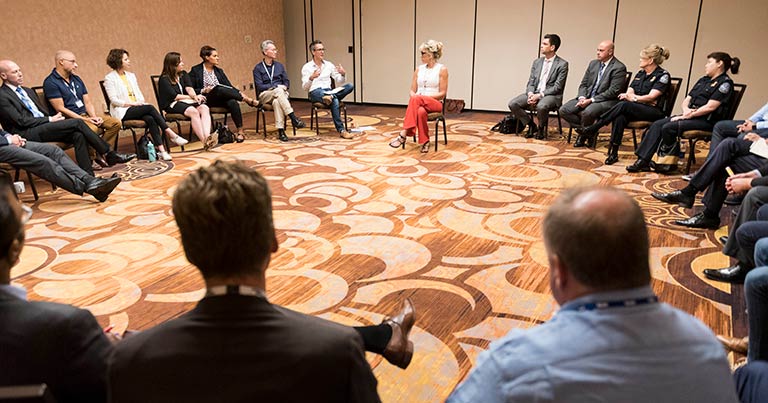 As with all FTE shows, collaboration was a key pillar of this year's Global event and all attendees had access to the Co-Creation Forum on day three of the conference. A varied set of sessions – led by experts from McLaren Applied Technologies, Deloitte, Mindtree, AAAE and TSA – brought attendees together to collaborate with one another to tackle a set of topics and challenges. The subjects ranged from the potential of artificial intelligence technology and improving the airport security experience, to harnessing the power of digital maps throughout the travel experience. British Airways' Raoul Cooper also led an invite-only "Jump Seat Debate" focusing on the future of biometrics in travel. The key conclusions from this will be shared shortly.
Spectacular Gala Party – sponsored by Rockwell Collins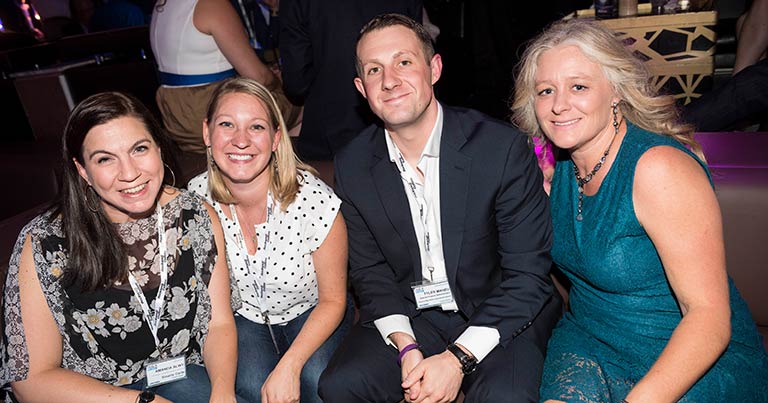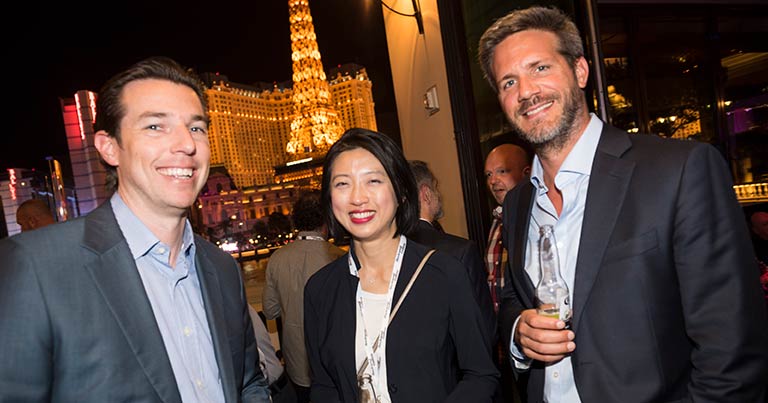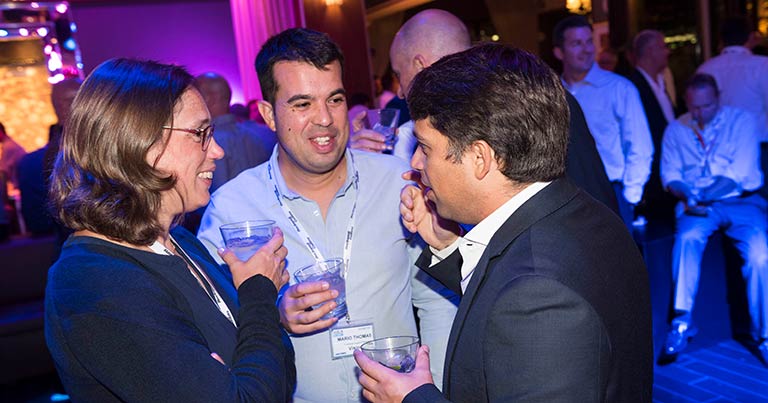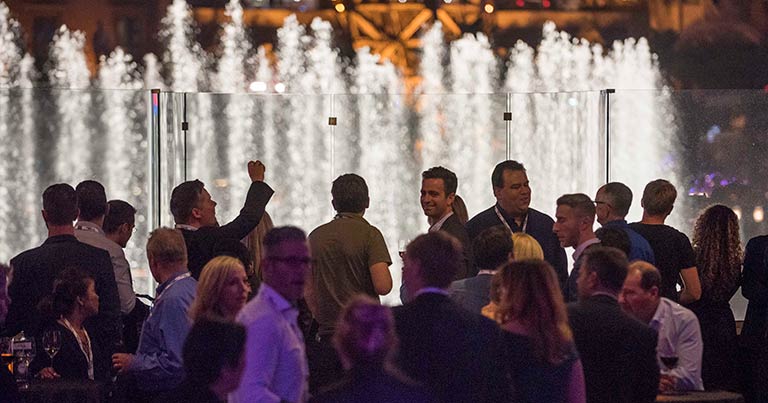 Once again sponsored by Rockwell Collins and hosted by McCarran International Airport, the FTE Global Gala Party took place at the spectacular Hyde – an indoor-outdoor nightlife venue overlooking the famous Fountains of Bellagio on the Las Vegas Strip. Attendees enjoyed the finest food, drink and entertainment that Las Vegas has to offer, while networking with fellow attendees in a unique and relaxed environment.
8th FTE Global Awards winners revealed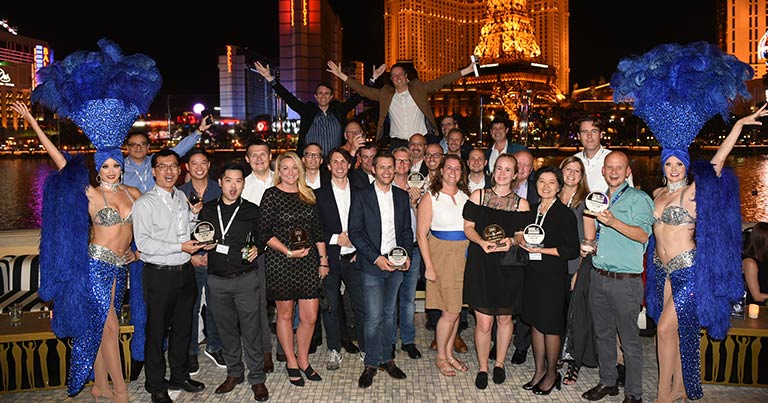 The Gala Party played host to the 8th FTE Global Awards ceremony, sponsored by Airport Lounge Development, in which a number of airlines and airports were recognised for their customer experience and innovation leadership. Lufthansa, Heathrow Airport, Air France, Groupe ADP, Emirates, Singapore Airlines, Qatar Airways, Changi Airport Group and Virgin Atlantic, as well as Redeam and Molon Labe, were all victorious. You can read the full report from the Awards here.
FTE & JetBlue Technology Ventures Startup Competition – and the winner is…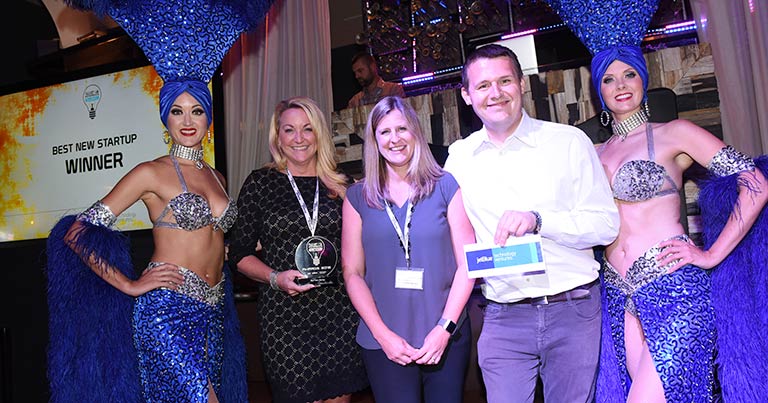 Once again, Future Travel Experience teamed up with JetBlue Technology Ventures to launch a startup competition for FTE Global 2018 with the aim of discovering the best early-stage startups that can positively disrupt the air transport industry. Almost 50 startups submitted an application and four of them – CarePod, Countalytics, Redeam and Unicoaero – were selected as finalists. All four exhibited in the Startup Showcase in the exhibition hall and delivered a pitch in the conference in a bid to win the votes of attendees. Redeam was announced as the overall winner during the awards ceremony at the Gala Party.
FTE/KLM/TU Delft Student Disruptor Global Design Challenge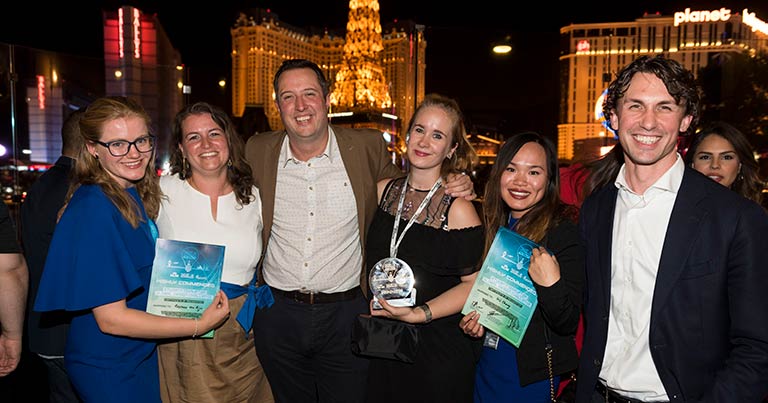 FTE also teamed up with KLM and Delft University of Technology (TU Delft) to launch the Student Disruptor Global Design Challenge. Anna Drewitz was selected as the winner for her "FRED" concept – an artificial intelligence-powered robot that can assist passengers in the airport environment and simplify the travel process. Fellow students Roxanne van Rijn, Sree Mahit Munakala and Iris Chung were also highly commended.
FTE launches Innovation Challenge for all attendees
Addressing attendees during the show, Daniel Coleman, Founder of FTE, announced a new Innovation Challenge for all attendees. He challenged everyone in attendance to use the inspiration and insight from FTE Global 2018 as the catalyst to imagine, develop and deploy an innovative new approach or solution within their organisation. "The possibilities of what could be forged and created by each of you as individuals and by working together, and the impact it could have on the industry and its passengers is mind-blowing," he said.
Those who take up the challenge are invited to keep FTE updated with their progress and the three most impressive entries will be invited to share their solutions at FTE Global 2019 and rewarded with round-trip tickets to any JetBlue destination, courtesy of FTE partner JetBlue Technology Ventures.
FTE Startup Hub Live Day – connecting startups and corporate innovators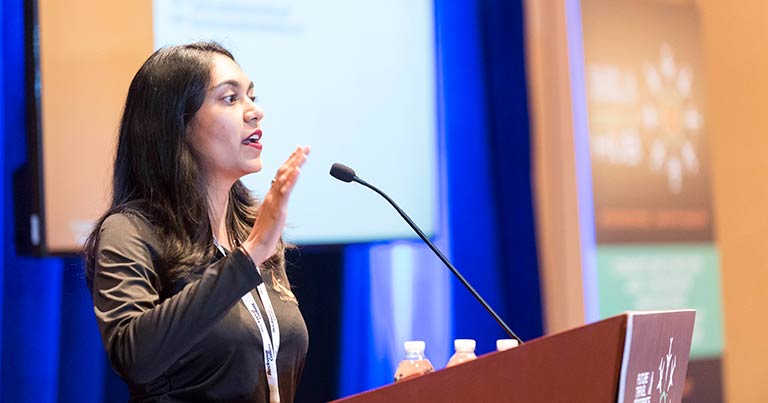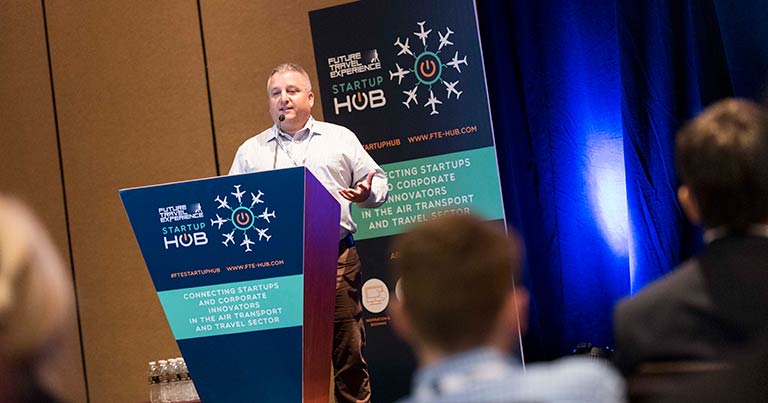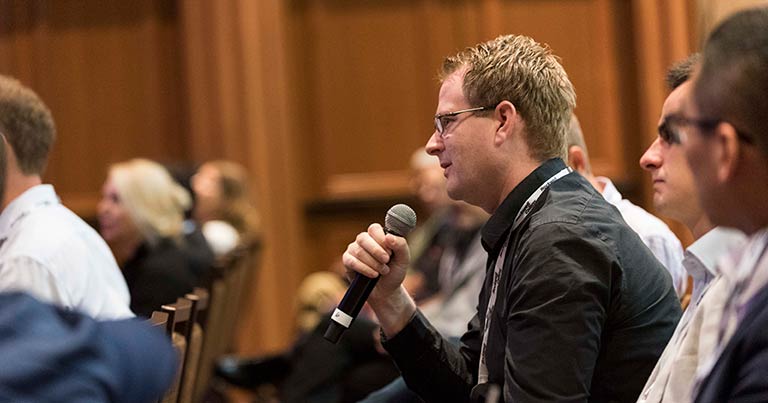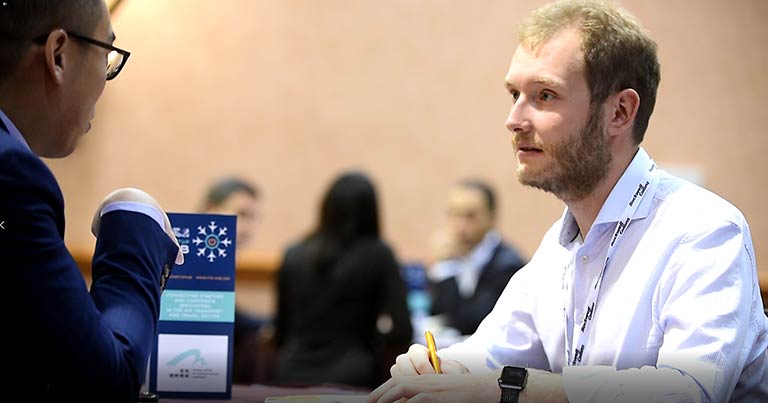 The 2nd FTE Startup Hub Live Day was co-located with FTE Global 2018 and attracted almost 30 startups and scaleups from around the world, plus a selection of Corporate Partners. Future Travel Experience launched the FTE Startup Hub earlier this year and the event in Las Vegas built upon the success of the first Startup Hub event, which took place in Dublin in June. The Corporate Partners in attendance – namely JetBlue Technology Ventures, Gatwick Airport, Vantage Airport Group, WOW air, Hamad International Airport, Hong Kong International Airport, Alaska Airlines and Denver International Airport – heard pitches from 25 air transport industry startups and participated in one-to-one meetings with those of interest to explore potential business opportunities. The next FTE Startup Hub Live Day will be co-located with FTE Asia EXPO 2018 this November in Singapore. Contact us to find out more.
FTE Global moves to ARIA for 2019 – 4-6 September 2019
Future Travel Experience Global 2019 will take place at ARIA Resort & Casino in Las Vegas from 4-6 September 2019. Mark your diary today! The following companies are already confirmed to exhibit:
Contact us for more information about exhibition and sponsorship opportunities >>