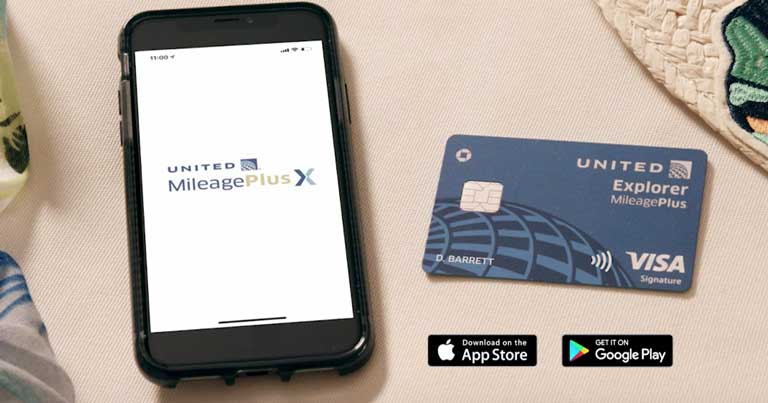 United Airlines has introduced the upgraded version of the United MileagePlus X app, which offers United MileagePlus members the opportunity to earn award miles for everyday purchases. The app has been refreshed to integrate additional programmes to make it easier for members to accumulate miles. A new addition to the app is United Visa Rewards with offers from merchants like Sam's Club, Wayfair and StubHub, offering United Chase Visa card members more ways to earn miles.
The existing MileagePlus Dining programme has been integrated into the MileagePlus X app, making it easier for members to dine and earn miles. The longstanding shopping programme, MileagePlus Shopping, has now been added to the MileagePlus X app and offers members the ability to shop and earn miles on the go at more than 900 retailers.
The new United Visa Rewards programme is powered by Visa Commerce Network, which allows enrolled individuals to receive valuable offers within MileagePlus X thanks to the power of the Visa payments network. United Visa Rewards is available exclusively to United Chase Visa card members in the US who are now able to enrol their eligible card into the programme via the app.
From there, they can view active enhanced mileage earning offers from participating merchants, and will receive a near real-time reward notification within the app. As a special launch offer, from now until March 31 2019, United Chase Visa card members can earn 1,000 bonus award miles by simply enrolling their eligible credit card for the first time into the programme.
"We are excited to launch the new MileagePlus X app, which allows MileagePlus members to earn and redeem award miles in real-time for their everyday purchases at hundreds of merchants across the US, matching the increased benefits our United Explorer card members received with the new credit card last summer," said Luc Bondar, President of MileagePlus Holdings and Vice President of Loyalty at United Airlines. "As mobile payments become more commonplace, it was a natural tie for United to update the features, enable members to make purchases and earn and use miles on the go."
Terry Angelos, SVP, Loyalty & Offers, Visa, added: "Visa and United have been working together for over 20 years. As digitally-savvy individuals continue to help shape the future of digital commerce, Visa continues to work with United and Chase to bring new ways to reward consumers for their loyalty. At the same time, participating merchants will benefit from Visa Commerce Network's ability to deliver custom solutions that will help increase their customer base and loyalty, ultimately helping them continue to grow their business."