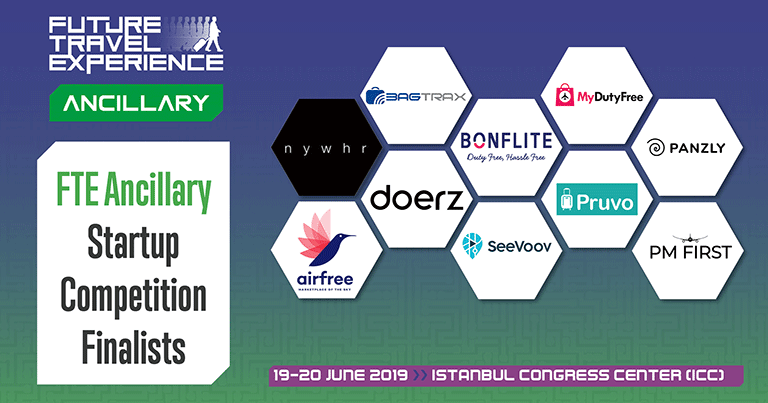 The 10 finalists in the FTE Ancillary 2019 Startup Competition have been announced and they are:
Airfree – a global air duty free marketplace that makes airport retailers' products digitally available up in the air for airlines' passengers.
Bagtrax – a mobility startup focused on aviation and empowering the passenger experience with a tracking device totally compliant with European aviation safety regulations.
Bonflite –

a specialist duty free ancillary revenue partner for airlines, online travel providers

and airport-based travel retailers.

Doerz – a platform and community building a bridge between travellers and locals.
MyDutyFree – a convenient service that allows travellers to pre-order goods with favourable offers from duty free stores.
NYWHR – the world's first destinationless travel website.
Panzly – insures travellers' flights for delays or cancellations via automatic and immediate payouts.
PM First – a long-term vision to use unsold seat inventory to create personalised, flexible, and luxury experiences on top of commodity-style economy class seats.
Pruvo – helps airlines convert "flight only" customers into "flight and hotel" customers.
Seevoov – a video-based travel planning platform which enables customers to watch destination videos and book attractions/experiences directly.
The 10 startups will now exhibit in the FTE Ancillary Startup Showcase at Future Travel Experience Ancillary 2019, which will take place in Istanbul, Turkey on 19-20 June.
FTE Ancillary, co-located with FTE EMEA, is the world's leading digital airline retailing show dedicated to helping airlines and their partners boost ancillary revenues at every stage of the passenger journey. The event will include an Ancillary exhibition zone, a high-level FTE Ancillary conference, the 3rd FTE Ancillary Awards ceremony, and a unique social and networking agenda in the heart of Istanbul.
The exhibition is free to attend while airlines can upgrade to a Premium Pass for free until 3 May. Airports also have access to discounted Premium Passes. Register to attend >>