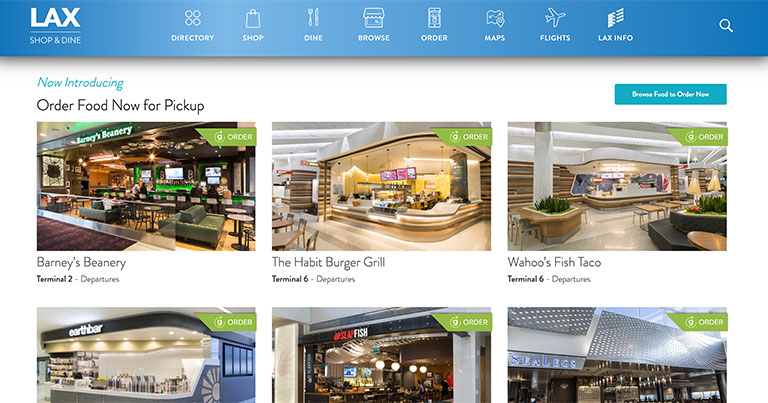 Travellers flying from Los Angeles International Airport (LAX) can now make use of a number of new digital services and the enhancement of the flyLAX.com website. This includes the ability to pre-order food and shop online by viewing products and menus for numerous restaurants and retail stores at LAX. Los Angeles World Airports (LAWA) – which will lead a guest session at Future Travel Experience Global 2019 – created the upgraded experience in partnership with Unibail-Rodamco-Westfield (URW) Airports.
"LAX is proud to once again be at the forefront of innovation, piloting a new digital marketplace and showcasing a vision of the airport of the future," said Deborah Flint, CEO, LAWA. "By utilising new technologies, we are creating mobile, anticipatory guest experiences and taking a giant step forward in bringing the front door of LAX to the fingertips of travellers well before they set foot at the airport."
The enhancements to the shopping and dining experience at LAX include the launch of a digital product catalogue and digital food ordering services, powered by Grab. Guests can pre-order food on their mobile device, Facebook messenger app or desktop/laptop computer by accessing FlyLAX.com and following the link to "Dining, Shopping and More" and choosing one of the participating terminals, or by going directly to LAXShopDine.com. No additional download or mobile app is needed. While the initial launch includes seven restaurants from which travellers can pre-order meals, new restaurants, features and amenities are anticipated in the future.
The new digital marketplace will allow passengers to search and browse a growing online catalogue of products, product information, digital menus and new offerings. Airport restaurant menus are being fully digitised, and curated retail products will be searchable online at flyLAX.com.
URW Airports – the in-terminal commercial manager of Terminals 1, 2, 3, 6, Tom Bradley International Terminal and the $1.6 billion International Concourse that is opening in 2020 – has partnered with Grab, a Houston-based startup, to introduce a mobile-web food ordering programme through the new digital marketplace. Customers will be able to search menus and place food orders in advance at participating terminal restaurants. In LAX's Terminal 2, Barney's Beanery, SeaLegs Wine Bar and SLAPFISH Modern Seafood Shack have the capability for guests to order ahead. Earthbar, The Habit Burger Grill and Wahoo's Fish Taco are participating restaurants in LAX's Terminal 6 and W Pizza, located pre-security at Tom Bradley International Terminal, also has pre-ordering available. Additional restaurants and retail locations are expected to come online in the future.
"We want to take as much of the stress out of travelling as possible," said Logan Meier, Vice President of Emerging Technology, Airports, URW. "That effort starts with us at the airport, working together with key stakeholders and partners, to enable new solutions that simplify the journey."