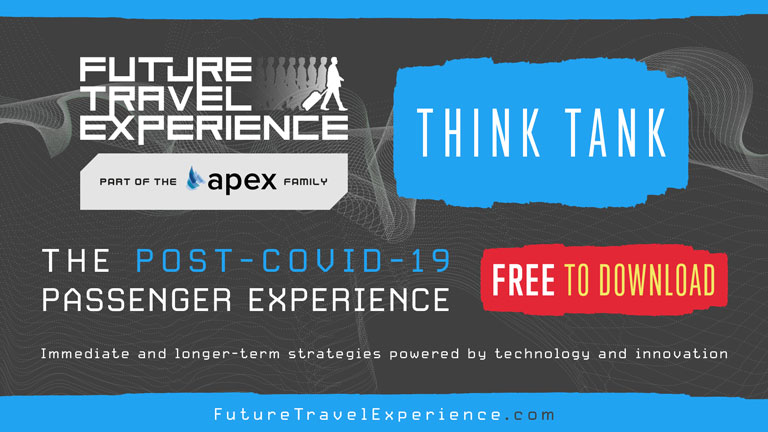 To support the air transport industry through the ongoing crisis, Future Travel Experience (FTE) has unveiled one of its most important industry advancement efforts yet – The Post-COVID-19 Passenger Experience Think Tank – which has been co-created with input from the Airline Passenger Experience Association (APEX) and members of the FTE Innovation & Startup Hub, including a number of the world's largest and most progressive airlines and airports.
The Think Tank details a series of immediate and longer-term strategies, powered by technology and innovation, which provide a roadmap for airlines, airports and their partners to adapt to the new normal and thrive in the post-pandemic world. The full Think Tank document can now be downloaded for free.
In addition to detailed guidance and best practice specifically tailored to each passenger touchpoint – Pre-travel, Check-in Hall, Security, Departure Hall, Boarding, Onboard the Aircraft, and Arrivals & Immigration – the Think Tank includes 10 recommendations for the short, medium and long term.
Download the Think Tank PDF for FREE >>
Biometrics, touchless tech, smart retail and more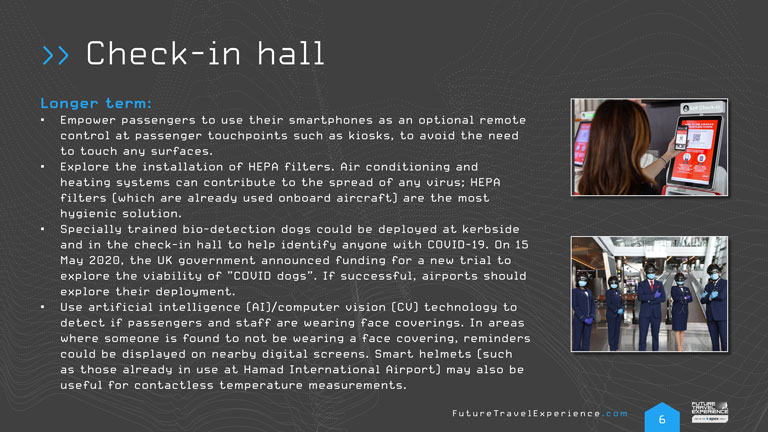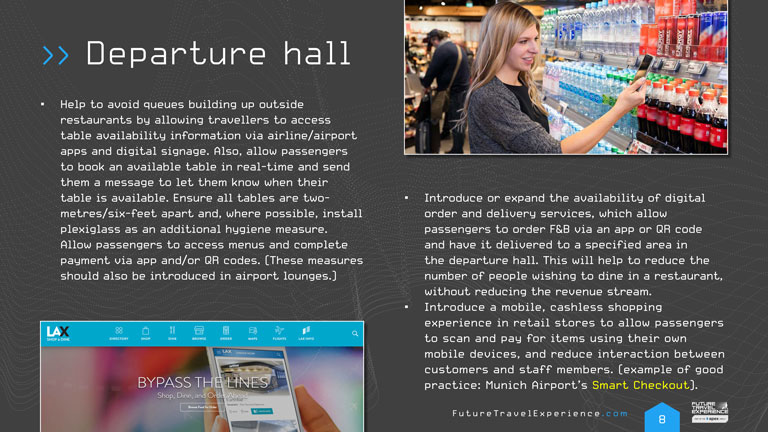 Download the Think Tank PDF for FREE >>
COVID-19: Industry guidance and recommendations
Among the industry guidance and recommendations detailed in the Think Tank document are:
A call for the industry to accelerate the adoption of touchless kiosks, offsite processing and biometric processing, including offsite biometric pre-enrolment, to help deliver a seamless and touch-free airport experience.
A recommendation that airports use 100% fresh air for ventilation, and if the air is re-circulated for energy efficiency reasons, the use of HEPA filters or UV disinfection.
A call for airlines and airports to proactively engage with government authorities, health agencies and other relevant stakeholders on initiatives relating to the development of health passports or immunity passports, instead of pursuing onsite rapid COVID-19 testing.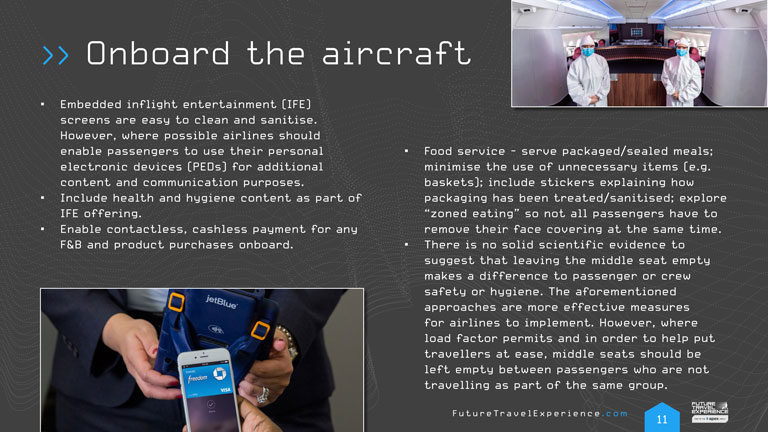 Ryan Ghee, Head of Strategy & Development, Future Travel Experience, who led the Think Tank project, said: "The motivation behind the launch of the Post-COVID-19 Passenger Experience Think Tank was to provide the industry with a realistic and implementable vision for the post-COVID-19 end-to-end passenger experience, and to offer guidance as air travel demand returns. Having worked closely with APEX and representatives from major airlines and airports around the world on this unique thought leadership project, the final document is filled with guidance, examples of best practice, and solid recommendations for airlines, airports and all other air transport industry stakeholders, regardless of the size of the organisation or their budget.
"This Think Tank document goes way beyond simply recommending the use of personal protective equipment and plexiglass shields, which are now a given. This is about how the industry can embrace technology and digital innovation – things like touchless biometrics, proactive multi-channel communications, e-commerce and digital health passports – to not only survive this crisis but thrive in the long-term. I'm delighted that we're able to make this Think Tank white paper available to the entire industry for free."
APEX/IFSA CEO Dr Joe Leader stated: "As a key part of the APEX family, Future Travel Experience has always excelled at bringing the industry together as our team continues to deliver invaluable insight to airlines, airports, and their partners. Being personally involved in this Think Tank project once again demonstrated our FTE team's ability to bring together best-in-class experts from across the industry to collaborate for the benefit of the entire air transport world."
Download the Think Tank PDF for FREE >>