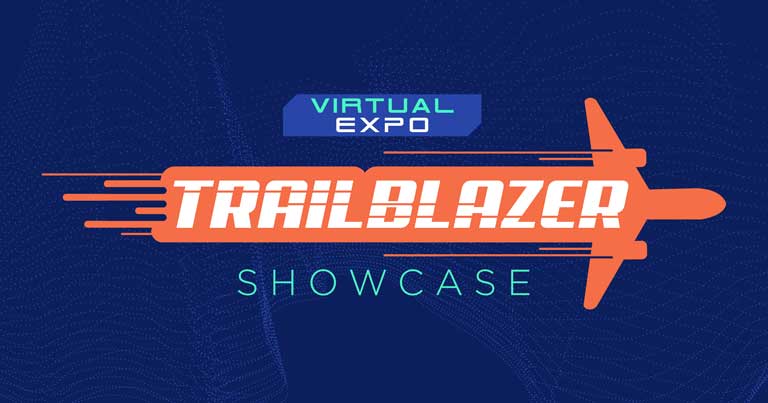 The Trailblazer Showcase at the co-located FTE APEX Virtual Expo and IFSA Onboard Hospitality Virtual Expo will provide a unique platform for innovators and disruptors from across the air transport sector to highlight how their pioneering products, services, concepts and visions can help to support the industry's advancement and the recovery from the COVID-19 crisis in the short, medium and long term.
A total of 10 entrants will have their video presentations included in the On-Demand Content Zone during Virtual Expo, which is expected to attract more than 8,000 participants. The video pitches will be accessible during the live show days on 8 and 9 December and will remain online for 30 days afterwards.
Theme and areas of focus
The theme of the showcase is "Overcoming COVID-19 challenges" and it will focus on five core areas: Airport Operations; Biosecurity; Commercial, Retail & Ancillary; IFEC, Content, Cabin & Interiors; and Inflight Services, Catering, Comfort & Amenities (in partnership with Onboard Hospitality and IFSA).
Who can enter?
The Trailblazer Showcase is open both to individuals and companies. For instance, you can be a student with a big idea, an air transport industry executive with a bold new vision, a startup with a brand new product, or an established vendor with a pioneering concept. Either way, we want to hear from you! To enter, all you have to do is complete the short online application form and provide us with a five-minute video pitch.
Your video pitch should include a concise description of your product/service/concept/vision as well as information on how it differs to anything else that is currently available on the market and how it can help airlines, airports and/or their partners overcome COVID-19-related challenges. We recommend that you deliver your video presentation with slides to help illustrate your submission.
Important dates
Online submission process opens: 28 September 2020
Online submission process closes: 28 October 2020 (23:00 BST)
Top 10 to be notified during week commencing: 2 November 2020
Submit your entry
It is completely free to apply to be a part of the Virtual Expo Trailblazer Showcase. Click below to submit your entry: