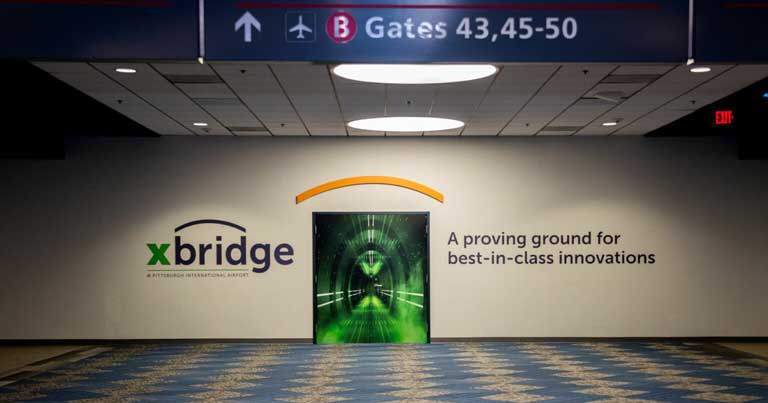 Pittsburgh International Airport (PIT), a member of the FTE Innovation & Startup Hub, has announced the introduction of a new innovation centre called xBridge.
The 10,000-square-foot facility, located at the airport's Concourse B, consists of a custom-built innovation space, designed to support the evolution of the industry and inspire creative solutions to address industry challenges.
"The xBridge is a physical manifestation of the innovative mentality we've been cultivating here at PIT for years," said Katherine Karolick, Senior Vice President of Information Technology. "This will be a proving ground for new technology that will benefit the airport, our airline partners and the passengers we collectively serve."
The xBridge will contain maker space, an open design studio, and mock-ups of the various parts of an airport, such as concessions and the arrivals area.
"Innovation centres spark creativity. You can't plan innovation," Karolick said. "You need to create an environment and ecosystem to make it happen. This space has everything we need to tap into the collective brainpower of our industry and region, design innovative solutions, and accelerate the development of those solutions."
The airport has been driving innovation with several recent initiatives, including Neighborhood 91, dedicated to industrialising the additive manufacturing industry; a first-of-its-kind microgrid that will power the entire airport via onsite natural gas wells and solar panels; and automated floor scrubbers augmented with UV lights to set the standard for maintaining safe and sanitised airport experience.
The focal point of the centre will be the xGate, a functional boarding gate that will operate as a working lab to test out concepts to improve air travel, Karolick explained.
"The xGate will be able to simulate a real, active gate and holding area," she said. "And then we can actually test innovations on pilot flights coming in with our airline partners."
Working in tandem with other companies on initiatives will be a key part of the xBridge's success. As the airport itself has become a testing ground for new technology, including robotics and AI, the new innovation centre will focus those efforts into a space custom-built for ideation, experimentation and collaboration. Partner companies will be announced in the coming months.
"Not only does that environment breed ideation, it also creates targeted solutions at a lower cost with a quicker development schedule," added Karolick. "I'm really excited to see how the solutions we develop in the xBridge will directly impact passengers and make for a safer, more enjoyable experience for them," she said. "But I'm also excited to see how those ideas set new standards and spread through, and even beyond, our industry."