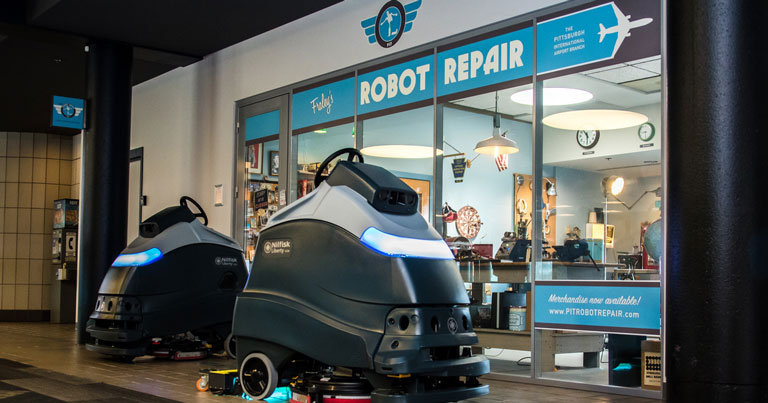 Pittsburgh International Airport (PIT) has become the first US airport to use autonomous robots with ultraviolet light technology for cleaning.
The robots are being rolled-out in partnership with Pittsburgh-based Carnegie Robotics, as part of the airport's strategy to use innovation from the region's tech community to tackle the challenges brought by COVID-19.
The partnership is part of an airport-wide strategy to deploy technology solutions and multi-layered cleaning processes to enhance the health and safety of the travelling public. The UV technology is designed to kill microbes in high-traffic areas, increasing cleanliness and helping to restore confidence in travelling.
"The health and safety of airport staff and the travelling public are always the top priorities," said Pittsburgh International Airport CEO Christina Cassotis. "We know that restoring confidence in travel is going to be key to the industry recovery. That's why we're incorporating world-leading Pittsburgh technology as part of the solution."
The scrubbers are modified versions of machines built by Danish firm Nilfisk, while Carnegie Robotics has designed and manufactured the artificial intelligence and robotic systems for them that can map an area and then clean it without human help.
To instruct the robot, a worker drives the machine around the outside edge of an area and the onboard computer saves it to memory. Back at the starting point, the press of a button sends it on its way and the robot automatically cleans the entire area. Stereo cameras mounted on the front of the scrubbers detect obstacles, including people, and will stop the machine immediately if its path is impeded.
Once the scrubber is going, workers only need to change the water supply after about 150 minutes and recharge the battery after about six hours. The machines can also be used manually when required.
The partnership is part of PIT's ambitious approach to finding technological solutions to improve the airport. Its X-Bridge lab features 10,000 square feet of space that includes a design studio, maker space and even an "X-Gate" where developments can be tested and refined at a boarding area.
Pittsburgh International Airport's CEO Christina Cassotis is joining the line-up for the upcoming FTE APEX Webinar & Pitch Sessions on Post-COVID-19 Airports, which will take place on Wednesday, 13 May. Cassotis will share the key challenges incurred in Pittsburgh Airport following the COVID-19 outbreak, as well as strategies to bringing back passenger confidence, and profits in the future. Find out more and register to attend here.