Dear friends and colleagues,
I wanted to write and wish all of our valued partners the best for 2021, while letting you know that our schedule of activities for the year is set and we would very much welcome the opportunity to collaborate with your organisation during the year. I write from the UK, where vaccine roll-outs are well underway, and I have no doubt this will be a year in which aviation recovers quickly, and where we can all get back to a way of life, and business, that we can thrive in once more.
If you did not get the chance already, I strongly recommend you start 2021 by absorbing the insights and strategies shared at FTE APEX Virtual Expo, the air transport industry's first major digital trade show that attracted over 4,000 attendees during the live days on Dec 8-9. It remains open as a resource until 23:59 GMT on January 8, which means that over 80 exhibitor booths will remain yours to peruse, along with 40+ hours of educational conference content from over 180 speakers around the world, including exclusive announcements, the latest FTE Think Tank unveiling, and a plethora of CEOs and industry innovators. Airline and Airport employees can still obtain a premium pass for free, and entrance to the exhibition hall remains complimentary to all. To register for access, please click here. For a quick overview of highlights you can read this report here.
Events update: FTE APEX Virtual Expo 2021, and live events in Las Vegas and Singapore to return – mark your diary today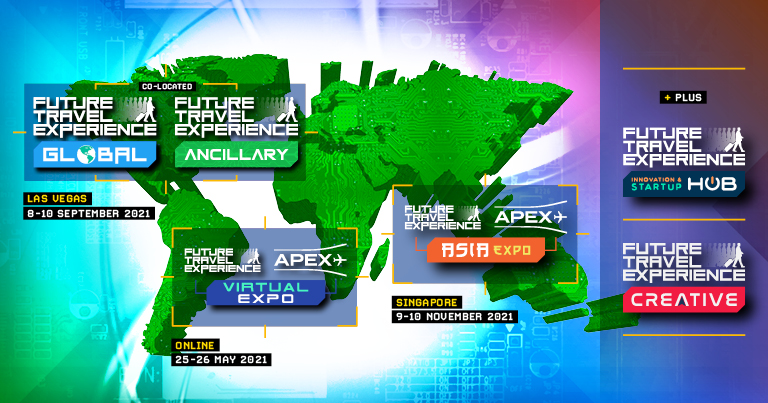 Looking ahead, we will follow this ground-breaking digital success with FTE APEX Virtual Expo 2021 – air transport's largest virtual trade show of the year on May 25-26, which we are so excited about we decided to create a movie trailer for it, as you can see here.
Following that we will focus on getting the industry to meet again face-to-face and I am delighted to report that our in-person events will return as hybridized shows at the back end of the year, with FTE Global+ and FTE Ancillary+ taking place on 8-10 September, Aria Resort, Las Vegas; APEX EXPO on 18-21 October, Long Beach, California; and FTE APEX Asia Expo+ on 9-10 November, Marina Bay Sands, Singapore.
Meanwhile, our new FTE Creative business unit is providing digital solutions for a new world from bespoke private sales lounges and auditoriums that can be used at virtual trade shows or for private customer meetings, through to the use of technologies such as VR and AR to deliver awe-inspiring content or training programmes. Please visit our website to tour our impressive showroom so you can see for yourselves the quality of the work, and virtual environments, that we can create to support new industry needs going forward.
In closing, I think the pandemic has shown unequivocally that it's never been more important to collaborate as an industry to forge new ideas and learn from one another, and here at FTE we are committed to playing a leading role in supporting collaboration and innovation efforts to ensure we achieve an industry recovery that makes air transport even stronger in the long-term.
If you have an important story, or vision, to share and would like to collaborate with us and speak, exhibit or attend one of our events, or be part of the work we are doing with FTE Creative or the FTE Innovation & Startup Hub, please reach out to me on e-mail and we will work to find ways to team-up across our portfolio. January is a big month of planning for me, and the team, and we look forward to executing a dynamic crowd-sourced approach to building our propositions for 2021 to ensure we deliver the very best output across our events, media, creative services and thought-leadership efforts.
Good luck, stay safe, and let's get this industry we love back on its feet in 2021.
All the best.
Daniel Coleman
Founder & CEO
Future Travel Experience
daniel.coleman@futuretravelexperience.com