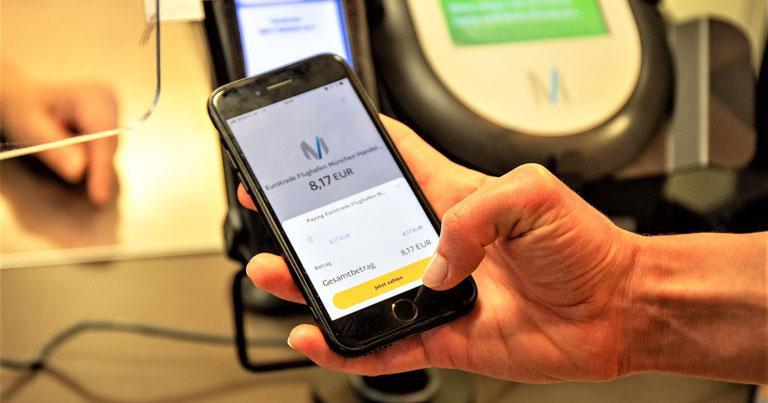 Munich Airport has become the first airport in Europe to introduce PayPal QR Code – a mobile and cash-free payment system – in all stores and businesses of Eurotrade, the wholly-owned retail subsidiary of Munich Airport.
Customers can shop without touching cash or card readers with the touch-free PayPal QR Code and their smartphone. "Again we were pioneers in the introduction of innovations such as payment systems," announced Sven Zahn, Managing Director of Eurotrade Handels-GmbH. "The option of contact-free payment via a QR code means further growth in service quality and security for Munich Airport, especially in times like these."
"The pandemic accelerated the demand for touch-free payment options," explained Jörg Kablitz, Managing Director for PayPal Germany, Austria, and Switzerland. "With our new integrated QR code solution, we are offering an ideal answer to this demand, especially for large enterprises and retail chains. We are pleased to advance this new solution with Munich Airport."
Rainer Beeck, Head of Commercial Activities at Munich Airport, also added: "Our commitment as a 5-Star Airport is therefore reflected in travel retail as well."
The new QR code will be seamlessly integrated into the processes of existing check-out systems including accounting. The airport has highlighted that the payment process is secure and uncomplicated. If customers would like to pay, they open the QR code in the PayPal app on their smartphone and show it to the cashier. The cashier scans the code and the amount to be paid is shown directly in the app. Customers then select their preferred payment method stored in their PayPal account, such as bank account or credit card, and confirm the payment on their smartphone. Customers as well as cashiers immediately receive a confirmation of the successful transaction.
Alternatively, the QR code can also be displayed on a card reader, and the customers scan it with their smartphone in the PayPal app. For both options, the payment process is completely touch-free, since a PIN code does not have to be entered and neither is a signature required. Passengers with a German, UK or US PayPal account can now pay at Munich Airport with the new payment solution. The extension of the service to PayPal users with foreign accounts will follow soon.