The highly anticipated Future Travel Experience Global 2021 show, which will take place in Las Vegas on 7-9 December, will feature a large-scale exhibition of the most progressive aviation industry suppliers, ranging from household names through to the most innovative startups.
This year's focus will be on products and services that can help inspire airlines, airports and their stakeholders on their next moves to enhance end-to-end customer experiences, improve business performance, and recover and thrive post-COVID-19.
In the second instalment of our Exhibitor & Sponsor Preview, we highlight more of the innovative solutions that will be on display in the exhibition.
>> Read Part 1 of the FTE Global 2021 Exhibitor & Sponsor Preview here 
Airports Council International (ACI)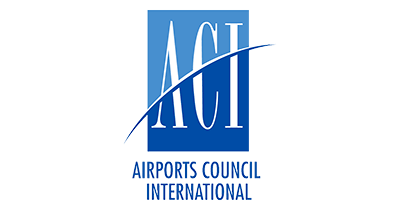 Airports Council International (ACI) World represents the collective interests of airports around the world to promote excellence in the aviation industry. The organisation works with governments, regional ACI members, experts, and international organisations like ICAO to develop policies, programmes, and best practices that advance airport standards globally. ACI World fosters the safety, security, and resilience of airports worldwide. At FTE Global,  ACI World's Senior Vice President, Programmes and Commercial Services Antoine Rostworowski will moderate an exciting session in the Future Airports conference track, titled "How should future airports look and operate in the post-COVID-19 world in order to thrive?"
AeroCloud Systems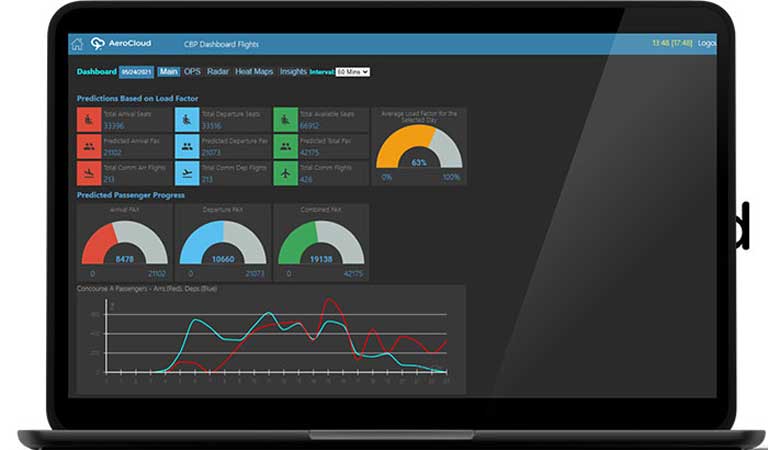 AeroCloud makes airport operation teams worldwide more successful with a combination of great technology and great service. Its intelligent airport management platform increases situational awareness, centralises all airport data, automates tasks, predicts passenger numbers, manages gate usage, and ensures every stakeholder across the airport gets the information they need in real-time. The AeroCloud platform is 100% cloud-native, meaning it's available anywhere on any device. It includes leading-edge features like artificial intelligence (AI) and machine learning at a price point within reach of airports of all sizes. AeroCloud aligns operations across multiple departments and has helped rapidly-growing airports across the US and Europe.
AirFi America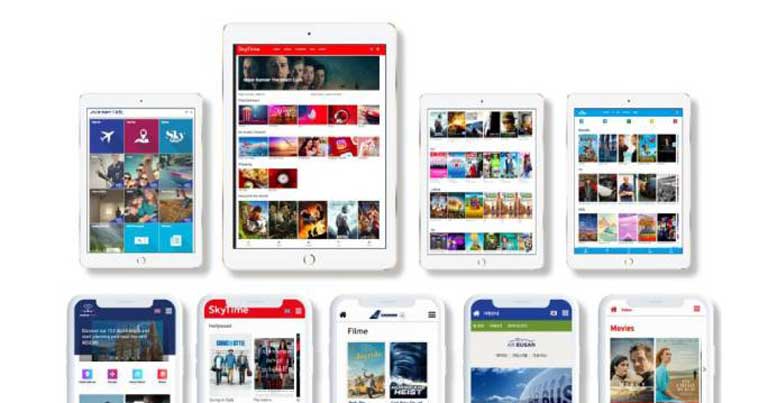 AirFi.aero is an award-winning provider of zero-capex, easily deployable, ancillary revenue and entertainment solutions that are streamed wirelessly to passengers' personal devices. AirFi's solutions improve airlines' bottom lines by integrating seamlessly into existing onboard operations and are suitable for any flight length and every aircraft type – requiring no certification or aircraft downtime. AirFi's integrated passenger engagement and intuitive crew-facing ePOS solution (Connected Crew) can be augmented with its inflight connectivity LEO offering for payment verification and other low-bandwidth data communication purposes. At FTE Global, the AirFi America team will demonstrate a range of solutions, including an installed version of the AirFi box; The Real Mall in the Sky concept for more ancillary sales and in-seat ordering solutions as well as its mPOS solution.
Register to attend FTE Global 2021 today >>
Airsiders
Airsiders is making it easy for airlines, airports, and travel retailers to provide passengers with more choice and personalisation. The Berlin-based startup was founded in 2020 and has developed a recommendation engine for connecting flights, and an algorithm that predicts walking and queue times between gates, calculates the risk of disruption and outputs routing instructions at hub airports. Its patent-pending technology has been developed in collaboration with leading supplier of airport baggage systems, BEUMER Group. In addition, Airsiders has also developed Compass, a powerful airport API that aggregates specialised data feeds from airports globally. The provider makes it easy for airlines and travel technology companies to build personalised airport experiences in their applications.
Airside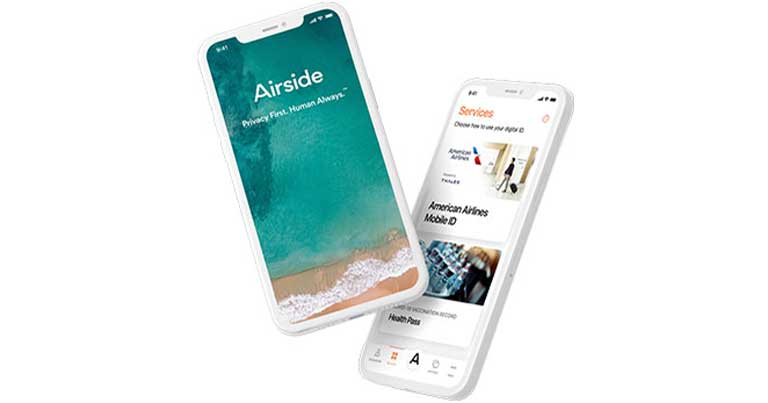 Airside builds secure and convenient digital identity technology in a manner that protects personal information and meets privacy regulations around the world. The company is focused on instant ground-truth identity proofing, mobile enrolment and reusability, and data privacy and security and have made innovative breakthroughs with major air carriers and ID verification providers. Airside's patented technology is easily interoperable with multiple providers and multiple systems, while ensuring the protection of sensitive personal information, such as passports, driver's licenses, and COVID vaccination records. With Airside, travellers are empowered to control their personal information with transparent consent protocols, while travel providers are able to enhance their services, decrease costs, and reduce the burdens of compliance.
Analogic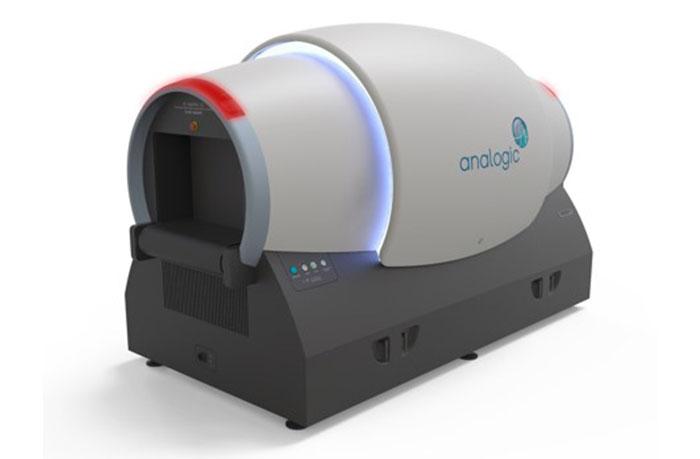 Analogic Corporation is a global leader in design, development manufacturing and support of technically advanced and cost-effective imaging & detection and power & automation solutions for security, healthcare, and other high-end industrial markets. Analogic has been an innovation leader in the field of computed tomography imaging for over 40 years, with over 2,000 CT systems and gantries deployed at airports worldwide through its Original Equipment Manufacturer (OEM) security partners. Analogic's latest innovation is its ConneCT™ Computed Tomography (CT) checkpoint security screening system, which has been qualified by the US TSA for deployment at US airports.
Assaia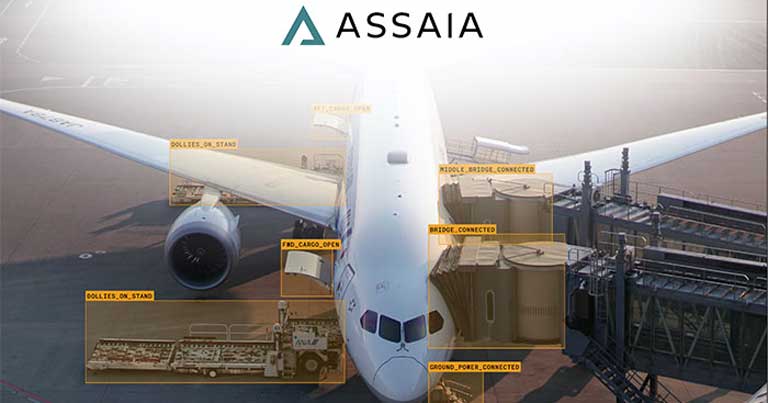 Assaia is an aviation software company headquartered in Switzerland, with local presence in the US. The company provides a software suite (ApronAI) that manages and optimises airside processes for airports, airlines, and ground handlers. With millions of turnaround events detected, the company's solution is well recognised and trusted by more than 30 airports and 5 airlines globally. Assaia's main vision is to eliminate all manmade delays from the global air traffic system and make aprons more efficient, safer, and a more sustainable place. In turn, it will enable time-efficient and affordable air travel over the decades to come.
Register to attend FTE Global 2021 today >>
AviaVox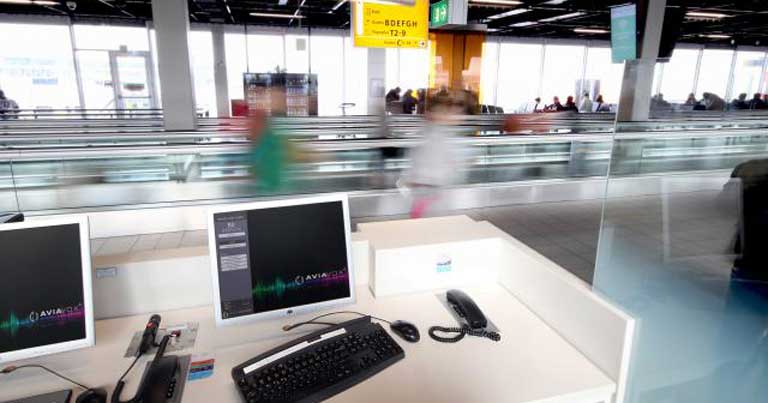 AviaVox intelligent announcement systems are specifically designed for airports and airlines. With the unique AviaVox phoneme technology, natural announcements can be generated fully automatically in a multitude of languages. AviaVox has intensively studied the information needs of passengers, airports and airlines, and has structured its automatic announcements in such a way that it gives maximum support to the efficiency of passenger flows. As a result, the AviaVox system significantly improves communication between an airport and its passengers, and contributes considerably to a positive customer experience of both passengers and airlines.
Corsight AI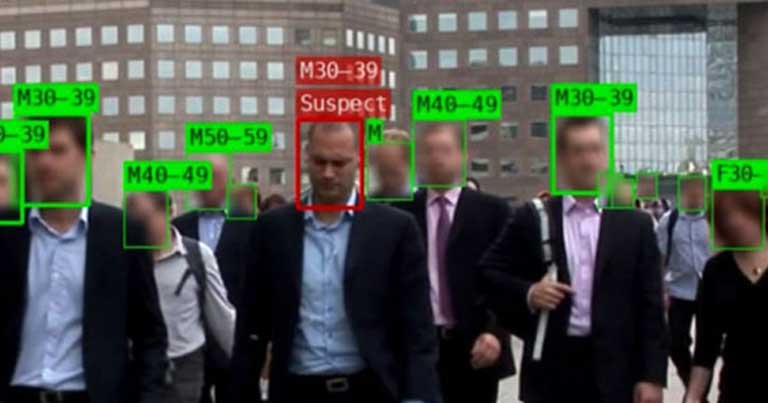 Corsight AI is among the most powerful facial recognition platforms in the world, recognising people when other technologies fail. The company provides solutions for the most challenging conditions to empower organisations with maximum safety while preserving personal privacy. Corsight AI works with commercial clients and government agencies in a variety of industries including aviation, law enforcement, retail and entertainment. Corsight AI is dedicated to creating industry-leading facial recognition technology with unrivalled speed, accuracy and privacy. The technology is powered by Autonomous AI, the most advanced artificial intelligence system developed by top AI researchers and backed by more than 250 patents.
Custom America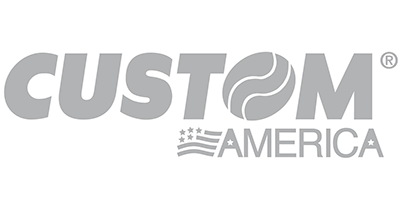 Custom America, Inc. is a division of Custom S.p.a. of Parma, Italy that designs, manufactures and distributes thermal printing and Point-of-Sale hardware. The company's complete suite of solutions integrates hardware, software and services. Custom America offers both a wide range of standard products in addition to the ability to provide complete product development and customisation to meet specific application needs. Specifically, Custom America designs and manufactures a wide range of Aviation printers. Its product portfolio offers robust and compact kiosk and attended solutions for boarding pass, luggage tag and ATB printing. Present in over 150 airports, the company leverages the same print-engine for kiosks and check-in counters while integrating RFID, multi-feeder and linerless printing capabilities. Its designs reduce the Total Cost of Ownership (TCO) for dedicated airlines and airports alike by utilising a single hardware platform across various printing needs. Custom America also designs and manufactures a wide range of Ticketing, Printing, and Point-of-Sale solutions to meet complete airport infrastructure needs.
Daktronics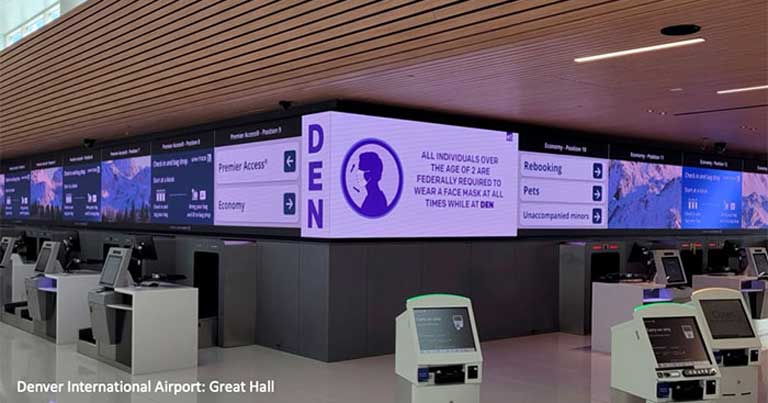 As a world leader in LED technology, Daktronics designs dynamic digital displays that enhance the travel experience by informing and guiding passengers on their journey. Daktronics focuses on engineering and building the most reliable display systems for airport facilities around the world. Daktronics offers comprehensive customer service from the design phase through installation to start-up and beyond. At the show, the company will be showcasing the Denver Great Hall Ticketing project, where Daktronics provided four, 180' wide LED video screens displaying relaxing panoramic views of the Rockies while also guiding customers through the new automated check in and bag drop process. The LED solution enables real time flexible use of the common use ticket counters and helps provide detailed instructions for the automated bag drop system, aiding in a faster rate of adoption by customers of new technologies.
Register to attend FTE Global 2021 today >>
DESKO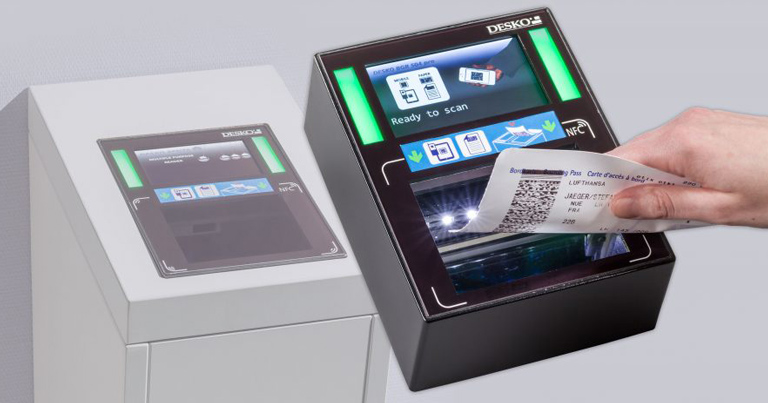 DESKO has been developing professional solutions for passport and boarding pass scanning, access control, security checks and passenger handling for 30 years. At FTE Global, the company will be presenting its well-established product line for the aviation industry comprising product solutions for every passenger touch point at the airport. Visit DESKO's stand to discover its versatile multi-document scanners for security applications, barcode scanners for usage at boarding gates, swipe readers for check-in as well as devices for the quick and easy integration in self-service environments.
Dormakaba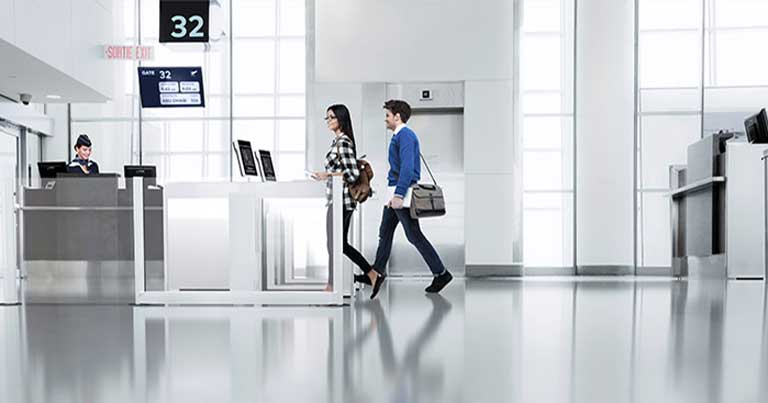 Dormakaba supports airports and airlines to meet the complex challenges posed by access control and security to improve their operating efficiency. Its products range includes automated, secure solutions that meet the specific needs of all touchpoints in the passenger process. The company is coming to Vegas to showcase its new range of Argus Air solutions, designed to facilitate convenient, easy travel with one ID. On display will be the Argus Air Security for boarding pass control, Argus Air Boarding for self-boarding, and Argus Air Lounge for business lounge access. The Argus Air solutions come with built-in or customer-provided face recognition, best-in-class separation, the proven Pax Control software for device integration and data provision and a modular high-end design.
EASIER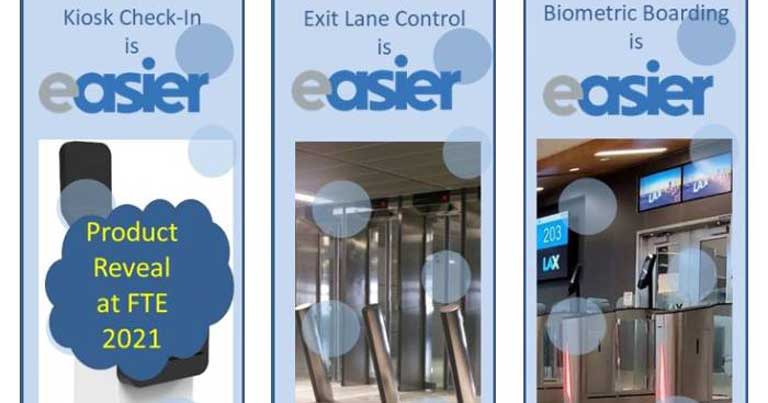 EASIER is one of the leading manufacturers of intelligent passenger processing equipment for airports, airlines immigration and public transportation. Its portfolio includes e-gates, kiosks, baggage drop, exit lanes, printers and scanners. EASIER's solutions integrate curb-to-gate biometrics, DCS and common use connectivity. The company's reputation is based on unmatched reliability, responsive support and a unique ability to customise products to specific requirements. EASIER was formed in 2019 by combining the transportation activities of IER, the established self-service technology provider, and Automatic Systems, the global leader in access control. In the US, EASIER is helping airports and airlines implement biometric boarding for international flights, in support of CBP's US Exit initiative. Its solution is fully operational and integrates state-of-the art biometrics, an interface to CBP's TVS and connectivity to any airline via its pre-existing and common-use certified interfaces. EASIER's unique pre-integrated software eliminates the need for third party software integration. The provider has hinted to a new product reveal exclusively during FTE Global in Vegas.
eezeetags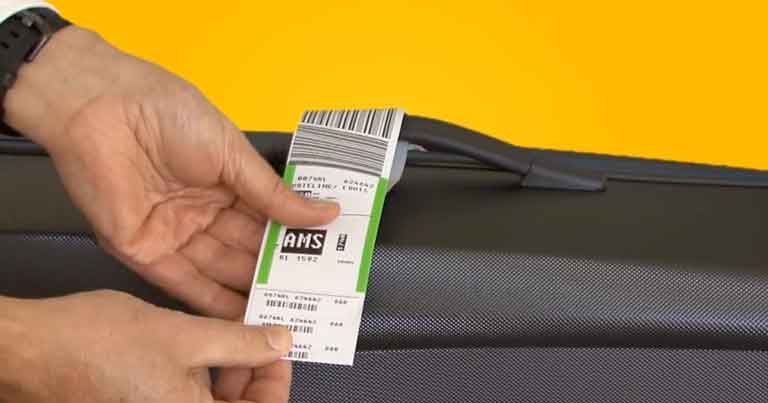 eezeetags understands that airports and airlines aren't just looking for products. They want solutions that will materialise into cost savings and increased efficiencies for their business. That's why the company has developed eezeetags' self-service bag tags, with a successful track record of helping the airline industry to improve operations. Its self adhesive linerless tags for baggage at airports completes a fully touchless tagging procedure. eezeetags' innovative bag tag is currently being used to streamline and enhance the self service check in process at over 100 airports and airlines.
Register to attend FTE Global 2021 today >>
Embross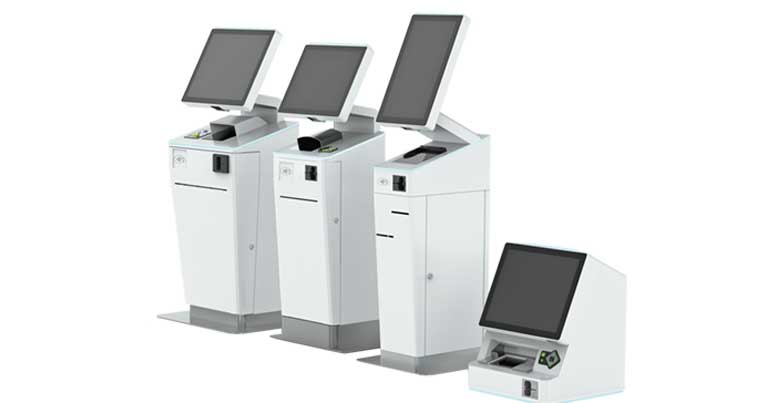 Embross develops passenger self-service technology solutions for the travel industry. Embross has more than 30 years of software and hardware development experience across passenger travel. The company will be showcasing its latest end-to-end passenger solution TravelStream.
femPAQ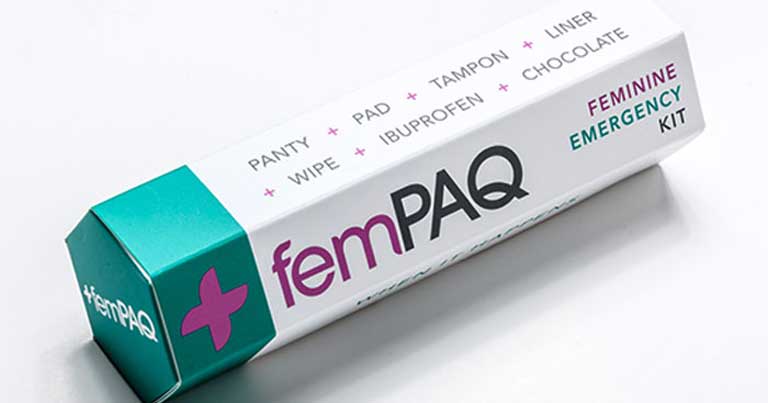 femPAQ provides accessible menstrual hygiene care in every space that women and all menstruating people exist. The company helps businesses to improve productivity, boost company morale but most of all it help them to create a more inclusive environment for their menstruating customers and employees. femPAQ  is coming to FTE Global to showcase its hand-held convenience kits and to support airlines and airports in creating a more inclusive environment for their largest customer segment.
Gunnebo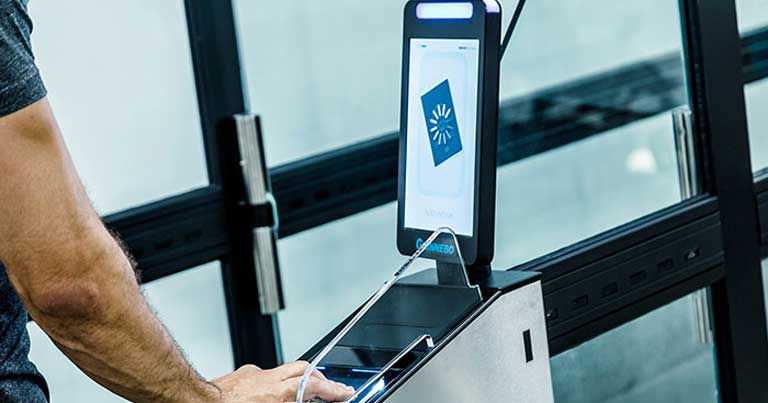 Gunnebo is a major global provider of gated control solutions in entrance security, mass transit and aviation. For the airport Gunnebo offers perimeter, building and staff control with specialisation in passenger control solutions at pre-security, transfer, lounge access, self-boarding, immigration and anti-return zones, all covering the complete passenger journey from departure to arrival. Gunnebo's airport solutions are deployed around the world where the company has collaborated closely with airport security and IT as well as partnering with industry specialist partners to deliver a truly world class solution that embodies the One ID concept and single token travel. Visitors to Gunnebo's stand will be able to experience its AFL self-boarding gate with integrated facial biometrics to support single-token travel with seamless integration into existing IT infrastructure and passenger management systems.
Register to attend FTE Global 2021 today >>
HID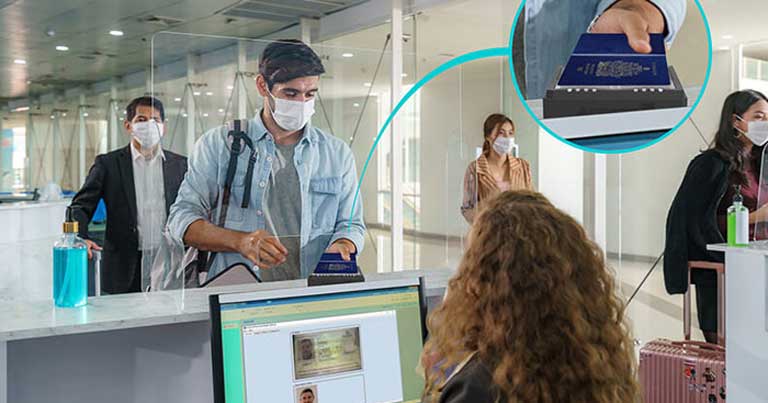 HID Global designs and supplies innovative data capture solutions for desktop and self-service airport applications worldwide. HID works with governments, universities, hospitals, financial institutions and some of the most innovative companies on the planet to help them create trusted physical and digital environments so that they and the people who use them can fulfil their potential. HID's products that will be on display at FTE Global include ATOM® compact OEM passport-reader with 2D barcode; Boarding Gate Readers (BGR) with NFC and passport and 2D barcode OEM readers for kiosks and countertops.
iboardings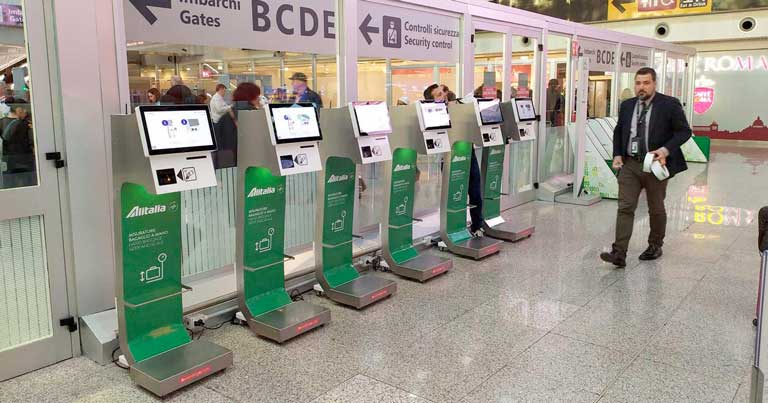 iboardings offers cutting-edge technology solutions that help travel industry stakeholders succeed. The company has designed the Cabin Baggage Checker to solve the carry-on baggage weight and size control nightmare and in doing so, improve airport operations, OTP and increase ancillary revenues. During the COVID-19 pandemic, iboardings enhanced the capabilities of its Cabin Baggage Checker, to features UVC light to disinfect baggage whilst at the same time, take the temperature of the passenger.
ICM Airport Technics, an Amadeus company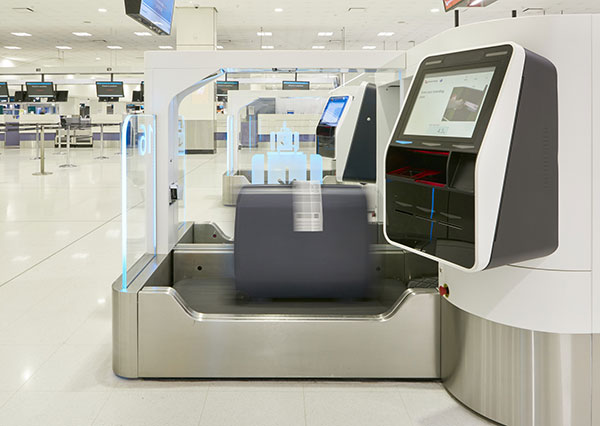 ICM will be showcasing an end-to-end biometric passenger flow from check-in through to boarding. Starting with the NGK-Plus check-in kiosk from ICM Airport Technics, an Amadeus company, passengers can check-in and biometrically enrol. Attendees can then drop their bag at an Auto Bag Drop unit using biometrics, before they move to boarding where they are biometrically processed via a Smart Biopod. Amadeus will also have Agent Portal on display, so attendees can see its sophisticated monitoring and business intelligence tool as used by agents. ICM's solutions are transforming the way travellers move through the airport, aided by innovative technology at every touchpoint, enabling a positive travel experience for everyone.
Identy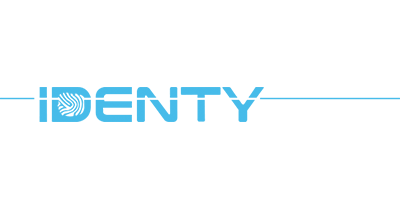 IDENTY delivers multi-factor authentication based on high performance touchless biometrics, right from most mobile phones with standard cameras. It does it so that liveness is ensured all around the remote authentication journey, while making usability a differentiation.
Register to attend FTE Global 2021 today >>
Inflyter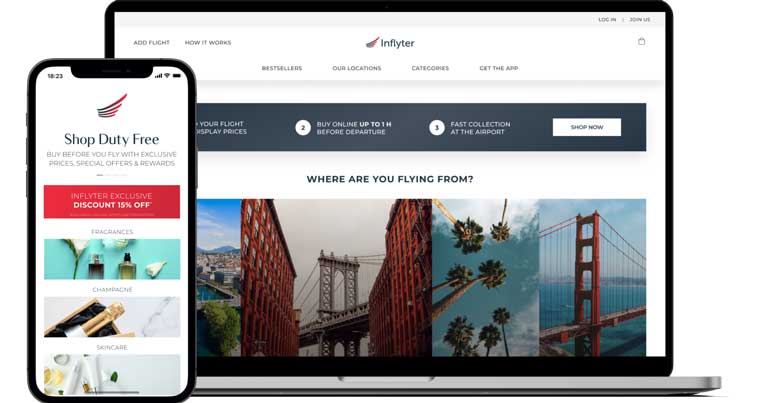 Inflyter, the airport retail and duty-free ordering platform, provides mobile pre-order capabilities for duty-free goods, allowing travellers to browse and buy items ahead of travelling, saving time and ensuring availability of their desired products. This revolutionary service connects into duty-free merchant catalogues at airports around the world, allowing consumers to shop and pay for their purchases in-app and collect with ease with several options outbound and on return.
Living Map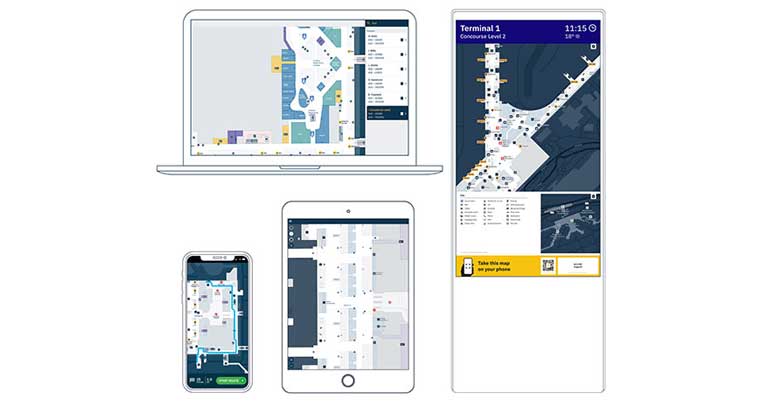 Living Map is a UK based digital location, wayfinding and mapping business, providing digital products to address the challenges faced in the use and management of complex public spaces. Living Map's products sit within clients' touchpoints, be they digital kiosk, web, or native mobile app. They combine to address a number of key industry use cases. Built on the company's unique hardware agnostic 'blue-dot' location software, mapping and wayfinding design heritage, these technologies are used by public bodies, enterprise clients and institutions globally across transport, healthcare and responsive spaces. Living Map's suite of digital indoor/outdoor location and mapping products have been designed, through a partnership with Star Alliance, to add a new dimension of user experience to traditional location and mapping tools.
Lufthansa Systems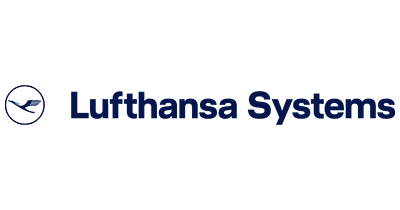 Lufthansa Systems is one of the world's leading providers of IT services in the airline industry. It draws its unique strengths from an ability to combine profound industry know-how with technological expertise and many years of project experience. Formed as a spin-off of the Lufthansa Systems Group's Airline Solutions division, the company continues the brand now familiar to the airline industry worldwide. The company offers its more than 350 customers an extensive range of successful and in many cases market-leading products for the aviation industry. The innovative IT products and services in its portfolio offer customers a wide range of economic benefits while also contributing to improving efficiency and competitiveness. In addition, Lufthansa Systems also supports its customers both within and outside the Lufthansa Group with consulting services and the experience it has gained in projects for airlines of every size and business model.
Register to attend FTE Global 2021 today >>
MAG USA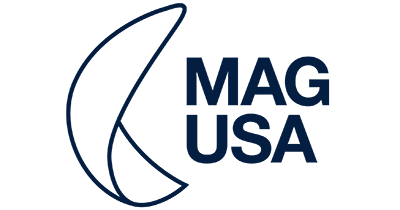 Launched in 2015, MAG USA is the US 'go-to' organisation for delivering market-leading commercial solutions that drive revenue for operators and transform customer experiences for travellers. The company focuses on Airport Lounges, Car Parking Services, Distribution and P3, Retail and Terminal Development. At FTE Global, Martin Jones, CEO, MAG USA and MAGO, will take part in a session as part of the Ancillary conference track titled "Commercial innovation to increase spend and enhance customer experiences both before, and during, the day of travel". MAG USA is also kindly sponsoring the FTE Global Networking Party, which will feature an electrifying live act from Las Vegas' leading Elton John Tribute, plus the unveiling of the FTE Airport/Airline Transformation Power List.
Materna IPS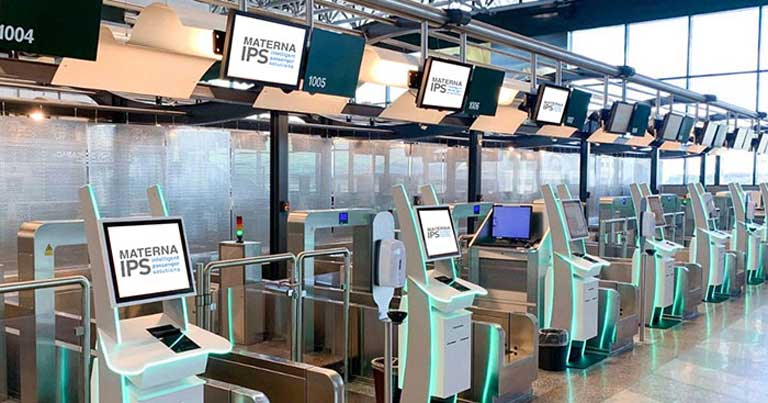 Materna IPS GmbH, the aviation company of the Materna Group, is an international service provider for automated passenger handling for airlines and airports. From kiosk check-in and self bag drop hardware through to software implementations as well as service delivery and maintenance, Materna IPS has huge expertise in this sector with lots of successful customer-projects around the world. The company's well-proven software portfolio includes Common Use-based applications for kiosk, online check-in, self bag drop and solutions for secure access and self-boarding. For a seamless travel experience, biometric identification as well as RFID technology and payment services are also integrated into the respective solutions.
METrans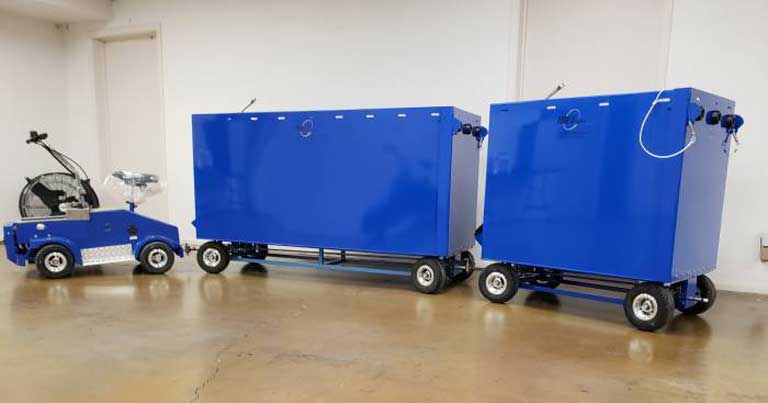 METrans is a US based OEM Manufacturer of a patented, powerful, new scale of non-autonomous, industrial electric personnel and light burden transport vehicle and 4- wheel steering trailers (for multiple missions). METrans' products are unique in that they are designed to operate virtually anywhere a person can walk including offices, interior doorways, elevators in terminal and ramp side at speeds of up to 14 mph and a range of up to 40 miles on one charge (recharge in 40 minutes). Due to their size and manoeuvrability, METrans' products are well suited for transportation in all airport environments.
NanoLumens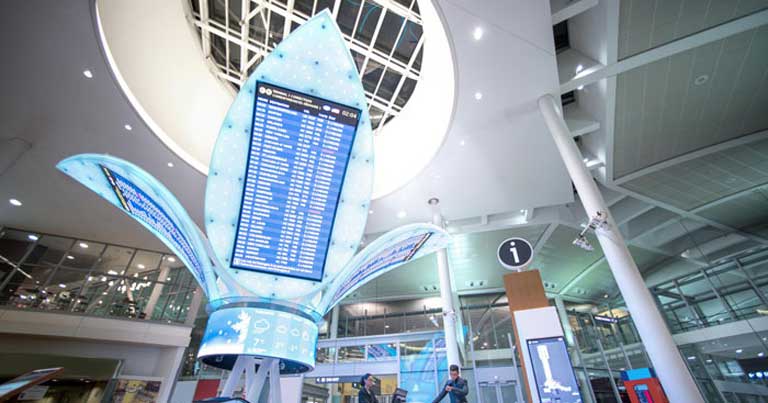 US-based LED solutions expert, NanoLumens, provides an unmatched customer experience from concept to completion. By collaborating with its clients every step of the way, the company enables the freedom to create unique display solutions. From education, government, healthcare, hospitality, transportation, public safety, retail, and corporate applications, NanoLumens provides expert engineers and a best-in-class warranty for projects ranging from remarkably simple to completely custom with industry reliability. Through world-class proprietary technology, NanoLumens displays are ultra-thin and lightweight, energy efficient and available in any size, shape or curvature.
Register to attend FTE Global 2021 today >>
Paragon ID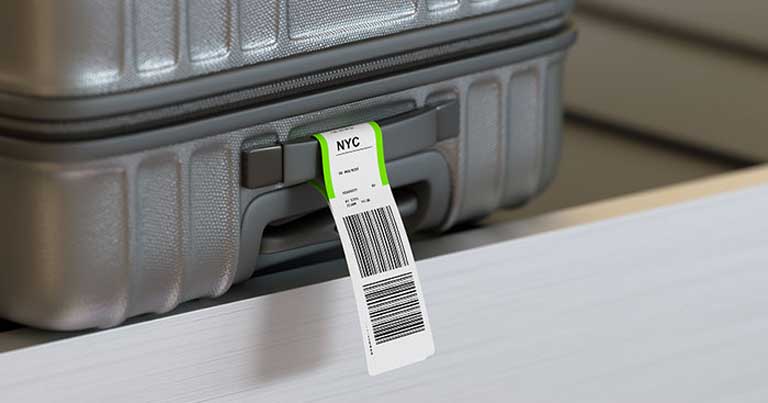 Paragon ID is a global leader in identification solutions in four key areas – Smart Cities & Mass Transit, Payment, e-ID and Track & Trace which includes its airline solution of RFID & conventional baggage tags. The company's Track and Trace expertise includes RFID retail labels alongside RFID baggage tags and a multi-technology fully integrated asset tracking and geolocation platform combining hardware and software to meet its client's diverse requirements. Paragon ID has over 30 years' experience in the aviation sector providing passenger handling, and operational products to airlines and other transportation companies as well as some innovative applications including a dedicated service for luggage trolley tracking.
Practical Automation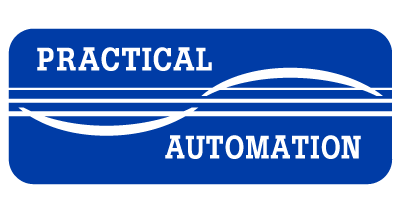 Practical Automation is a US based manufacturer of specialty and custom printers serving the global market for nearly 40 years. Whether its airline boarding passes, baggage tags, or border entry documents, Practical Automation's ITK family of thermal printers can accommodate all your self-service integration needs. The ITK38 is state-of-the-art in thermal, wide format printing in unattended kiosk systems. The ITK22 represents Practical's AEA ready kiosk solution specifically designed for the linerless baggage tag printer market. And the new ITK12 series printer is a compact and flexible BTP and BPP solution, driven by Practical's internally developed AEA Emulator software.
Quantum Aviation Solutions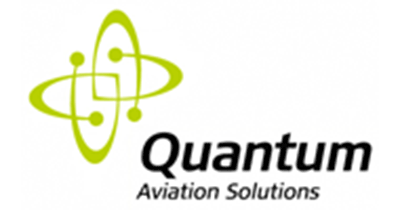 Quantum provides IT solutions and services to the commercial aviation industry, with a particular focus on operations "below the wing". Two particular areas of focus include baggage tracking and security, and GSE telematics. Quantum provides a hosted model, as well as SaaS and traditional software delivery. The company operates on all continents and has customers representing airlines, airports and ground handlers.
Regula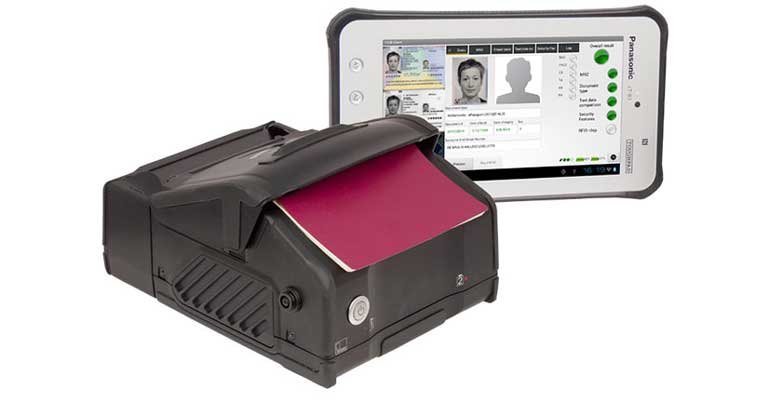 Regula is one of the leading producers of expert devices for authenticity control of travel documents (passports, visas, ID cards, etc.) and other high security printed papers. Regula's document forensics solutions comprise integrated hardware and software able to process and precisely match documents using detailed document identification parameters contained in Regula's extensive, pre-populated databases. The company has developed and begun major trials of two new product developments, which will be on display at FTE Global. The first one is an integrated prototype Unsupervised Static Capture Equipment (face capture, face client-side PAD and fingerprint capture) including readers for passport validation and authentication. The second one is Face Capture and in-App PAD on a personal device. The static kiosk can be used at immigration gates and face capture on personal device as part of check-in onboarding process.
Register to attend FTE Global 2021 today >>
Richtech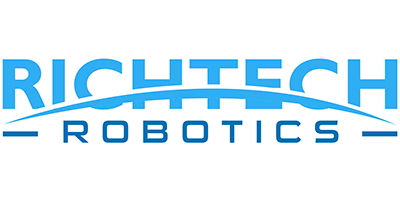 Richtech has been delivering cutting edge enterprise solutions to America's largest corporations for almost 20 years. As a world leader in B2B enterprise solutions, Richtech defines itself through its commitment to its clients and endless drive for innovation. With partners in over 120 countries/territories around the globe, the company's goal is to enhance everyday lives and bring the world closer together.
sherpa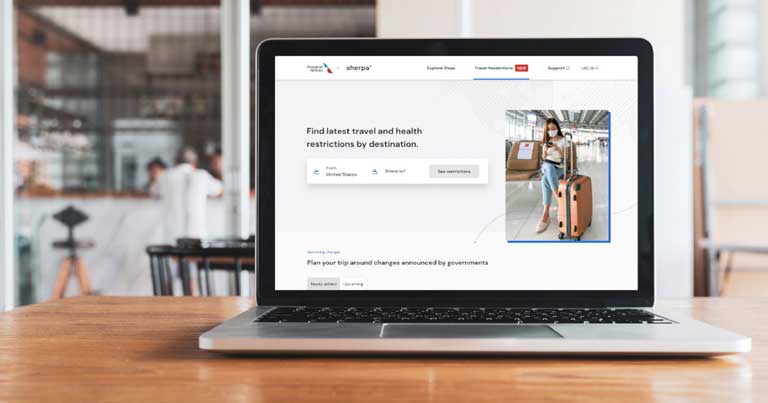 Leading travel tech company sherpa˚ expanded its offering during the COVID-19 pandemic with its Travel Reopening Map solution, designed to support the return to travel. Through sherpa's map-based UI, partners, such as airlines, online travel agencies and cruise lines, can enable passengers to search for destinations open to travel and COVID-19 testing and quarantine rules for both outgoing and return routes. American Airlines was the first partner to launch the map, making it accessible to millions of AA's customers. sherpa˚ processes millions of data points from thousands of sources, including governments, airlines, airports, tourism boards, public forums and media outlets. Other critical features are in-destination COVID-19 testing sites and the ability for partners to increase booking conversions by directing customers from the map back to their flight destination pages. The map-based UI is customisable and easily integrated into partners' websites and apps via embeddable widgets, API or white-label web apps.
SITA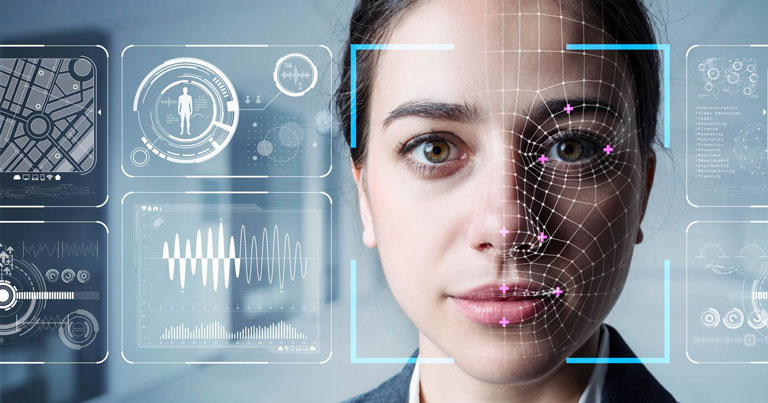 With around 2,500 customers, SITA's solutions drive operational efficiencies at more than 1,000 airports while delivering the promise of the connected aircraft to customers of 18,000 aircraft globally. SITA also provides technology solutions that help more than 60 governments strike the balance of secure borders and seamless travel. SITA's communications network connects every corner of the globe and bridges 60% of the air transport community's data exchange. SITA is 100% owned by the industry and driven by its needs. It is one of the most internationally diverse companies, providing services in over 200 countries and territories. During the conference, SITA's Head of Technology Strategy, Americas Sherry Stein will take part in the FTE Biometrics & Digital Identity Summit.
Softtek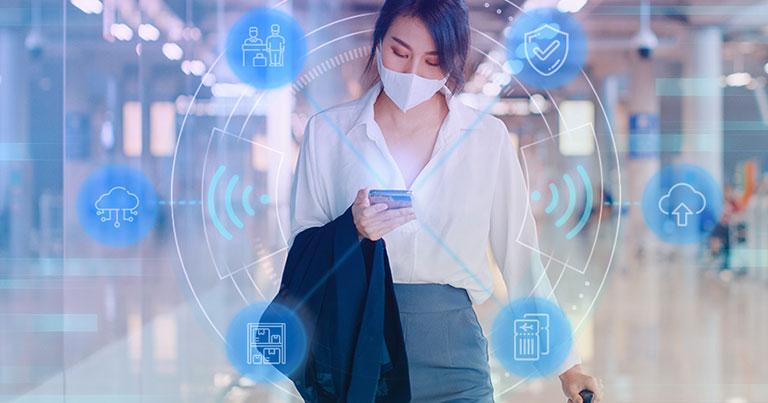 Softtek helps the air travel industry by encouraging digital progression and by helping enterprises shift from a labor-intensive and reactive approach to an automated and virtual model that ensures stable and secure operations. The company specialises in delivering unique and tailored technology and consulting services. At FTE Global, the provider will focus on how airlines and the transportation industry can become more Agile and more DevOps focused.
Transportation Security Administration (TSA)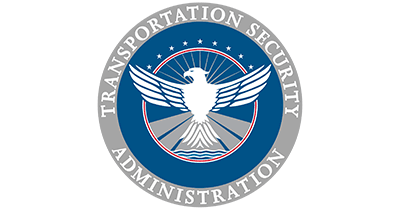 The Transportation Security Administration (TSA)'s mission is to protect the US transportation systems to ensure freedom of movement for people and commerce. Its vision is to be an agile security agency, embodied by a professional workforce, that engages its partners and the American people to outmatch a dynamic threat. At FTE Global, the TSA Innovation Task Force will lead guided tours and deliver a briefing to showcase the latest iteration of the future checkpoint site running at McCarran International Airport, which is trialling new machines, and new approaches, to gather data and feedback on whether the technology is something TSA wants to use at airports nationwide. It will also share its future plans around the evolution of security processes.
Register to attend FTE Global 2021 today >>
UCPlaces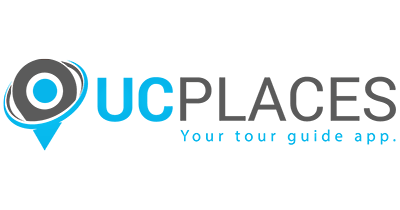 UCPlaces is a mobile web platform that allows any user to create and sell guided tours on one hand and provides a mobile app that turns your phone into your private tour guide on the other. With UCPlaces, travel companies can provide customised and personalised GPS-guided tours that start directly from the customer's hotel door or vacation destination. UCPlaces GPS-guided tours provide your customers with hyper-local tips, interesting historical stories, little known facts, and unforgettable memories, all with the easy-to-use UCPlaces app.
VidTroniX
In addition to being one of the leading manufacturers and suppliers of boarding pass and baggage tag printers for the aviation and travel industry, VidTroniX offers a full line of check-in and security related products. Since 1999, VidTroniX has installed over 85,000 ATP and MAP printers and recently expanded its global presence in the marketplace with major installations in the Middle East, portable check in stations, incorporation of its printers into large scale kiosk projects and RFID baggage tag printers. The new VidTroniX ATP6 printer offers both wireless and Bluetooth connectivity along with 10ips print speeds. The embedded Linux operating system facilitates ATP6 remote management and integration into a user's custom application.
Vision-Box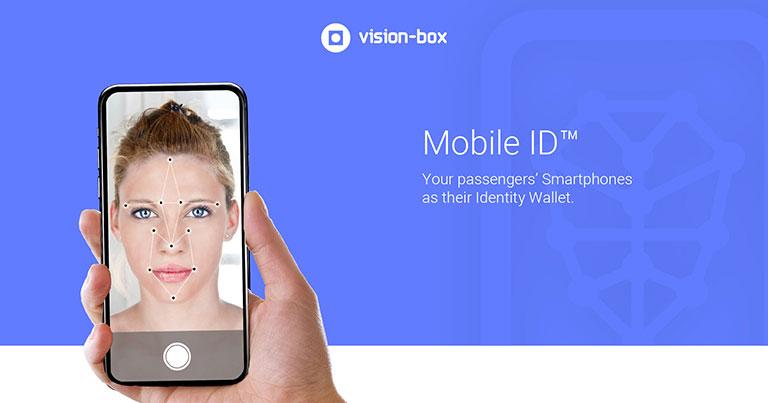 Solution provider of digital ID, smart traveller platforms leveraging biometrics technology, Vision-Box supports governments, border authorities, travel stakeholders, and all organisations looking for balancing security and facilitation. Generate your ID at home or check-in and move all the way to destination. No further lengthy ID checks. No need to show your passport or boarding pass. Just glance at a smart camera to clear borders, access lounges, and board on time. The Vision-Box portfolio is self-service, One ID compliant and Privacy-by-Design certified. Orchestra platform, brain to all Vision-Box's touchpoints and software, integrates aviation and governments systems, manages people flow, and leverages real-time passenger data and more. Visit Vision-Box's booth at FTE Global to discover its Orchestra™ Digital Identity Management Platform and its aviation inclusive features aligned with IATA's One-ID, including touchless identification, privacy-by-design certified, common use compliant, digital travel credentials ICAO compliant, scalable and interoperable, data-rich in real-time.
Zafire Aviation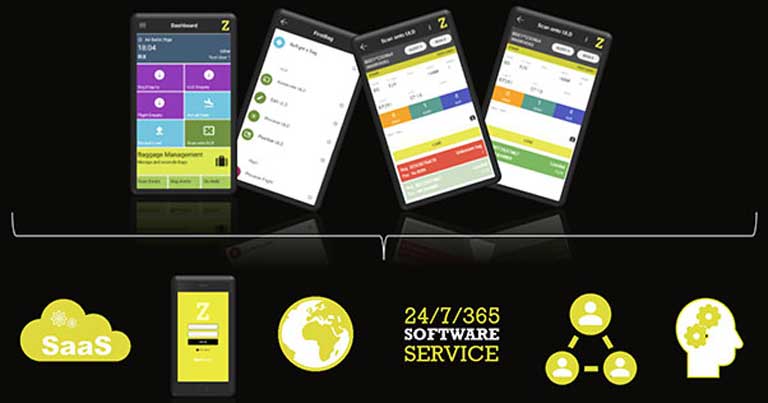 Zafire specialise in software solutions for the aviation industry. Its powerful suite of global, next-generation solutions delivers feature-rich, flexible, and comprehensive products that are truly unmatched. For airports, airlines, and ground handlers this means an enhanced passenger experience, operational efficiency gains, and massive cost savings. With a culture of innovation, continual improvement, and investment in the development of solutions, Zafire has a proven track record of working with its customers to help them meet the needs of an ever-changing environment, enhancing delivery, quality, and performance. Zafire has a lot in store for visitors at its stand, including live demos of its core solutions, FirstBag, FirstLoad, FirstRamp, and competitions with phenomenal tech prizes.
Register to attend FTE Global 2021 today >>