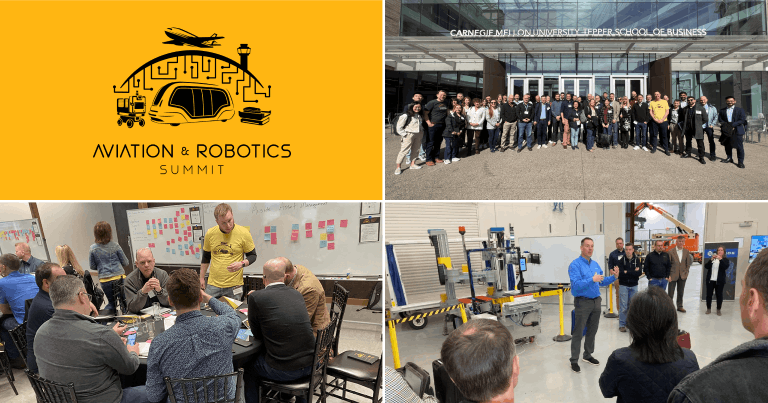 The inaugural Aviation & Robotics Summit took place in Pittsburgh on 18-20 April, bringing together airports, airlines and roboticists to explore how robotics technology and automation can help to solve some of the air transport industry's biggest challenges. The three-day Summit was a resounding success, with innovative ideas generated and new relationships formed in the city known as the "robotics capital of the world".
Upon arrival in Pittsburgh, aviation industry attendees – including representatives from 25+ airports and airlines from across North America and as far afield as Iceland and Singapore – were given the opportunity to visit a variety of startup companies participating in Pittsburgh International Airport's xBridge innovation centre (more information below), which develops and tests new technologies, processes and systems to positively impact revenues, operations, security, customer experience and sustainability.
Astrobotic, Pittsburgh International Airport, Delta and Sarcos talk robotics, automation and pushing the boundaries of innovation
The Summit – jointly delivered by FTE, Allegheny County Airport Authority (ACAA), Innovation Works and Pittsburgh Robotics Network – officially kicked off in the afternoon with an opening event at The Vision on Fifteenth in the Strip District, offering stunning panoramic views across Pittsburgh, including the famous Robotics Row.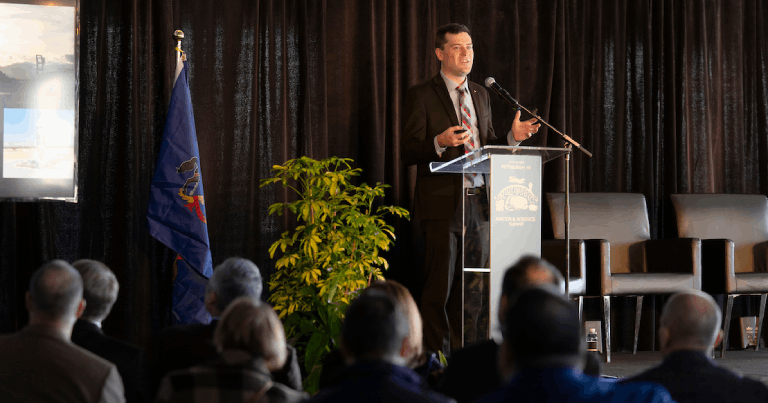 Following an address by Pennsylvania Governor Josh Shapiro, an inspiring keynote was delivered by John Thornton, CEO of Astrobotic, the Pittsburgh-based aerospace and robotics company which will be launching a lunar mission this summer – the first such US venture since the Apollo missions. "If Pittsburgh can land on the moon, Pittsburgh can do anything," Thornton told attendees.
The opening event also featured a fascinating panel discussion, which brought together Christina Cassotis, CEO, Allegheny County Airport Authority; Sterling Gerdes, General Manager, Venture & Strategy, Delta Air Lines; and Jorgen Pedersen, COO, Sarcos Robotics; for a quick-fire panel moderated by Future Travel Experience founder and CEO Daniel Coleman.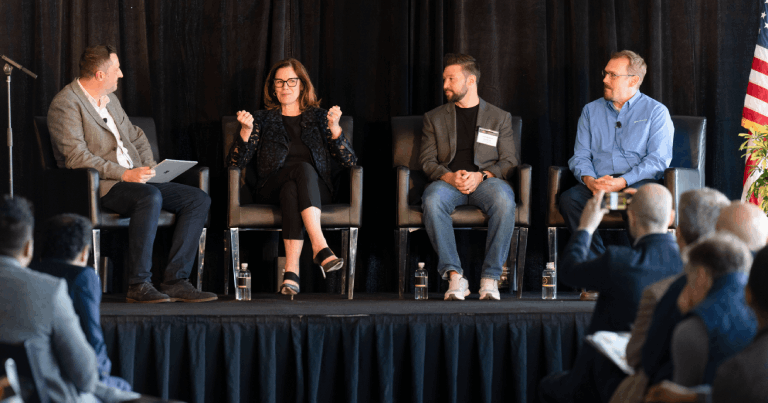 The panellists were in agreement regarding the massive potential of robotics technology in the aviation industry, with each highlighting the potential for robotics to complement the human workforce to create new efficiencies.
Tours and visits: Carnegie Mellon University, Sarcos and Carnegie Robotics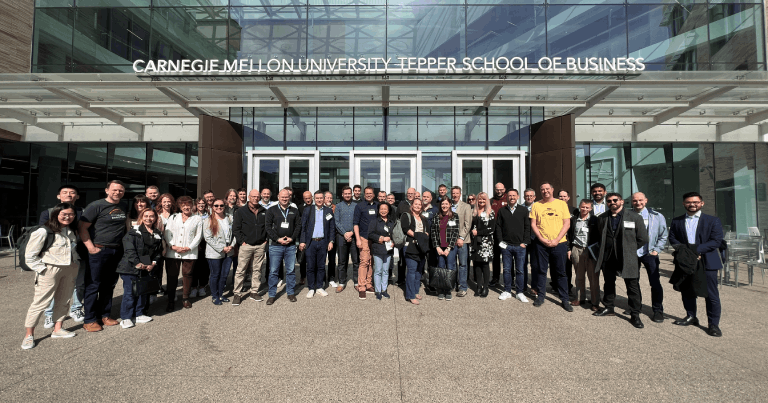 Day two of the Summit started with a visit to Carnegie Mellon University, which has a world-class reputation for robotics. Howie Choset, Kavčić-Moura CS Professor of Robotics; Artur Dubrawski, Endowed Alumni Research Professor Chair of Computer Science & Director, Auton Lab; John Zimmerman, Tang Family Professor of Artificial Intelligence and Human-Computer Interaction; and Herman Herman, Director, National Robotics Engineering Center offered insights into their research, and shared their expertise and advice with the international audience.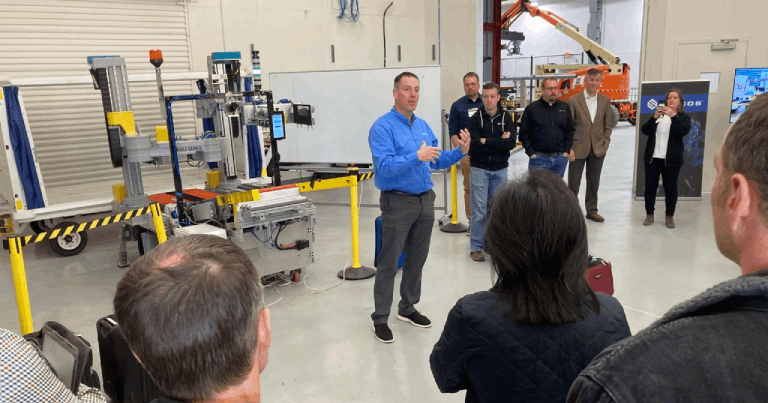 This was followed by a visit to Sarcos Robotics, whose robotic systems are designed to enable a safer, more productive workforce, including in the field of baggage handling. In December 2022, Sarcos and Changi Airport Group announced the inaugural demonstration of a jointly developed outdoor-based autonomous baggage loading system prototype, and attendees got to see some of Sarcos' equipment in action during the visit.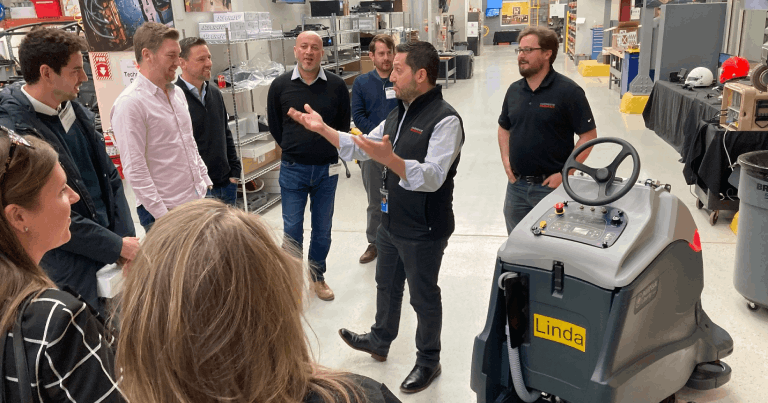 Up next was a visit to Carnegie Robotics, a leading provider of advanced robotics sensors, autonomy software and platforms for a variety of industries, and another Pittsburgh robotics success story.
Interactive workshops identify exciting new opportunities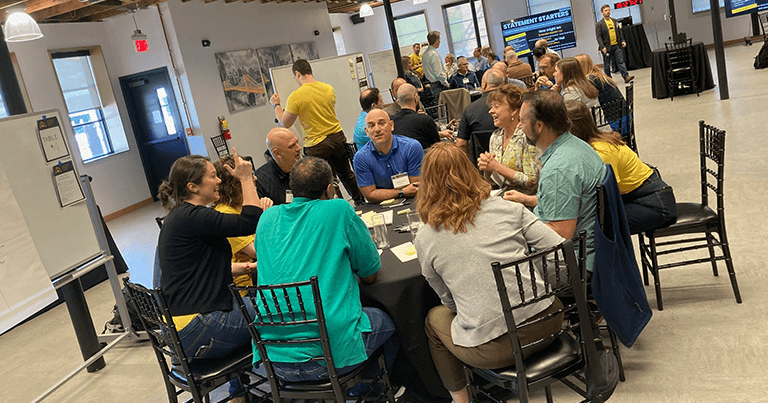 At the heart of the Aviation & Robotics Summit were the interactive workshops, which made use of ideation and human centred design methodologies to help participants identify needs and opportunities for robotics technology in the areas of aircraft servicing, airside asset management, baggage handling, and workforce support and enhancement.
Having the spent the first afternoon exploring the problems that need solving in the aviation industry, the second day was spent co-creating potential solutions to those problems. Participants from airports and airlines worked closely with roboticists to develop their proposed solutions.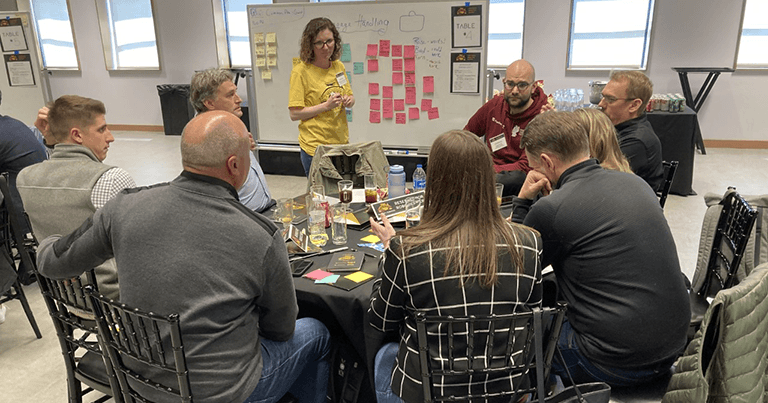 The problem areas identified by each of the groups was narrowed down following a vote by all participants, and the final segment of the workshops saw the groups work together to solve problem statements focusing on topics ranging from improving baggage handling to optimising the aircraft turnaround process using robotics and automation. The ultimate outcome was a selection of potential solutions co-developed by some of the brightest minds from the worlds of aviation and robotics, all of which were presented to a panel of guest judges at the end of the Summit.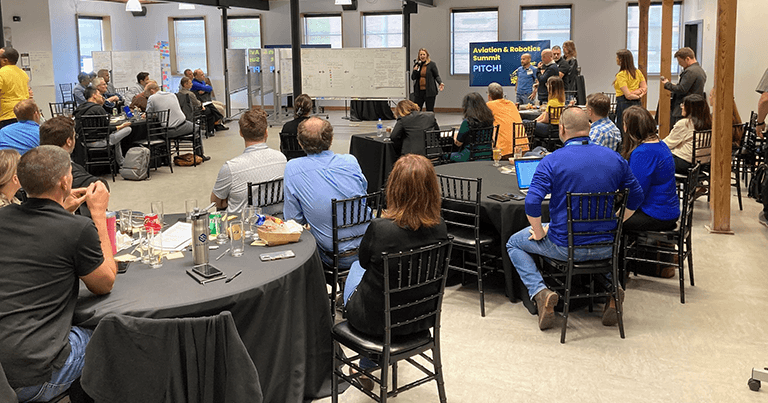 There was a sense in the room that the inaugural Aviation & Robotics Summit has opened the door to a wide array of opportunities for both industries. At the close of the event, Future Travel Experience Chief Operating Officer Ryan Ghee said: "I'm sure the conversations that started here will continue in the weeks and months ahead, and I'm excited to hear how the ideas generated in Pittsburgh this week can have a tangible impact in the aviation industry, which has a huge appetite for the benefits that robotics technology can deliver."
Behind the scenes of Pittsburgh International Airport's xBridge innovation centre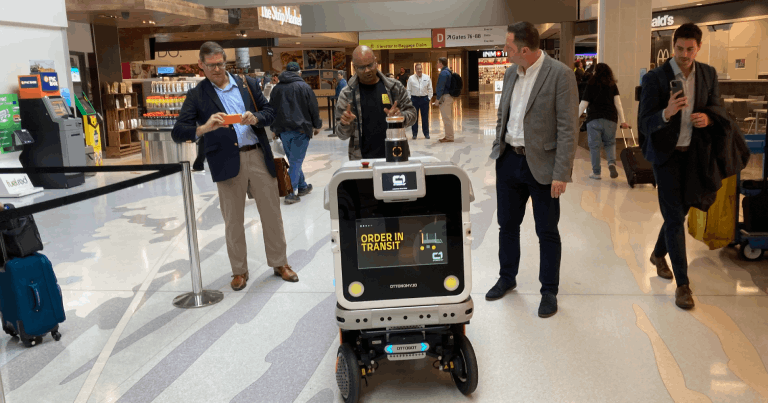 While in Pittsburgh, the aviation industry participants were able to meet a number of the startup companies who are participating in the xBridge programme at Pittsburgh International Airport.
Among the companies showcasing their capabilities were BioFlyte, which has developed a bio-aerosol surveillance sensor that can detect and identify airborne bioterrorism threats in less than five minutes, and Ottonomy, which has developed an autonomous delivery robot for food, beverages and products.
The likes of Mapless AI, which is conducting a semi-autonomous vehicle proof of concept at PIT, wherein they are ferrying employees on-demand from parking lots to the terminal and back, were also on hand to share details and engage with visitors, further highlighting how innovative ideas are becoming reality in Pittsburgh.
New for 2023: FTE Robotics & Autonomous Vehicles Symposium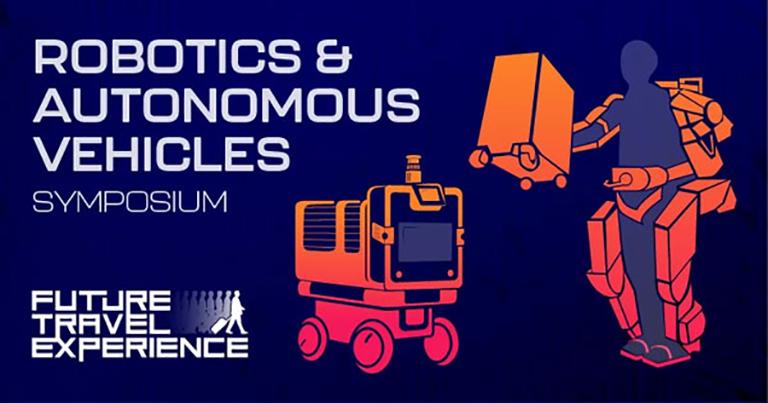 Future Travel Experience will stage its inaugural Robotics & Autonomous Vehicles Symposium at FTE Global, taking place at Long Beach Convention Center, 19-21 September 2023. This follows the highly successful Aviation & Robotics Summit in Pittsburgh, which was delivered by Future Travel Experience, Innovation Works, Pittsburgh Robotics Network and Pittsburgh International Airport's xBridge innovation centre.
The FTE Robotics & Autonomous Vehicles Symposium will feature a session moderated by Cole Wolfson, Director, xBridge, Pittsburgh International Airport, who will share the key learnings and outcomes from the Aviation & Robotics Summit.
Our exhibition hall at FTE Global will also be full of fantastic demonstrations of the latest robotics, with use cases both in the terminal and out on the airfield.
Register for FTE Global 2023 – airlines and airports can visit our expanded Expo Hall for free >>