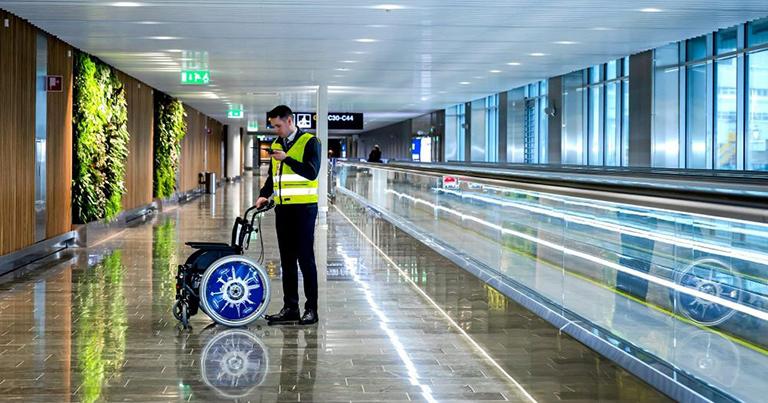 To create a better passenger experience, Swedavia is enhancing its efforts to coordinate the assistance it provides to passengers with reduced mobility (PRMs) through its PRM service. Using digital solutions, assistance services at Stockholm Arlanda Airport and Göteborg Landvetter Airport will be better coordinated and provided faster.
A mobile app for effective coordination of services was recently launched at Göteborg Landvetter. The app is already available at Stockholm Arlanda, with a function now being launched that tracks the position of wheelchairs at the airport in real time, enabling Swedavia's staff to quickly locate an available wheelchair when a passenger needs one. Along with the new digital tool, the work process has also been improved.
"We work continuously to develop our processes in order to give passengers the best possible experience at our airports, and digitisation and innovation play an important role here," said Karin Gylin, Head of Strategic Development and Innovation, Swedavia. "A well-functioning PRM service is of the greatest importance to Swedavia since our airports must be accessible and offer a good experience to everyone."
At Arlanda alone, nearly 100 people work with Swedavia's PRM service. During peak season, that figure is doubled in order to handle the increased need for this passenger service and cover for staff on holiday leave.
"During a typical summer week, we can have 3,000 passengers who need PRM service, which needs to be coordinated and provided at the right time," said Fredrik Holgersson, Business Process Owner of the PRM service at Arlanda. "The new app, which features positioning, will make things much easier both for our staff who use it and for our passengers receiving assistance from Swedavia's PRM service. With this solution, it will be possible to reduce waiting times for people who get help from our PRM service and at the same time improve the workplace environment for employees."