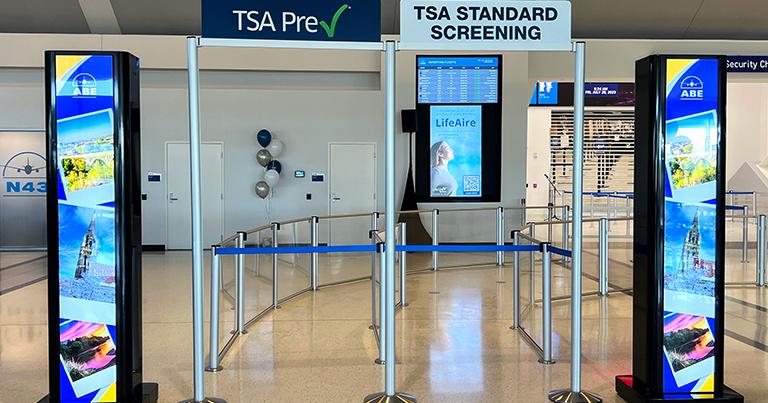 Lehigh Valley International Airport (ABE) has unveiled a new TSA Security Checkpoint developed in collaboration with Synect – a Platinum Sponsor of FTE Global (LA, 19-21 September 2023) – to provide passengers with a smoother, more efficient experience. The initiative is part of ABE's $35 million infrastructure investment, including the construction of the new TSA Checkpoint and Terminal Connector.
The Lehigh-Northampton Airport Authority partnered with Synect to offer passengers a better, faster and friendlier security checkpoint experience. The airport's upgraded checkpoint features seven ReadySeeGo® Digital Communication Totems, a 23.81-foot-wide by 5.6-foot-high seamless LED video wall with an active display area of approximately 133 square feet and a security screening content programme.
The content strategy delivers a faster and friendlier checkpoint experience based on the following principles:
Information: Clear directions, queue guidance and real-time TSA estimated wait times decrease anxiety and perceived wait times, resulting in a more enjoyable passenger experience.
Education: Friendly visual cues help passengers divest, remind them to have travel documents ready and highlight prohibited items and other compliance-related tips. The content reduces processing time by helping passengers show up prepared for screening. It also reduces the need for repeated instructions from security personnel.
Engagement: Eye-catching animations capture passengers' attention, occupy their time and increase engagement with information and fun visuals.
Automation: Information is automatically relayed to passengers, improving efficiency, which also helps Transportation Security Officers (TSOs) maintain order and focus in the checkpoint area, leading to more effective screening.
Synect worked with Lehigh-Northampton Airport Authority to develop custom content for ABE and integrate the solution with airport systems and operations to ensure a seamless experience. This new programme is designed to streamline the security checkpoint process and align it with ABE's brand. Local management of the system allows TSOs to easily modify states if needed, such as activating emergency messaging.
"ABE strives to offer an unmatched experience for passengers as they travel through our terminal complex to board their flights," said Thomas R. Stoudt, Executive Director, Lehigh-Northampton Airport Authority. "Throughout our collaboration with Synect, they have been focused on enhancing the customer experience to ensure our new security checkpoint truly embodies the ABE advantage of comfort and convenience."
The ReadySeeGo Security Checkpoint solution was developed by Synect. Synect's Passenger360® visual communication platform for airports powers the new solutions at ABE.
"The new security checkpoint at Lehigh Valley International Airport demonstrates how visual communication can enhance the passenger journey and improve overall airport functionality," said Yahav Ran, CEO, Synect. "It has been a pleasure to collaborate with the Lehigh-Northampton Airport Authority to contribute to their friendly, memorable airport experience."
Synect is a Platinum Sponsor of FTE Global, taking place in Los Angeles on 19-21 September 2023. Hear more from Yahav Ran, CEO, Synect, at the event, where he is speaking in the Future Airports conference track on "Transformative approaches to designing the next generation of airport facilities where physical, digital & sustainability intersect".
Register for FTE Global 2023 >>
See the FTE Global 2023 schedule at a glance >>