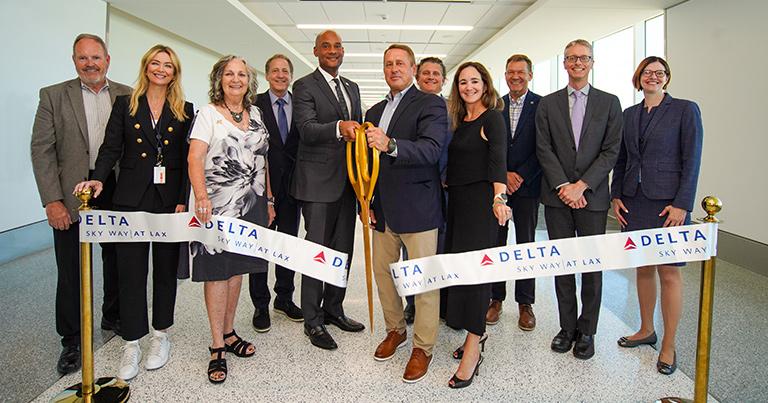 Los Angeles World Airports (LAWA) – host of FTE Global (LA, 19-21 September 2023) – and Delta have celebrated the opening of the Delta Sky Way project at Los Angeles International Airport (LAX). The project represents a joint $2.3 billion investment of both LAWA and Delta funding to modernise one of the airline's key global hubs.
Opening ahead of schedule and on budget, the final section of the project – a new enclosed passageway that creates a direct post-security connection between the upper floors of Terminal 3 and Tom Bradley International Terminal (TBIT) – will eliminate the need for bussing between Terminals 2, 3 and TBIT, "greatly enhancing travellers' satisfaction".
"As with all our transformation projects, we are not only creating exceptional guest experiences but generating economic and growth opportunities for residents of LAX's surrounding community," said Karim Webb, President, Board of Airport Commissioners. "The Delta Sky Way project had a strong and impactful representation from the local workforce with more than 2,000 workers – or 30% of the project team – coming from local communities. I am inspired by the accomplishments of these workers, our LAWA team and partners who helped to make this project a success on budget and ahead of schedule."
With the post-security Terminal 3 and TBIT passageway open, ticketed passengers and airport employees are able to journey from Terminal 1 to Terminal 8, post-security inside the airport. This highly beneficial update to LAX's airside infrastructure provides new, unimpeded access to connecting flights.
"Having just celebrated the opening of LAX's Terminal 3 West Headhouse and already hearing an incredible amount of positive feedback on that aspect of the project, I know we can expect similar praise on the new Terminal 3 and Tom Bradley International Terminal post-security connector," said Justin Erbacci, Chief Executive Officer, LAWA. "This new passageway will significantly enhance the travel experience for millions of international and domestic guests. LAWA is thankful to its amazing partners Delta and Hensel Phelps and the entire LAWA team who rose to the occasion to deliver the Delta Sky Way project."