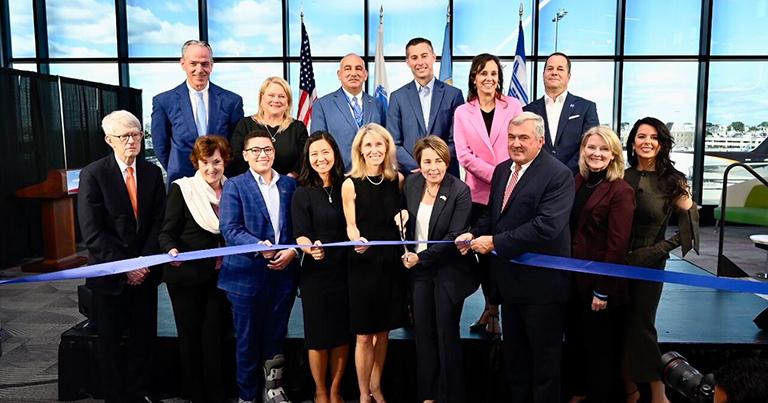 Massachusetts Port Authority (Massport) has completed the modernisation of Terminal E at Boston Logan International Airport. Massport recently completed four new gates in Terminal E, the airport's international terminal, along with respective amenities to support the increased operational demands and create a better and more efficient travel experience for passengers. Once through the new security checkpoint, passengers flow into an open space with high ceilings drenched in natural light where they will find a number of new concessions, departure lounges and can access new airline clubs on the fourth level. The project included construction of approximately 390,000 square feet and renovations to the existing Terminal E structure to create a unified building.
"Modernising Terminal E represents Massport's strong commitment to strengthening our role as an economic engine and connecting the people and businesses of New England to the world," said Massport Board Chair Patricia Jacobs. "These improvements to Logan create a more efficient, enjoyable travel experience for our passengers today and into the future."
Project details include:
New, state-of-the-art TSA 7-lane security checkpoints
An expanded arrivals level curb
Expanded ticketing area
Over 100,000 square feet of modern hold room and concession space
Enhanced outbound baggage handling system and baggage claim capacity
Advanced amenities and diversified seating options to enhance the passenger experience
This modernisation responds to diverse passenger needs by providing various amenities within the departures level including a mothers' room and sensory room. The addition of the sensory room makes Boston Logan one of the few major airports in the U.S. to provide this type of experience to passengers of all ages. The space has various interactive stations that focus on balance, light therapy and cognitive/memory improvement, including a room that replicates an airplane cabin to help passengers acclimate themselves with the experience of flying. This initiative is a continuation of Massport's efforts towards creating more inclusive spaces for passengers.
Travellers will also have access to a number of new dining options, including sit down restaurants as well as grab-and-go. Meanwhile, the new security checkpoint will include seven new Analogic Computed Tomography (CT) lanes, enabling travellers to leave their laptops and other electronic devices in their carry-on bags during screening.