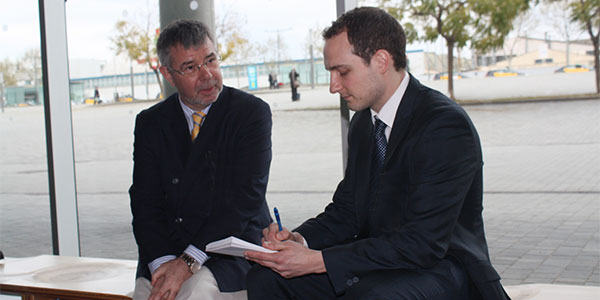 As details emerge of what Istanbul's new mega airport will look like, the unprecedented scale of the project is becoming even more apparent, but if the early details are anything to go by, the world can expect a truly extraordinary new global hub.
The consortium leading the project – which is comprised of Turkish companies Cengiz Holding AS, Mapa AS, Limak Holding AS, Kolin Insaat and Kalyon Group – has made its intentions to build the world's largest airport very clear, and the initial images of what it will look like suggest it will also be among the most striking facilities, supporting the intention of placing Istanbul at the very heart of the global aviation sector.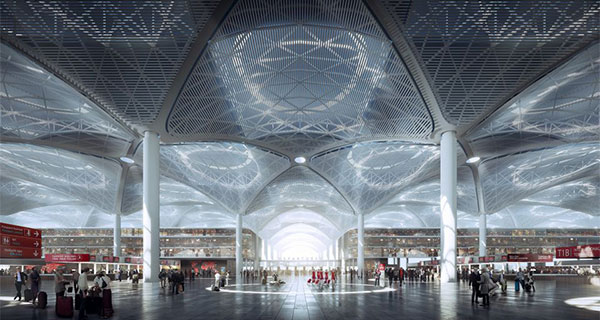 Phase one of the project is scheduled to be complete by late 2018, a stupendously ambitious deadline for a project of its size, but a feasible one nonetheless, especially when considered in the context of the most recent airport project in Istanbul – the new passenger terminal at Sabiha Gökçen Airport – which was designed and delivered in just 18 months. Upon the opening, Istanbul New Airport – or Istanbul Grand Airport as it is also known – will be able to handle 90 million passengers. In time, this number will rise to 150 million.
Investing to create the world's best passenger experience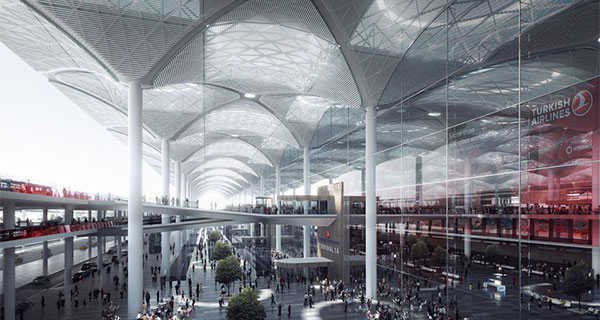 Speaking exclusively to FTE, Richard Meredith, Chief Development Officer of Istanbul New Airport, expressed confidence that a 42-month design, development and phase one completion can be met (he did, after all, jointly lead the Sabiha Gökçen project). He also leant support to the ambitions of the Turkish consortium leading the project, stating: "As it's a brand new airport, we can aim to be the best in class. The only way this type of investment makes sense is for the passenger experience to be the best."
While plans are still at a relatively early stage, Meredith offered insight into what passengers might expect from the new facility upon its opening in around four years time. At present, the reference scheme states that there will be more than 500 check-in desks all arranged in island formation, but Meredith stated that "this is probably not exactly how it will end up", as a number of design tweaks will be made along the way.
However, while self-service is the current buzzword across Europe and North America, Meredith explained that it is unlikely to play such a pivotal role in Istanbul's third major international airport.
"There's a different mindset in Turkey than in Western Europe," he said, "so self-service will probably not be so well represented. For example, if you look at somewhere like Munich Airport, they have installed InfoGates that use agents located away from the airport, but a lot of my Turkish colleagues don't necessarily see it that way. Passenger experience will be at the forefront of the project though, because everyone wants the passenger to be happy."
Designing a flexible airport
Meredith stated that "flexibility" is a key word being prioritised during the design phase, specifically highlighting Turkey's stringent security policies, which require passengers to pass through a security checkpoint at the building's main entrance.
"We need to think of a design today that can be built and operational within four years, but there must also be a lot of flexibility," he said. "For example, with security we're allowing extra depth in this area, and the circulation area around the check-in zone must be bigger to allow for the different security policies in Turkey, so we need to be flexible in case there are changes to these policies in the future."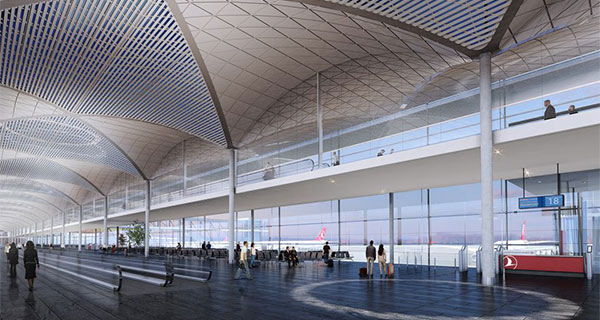 Last week, FTE highlighted Turkish Airlines' ambition to create the world's best passenger experience, and as the anchor tenant at the new airport, the carrier is playing an important role in defining what Istanbul New Airport will offer.
"Of course, we are talking with Turkish Airlines to share and agree ideas – they will be responsible for the vast majority of the traffic from the airport, so we like to make sure they're closely involved," Meredith continued. "It's very much a synergy and they have big aspirations, as they are already a very successful airline."
A source of pride for Turkey
As one might expect from a Turkish airport being built by a Turkish consortium, ensuring the airport itself reflects the values and heritage of the city and country it serves is a priority. Meredith may be a Brit himself, but he is, in his own words, "very excited to be working on this project within a Turkish consortium", and the dedication to creating something that Turkey can be proud of is evident.
"Creating a sense of place can be a difficult challenge in an airport context," he admitted. "It's difficult to distil everything about Turkey and Istanbul – the people, the culture, the history – into one project, but the new airport will certainly have a sense of place."
A much-needed new airport for Istanbul
While the finer details of the design and passenger experience are yet to be ironed out, one thing there can be no doubting is the reasoning behind the decision to build this incredible new facility for a city already served by two international airports.
Atatürk Airport, which is the fifth busiest airport in Europe in terms of passenger throughput, saw traffic increase by nearly 14% year-on-year to 51.3 million in 2013, while Sabiha Gökçen Airport's growth over the same period was recorded at 28.7%, bringing passenger numbers to 18.6 million.
As the meeting point between Europe and Asia, and with the room for growth at the two existing airports at a premium, it is hardly surprising that an increasing number of airlines and passengers see the benefits of a new mega hub in Istanbul.
If all goes to plan, not only will the airport be the world's largest, but it will also offer one of, if not the, world's best experiences for passengers. Welcome news considering 150 million of them will eventually be passing through its doors every year.
The theme for FTE Global 2014 is 'Redefining the end-to-end passenger experience'. Taking place in Las Vegas from 24-26 September, the event will bring together more than 550 senior representatives from airlines, airports, handlers, destination partners, government agencies and other key travel industry stakeholders to establish how every aspect of the travel experience – ranging from pre-travel and passenger and baggage processing, to onboard services and the arrivals experience – can be significantly enhanced.