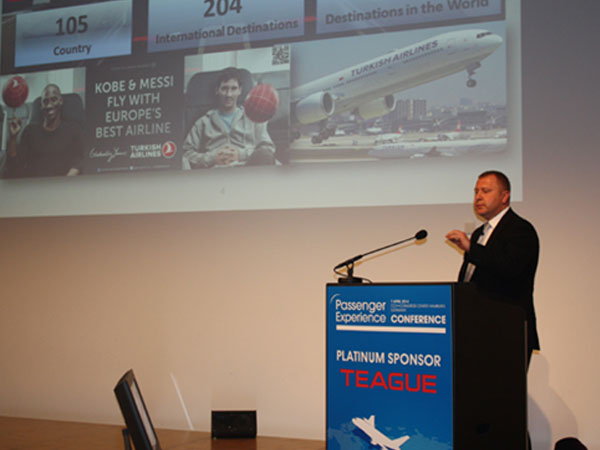 Turkish Airlines is very bullish when it comes to growth ambitions – it aims to increase passenger numbers from 48 million in 2013 to 120 million in 2023 – and FTE was delighted to learn that the carrier is equally committed to offering the best passenger experience in the industry.
Speaking in the Passenger Experience Conference at Aircraft Interiors Expo in Hamburg this week, Mehmet Büyükkaytan, Senior Vice President Ground Operations, Turkish Airlines, spoke of the carrier's desire to create "something special" for passengers, and with a new airport set to be built in Istanbul over the next five years, he made it clear that as the flagship tenant, Turkish Airlines wants to develop a passenger experience to match the world-class facilities.
The approach is twin-pronged, with a focus on using both new technologies and what Büyükkaytan calls "true Turkish hospitality", and while the aim is for the passenger-focused philosophy to be engrained in the airline's operations at the new airport from day one, it is also being applied to its existing operations at Istanbul's Atatürk and Sabiha Gokçen airports.
Bluetooth-based, proactive passenger services
Highlighting the emphasis on using new technology to create a more seamless experience is the development of a Bluetooth-based push notification service, which is currently being trialled in airport lounges in Istanbul, and which informs passengers of gate changes, flight updates and tailored retail offers in their vicinity. The trial is ongoing, but Turkish Airlines has already decided that passengers would benefit from a permanent implementation, so it will be rolled out more widely in the next "three to four months".
In addition to this welcome personalisation effort is the airline's dedication to offering the best facilities for passengers to either relax or continue working while they wait for their flight. Büyükkaytan specifically pointed to the recently refurbished Turkish Airlines Lounge Istanbul at Atatürk Airport and a soon-to-open CIP (commercially important passenger) lounge at Moscow Vnukovo Airport – examples of how Turkish Airlines is setting a benchmark for airline lounges worldwide.
Free tour of Istanbul for transfer passengers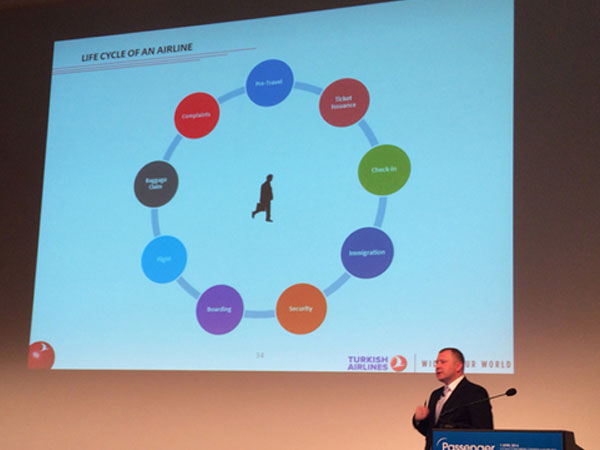 While some might say investment in 'pay-to-enter' and CIP lounges only benefits a handful of travellers, Büyükkaytan went on to explain that Turkish Airlines prioritises the entire travel experience and that "every passenger should be treated as a guest", rather than just another traveller.
FTE particularly likes the offer aimed at transfer passengers – those with a wait of six hours or more can now make the most of a free tour of Istanbul courtesy of Turkish Airlines, to ensure they don't have to spend their time just sitting around the airport while they wait for their flight.
'Life cycle of an airline' concept
Büyükkaytan also offered valuable advice to any other carrier that shares Turkish Airlines' desire to provide an industry leading passenger experience.
Referring to the "life cycle of an airline" model, he explained that the areas of pre-travel, ticket issuance, check-in, immigration, security, boarding, flight, baggage claim and complaints must all be prioritised just for an airline to survive, let alone be seen as a leader among consumers.
Given FTE's focus on improving every aspect of the end-to-end travel experience, we are naturally pleased to hear that one of the world's largest, and fastest growing, airlines is flying the flag for the passenger to create a more seamless, personalised and memorable travel experience.