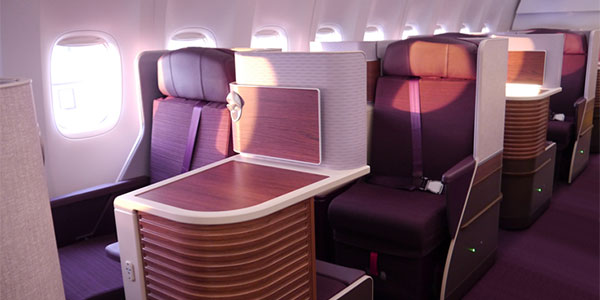 Having worked together on a new design for the Royal First Class Cabin in 2013, Thai Airways and Priestmangoode have unveiled the new-look business and economy class cabins, which have been designed to improve passenger comfort and reflect Thai culture and traditions.
In Royal Silk Class – the airline's business cabin – on the Boeing 777s, an emphasis has been placed on materials and lighting, while alterations have been implemented to create more space for passengers. Thai teak wood, vertical silk foil and rattan have been used on the seat shell to create an authentic Thai feel, while bespoke artwork from Thai artist Panya Vijinthanasarn has been included. The entrance panel also includes a three-dimensional Thai Airways logo to promote brand awareness.
A simple but effective solution is the slight shift of the table hinge, which allows for more legroom, while the seat furniture has been extended to increase aisle-side privacy. Passengers can also make use of a larger stowage compartment, while the seat controls have been redesigned to be more intuitive.
Giving passengers a taste of Thailand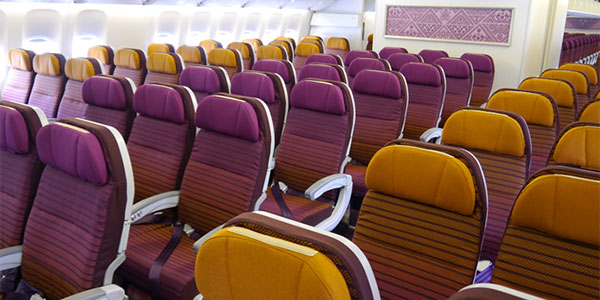 In Economy Class, inspiration from Thai street markets has been drawn upon, with use of orange and purple tones on the seats, and metallic yarns on the curtains to reflect the traditional Thai silks omnipresent in local street life. The bulkhead also incorporates a feature panel with bespoke fabric also designed by Panya Vijinthanasarn.
Chokchai Panyayong, Thai Airways' Senior Executive Vice President, Strategy & Business Development Department, and Acting President, said: "We have been working with Priestmangoode for many years now and are delighted with this new cabin vision. Thai Airways International has an impeccable reputation for great service and efficiency and as a national carrier we are the first image that passengers have of Thailand.
"Priestmangoode has created a new cabin identity that reflects our rich culture and heritage. The New Thai Contemporary Style they have designed is a skilled interpretation of Thai contemporary culture that will appeal both to Thai and to international passengers."
Luke Hawes, Director at Priestmangoode, added: "This was a fantastic project to work on, as working with national airlines is the closest you can get to branding a nation. We have a long-standing relationship with Thai Airways International, having previously designed their Royal First Class cabin, as well as leading all design work for their subsidiary airline, THAI Smile. Thai Airways shows a great commitment to design and to enhancing the passenger experience. We're delighted with the result."