Future Travel Experience Global 2014 features our biggest ever exhibition, showcasing the very latest systems, technologies and services that have been developed to help improve the passenger experience. In the third and final instalment of our exhibition preview, we highlight what delegates can expect to see from HomingPIN, ICM, Innovative Travel Solutions by YVR, Kaba, AirIT, NEC, Rockwell Collins/ARINC, SITA, Type22, SSE Technologies, VidTroniX and Zafire.
» View Part 1 of the FTE Global 2014 Exhibition Preview 
» View Part 2 of the FTE Global 2014 Exhibition Preview 
» View the full FTE Global 2014 Exhibition floor plan
HomingPIN (Booth 27/28)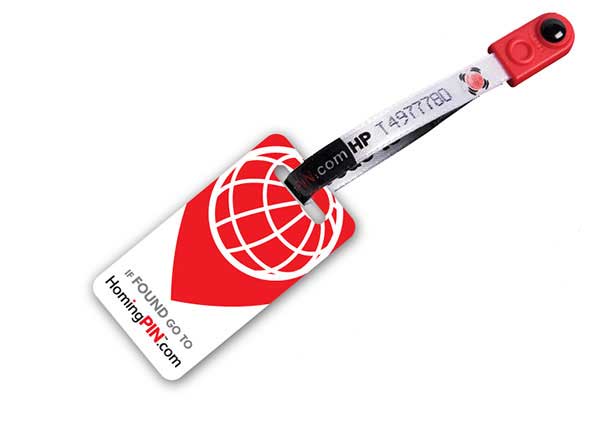 HomingPIN can save airlines a considerable amount of time and money, whilst making their customers happy. HomingPIN instantly and reliably matches a mislaid bag to its owner when it is entered into NetTracer or WorldTracer (HomingPIN is integrated into both, globally). Passengers are then texted and emailed a bespoke message from the airline. The airline can return the bag fast, repairing its customer relationship and reducing/removing the cost of compensation.
HomingPIN protects the bag and all consumer gadgets (using asset labels) everywhere, so airlines, travel agents and any other travel related company can add an additional aspect of customer care throughout the year, not just the journey. HomingPIN can get anything back from anywhere fast.
HomingPIN:
Is very low cost
Involves no IT development
Is the only IATA Strategic Partner in this area
Will provide airlines with direct access (via API) to its database so that airline and other travel related company staff can immediately obtain static passenger data
Will auto-complete the on-hand and irregularity forms
Has the highest match points of any field in World Tracer
Can be branded to the airline, giving free on-bag advertising for many years
Makes the airline, tour operator, or travel company a hero for fixing a potential nightmare rapidly, and communicating so well
Is an ideal loyalty gift
Has the only time machine at the show!
For more information, visit: www.homingpin.com
ICM Airport Technics (Booth 24)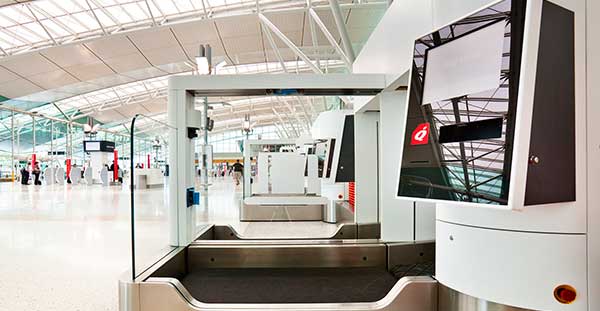 ICM Airport Technics will be showcasing its leading self-service bag drop and baggage handling solutions at FTE Global 2014. The company has been a leader in the provisioning of automated baggage handling systems for airports since 1977. From bag tagging and drop off to screening and loading, ICM's products and services revolve around automation of baggage processes.
Its solutions include both "above the wing" passenger bag drop processes and "below the wing" baggage handling systems, and the company's approach is to provide uncompromised safety and security along with reliability and efficiency.
The range of Auto Bag Drop solutions (ABDs) addresses the problems of capacity in departure halls by reducing queues and increasing availability of common use baggage drop off points and improving the customer experience. The ABDs reduce operational costs and facilitate airline management of throughput highs and lows. Existing departure halls can accommodate increased number of passengers, thereby increasing capacity and deferring costly terminal expansions. ICM's Auto Bag Drops have been installed in 12 airports worldwide and have processed over 22 million bags.
For more information, visit: www.icm-airtec.com
Innovative Travel Solutions by YVR (Booth 75)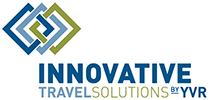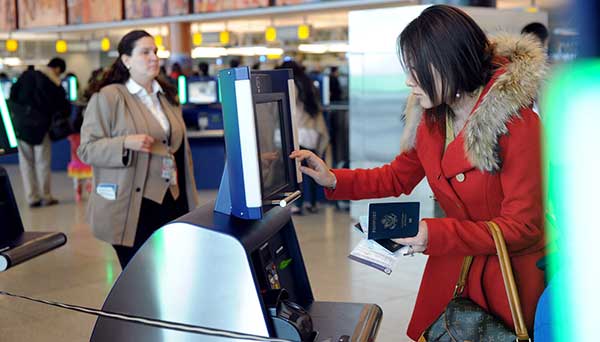 Visitors to the FTE Global 2014 exhibition will be able to take a closer look at the groundbreaking Automated Passport Control (APC) solution from Innovative Travel Solutions by YVR.
With international travel increasing, airports need new ways to improve the passenger experience and reduce overhead costs to gain a competitive advantage. To help airports speed up the border inspection process, Innovative Travel Solutions by YVR pioneered BorderXpress, the industry's first Automated Passport Control solution. Today, the company has grown to be the largest and most successful provider of APC solutions in North America, operating in 14 airport locations and expanding.
Developed with U.S. CPB, the BorderXpress APC solution uses self-service kiosks to expedite the border clearance process, resulting in shorter wait times, fewer missed connections and cost savings for airports. No extra charge to the customer or pre-registration required.
The company offers the only turnkey, fully-hosted APC solution available and manages the network that facilitates communication between BorderXpress kiosks and U.S. CBP, via a Virtual Private Network (VPN), reducing set-up times and management headaches. Airports can be up-and-running in less than two weeks. BorderXpress kiosks are fully ADA compliant and can be configured in up to 26 languages. Kiosks can accept travellers with a US, Canadian or Visa Waiver country passport and will soon accept travellers with Lawful Permanent Resident status.
For more information, visit: www.YVR.ca/APC
Kaba (Booth 35)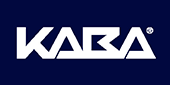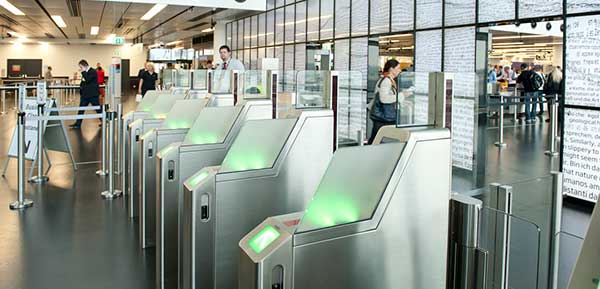 Kaba Gallenschütz GmbH will be displaying solutions for airports in the field of biometry self-boarding at FTE Global 2014 in Las Vegas. Among the products on show will be the Argus HSB-M03, the state-of-the-art solution for automated boarding pass control and automated self-boarding. The gate is equipped with a neatly integrated facial recognition system, a barcode scanner for validity check of the boarding pass and a device for issue of a receipt. It is connected to a registration kiosk, demonstrating the complete process of check-in and self-boarding. Via kiosk registration and biometric validation at the gate the passenger may board most conveniently while the identity is perfectly verified.
Kaba Gallenschütz GmbH, a subsidiary of the international Kaba group, has longstanding experience in access control solutions for airports. In close contact with responsible parties in airport business, a number of products have been developed and adjusted to the actual security needs at airports.
Today, one-way corridors, boarding pass control gates and self-boarding gates by Kaba ensure secure, safe and convenient passenger handling. These solutions are employed in many medium and large airports all around the world. More than 1,000 Argus HSB-M03 lanes have been installed to date. Kaba Gallenschütz also provides high-quality security solutions for staff and visitor access as well as perimeter security.
For more information, visit: www.kaba.com
NEC Display Solutions (Booth 20)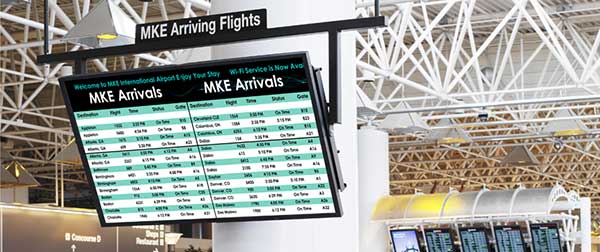 NEC Display Solutions designs, produces and delivers leading-edge visual display technology for a wide variety of markets, including airport transportation, and the company's latest solutions will be on show in Las Vegas.
NEC specialises in desktop and large-screen LCD displays, and a diverse line of projectors for customers who demand the most high-quality, reliable display solutions to meet their needs. Not only does the signage need to be prevalent, but also able to instantly react to up-to-the-minute information changes on flight delays, cancellations, gate information or security regulations.
NEC's digital display solutions provide the total package of web-based software and seamless, large-screen LCDs custom-fit to the airport environment, whether it be concourses, baggage claims, check-in counters or kiosks. NEC Display Solutions helps airports:
Enhance the check-in experience – travellers can avoid long lines by using touchscreen kiosks to print tickets, change seats and even add options like extra legroom;
Generate additional revenue – promote airport stores, restaurants and local tourism in high-traffic areas like concourses and escalators;
Avoid black screens – NEC displays are equipped with intuitive technology that sends alerts to IT response teams if there are problems;
Offer creative content to capture the attention of the savvy traveller.
For more information, visit: www.necdisplay.com
Type22 (Booth 45)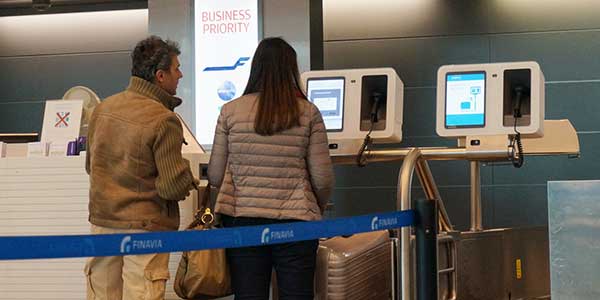 At FTE Global, Type22 will be offering interactive demonstrations of Scan&Fly – a self bag drop solution that enables fast bag drop for passengers. The retrofit design of Scan&Fly offers a non-intimidating service for passengers and ensures a 'plug and play' installation in the existing airport infrastructure, saving valuable terminal space.
Self bag drop is proven to improve the travel experience of passengers around the world. It speeds up the check-in process and increases airport terminal capacity, lowering operational costs at the same time.
Type22 does not only deliver self bag drop hardware, but delivers an entire self bag drop process with the best possible passenger experience. One of its surprisingly simple solutions is called Info&Fly, an application that enables hosts and ground staff to offer passengers pro-active service during bag drop.
For more information, visit www.scanfly.aero or www.type22.aero
Rockwell Collins / ARINC Airports (Booth 45)


Rockwell Collins' airport capabilities provide the industry-standard passenger processing, systems integration and network engineering solutions that keep people moving and operations flowing at many of the highest rated airports in the world, helping airports meet the needs of today's passengers, anticipating the needs of the industry's future and building trust every day.
If you are looking to enhance the passenger travel experience at your airport, you can visit the company at Booth 45. Here you will be able to speak with knowledgeable representatives and learn more about their Airport Solutions.
This year, the company will be highlighting microFIDS™ with its industry leading optical bonding solution. This unique digital signage solution keeps travellers up-to-date with flight information, weather, and customised content.
For more information, visit: www.rockwellcollins.com
Zafire (Booth 22)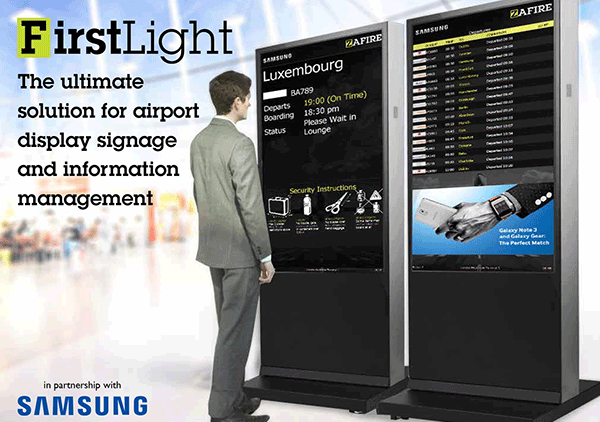 At FTE Global 2014, Zafire will demonstrate how the combined use of software innovation, industry expertise and cutting edge technology is critical when seeking to deliver operational excellence below the wing whilst enhancing a passenger's experience above.
Visitors to booth 22 can expect to see an impressive video wall where Zafire will showcase their latest innovation, FirstLight, a groundbreaking flight information display system (FIDS) delivered on the Samsung Smart Signage Platform (SSSP). FirstLight provides a unique level of interaction and personalisation for passengers, multi-channel embedded advertising for retailers and 24/7 continuous business use and reduced energy usage for airports.
Also featuring at the Global FTE exhibition will be:
FirstBag – The first global cloud based baggage reconciliation system (BRS) of its kind
FirstRamp – The most comprehensive aviation service management solution in the market
FirstPRM – Feature rich application managing the full requirements of passengers with reduced mobility
FirstCheckin – Robust cost effective fully cloud based departure control system (DCS)
FirstTrak – Full telematics and tracking management application
There will also be lots of gadgets and plenty of opportunity for you to try the technology for yourself.
For more information, visit: www.zafire.com
AirIT (Booth 3)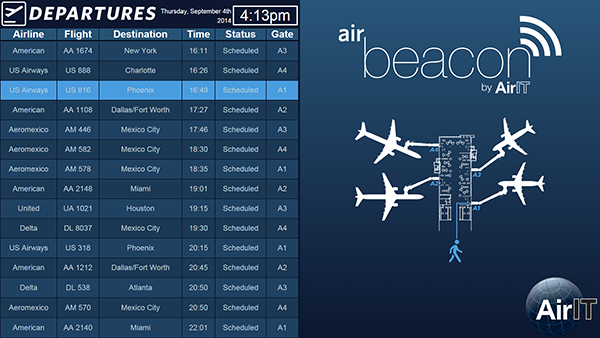 At FTE Global 2014, AirIT will be exhibiting its Air Beacon technology, which improves airport information, wayfinding and retail performance. When AirIT's Air Beacon technology is coupled with its robust mobile platform, this new information, wayfinding and retail functionality can be delivered seamlessly to passengers.
Current beacon technology allows the AirIT solution to provide general positioning and mapping inside the airport. This information can then be utilised to provide personalised, position-focused information. The system will generate point-to-point wayfinding anywhere at the airport, allowing passengers to easily navigate their way from their arrival in parking facilities all the way to their departure gates, and anywhere in between.
Additionally, this solution will be capable of directing passengers to their favourite food, beverage, and retail options along their route, and delivering coupons and purchase incentives directly to their smartphones.
The AirIT solution also supports passive flight information display functionality. Passengers can pre-select their departure flight inside the mobile application, and once this selection is made, the system will support automatic highlighting of the passenger's flight information and display associated mapping.
This will all happen passively when a passenger passes near special managed information displays located at various locations within the airport, and this information automatically disappears as they walk away.
For more information, visit: www.airit.com
SITA (Booth 16)

SITA is a leading specialist in air transport communications and IT solutions, and at FTE Global 2014 visitors to the SITA stand will be able speak to experts from every aspect of the company's portfolio.
SITA delivers and manages business solutions for air transport industry customers over the world's most extensive network, which forms the communications backbone of the global air transport industry.
SITA's portfolio includes managed global communications, infrastructure, and outsourcing services, as well services for airport management and operations, baggage operations, transportation security and border management, cargo operations, and more.
For more information, visit www.sita.aero
VidTroniX (Booth 30)

In addition to being a leading manufacturer and supplier of boarding pass and baggage tag printers for the aviation and travel industry, VidTroniX offers a full line of check-in and security related products, including facial and iris recognition technology.  Visitors to the company's stand at FTE Global 2014 will be able preview a variety of these solutions.
The goal of VidTroniX is to work directly with its clients to develop products that fit the needs of their company. To date, VidTroniX has installed over 75,000 ATP and MAP printers and has recently further expanded its presence in the global marketplace with major installations in the Middle East, mobile applications and incorporation into large-scale kiosk applications.
For more information, visit: www.vidtronix.com
SSE Technologies (Booth 62)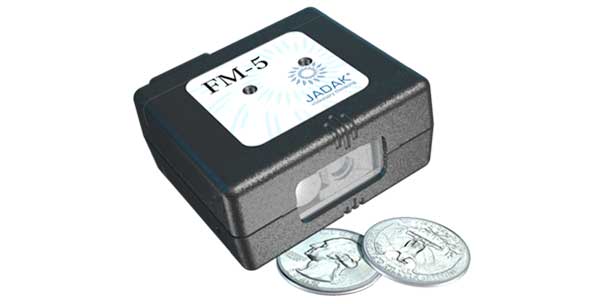 Delegates attending FTE Global 2014 will be able to catch up with SSE Technologies at the show. Among the company's solutions are boarding pass and bag tag readers, including the 1900G, an economical solution for boarding pass reading, which is increasingly being implemented for bag drop. As a barcode reader in a stand on a counter, it can read printed boarding passes and matrix codes from mobile boarding passes. The reader can also be used as a manually triggered scanner for bag tags.
Also among the company's portfolio is the FM5, a miniature scanner for embedding in airport kiosks. The FM5 reads all industry codes from printed media and mobile phones, and is available with serial or USB interfaces.
For more information, visit: www.ssetechnologies.com