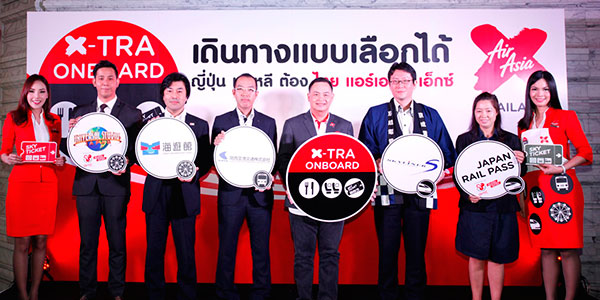 Thai AirAsia X has partnered with a selection of companies to enable passengers flying to Japan to purchase tickets for onward travel and tourist attractions onboard the aircraft as part of its 'X-tra Onboard' programme.
The carrier has teamed up with Quality Express, Keisei Electric Railway, Kansai Airport Transportation Enterprise and Osaka Aquarium Kaiyukan to offer bus, train and attraction tickets in Japan for purchase onboard, creating an exclusive one-stop in-flight service.
Ranging from high-speed train tickets from Narita Airport to Nippori and Ueno stations, to tickets for Osaka's Universal Studios Japan, passengers can make purchases in-flight to save having to queue up when they arrive at their destination.
Nadda Buranasiri, CEO of Thai AirAsia X, said: "We are excited to be the first airline to partner up with major transportation providers and offer tickets to local attractions onboard which will certainly be advantageous for our passengers who can now maximise their time at the destination by avoiding any ticket queues.
"Beyond our low fares and excellent connectivity, the freedom to choose a travel experience that suits each person's need and the ability to purchase tickets from the one-stop Sky Ticket service onboard is priceless."