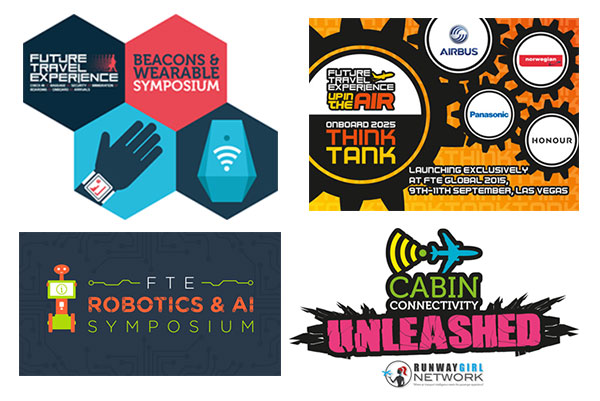 We are excited to be able to share more information on our plans for Future Travel Experience Global 2015 – our 10th anniversary show, which will take place at the Mandalay Bay Resort in Las Vegas from 9th-11th September.
The theme for the event will be 'Transforming the passenger experience through customer-focused innovation and collaboration', and we are expecting more than 650 travel industry leaders to descend upon Las Vegas for the flagship FTE show, which will include 'On the Ground' and 'Up in the Air' conference streams, an inspiring exhibition, interactive forums, the 5th FTE Awards ceremony, McCarran International Airport tours and an unforgettable social and networking programme.
'On the Ground' and 'Up in the Air' conferences
Among the highlights in the 'On the Ground' conference stream will be the Beacons & Wearable Technology Symposium, FTE Robotics & AI Symposium, and a session entitled 'E-tags and connected bags: Preparing for the next generation of baggage advancements', which will explore next wave of baggage advancements, including permanent, electronic and embedded bag tags.
Delegates will also be able to take part in the new FTE Collaboration Forum, while the 'Up in the Air' conference stream will include the launch of the findings from the FTE Onboard 2025 Think Tank (which includes senior industry figures from the likes of Airbus, Norwegian Air Shuttle, Panasonic Avionics and Honour Branding). Mary Kirby, Founder & Editor of Runway Girl Network, will also lead the 'Cabin Connectivity Unleashed' session – a no-holds-barred, spin-free discussion in which she will grill industry leaders from the likes of Gogo, Thales, Panasonic Avionics, ViaSat and Global Eagle Entertainment on how nose-to-tail connectivity will change airlines and aviation forever, and how it will reinvent the passenger experience.
The Future Travel Experience Global 2015 exhibition will host the very latest solutions and services that have been developed to enhance the passenger experience and improve processing and business efficiency both on the ground and onboard.
Delegates will also be able to enjoy a unique and exciting social programme, including the FTE Gala Beach Party, Welcome Reception, FTE Awards ceremony and guided tours of Las Vegas McCarran International Airport's Terminal 3.
The full conference agendas, including our best ever line-up of inspirational keynotes, will be released in the coming weeks, so stay tuned for further details.