2019 Social & Networking Programme
Future Travel Experience Global is renowned for its social and networking events and FTE Global 2019 will be no exception. Delegates can expect an exciting social programme in the "Entertainment Capital of the World", including a Welcome Reception, Networking Party, Awards Ceremony and unique tours.
Wednesday 4th September 2019 – 17:30 – 19:00

Wednesday 4th September 2019 – 17:30 – 19:00
Happy Hour
FTE Global exhibition floor
Make the most of the vital networking opportunities provided at the FTE Global 2019 Happy Hour drinks reception, where delegates can enjoy demonstrations in the exhibition and network with their peers over refreshing drinks and snacks. Happy Hour will begin early so participants have more scope to network outside of the official event proceedings.
---
Thursday 5th September 2019 – 19:30 – 22:30

Thursday 5th September 2019 – 19:30 – 22:30
FTE Global 2019 Awards Ceremony & Networking Party
(venue to be announced)
Hosted by McCarran International Airport, we can guarantee you a memorable evening with the finest food, drink and entertainment that Las Vegas has to offer at the FTE Global 2019 Networking Party.
The event will be this year's premiere networking event, providing a perfect opportunity to unwind and network with fellow attendees in a relaxed environment. We are in the final stages of securing an unforgettable venue that will stand up against recent locations including HYDE at Bellagio, Omnia at Caesars Palace & House of Blues at the Mandalay Bay.
---
Friday 6th September 2019 – 12:45 – 14:00

Friday 6th September 2019 – 12:45 – 14:00
McCarran International Airport Tours
The FTE Global Las Vegas McCarran International Airport Tour provides a unique opportunity to experience first-hand the unparalleled facilities of this forward-thinking airport. Centred on the trailblazing Terminal 3, the tour begins kerbside, where delegates will explore the check-in areas – taking in everything from sophisticated digital signage to the utilisation of kiosks and advanced self-bag tagging facilities (which delegates will see in full use by United) – and will be given an understanding of check-in area layout and flexibility of design in the terminal space. From departures, the tour moves airside and onto the ramp where delegates will be able to see the Visual Guidance Docking Systems (VGDS) and airfield wireless in action before moving into the baggage room which utilises RFID technology. The tour will then move back into the terminal to look at the digital signage at the gates and the automated self-boarding system, offering a fascinating insight into the innovation behind McCarran International Airport's operations.
---
Friday 6th September 2019 – 12:45 – 14:00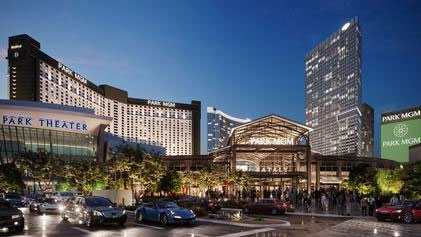 Park MGM tour
Park MGM, formerly Monte Carlo Resort and Casino, is a megaresort hotel and casino on the Las Vegas Strip in Paradise, Nevada, United States. The hotel, with a height of 360 ft (110 m), has 32 floors, featuring a 102,000-square-foot (9,500 m2) casino floor with 1,400 slot machines, 60 table games, and 15 poker tables. It is owned and operated by MGM Resorts International. The hotel offers 2,992 guest rooms, including 259 luxury suites. The Monte Carlo was converted into Park MGM between late 2016 and 2018, with the upper floors being converted into a boutique hotel, NoMad Las Vegas. This guided tour will give you an invaluable insight to the design, and guest experience, strategies behind these amazing new facilities.