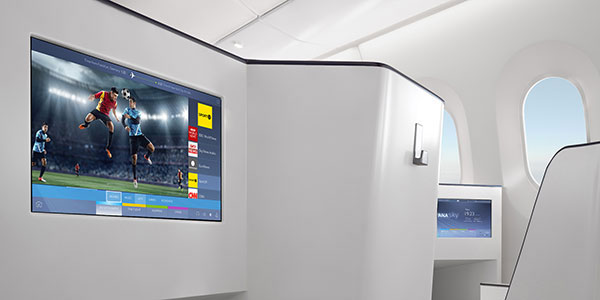 All Nippon Airways' (ANA) first Boeing 787-9 has entered service on the Tokyo Haneda-Munich route, bringing with it a notable in-flight entertainment (IFE) upgrade, including live TV. It is also the first 787 in the Japanese carrier's fleet to offer its in-flight Wi-Fi service.
Powered by Panasonic Avionics' eXTV service, the complimentary live TV offer includes three channels – NHK World Premium, CNN and Sport 24 – while the IFE also includes 3D maps and access to e-books, in addition to the selection of movies and television programmes.
As for the Wi-Fi service, powered by eXConnect, ANA offers three pricing options: US$6 for 30 minutes, US$16.95 for three hours and US$21.95 for up to 24 hours. The 787-9 offers a three-class configuration, with 146 seats in Economy, 21 in Premium Economy and 48 in Business Class.
Koji Oka, Director of Products and Services Strategy, ANA said: "For years our passengers have enjoyed an incredible entertainment experience through our partnership with Panasonic, and with our new 787-9 aircraft, we wanted to elevate this experience to a whole new level. With a powerful mix of early window content, live television and international Wi-Fi, we're setting a new standard for air travel, and we are proud to partner with Panasonic."
Panasonic Avionics Corporation President and Chief Executive Officer Paul Margis added: "ANA's goal was to create something truly unique for their passengers. Together, we have combined the world's most advanced in-flight entertainment technology to offer a connected seatback experience that includes multiple channels of real-time news, the world's most popular sporting events and other television programming. The result is a one-of-a-kind experience for their passengers."