As airlines seek to improve the onboard passenger experience, so too must they identify new ways to increase revenues. Ranging from IFE-based retailing to inventive commercial partnerships, here we highlight five ways that airlines can bolster their in-flight ancillary revenues.
1 – Seatback self-service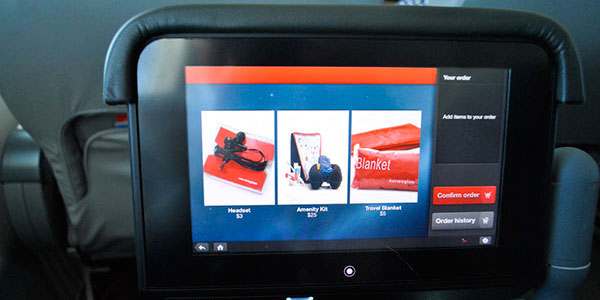 The ongoing rollout of onboard connectivity has created a huge opportunity for airlines to expand their embedded in-flight entertainment (IFE) systems to provide far more than movies, music and maps. Self-service seatback shopping has now emerged has a practical way to encourage spend among passengers.
Norwegian Air Shuttle, for example, offers in-seat food and beverage ordering via its Android-powered IFE system. Virgin America also offers IFE-based ordering, while Japanese carrier ANA introduced such a service for premium passengers back in 2010. With travellers embracing self-service check-in and bag drop on the ground, it makes sense to offer them "do it yourself" services in-flight, too. Allowing passengers to order food and drinks via the seatback screen is a good starting point, and allowing them to book and pay for destination-based activities through the IFE system provides another potential source of ancillary revenue.
2 – Onboard concierges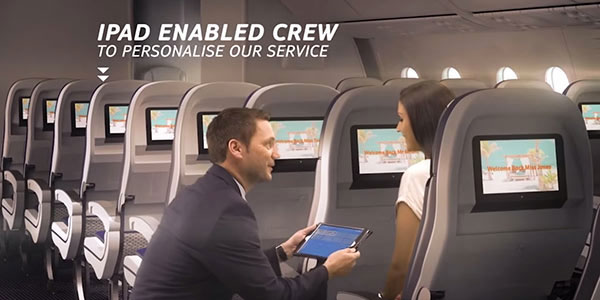 Sales of destination-based activities – such as excursions and theme park tickets – is also something that is starting to fall under the remit of flight attendants, whose skillsets and responsibilities continue to expand. Onboard connectivity is providing opportunities for cabin crew to become fully-fledged concierges, with airlines able to earn commission from onboard sales of third-party products.
Thomson Airways has already outlined plans to introduce "HolidayMakers" – a member of the resort team who can help passengers plan their holiday and offer advice on resort-based activities – which adds further value to TUI Group's end-to-end holiday package. In the US, leisure carrier Sun Country Airlines has partnered with GuestLogix to enable flight attendants to sell sightseeing tour passes and attraction discount cards at 30,000 feet. In Asia, Thai AirAsia X has partnered with a selection of companies to launch the so-called "X-tra Onboard" programme, which allows passengers on flights to Japan to buy bus, train and attraction tickets.
The concept of an in-flight concierge isn't new – Air New Zealand launched its "Concierge in the Sky Service" way back in 2007 – but the vast majority of airlines are yet to tap into the vast financial benefits that an onboard concierge can bring.
3 – Commercial partnerships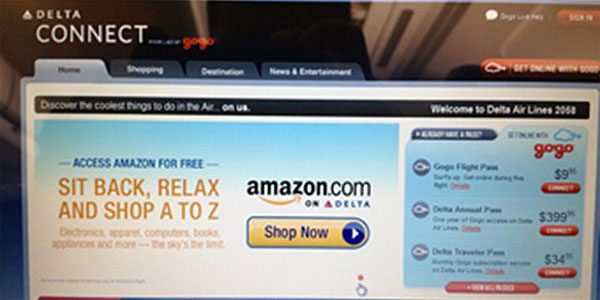 For many, online shopping is now the norm, and airlines have an opportunity to tap into a widespread commercial trend to bolster their own revenues. Back in 2012, Delta Air Lines partnered with Amazon to allow passengers to access the Amazon website free of charge. Although this was seen at the time as a way of differentiating the in-flight offer and promoting the fact that the carrier offers onboard Wi-Fi, there is an opportunity for airlines to make money from this type of tie-up.
For instance, if an airline offers onboard Wi-Fi and partners with the likes of Amazon or eBay to offer free access to their website, the airline is surely in a position to negotiate a commission for any items that are searched for and purchased via that website during the flight, just as Delta did with Amazon.
The retailer has a captive audience being pushed towards their website and the airline has an opportunity to claim a percentage of a sale that it has helped to drive. Surely a win-win for all involved.
4 – Smartwatch-based sales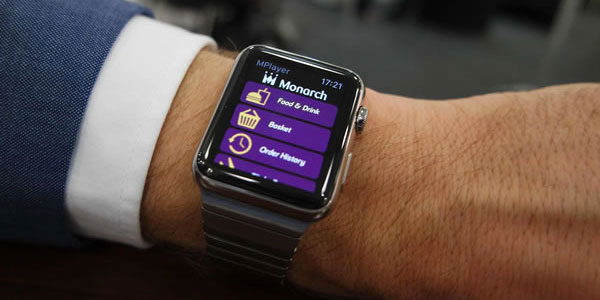 Bearing some similarities to the way airlines can drive self-service ordering and payment via the seatback IFE screens, wearable technology provides another significant retail opportunity. Leisure carrier Monarch Airlines is already leading the way in this space having recently announced that it will soon allow passengers to order food, drinks and duty free products from their seat using their Apple Watch. The MPlayer Apple Watch app will work seamlessly with Monarch's existing MPlayer IFE app, so passengers will be able to place orders without having to pause the movie they are watching on their tablet or smartphone.
With smartwatch uptake on the rise and Apple Pay gaining traction as a practical contactless payment option, smartwatch-based ordering and payment has emerged as another viable way of driving in-flight sales.
5 – Bespoke, personalised offers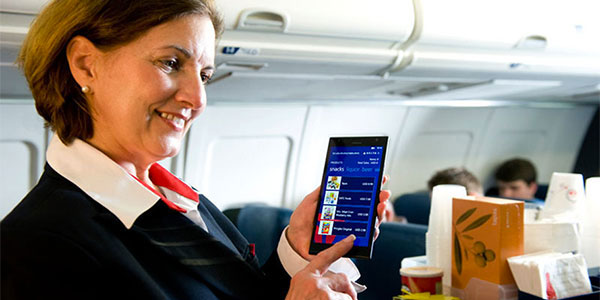 Airlines often talk about the potential of Big Data, but actually making use of it to enhance efficiency and increase revenues is easier said than done. Tracking passenger habits to personalise the passenger experience can also extend to personalising the sales approach. If a passenger has bought a certain product on three of their last five flights, for instance, why not present them with a special offer for this product next time they fly?
A crew member could let them know about the offer, or it could be "pushed" to the passenger's seatback screen, tablet, smartphone or smartwatch. Airports are starting to invest in delivering real-time, relevant content to passengers while they are in the terminal, and with the number of connected aircraft on the rise, airlines could make use of a similar approach to drive their own revenues upwards.