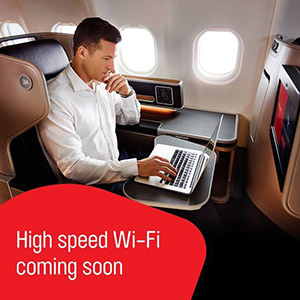 Qantas will start in-flight connectivity trials on a single Boeing 737 later in 2016 after announcing that it has teamed up with ViaSat to roll out high-speed Wi-Fi across its domestic fleet of A330s and B737s.
The service will make use of a hybrid Ku/Ka-band antenna and will operate across both ViaSat's global Ku-band network and NBN's (National Broadband Network) SkyMuster high-capacity Ka-band satellites. The high-speed connectivity solution will not only enable passengers to browse the internet, but also to stream movies and watch live TV onboard domestic flights.
Qantas CEO Alan Joyce said: "Bringing high-speed Wi-Fi to the domestic aviation market has been an ambition of ours for a long time and we now have access to the right technology to make it happen. The sheer size of the Australian landmass creates some significant challenges for in-flight connectivity but the recent launch of NBN's satellite has opened up new opportunities that we plan to take advantage of with ViaSat's help.
"This service will give Qantas customers download speeds in the air similar to what they're used to on the ground. You won't be limited to checking your email or Facebook – it's going to be about watching the football live, streaming your favourite TV show or movie, catching up on the latest YouTube videos, or shopping online. This kind of in-flight connectivity would also open up a lot of potential to improve in-flight entertainment, which we're constantly looking to enhance." Joyce also revealed that Qantas will offer free access to the Wi-Fi service.
The deal is big news for ViaSat, which can already count the likes of JetBlue and Virgin America among its in-flight connectivity customers, as Qantas becomes its first airline customer in the Asia-Pacific region.