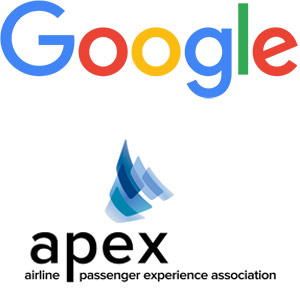 The Airline Passenger Experience Association (APEX) and Google would like to invite C-level airline executives to attend the Digital Transformation of Passenger Experience session and the launch of the Official Airlines Rating System at Aircraft Interiors Expo 2016 on Wednesday 6 April. Airlines can reserve a complimentary seat by 9 March.
In the Digital Transformation of Passenger Experience session, Google will unveil new technologies for passenger engagement through every step of the journey via mobile and wearable devices. Using airline New Distribution Capability (NDC) and instant payment technologies, passengers will be able to remain engaged with airlines through every step of their journey.
APEX will also unveil the Official Airlines Ratings system. The APEX system pulls together real-time passenger feedback information from validated flights across a variety of audited data sources. For the past four decades, APEX has served the industry as the non-profit international airline association focused upon improving passenger experience. This unveiling will demonstrate APEX's worldwide commitment to providing airlines audited passenger experience data built on Google infrastructure.
Presented by:
Google and APEX
10:00am – 11:30am
Wednesday 6 April
Hamburg Messe
Additional airline delegates are $500.
All vendors are waitlisted.
Registration will open to all members on 10 March.