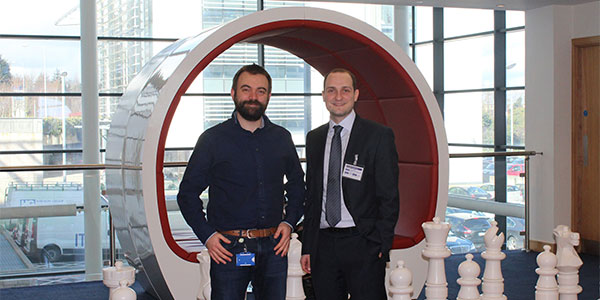 Less than two years after Ryanair made public its intention to launch Ryanair Labs, the low-cost carrier's very own digital innovation hub is now playing a crucial role in the ongoing, business-wide transformation. The airline has made a point over the past 24 months of promoting the fact that it really does care about its customers. The "Always Getting Better" customer experience improvement programme is the lynchpin of this strategy, but there is a clear sense throughout the organisation that digital innovation is the real enabler of change.
A mobile app, new-look website and customer relationship management (CRM) system have already been developed, but on a recent visit to Ryanair's HQ in Swords, County Dublin, FTE was keen to find out what else tops Ryanair Labs' agenda.
On first impressions, Ryanair Labs certainly has a very "tech startup" feel about it, with light-hearted imagery, motto-adorned walls, a giant chess board and even a slide among the many quirky features, and John Hurley, Ryanair's Chief Technology Officer and Head of Ryanair Labs, explained that the roughly 200-strong Ryanair Labs team is under no illusions about the work that must be done to achieve the goal of becoming a digital leader.
Achieving real personalisation – 'no more stupid, mindless emails'
"Personalisation" is a buzzword that we hear a lot in this industry, but Hurley keenly highlighted the point that Ryanair Labs is tasked with delivering real personalisation that both adds value to the customer experience and lays the foundations for increased returns. "We've launched a brand new email CRM system, which means our emails are a lot more targeted and a lot more sophisticated…basically less crude and clunky," he said. "We know where our customers are going, who they're travelling with, and so on. So if we give you an offer, it's going to be relevant to a destination you're going to in a specific time period. No more of these stupid, mindless emails that are just spam. We already have the information, so if we can build up a trust and not abuse it with customers it's a huge opportunity to drive ancillary and product revenue by giving them the right offer at the right time."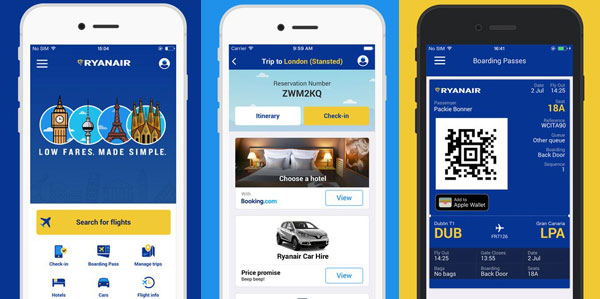 The smartphone app, Hurley explained, has had a big impact on mobile bookings, thanks in part to the fact that the end-to-end booking process has been reduced from five-and-a-half minutes to just 97 seconds. "We've got a notifications framework built into the app now, so you might get a notification saying 'do you want fast track?' If you say 'yes' and you type in your CCV2 number you can pay for it immediately." Customers can now choose to store their card details within the app to speed up payments. Hurley continued: "Again, it's about the right offer at the right time and we'll make sure it's always relevant. Take priority boarding, for instance. We can identify those people who usually book it but for some reason haven't. We can send them a prompt based on the assumption that they may have forgotten to book it on this occasion. It works both ways – if you're flying in the morning and returning in the evening, you won't receive a pointless email about booking a hotel room."
Ryanair unconvinced by wearable technology
Up until now, many of these projects have been about Ryanair catching up with the competition, but Hurley and his colleagues are now keen to establish Ryanair as a digital leader in its own right. Part of the strategy is to identify the technologies that hold the most potential for the future, but crucially any investment has to fit in with Ryanair's low-cost model.
Take wearable technology, for instance. While some airlines have invested in smartwatch apps and customer-facing trials of smartglasses, Hurley remains unconvinced about the technology. "Wearables, to be honest, have been a disappointment," he stated. "Smartwatches are great for getting a boarding pass on your watch, but that's about it. The market penetration's not there, not enough people have them, it just doesn't do an awful lot."
Hurley did, however, concede that wearables still hold potential. "As phones get bigger and more bulky, and people stop carrying them in their pocket and start carrying them in their bag, going through an airport and getting notifications (on your smartwatch) saying 'get a coffee nearby' or 'your gate closes in five minutes' could become more prevalent and pervasive. Before that even happens, for the air transport industry to invest there has to be enough people out there with smartwatches that are actually using them. There has to be a tipping point – if that happens more people will start developing apps for them. The smartwatch needs that tipping point. I personally think biometrics and health monitoring will really drive it and then we'll pick up the benefits on the fringe."
IFEC on the agenda…but only at the right price point
In-flight entertainment and connectivity (IFEC) solutions are, on the other hand, very much in Hurley's thinking. Ryanair has made no secret of the fact that it is investigating IFEC solutions, but in Hurley's words "the cost has been a concern for us for the past six months".
Portable IFE solutions that allow passengers to stream content to their own devices are being taken "very seriously", he said, but "the price point isn't quite there yet". "We're taking it seriously because we see loads of potential for watching content or ordering your food on your device. At the moment it's purely down to cost."
As for onboard Wi-Fi, cost is also an obstacle, but Hurley revealed that Ryanair is "looking for a technical solution that will work for us". "Our biggest challenge is travelling over the water and travelling over all the different countries we cover," he said. "ATG (air to ground) as a model wouldn't work for us. We've investigated satellite technology but again it's very expensive and the antenna affects drag, plus there are no real guarantees about the broadband, the connectivity, the speed. It isn't quite meeting the vision that we have." Rather than rushing to offer Wi-Fi and risking providing passengers with a "really frustrating, horrible experience" – the type of in-flight Wi-Fi experience that Hurley said he has experienced when flying long-haul in the past – Ryanair is willing to bide its time.
Also, he is not convinced that Wi-Fi is a must for every flight. "To be honest with you, if you're going from Dublin to Stansted, it's an hour hop, so you'll survive without internet for an hour," he said. "If you're on a five-hour journey, it's different. We'll keep looking at this one, but the second we get the right price point and the right commercial offer, we'll be in like a flame. For Ryanair, it has to fit in with the low-cost model."
This last point sums up Ryanair's outlook perfectly. While the airline is more willing than ever to explore solutions that can positively impact the customer experience, it will only invest at the right price point. Today's digital traveller expects more from an airline and Ryanair knows it has to satisfy its customers' demands to live up to its own billing as Europe's leading low-cost carrier. While Ryanair says its priority is to ensure its customer experience is always getting better, it is just as important to ensure profits are always getting bigger. Hurley and his team are playing a vital role in finding the perfect balance.