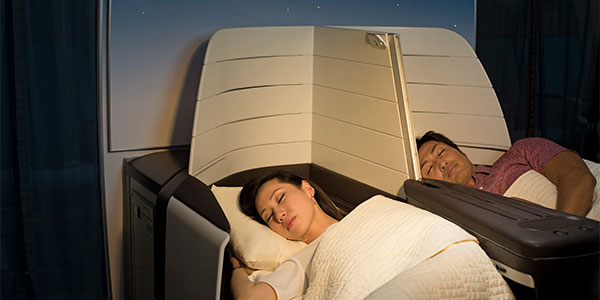 Hawaiian Airlines has received the first of its Airbus A330s outfitted with lie-flat seating in its new Premium Cabin. The front-end cabin features 18 lie-flat seats in a 2-2-2 configuration, with each seat offering passengers a 20.5-inch-wide by 76-inch-long bed.
The in-flight entertainment (IFE) system features large-form tablets resting on adjustable telescopic arms to optimise the viewing angle and passenger comfort, while premium customers also have access to two USB ports and an A/C outlet.
Italian seat manufacturer Optimares has designed the seats, which feature premium leather from Poltrona Frau, while the island of Hawaii is reflected in a number of unique touches throughout the cabin. For instance, the curved seat shells are designed to evoke gentle ocean waves, and earth, sand and sea tones are present alongside natural materials.
Hawaiian Airlines has also added 28 Extra Comfort seats to its new A330, taking the total number of premium economy seats to 68. This new configuration brings the number of Main Cabin (economy) seats down to 192 from 236.
Mark Dunkerley, Hawaiian's President and CEO, said: "Our custom-built fully lie-flat seats and our new Premium Cabin redefine the leisure travel experience to Hawaii. In details little and large we have crafted a new seat and a new cabin to look after our guests in unparalleled comfort accompanied by the authenticity and warmth of our in-flight Hawaiian hospitality."
Hawaiian's newly outfitted A330 aircraft's Premium Cabin will enter the carrier's U.S. West Coast network in June, and the carrier will phase installation of additional A330 Premium Cabins starting this autumn through to early 2018.