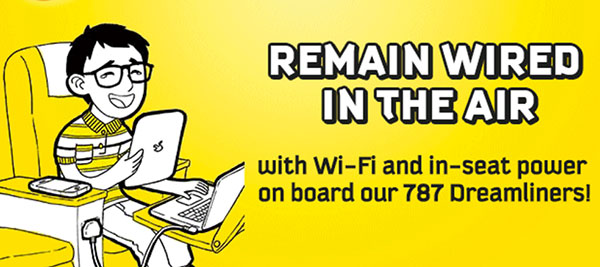 Low-cost carrier Scoot has launched a new low-cost in-flight connectivity plan, which allows passengers to stay connected to messaging and chat services.
The service, called "Social-Lite", costs US$5 for 20MB at 64kbps surfing speed, and it complements Scoot's existing in-flight Wi-Fi plans on its Boeing 787 fleet. In comparison, Scoot's full-blown onboard Wi-Fi service costs US$11.95 for one hour, US$16.95 for three hours and US$21.95 for 24 hours, without any data caps.
Steven Greenway, Scoot's Head of Commercial, said the introduction of the Social-Lite plan will appeal to passengers who want to "send off a quick text to friends and family to let them know when they will arrive, or to not miss out on conversations with their friends and chat groups".
"It is affordable and perfect for most of our guests who love to stay constantly connected but only require quick messaging or chatting on the go," he added.
David Bruner, Vice President Global Communications Services at Panasonic Avionics Corporation, which powers Scoot's in-flight connectivity services, said: "Working with Scoot, we've changed the game in in-flight connectivity to give guests more choices. They can opt for a broadband experience or, if they prefer, pay less for quick texting or light email services to contact friends or loved ones on the ground."